Warm Chicken, Chayote and Mango Salad
Well, it looks like I might be doing more than one salad per week after all. I mean, what else are you going to eat when trying to reduce your carb intake? Pasta, rice, seeds and cereal have to be consumed in moderation, so I have to find a way to get creative with vegetables, nuts and cheeses, as well as a little bit of meat from time to time.
Salads are the obvious way to go. Now, if anyone has other suggestions, PLEASE, go ahead and send them my way.
This latest creation includes a fruit that isn't very commonly used, but one that I happen to truly appreciate and eat on a regular basis: Chayote.
Frankly, I think that it should be on everyone's menu, too. It's just so fresh and crispy, so easy to prepare and eat, I mean, you can eat the whole thing, skin, flesh, pit and all. You can dice it, slice it, julienne it, and as if this wasn't enough, it's not really expensive at all and is available year round.
Apparently, you can also cook it, but I've only ever enjoyed it in its raw state so far.  When I do decide to give cooking it a try, though, of course, you guys will be the first to know.
Just like melons and squash, Chayote is a member of the Cucurbitaceae family. Hey, I mean, right there, it HAS to be good, doesn't it? It's a close relative to melons and squash! Come on, you CAN'T go wrong with that!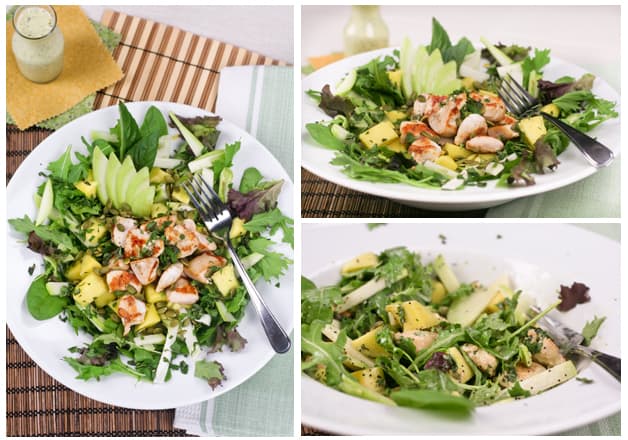 According to this site, it's flavour would be a cross between a turnip, cucumber and zucchini, but if you ask my daughter, she'll tell you that it tastes just like freshly cut grass. And I couldn't say she's wrong…
Hey, can you get any fresher than freshly cut grass?
Seriously, if you've never tried it, you have to. I honestly don't understand why this fruit isn't just as popular and widely used as cucumber or avocado.
I fell in love with it the very first time I tried it.
It adds an unbelievable amount of crunchiness and freshness to salads. Think cucumber, times 30. Seriously! Take my word for it and get one the next time you come across them.
You won't regret it.
WARM CHICKEN, CHAYOTE AND MANGO SALAD
INGREDIENTS
(Serves 2)
Salad
350g chicken breast meat, cut  into 1″ cubes
Salt and pepper to taste
1 mango, cut into 1″ cubes
½ chayotte, cut into thick matchsticks
3-4 cups mesclun
10-12 fresh mint leaves, chopped
2 tbsp pumpkin seeds, to garnish
Vinaigrette
The juice of one orange
1 tbsp white wine vinegar
½ tsp salt
¼ tsp black pepper
5-6 fresh mint leaves
5-6 sweet basil leaves
1 tbsp 0% fat plain Greek yogurt
1 tbsp tahini
1 tbsp poppy seeds
1/8 tsp guar gum
INSTRUCTIONS
Coat a skillet with cooking spray or a little bit of olive oil and heat over medium-high heat. When pan is hot enough, add chicken pieces, sprinkle with salt and pepper and cook for 5 minutes, then turn each piece to cook the other side until nice and golden brown. Set aside.
Add all ingredients for the dressing to a mini blender or food processor and blend until smooth.
Arrange mesclun and chopped mint leaves at the bottom of 2 serving plates. Arrange half the mango, chayotte and reserved chicken over each bed of greens.
Garnish with pumkin seeds
Pour dressing overtop the salad when you are ready to eat.