Watermelon Blueberry Salsa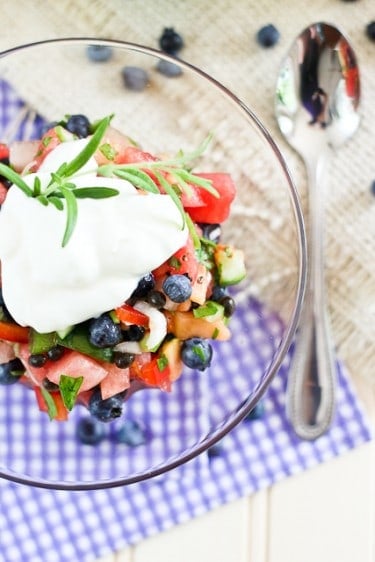 First things first…
I have to 'fess…
I did not come up with that idea. But ô, how I wish I had. For it is GLORIOUS!
I initially saw this recipe on Love and Olive Oil and immediately felt the need to recreate it. My mouth entered salivation mode as soon as I laid eyes on the first picture.
Mind you, with a picture THAT beautiful, it isn't too surprising that my mouth would immediately start to overflow with saliva…
As luck would have it, I had pretty much all the ingredients that I needed in my fridge.
Not only that, I also happened to have a few pints of "local" blueberries: Bleuets du Lac St-Jean. They are simply THE BEST blueberries on the entire planet, I can guarantee it. If you ever come to Quebec when blueberries are in season, you just HAVE to try them. You'll want to take a case back home with you, I swear.
Bleuets du Lac St-Jean are just super cute and tiny and they are so intensely sweet and flavorful, they go right off the chart.
Perfect for this salsa!
I also happened to have a papaya sitting there, all lonely and bored. The poor thing's future was rather uncertain too, for I'd been really undecided uninspired as to what I was going to do with it.
This salsa was the perfect opportunity, for even the seeds I would get to use. That's right, the seeds! A lot of people don't know that, but papaya seeds not only are edible (they have the most interesting peppery flavor) but they also harbor a surprisingly great deal of health benefits.
They were a real winner in this salsa. On top of providing an element of curiosity and visual appeal, they also added a nice little zing and just the perfect amount of crunch.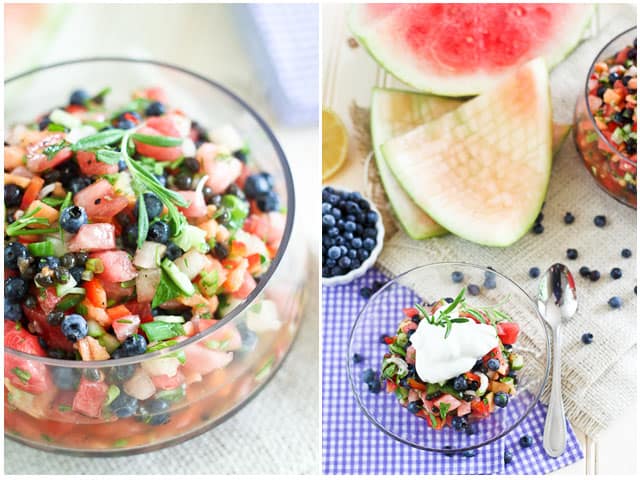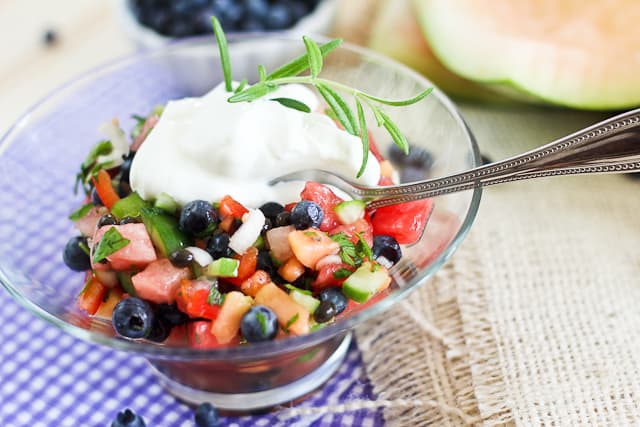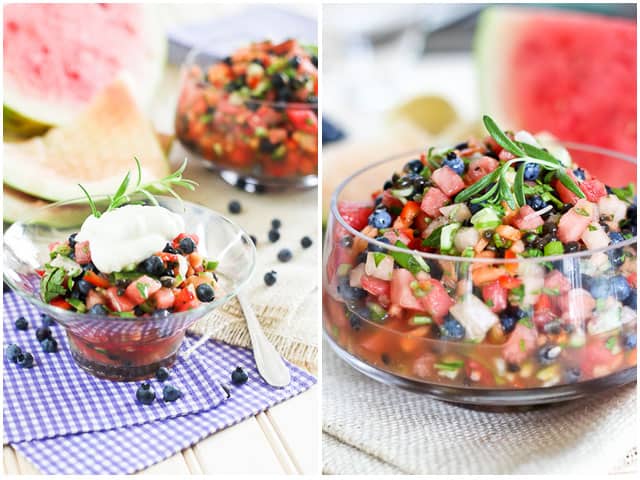 I guess it will come as no surprise to you if I admit that I neglected to follow the recipe and selected the rest of the ingredients half based on what I'd remembered reading and half relying on "the inspiration of the moment".
That served me very well, I think. This salsa was a complete success, if you ask me.
If I had one word of advice to give you, it would be DON'T leave the ginger out, unless you really can't stand it or are allergic to it. I think it makes a world of difference! It just brings so much depth to the overall flavor of the dish.
Now, I guess theoretically, one would expect to serve this as a snack or appetizer with corn chips or something.
It must be glorious, I admit.
But you know me, I'm weird… I chose to enjoy mine for breakfast, much like you would a fruit salad, topped with plain Greek yogurt.
I've but one thing to say…
YUM!
Watermelon Blueberry Salsa
Servings: 4
Ingredients
¼ of a large watermelon, 500g
¼ of a large papaya, 250g
The seeds of the whole papaya
150 g blueberries
2 small lebanese cucumbers, skin on
2 green onions, finely chopped
½ red bell pepper
1 small jalapeno pepper, seeded and finely chopped
1 tsp fresh rosemary, finely chopped
2 tbsp fresh parsley, finely chopped
2 tbsp fresh ginger, grated
Juice of 1 lime
½ tsp Himalayan salt
¼ tsp freshly cracked black pepper
Instructions
Cut the papaya in half, remove the seeds with a spoon and throw into a large mixing bowl.

Cut each half in half again and remove the peel from one of the quarters. Cut into small cubes and add to papaya seeds.

Cut watermelon into small cubes and add to bowl with papaya.

Chop cucumbers, green onions, red bell pepper, jalapeno, rosemary, parsley very finely and add to bowl.

Toss in grated ginger, lime juice, salt and pepper. Mix until well incorporated.

Serve immediatetely or leave in the fridge for a couple of hours to allow flavors to develop.

This salsa will keep for a few days in the refrigerator in an airtight container.
If you've tried this recipe, please take a minute to rate the recipe and let me know how things went for you in the comments below. It's always such a pleasure to hear from you!
You can also FOLLOW ME on PINTEREST, FACEBOOK, INSTAGRAM and TWITTER for more delicious, healthy recipes!