Zucchini, Mushroom and Cashew Chicken
Comments are back on! I can finally hear you guys! Oh, it feels so nice to have you back. So, so nice.
I'm truly sorry for all of you who actually took the time to write a comment that never made it through. I really wish that I could get them all back somehow and read them. You guys can't even begin to imagine just how much I enjoy reading what you have to say.
I only hope that you haven't cursed me too much when you noticed that your comment never made it to this site.
Oh, and please, please, don't let that stop you from conversing or sharing your thoughts and impressions with me in the future.
'Cuz THAT would be a disaster.
Let's just pray that this never happens again.
Now, on with the eats, shall we? Care to guess what's for dinner tonight?
Chicken, what else?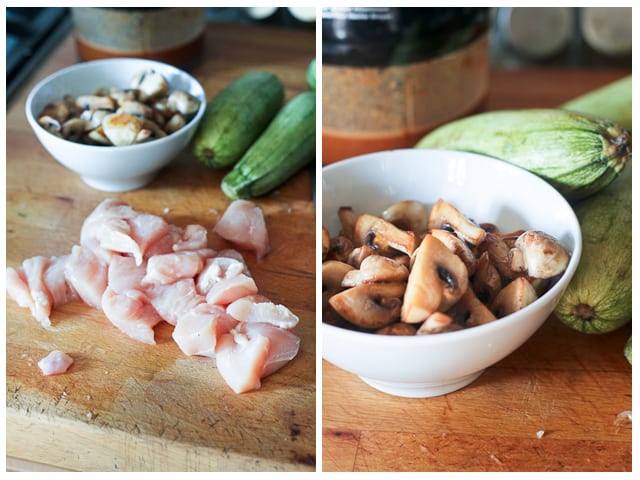 I guess I better warn you right away, I've been on this big chicken kick lately.
So of course, a few recipes involving chicken are to be expected in the next few days. I promise not to give them to you all at once…
This recipe here hardly qualifies as a chicken recipe, though. It's more like zucchinis and mushrooms with a few pieces of chicken. I was in the mood for LOTS of zucchinis, that night.
Alright, alright, I fess…
I had LOADS of zucchinis to use up. There. I said it.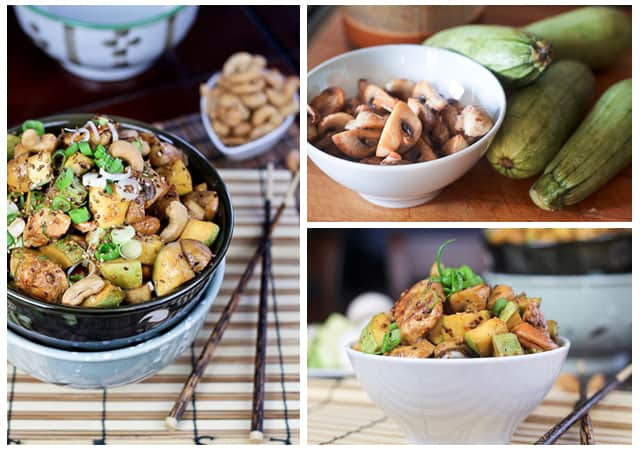 Still, I'm real happy I did, because trust me, I wouldn't even take one out of the ingredients list. It was just perfectly good with all the huge chunks of courgettes, big pieces of mushroom and jumbo cashew nuts.
Talk about amazing texture!
The flavor combination was just superb too. I mean, you have cashews, almond butter, sesame oil and toasted sesame seeds… so of course, a very intense nutty flavor is to be expected. But, it also has just what it takes of a tang zing from the vinegar as well as a serious hint of heat kick from the Sambal Oelek.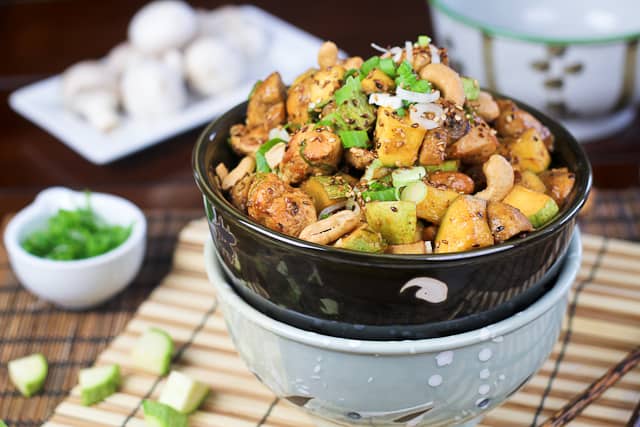 Perfect combination if you ask me. And talk about healthy, too! I would honestly not change a thing.
And I will honestly be making this one again…
And again…
And again!
Zucchini, Mushroom and Cashew Chicken
Servings: 2
Ingredients
1 boneless, skinless chicken breast, cut into 1" cubes
6 small grey zucchinis, cut into 1" quarter slices
225 g button mushrooms, quartered
1 small onion, chopped
1 clove garlic, chopped
2 green onions, chopped (save a few pieces for garnish)
Instructions
Coat a skillet with cooking spray and heat over medium-high heat. When pan is nice and hot, add mushrooms, sprinkle with a little bit of salt and pepper and cook for about 2-3 minutes, then turn each piece to cook the other side until nice and golden brown. Transfer to a bowl and set aside.

Put the skillet back over medium heat and when hot enough, add chicken, sprinkle with salt and pepper and cook for about 5 minutes, then flip the pieces and and cook until nice and golden. Add onion and garlic, stir and cook for another 2-3 minutes.

Throw in the zucchini, stir and continue cooking for a minute or two.

Meanwhile, add ingredients for the sauce to a medium mixing bowl and whisk until well combined.

When zucchinis start to become tender, go ahead and add the mushrooms, green onions, cashews and sauce then give that a good stir and simmer for a couple of minutes.

Divide between 2 serving bowl and garnish with green onions, if desired.
If you've tried this recipe, please take a minute to rate the recipe and let me know how things went for you in the comments below. It's always such a pleasure to hear from you!
You can also FOLLOW ME on PINTEREST, FACEBOOK, INSTAGRAM and TWITTER for more delicious, healthy recipes!