Bacon Banana Nut Butter Dark Chocolate Cups
Shortly after I decided to give this Paleo thing a try, I stumbled across this picture and immediately thought OMG, I have GOT to have one of those like RIGHT NOW, which was weird because up until that very moment, the combination of chocolate and bacon had never appealed to me at all.
I might even say that it kinda grossed me out.
But I don't know why, for some strange reason, the addition of banana and nut butter to the whole combo just kinda flicked a switch in my brains and caused me to badly, badly want to give it a try.
Or maybe it was just George's picture  that did it. You have to admit that it looks pretty darn amazing!
Well, it took close to 9 months, but I finally came up with my own version of this evil combination.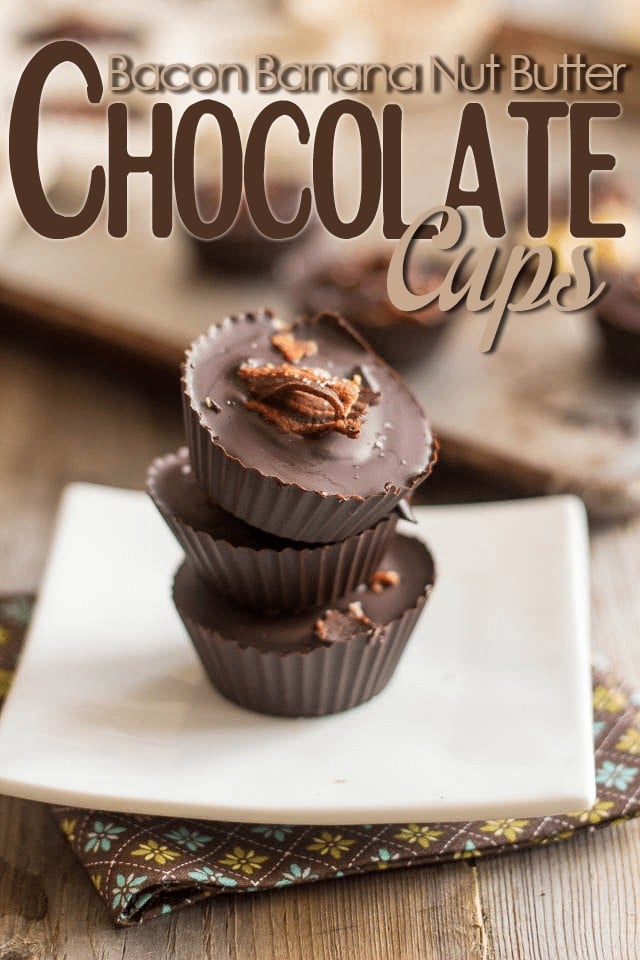 I say evil because once you've had a taste of it, you're as good as "forked". There is no going back.
You WILL crave it later down the road. And later again still…
These might be a little bit extensive to make, but don't worry, I've got you covered… in pictures, that is!
Let's make them together, why don't we?
Start by melting the cacao paste in the microwave. Chocolate is very fragile and burns very easily, so you want to be extra careful when you do that. So do take it out every 30 seconds or so and stir for the same amount of time.
At first, it won't have melted much but it's good to move things around.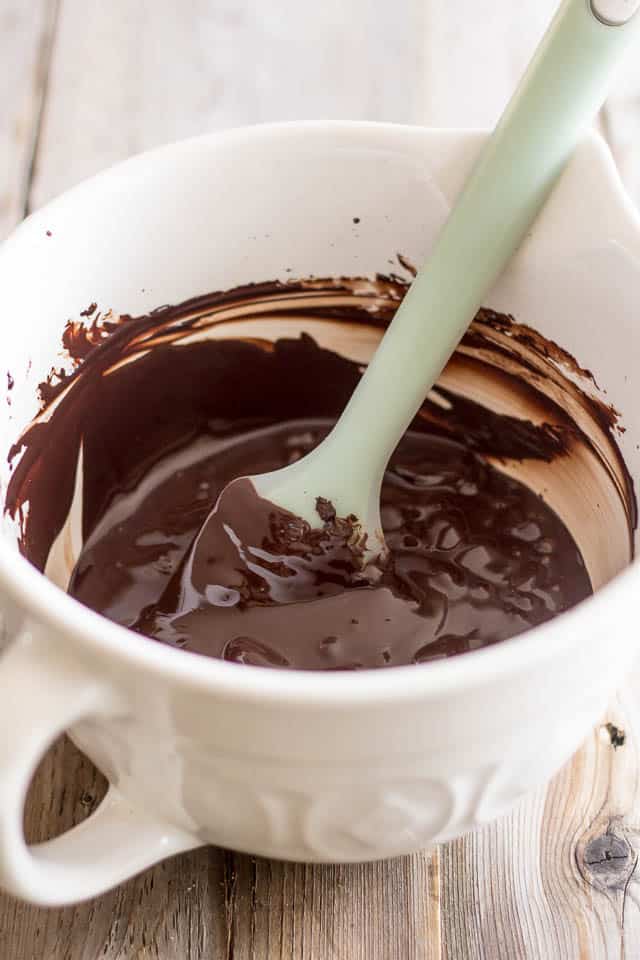 After 2 to 3 sessions in the microwave, there are still quite a few lumps but as you can see, it's really getting there.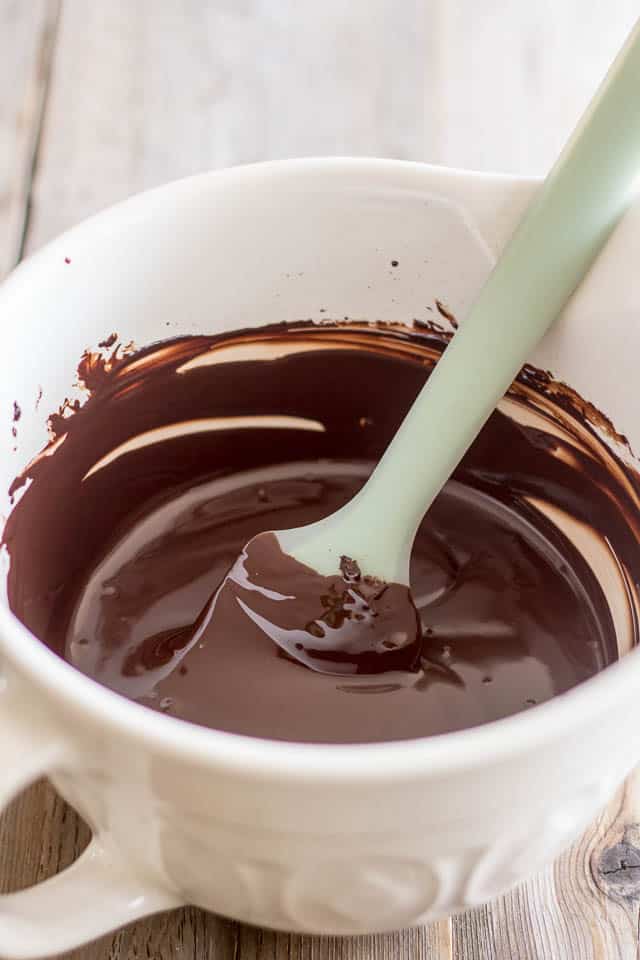 Another session or two and your cacao paste should be nice and silky and completely melted.
It's now time to add the salt and honey and stir delicately until smooth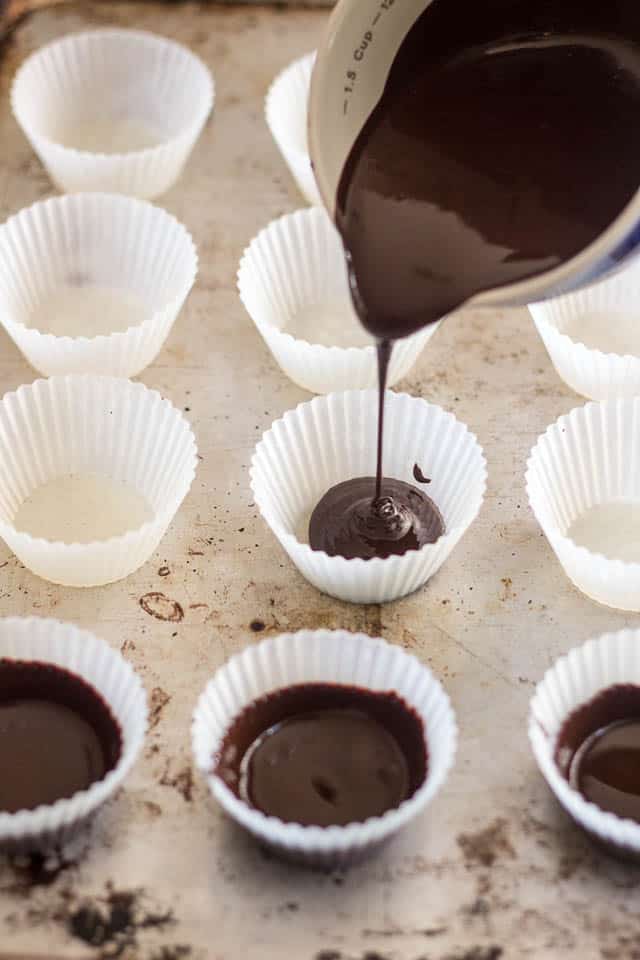 Divide half the chocolate (about 2/3 of a cup) between 15 large silicon muffin cups.
You *could* use paper cups, but it's a tad tricky, for paper is not quite sturdy enough to handle the task at hand. If you do choose to use paper cups, make sure you place them in a muffin pan to set.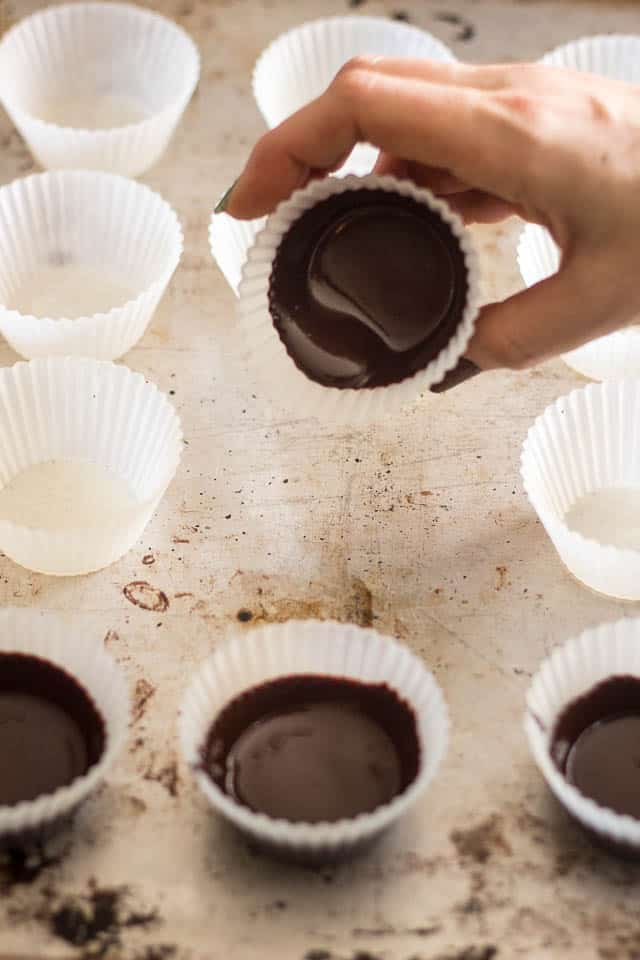 Rotate and twirl each cup so that the chocolate covers the sides about ¾ of the way up.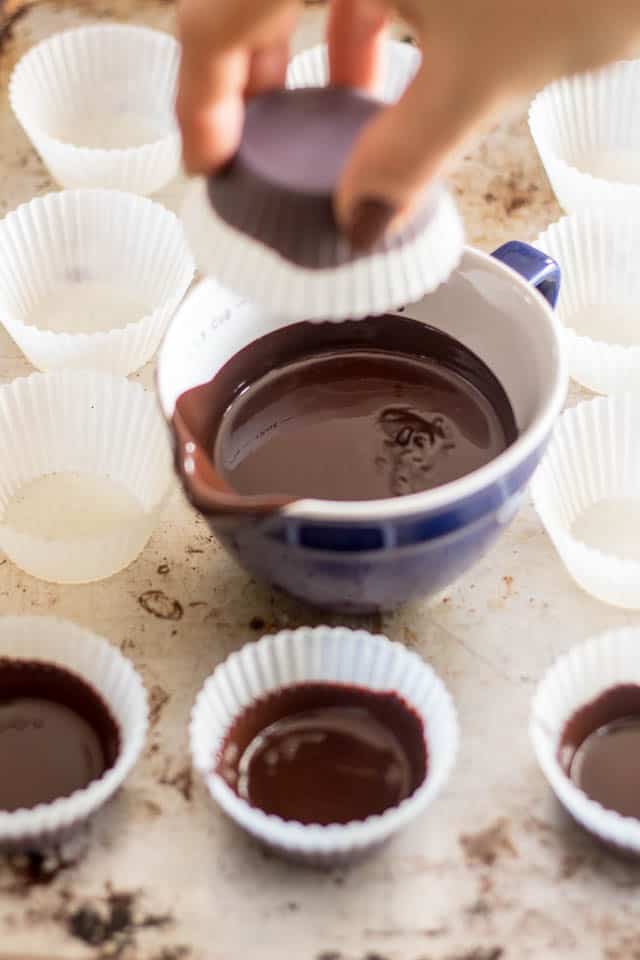 Flip them upside down over the bowl containing the remaining melted chocolate to drip out any excess.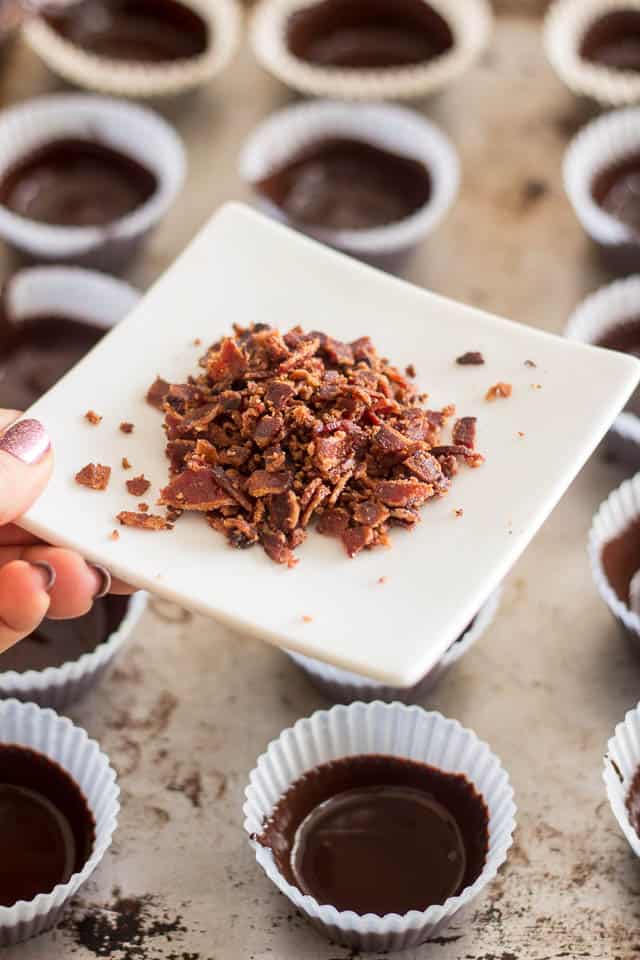 Bring forth DA BACON!
Do not eat it all! I' m serious. You don't got much, so HANDS OFF!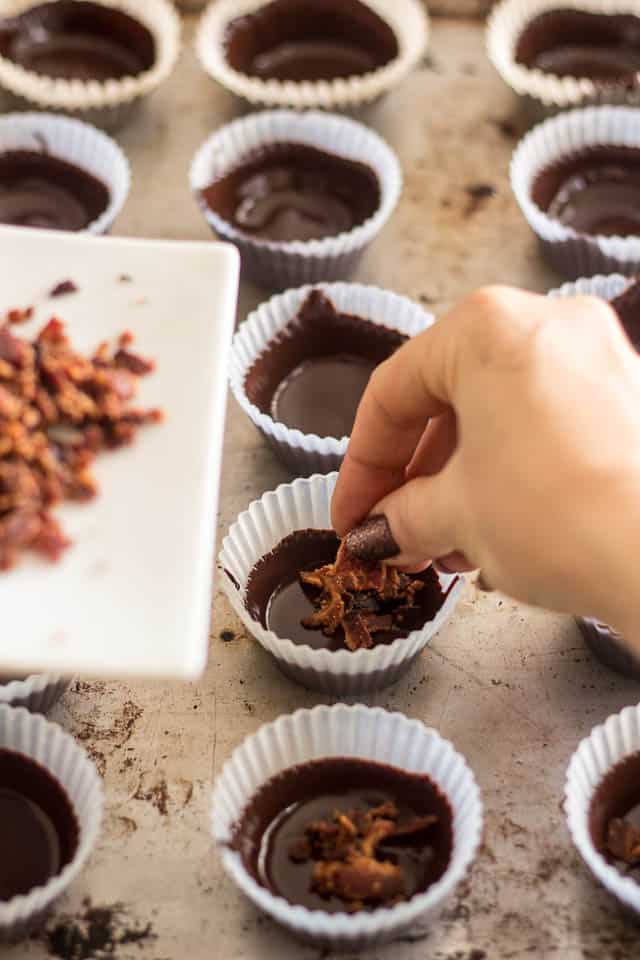 Divide half the crumbled bacon between the 15 chocolate coated cups, then place them in the refrigerator until completely set, about 15 minutes.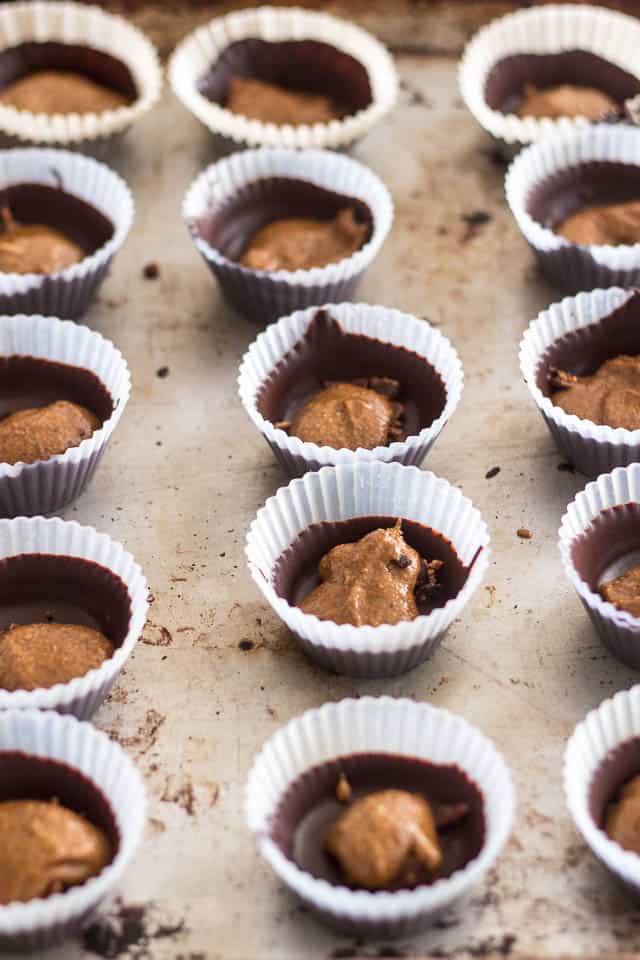 Drop about a teaspoon of nut butter over the bacon. No need to be fancy about it…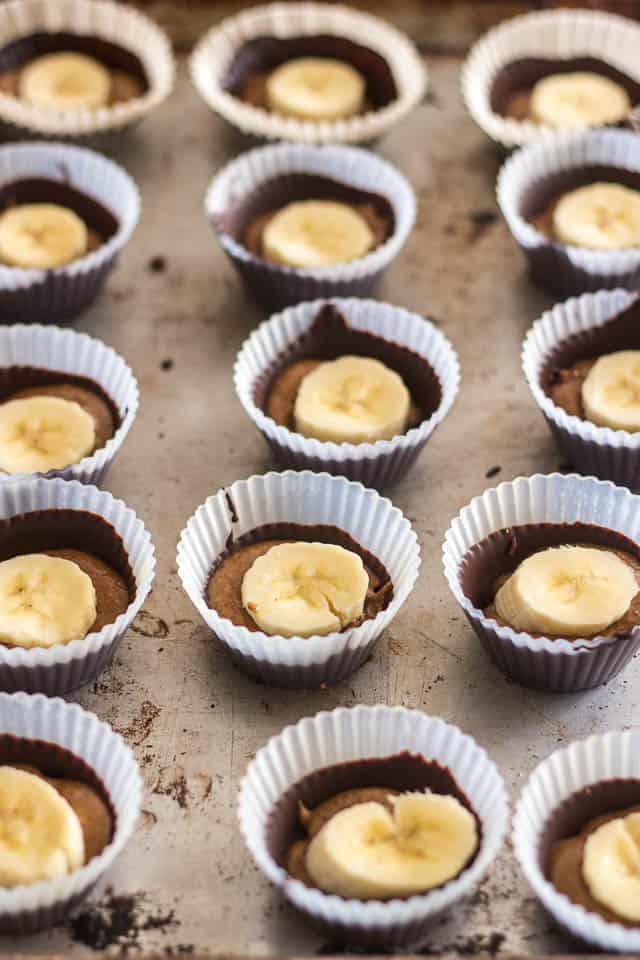 Top with a banana slice.
Slightly press on the banana to get the nut butter to come up on the sides.
Yes, you can smoosh them a little. They won't resent you, I swear!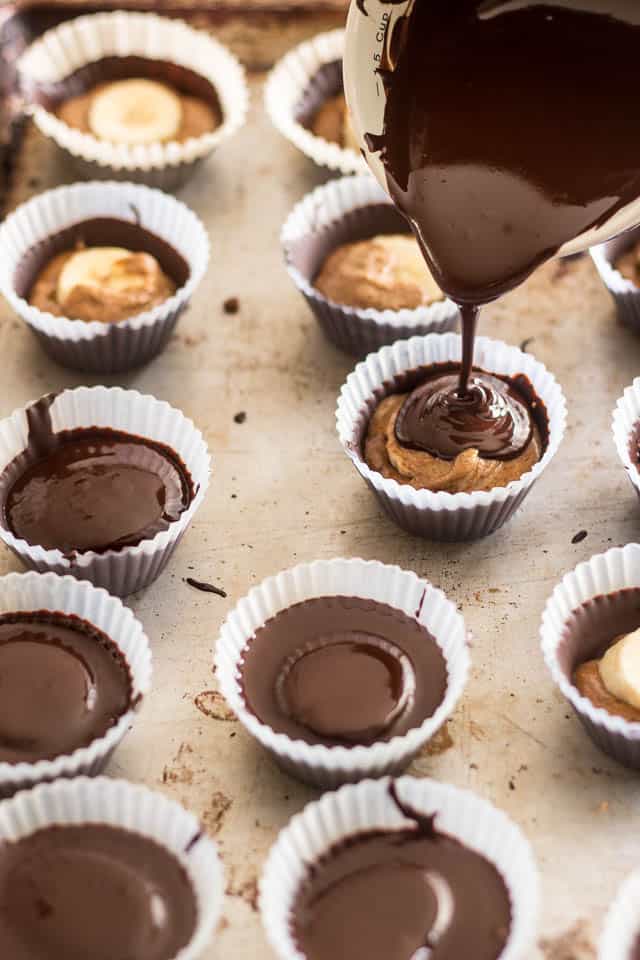 Divide the rest of the chocolate between the 15 cups by pouring it right over the bananas.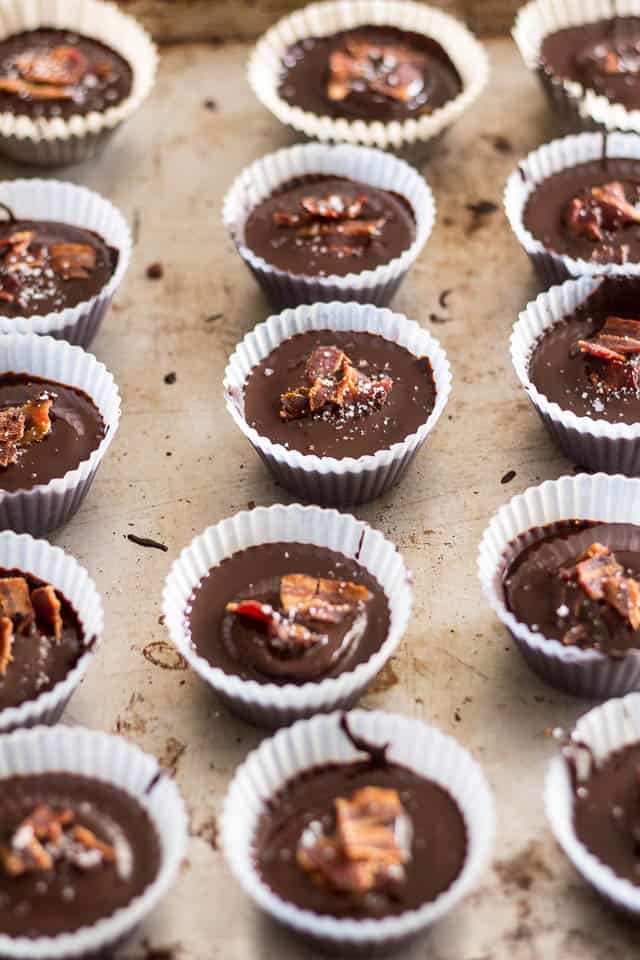 Garnish each cup with a few pieces of crumbled bacon and sprinkle with pinch of Fleur de sel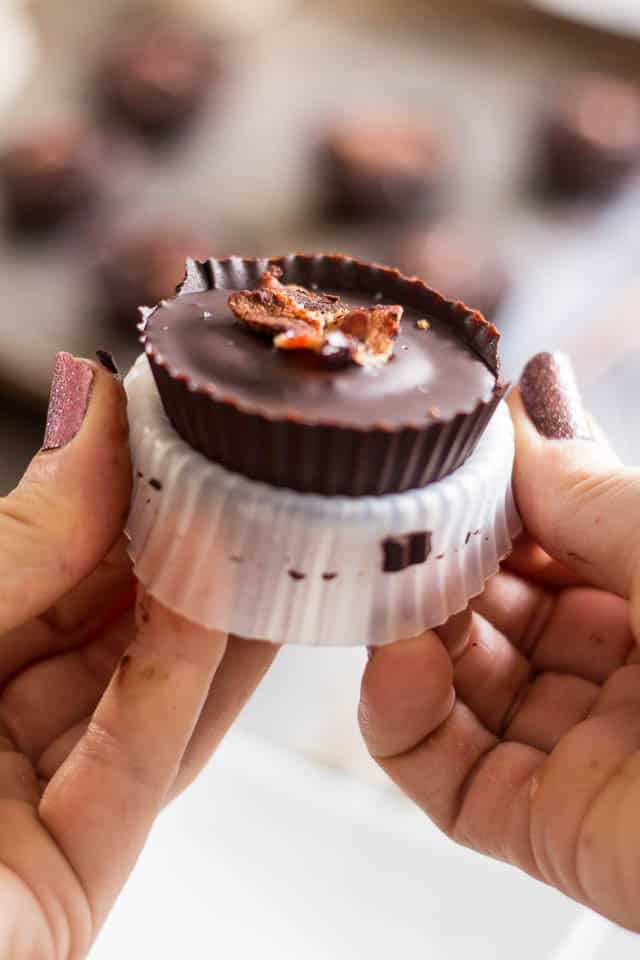 Place in the refrigerator to set for about an hour before taking the cups out of the molds.
Just flip the mold onto itself and push on the bottom at the same time, your treats will pop right out.
And don't be afraid to get your hands dirty… making chocolate is no clean business!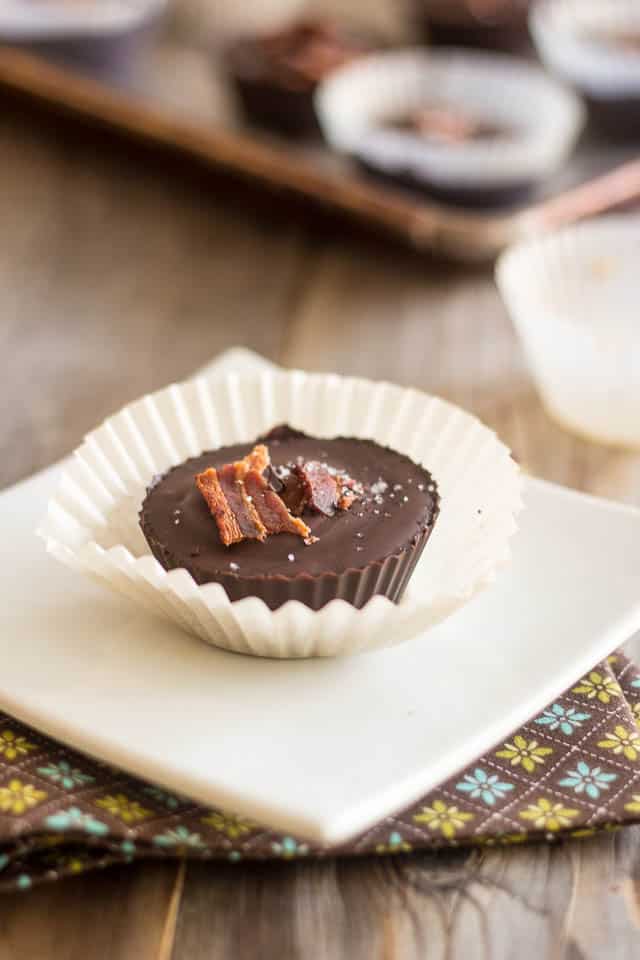 Place your finished chocolate cups in large paper muffin cups to protect them from getting bruised and make them look even prettier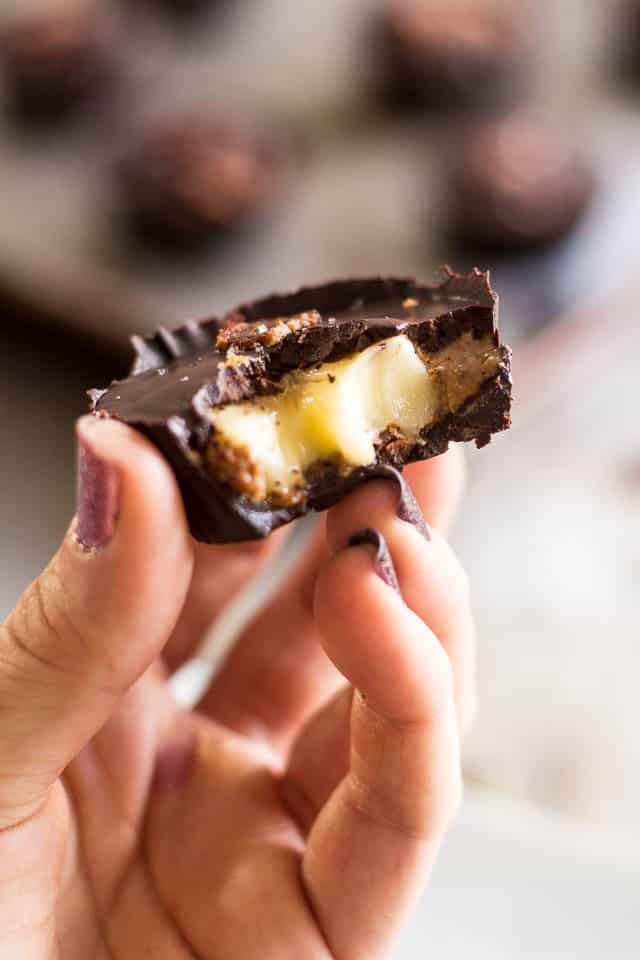 Of course, you need to taste test at least one, while they're still nice and fresh…
My verdict? Definitely: yes please, more please!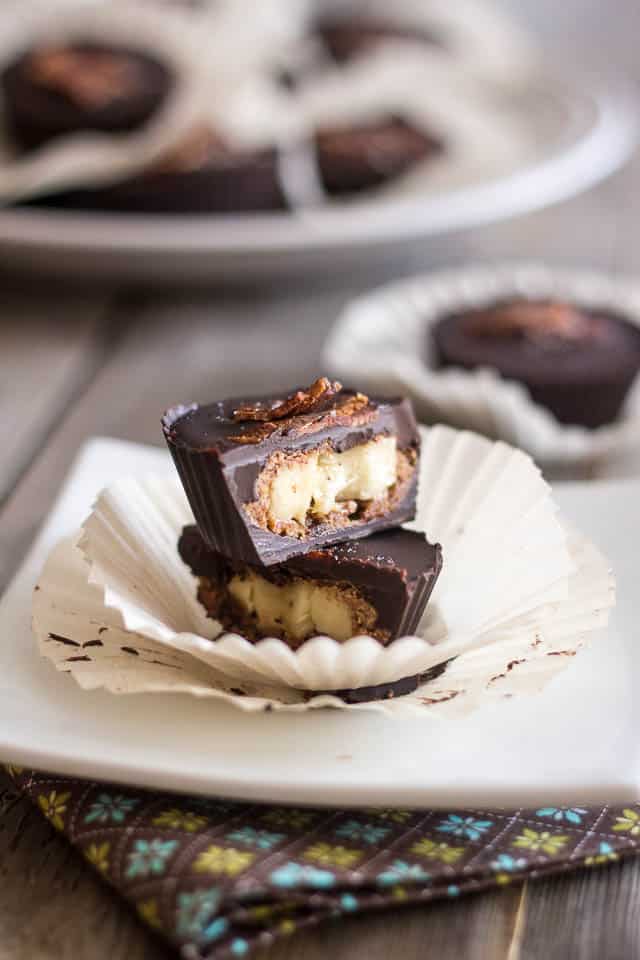 Now that I've gotten a taste of these babies, I think my life will never be the same.
And I'm enjoying playing with chocolate so much, I feel I need to come up with tons more flavor combinations.  Now if only I could manage to develop a real decent salted caramel recipe. Can you imagine a little hint of that in these cups?
Oh my, I can't wait to see the day…
It'll come though, I swear. It'll come! 
Bacon Banana Nut Butter Dark Chocolate Cups
Ingredients
400g organic raw cacao paste
¼ tsp Himalayan or fine sea salt
4 tbsp unpasteurized honey
8 slices of bacon, cooked crispy and finely crumbled
1 cup all natural nut butter of your choice (I used a combination of almond and toasted hazelnut)
1 large banana, sliced into 15 pieces
Fleur de sel
Instructions
Start by melting the cacao paste in the microwave. Chocolate is very fragile and burns very easily, so you want to be extra careful when you do that. First, make sure that your chocolate is very finely and evenly chopped (the finer it is, the quicker it will melt) and place it in a microwave safe bowl (glass preferred). Then, place it in the microwave on high but make sure that you check on it and stir well every 20 to 30 seconds until it's completely melted. This is very important as you do not want to burn your chocolate, and that can happen very quickly in a microwave. Chocolate will fully melt long before it gets truly hot, so do check on it often, and STIR!
When the chocolate is fully melted, which should take about 2 minutes total, add the salt and honey and stir delicately until smooth.
Divide half the melted chocolate between 15 large silicon muffin cups. You can use paper cups, but it's a tad tricky, for paper is not quite sturdy enough to handle the task at hand. If you do choose to use paper cups, make sure you place them in a muffin pan to set.
Rotate and twirl each cup so that the chocolate covers the sides about ¾ of the way up. Flip them upside down over the bowl containing the melted chocolate to drip out any excess.
Divide half the crumbled bacon between the 15 chocolate coated cups. Place in the refrigerator until completely set, about 15 minutes.
Drop about a tablespoon of nut butter over the bacon and top with a banana slice. Slightly press on the banana to get the nut butter to come up on the sides a little bit.
Divide the rest of the chocolate between the 15 cups by pouring it right over the bananas. Again, rotate and swirl each cup until the chocolate completely covers the banana. Tap the cups a few times on the counter to make the top nice and smooth as well as to remove any air bubbles and fill all the nooks and crannies.
Garnish each cup with a few pieces of crumbled bacon and sprinkle with a pinch of Fleur de sel.
Place in the refrigerator to set for about an hour before taking the cups out of the silicon molds.
These chocolate cups will keep in the refrigerator for about 10 days in an airtight container

Nutrition Information
Serving size: NF is based on 1 of 15 cups