Paleo Dark Chocolate Bark [with Almonds Pistachios and Goji Berries]
You'll be seeing quite a lot of treats coming up on THF over the next few days…
In fact, you can pretty much expect an "all-treat-all-week-and-beyond" to take place in here. There will be chocolate, chocolate and more chocolate.
Hey, Christmas IS only a few days away after all, isn't it ? Oh, I'm not saying that you should be feeding exclusively on chocolate and candy all the time because it's the Holidays, BUT! Since it IS the Holidays, chances are you will be enjoying a little treat or two here and there, and you'll be looking to make various goodies at home to give to your friends and loved ones. Right? Right!
And if you're gonna do that, might as well keep it clean.
Right.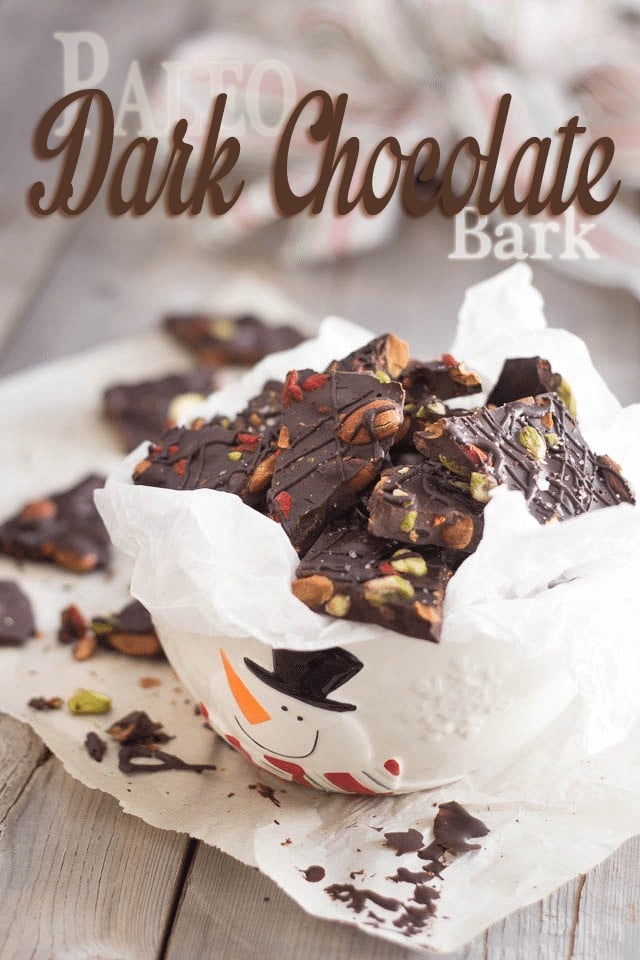 In that spirit, I've been keeping p.r.e.t.t.y busy lately! All in the name of helping you guys out, of course! I took no pleasure whatsoever in this, promise! Okay, well, maybe just a little…
I created all sorts of yummy treats to share with you, all of them free or refined sugar, evidently, but also loaded with as much nutritious foods as I could possibly cram in there. Of course, if you follow me on Facebook or Instagram, you sort of already knew that… 'cuz you've seen the sneak peeks, haven't you? 😉
For starters, I made this delicious Dark Chocolate Bark, which is made from 100% natural cacao paste, sweetened with a hint of honey and made super pretty, tasty and crunchy thanks to the addition of toasted almonds, raw pistachios and goji berries. There's NOTHING in there that isn't good for you. But no one needs to know that, do they?
And as if that wasn't enough, there's an added bonus, too: nothing could be easier to make than this very festive and irresistible looking treat, yet it seems like mastering the art almost requires a certificate in high chocolaterie. Your friends will think that you had to spend hours in the kitchen to bring this baby to life.
Nothing could be further from the truth, but again, no one needs to know, right?
Let me show you just how easily and quickly this bark comes together. It's so simple, even a child could do it. I swear!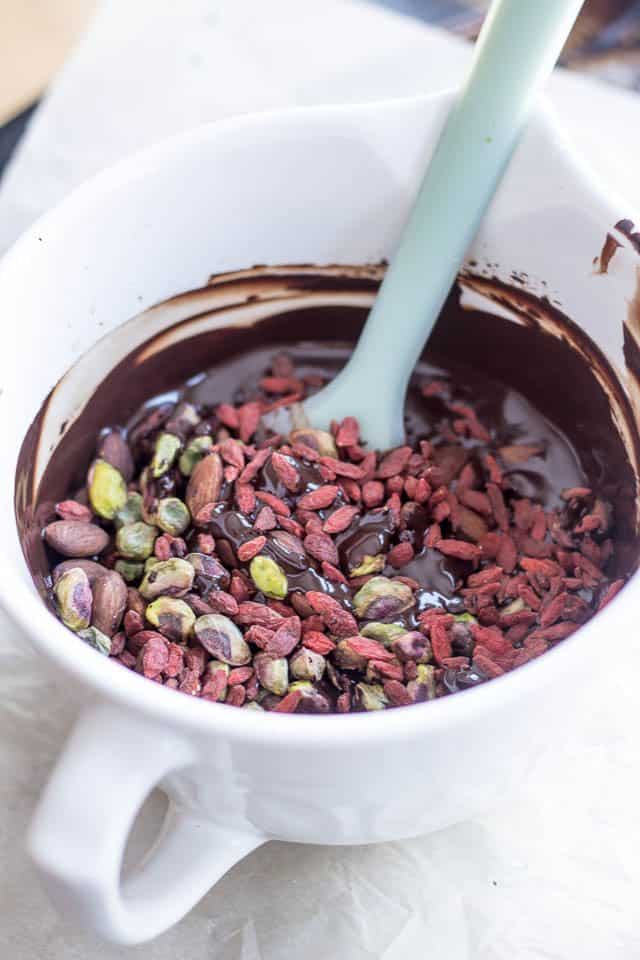 Melt cacao paste, stir in honey, coconut oil then add berries and nuts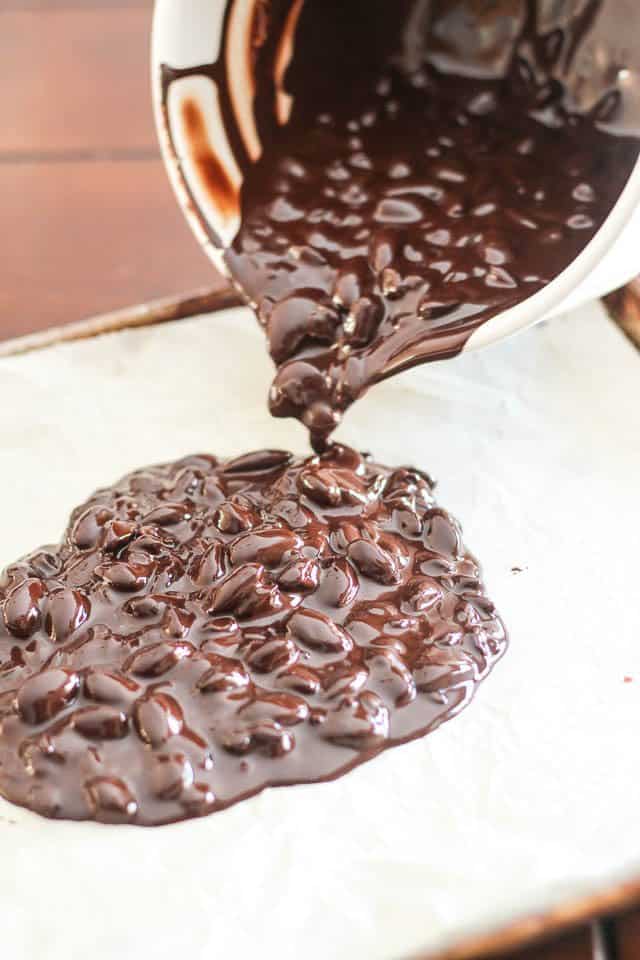 Pour that onto a baking sheet that's previously been lined with parchment paper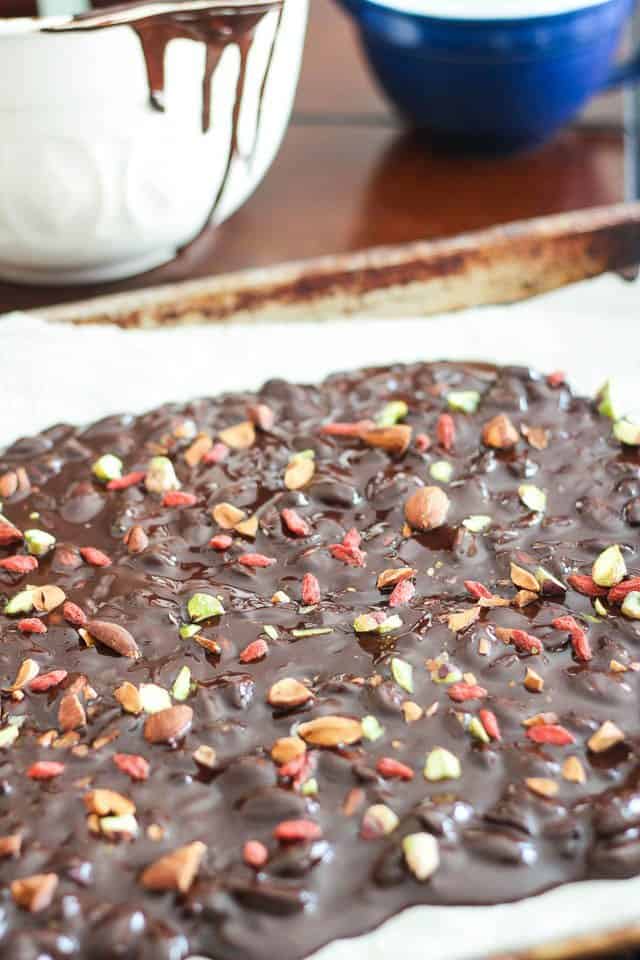 Spread and sprinkle a few additional goodies on top. Throw this in the fridge for a few minutes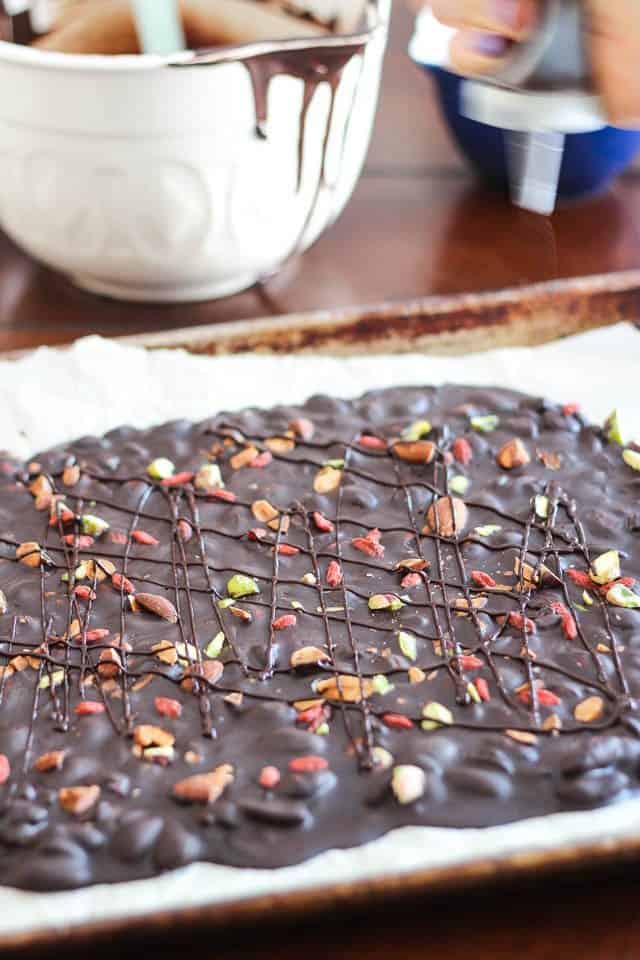 Drizzle a little bit of melted chocolate over everything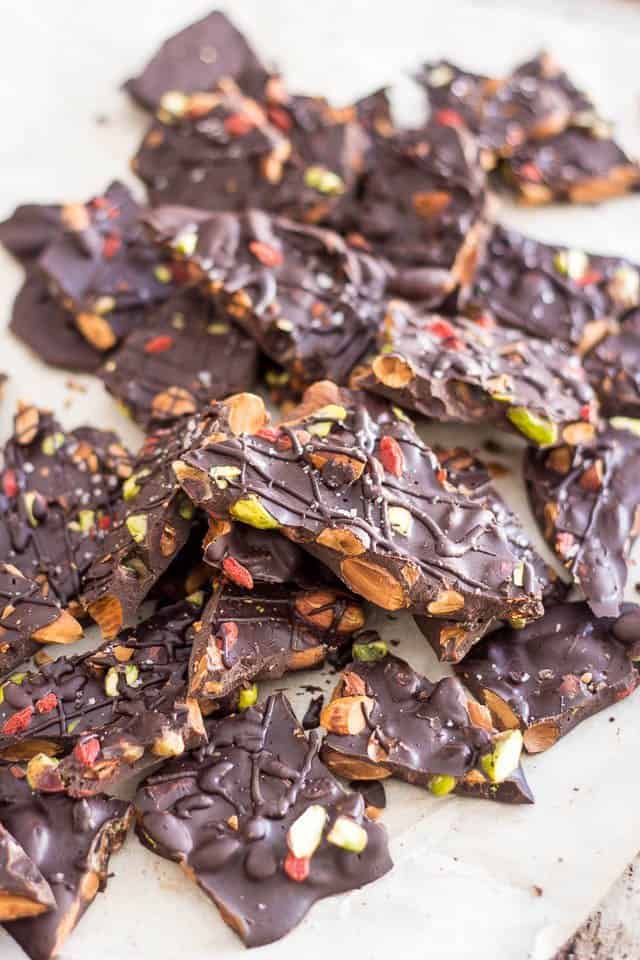 Break into pieces of uneven shapes and sizes. That's the beauty of bark!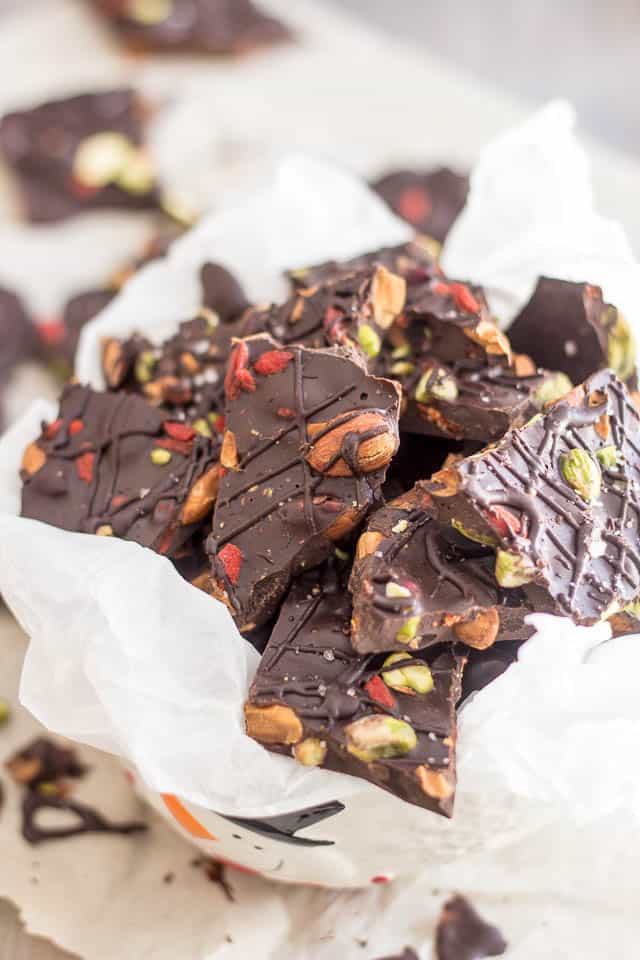 Place in a pretty bowl and serve to your guests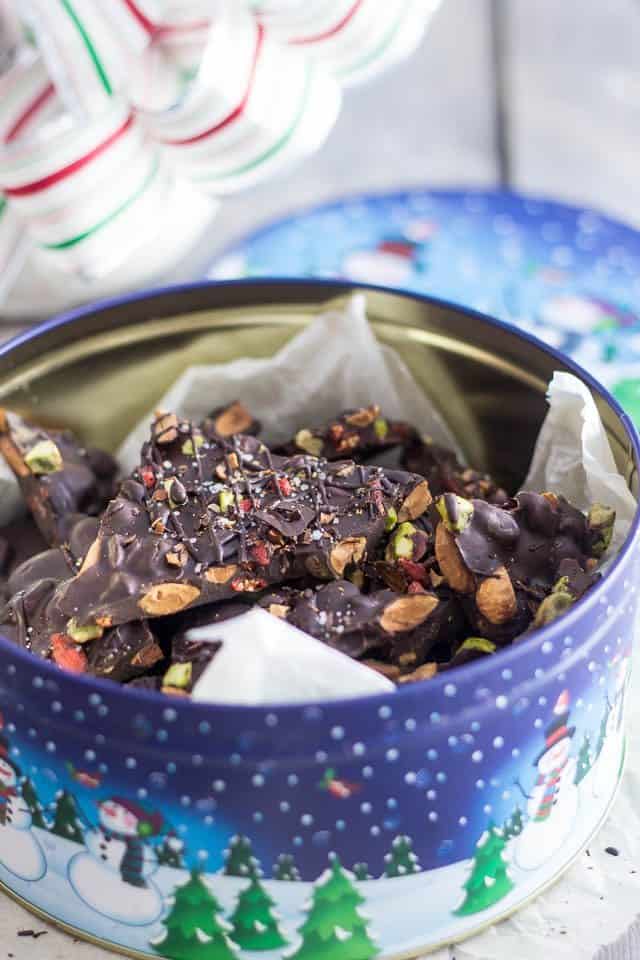 Or put it in a nice container and bring to someone you love as a gift!
Easy enough for you? I thought so too.
The toughest part, really, is to actually give it away and not eat it all! 
Paleo Dark Chocolate Bark [with Almonds Pistachios and Goji Berries]
Servings: 36
Instructions
Toast the almonds in a preheated 350F oven for about 8-10 minutes. Allow them to cool completely.

Grab a few almonds, pistachios and goji berries and chop them roughly; set aside.

Melt the cacao paste in the microwave in 20-30 second intervals and stir well for an equal amount of time between each interval until it's completely melted.

When the chocolate is fully melted, add the honey, melted coconut oil and pinch of salt and stir delicately until smooth.

Reserve 2 – 3 tablespoons of that chocolate in a small bowl or small squirt bottle, to drizzle over the bark later.

Add toasted whole toasted almonds, goji berries and pistachios to the melted chocolate and stir until uniformly combined.

Pour that right onto a baking sheet lined with parchment paper and spread it lightly with a spatula to the desired thickness.

Sprinkle the reserved chopped nuts and berries over the chocolate and place in the refrigerator to set for about 10 minutes.

Drizzle the reserved chocolate over the bark. A small squirt bottle works best, but you could also use a spoon, fork or pastry bag.

Sprinkle a little touch of fleur de sel all over and return the bark to the fridge to finish setting, about 30 minutes.

Using your fingers, break the chocolate into several pieces of different shapes and sizes.

Stored in a cool dry place in an airtight container, this will keep for several weeks.
If you've tried this recipe, please take a minute to rate the recipe and let me know how things went for you in the comments below. It's always such a pleasure to hear from you!
You can also FOLLOW ME on PINTEREST, FACEBOOK, INSTAGRAM and TWITTER for more delicious, healthy recipes!