Bacon Wrapped Stuffed Dates
I was really hesitant to post these when I first decided to make them because seriously, they are so easy to make that you don't really need a recipe, so I figured you didn't exactly need me to show you how it's done.
Besides, they are all over the Internet already so chances are you've seen them a gazillion times before. There's no need for a gazillion and first time, is there?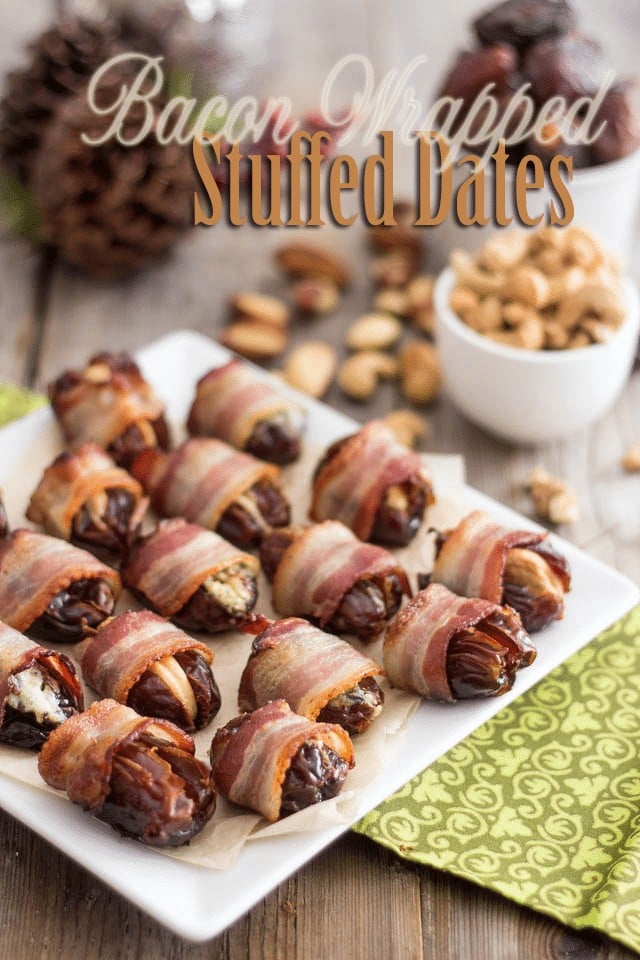 But then I tasted them. O.M.G. My face did a double back flip and my feet suddenly slipped from under me, causing me to fall heavily butt first on the hard surface of the floor, leaving me helpless and practically out of breath from the gustatory experience I'd just had.
What I'd just put in my mouth was so insanely good, it no doubt was a mistake that it could be found anywhere on earth. Surely, it belongs exclusively in heaven!
So I thought I had to post it, if only to reach that ONE person who might not be aware of the existence of this exquisite treat as of yet.
And by all means, if you ARE aware of its existence but never really cared to give it a try, DO IT and do it now!
I swear, your life may never be the same…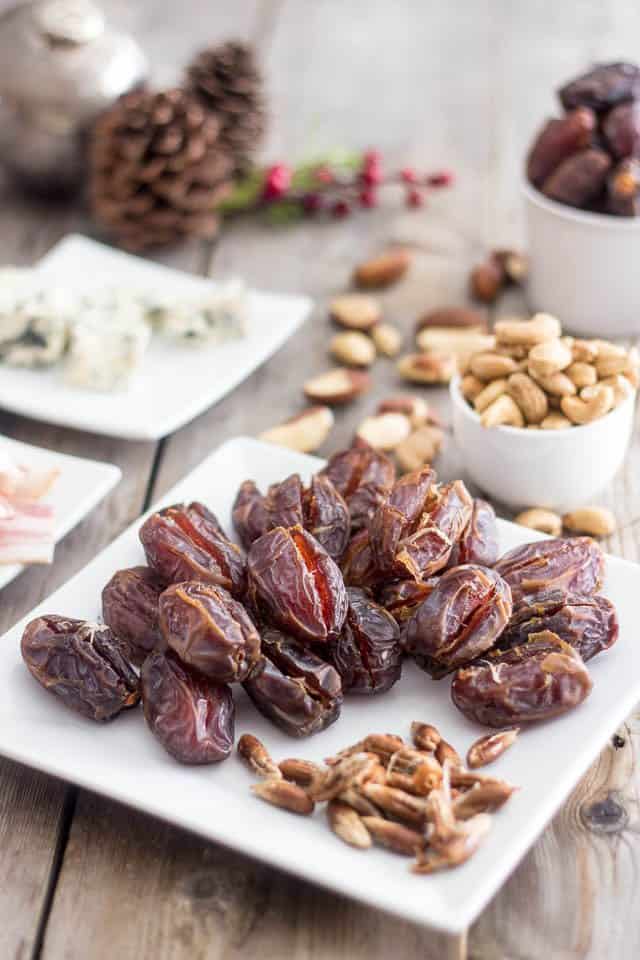 First, you'll need to pit those dates… no one likes to bite into a rock hard pit. Not a pleasant experience, to say the least!
To do that, delicately slice the dates with a sharp paring knife, from one end to the other; Then carefully pry that pit out with the tip of your knife. You'll see, it'll come right out for ya.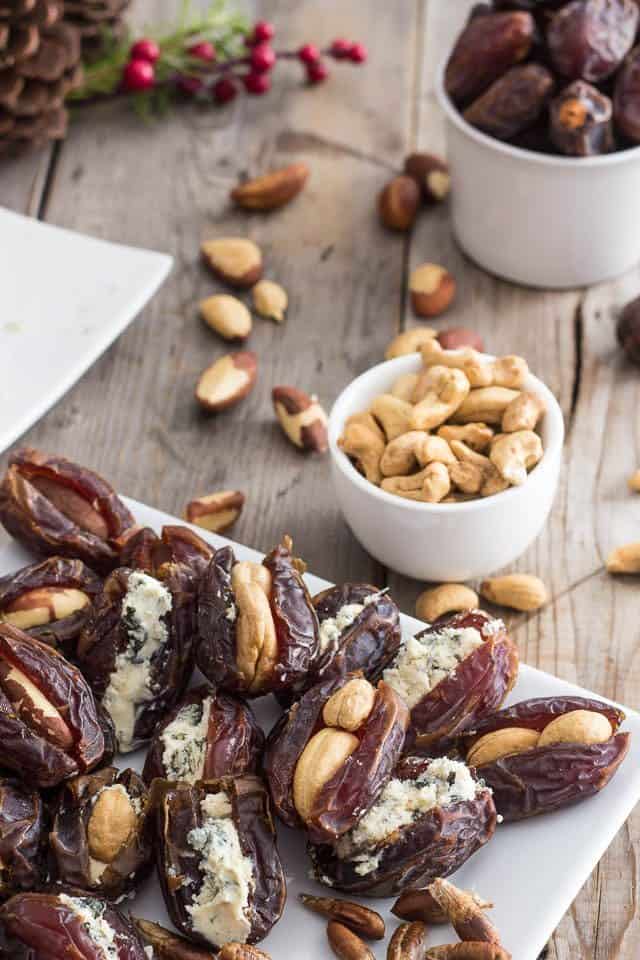 Now that the pits are out of the way, stuff the cavities with whatever nut or cheese tickles your fancy. I chose to use blue cheese, Brazil nuts and jumbo raw cashews. However, if you don't care for any of these, I'm sure that goat cheese, macadamia nuts, hazelnuts, pecans, walnuts or even pistachios would work deliciously well.
Or, you could even leave that cavity empty, if you preferred to. But I think you would be missing out, honestly. This empty cavity begging to be filled with something yummy is way too great an opportunity to pass, if you ask me!
Plus, a cavity left empty is such a sad thing, don't you think?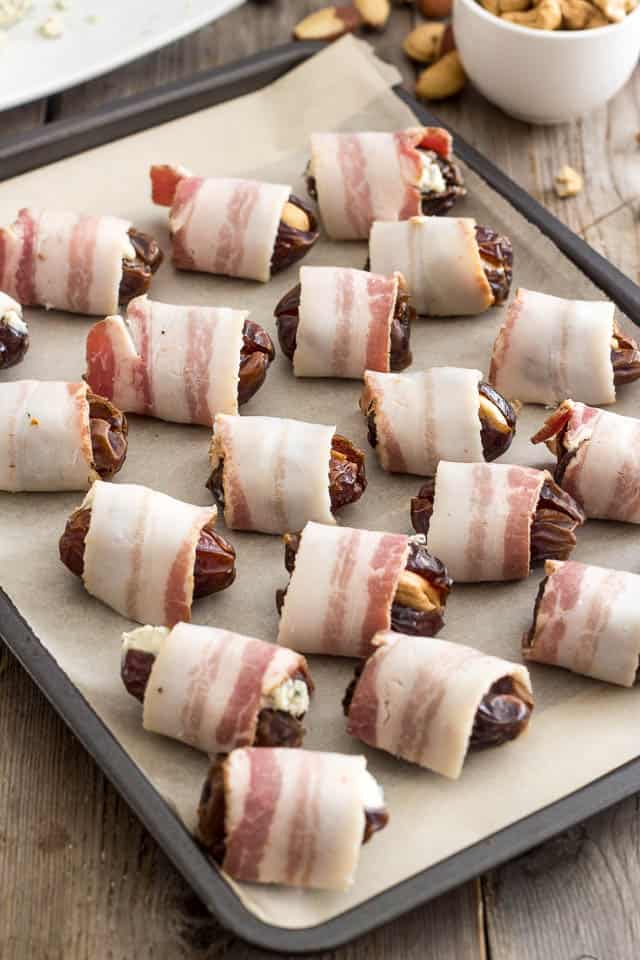 Once the dates are good and stuffed (or not, if you chose to leave them bare…) wrap a piece of bacon around them. I used thirds of slices because my strips were really long, but if yours are on the shorter side, you might need to use halves. You need to make sure that the strips will completely wrap around the dates and that there will be a bit of an overlap where the 2 ends meet. Oh, and make sure you keep that seam under the dates, of course…
Set your dates on a baking sheet that you will have previously lined with parchment paper.
One word of advice, here: do not skip the parchment paper! Just tilt your eyes down one inch and you'll see why!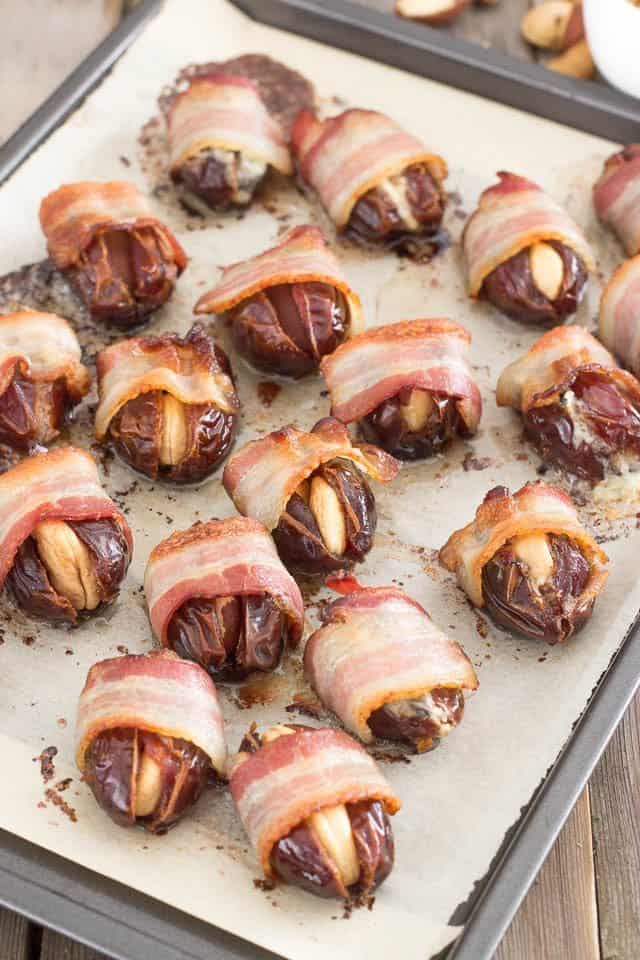 I thought you'd prefer not having to clean that mess… Plus, parchment paper will prevent your dates and bacon from sticking to the baking sheet. Believe me: you want to use it!
Now, I know some of you crispy bacon lovers out there may be looking at that bacon thinking it's way undercooked, but trust me on this one. You don't really want to cook these for too long. You want that bacon to remain nice and supple and your dates to stay all soft and plump. Oh, and you wouldn't want that bacon to shrink on you so much that it just sits on top of your dates, now, would you?
Hear me out: I'm a real crispy bacon lover myself and I found these to be absolutely perfect!
Now for the really hard part. You need to let these babies cool down some. The next 10 to 15 minutes will probably be the longest minutes of your life. Ever!
But be patient. These taste much better when they don't burn your tongue, gums and roof of your mouth as you bite down on them. Yeah! True story, unfortunately. Only once they were given a chance to cool down a bit will they reveal the whole amplitude of their extraordinary flavor. Plus, something magical seems to be taking place during that time: the dates, stuffing and bacon sort of meld together and kind of become one. I don't know how to explain it, but I guarantee you it's a good thing and VERY well worth waiting for.
So go do something, keep your mind occupied. The last thing you want to do now is stay there and stare at them. It would only be pure torture. Put them safely away from eager kids, spouses, guests or dogs and walk out of the room.
Trust!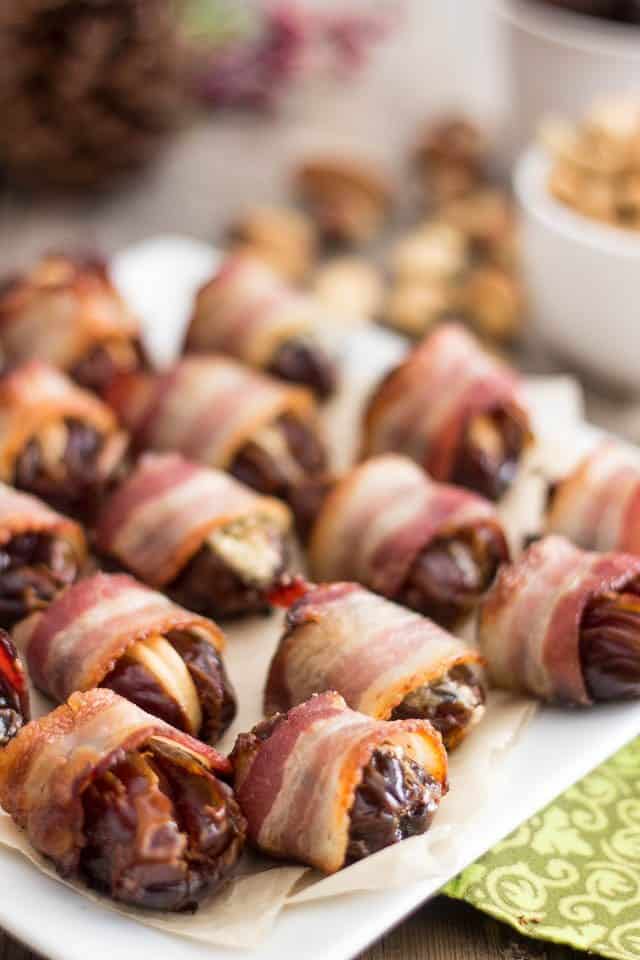 After the dates have had ample time to cool down, transfer them to a serving plate and offer them to your hungry guests at once.
You should probably serve them with a serious warning as a side: it might be a good idea for them to sit down before they indulge, just in case their feet would be tempted to pull a crazy stunt on them like they did on me and send them flying straight to the floor.
Hey, it *could* very well happen, you know! 😉
Bacon Wrapped Stuffed Dates
These bacon wrapped stuffed dates are so heavenly good they may sweep you off your feet, yet they are so easy to make you hardly even need this recipe...
Servings: 24 pieces
Ingredients
24 large medjool dates
16 jumbo raw cashews
75 g blue cheese
8 slices pastured bacon, cut in 3 crosswise (make sure that your pieces are large enough to completely wrap around the dates. Use a few more strips if necessary and cut then in half instead)
Instructions
Preheat the oven to 375°F

Remove the pits from the dates by slicing them across the top from one end to the other with a paring knife and carefully prying the pit out with the tip of your knife.

Stuff the cavities with a Brazil nut, 2 jumbo cashews or about half a teaspoon of blue cheese (goat cheese is also fab, if you don't like blue cheese)

Wrap a strip of bacon around the date, making sure that both ends of the strip overlap some and to keep the seam neatly tucked under the dates.

Set the finished dates on a cookie sheet lined with parchment paper.

Bake in a 375°F for about 8 to 10 minutes, or until bacon starts to turn golden and gets slightly crispy on the edges.

Remove from oven and allow to cool for at least 10 to 15 minutes before serving.

These stuffed dates are at their best warm but are also delicious cold.

You can also make them in advance and reheat them in the microwave (if you prefer to serve them warm) for a minute or two.
Nutrition
Calories: 123kcal, Carbohydrates: 19g, Protein: 2g, Fat: 5g, Saturated Fat: 2g, Cholesterol: 7mg, Sodium: 93mg, Potassium: 203mg, Fiber: 2g, Sugar: 16g, Vitamin A: 62IU, Calcium: 34mg, Iron: 1mg
If you've tried this recipe, please take a minute to rate the recipe and let me know how things went for you in the comments below. It's always such a pleasure to hear from you!
You can also FOLLOW ME on PINTEREST, FACEBOOK, INSTAGRAM and TWITTER for more delicious, healthy recipes!