Paleo Tourtière [or French Canadian Meat Pie]
Now that we've made Pie Dough, we need to get busy making some pie, don't you think? Of course, we do.
How about we make a great French Canadian classic: tourtière, aka Meat Pie?
I know, I know. It's traditional Christmas food. And Christmas is a thing of the past, now. I know. And I'm sorry if I'm still serving you some of my Christmas "leftovers", but it seems like I've really been cooking up a storm again this year. Hey, I did have to "paleoify" my entire menu, after all!
And just as was the case with the Pork Shank and Meatball Stew that I shared with you not too long ago, tourtière is also a part of our sacrosanct traditional Christmas menu, so I just HAD to come up with a paleo version. There was no leaving it out!
I'm really glad I did, because honestly, this was my favorite meat pie EVER!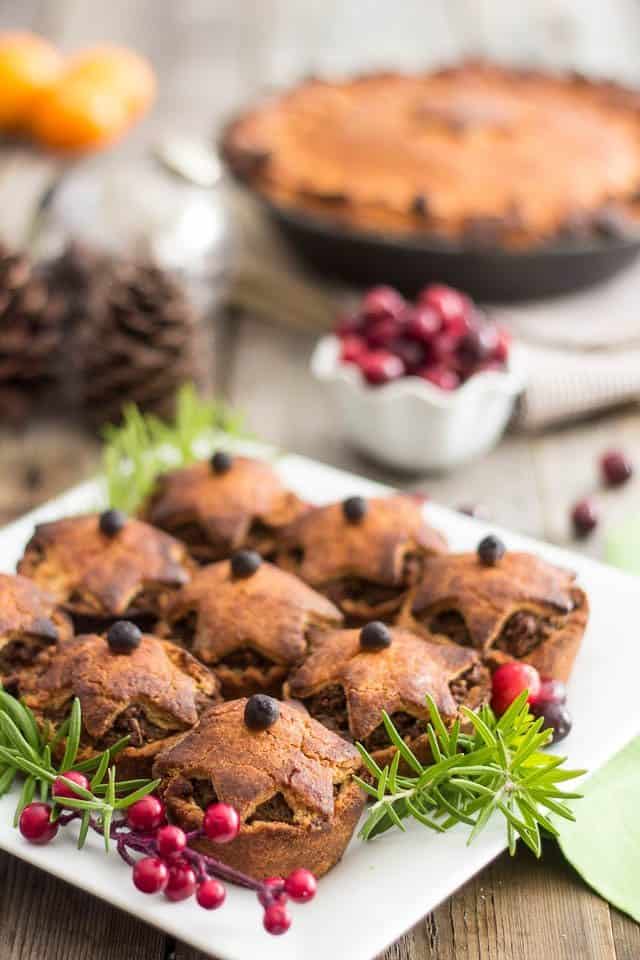 This year, I chose to cook my meat slowly in a Dutch oven instead of boiling it in a large stockpot like I usually do. I started by braising a whole bunch of pork shanks, which I later added to the meat mixture. I then used this super tasty cooking liquid to cook the minced meat in. The resulting meat filling was simply out of this world.
Filled with tons of fork tender chunks of pork, infused with the very flavor of Christmas all packed in the melt-in-your-mouth flakiness of the crust, this was definitely a meat pie to be remembered.
Again… I've a new official traditional recipe!
So, what do you say we pick things up where we left off when we last rolled the dough?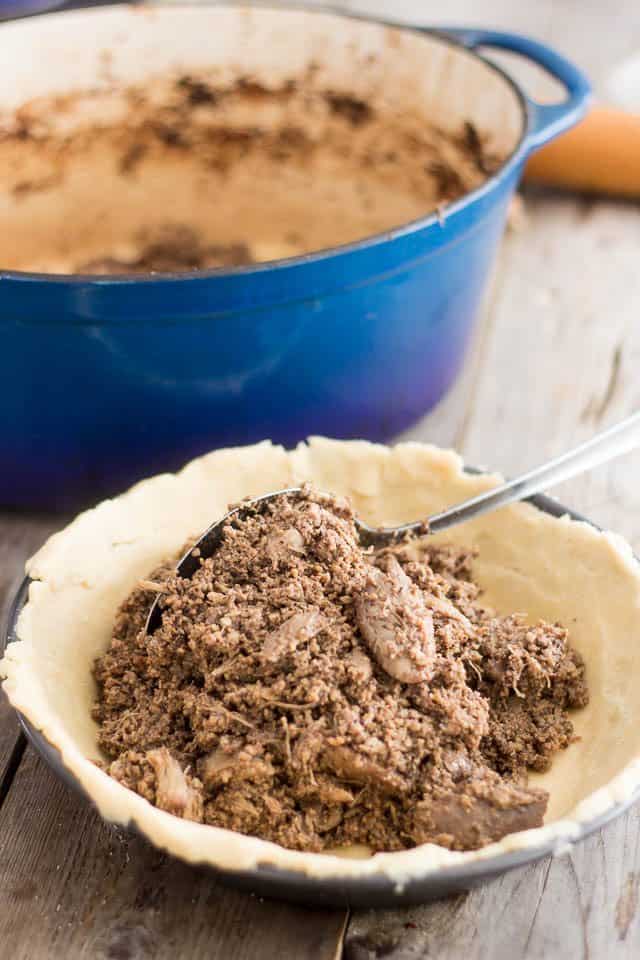 Once the meat mixture has had a chance to cool down some, it's time to make the actual pies! See? I wasn't even exaggerating a little when I said this filling had TONS of tender chunks of meat in it!
I like my pies to be nice and full, with a little rounded bump and in the middle. As such, I always make sure to create some sort or a mound with my filling.
I don't know why, I never cared for flat pies. They look like they're missing something…
And to make sure the top crust adheres really well, I usually like to brush the bottom edge with a mixture of eggs and cream. This year, however, I used coconut milk instead of cream, and it worked just as great!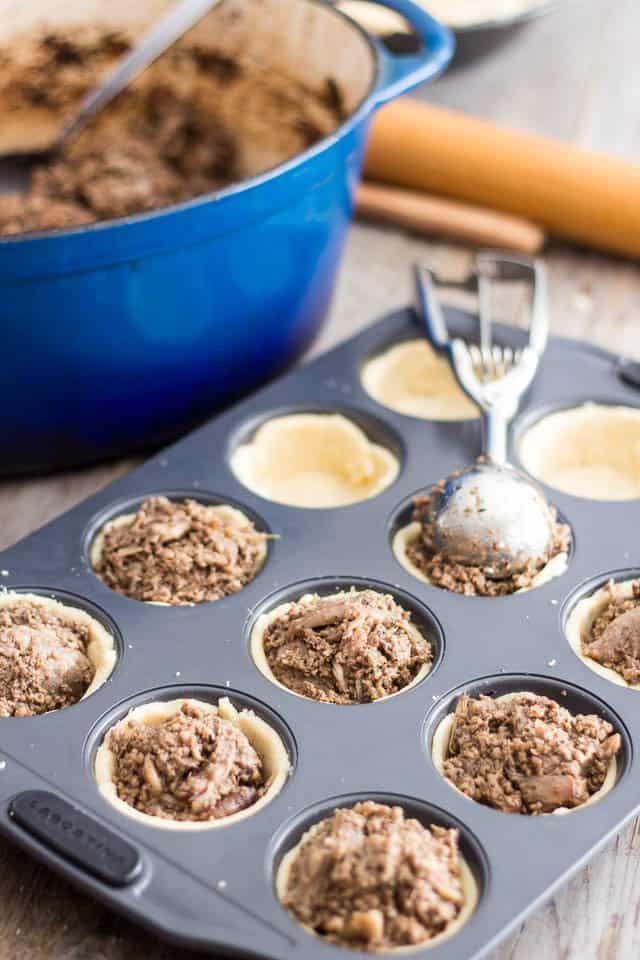 I just couldn't decide whether I wanted to stick with the traditional "full size pie" or be a little innovative and make cute little individual pies this year. Since this recipe is large enough for 2 pies, I figured why not do both?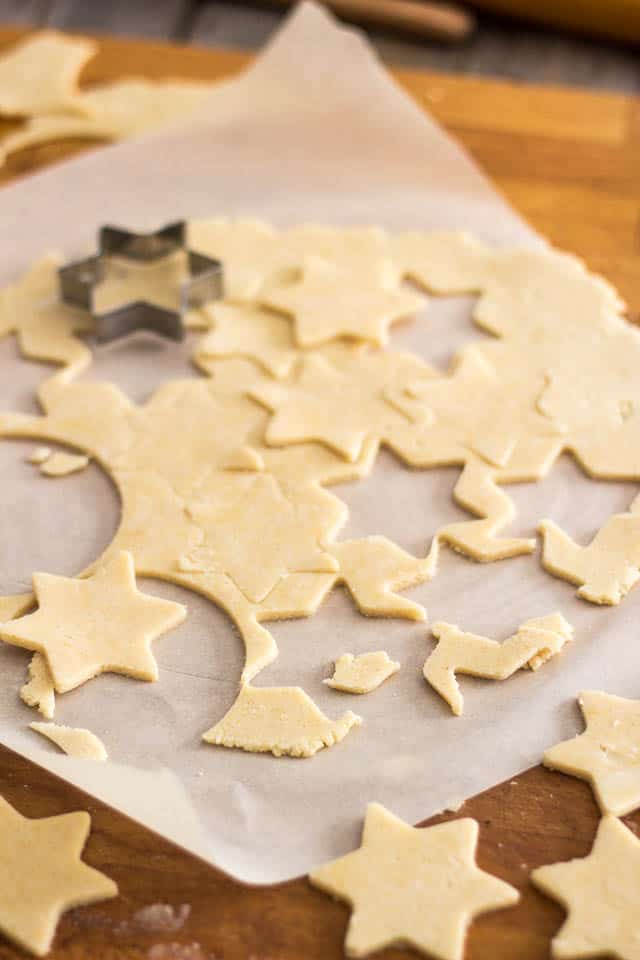 And to make my little pies really cute and super festive, I decided to cut out stars for my tops instead of plain circles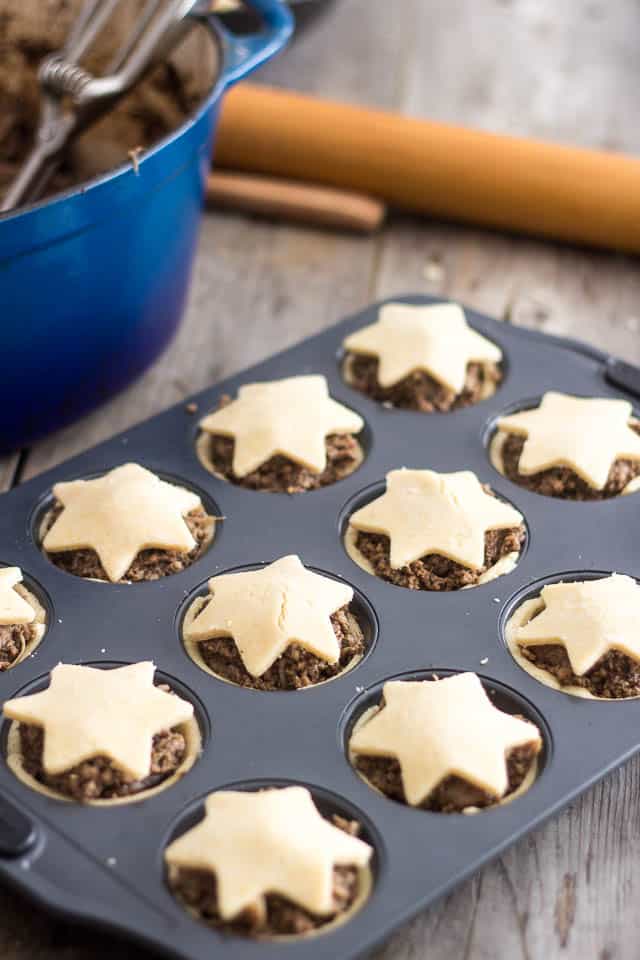 I placed them right on the top of the meat. So simple, yet so efficient! Just press them down a little and they're good to go.
Oh, if you want them to be all pretty and shiny, you can also brush some of that egg mixture right on top!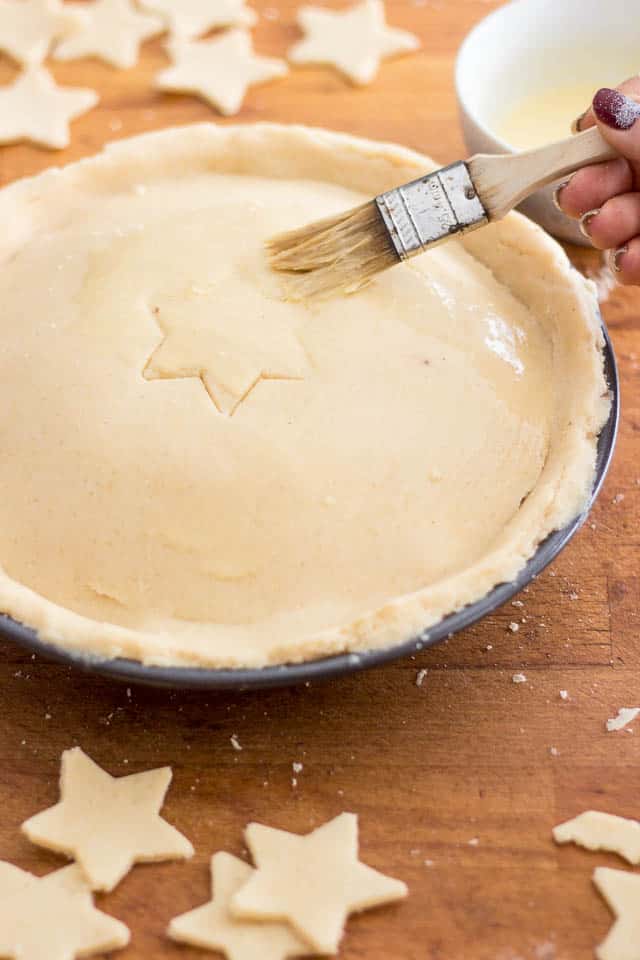 Same goes for the full size pie. After the top crust has been added, punch some sort of a hole in the center to give the steam a chance to escape and brush some of that egg mixture all over.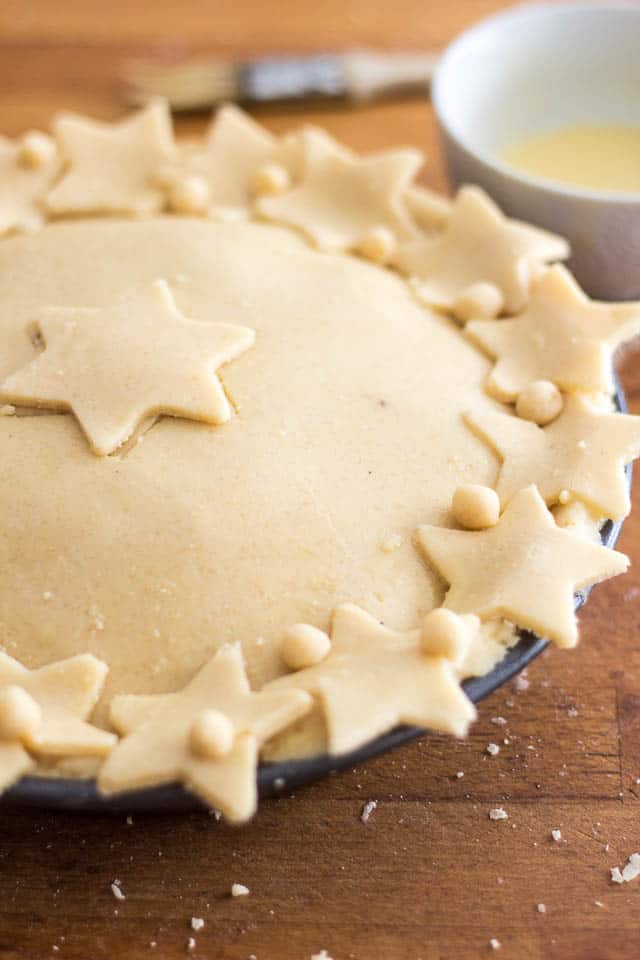 And if you have a little bit of dough (and patience) left, cut out more little stars and stick them all around the edge of your pie for a stunning presentation.
Now all that's left to do is put these babies in the oven…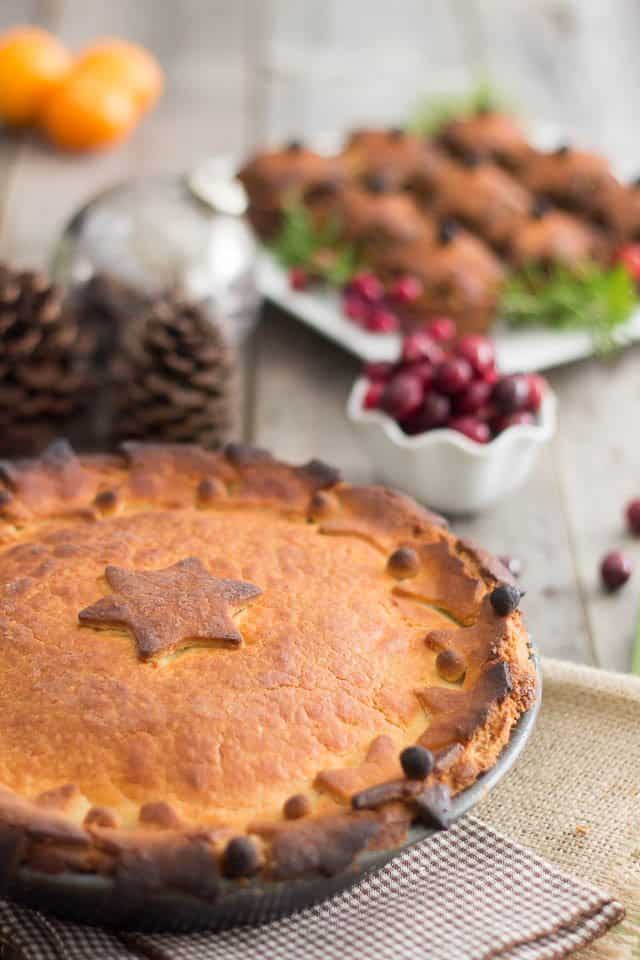 Just don't go do like I did and blast the music and go work on other things while your pies are baking. Oven chimes exist for a reason, you know… and that is to prevent your goods from burning! There is one small catch, though. They only work when you can actually hear them!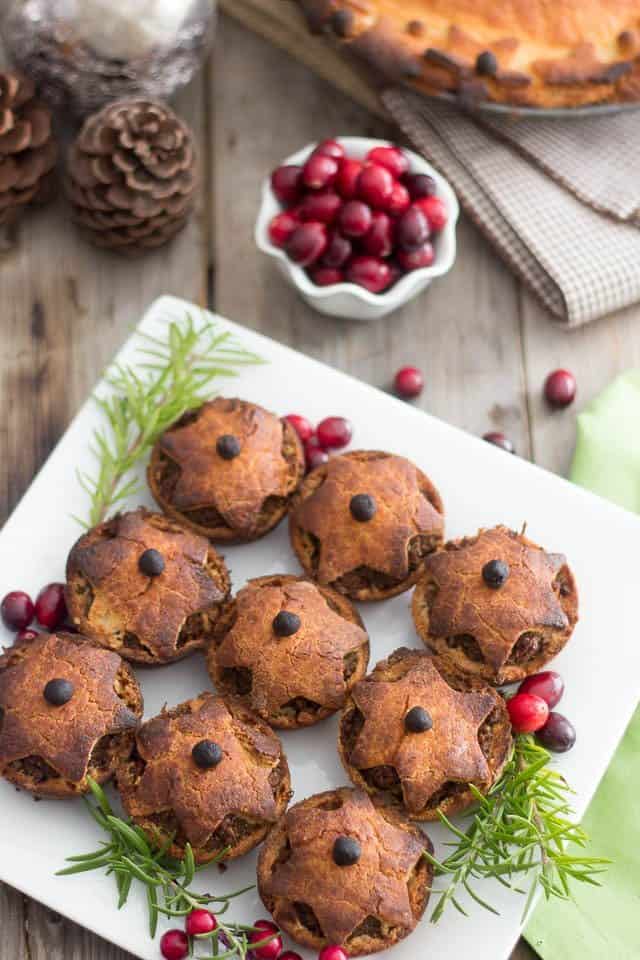 Still, even in that slightly over cooked state, the meat pies were absolutely delicious. And even pretty enough to pose for pictures!
Although they *could* have been so much prettier…
But hey! I'm sure you will forgive me that little faux-pas, won't you?
Who knows, it might even prevent you from burning yours!
Paleo Tourtière [or French Canadian Meat Pie]
Loaded with tender morsels of meat and creamy ground pork all packed up in a melt-in-your-mouth flaky crust, this is definitely a meat pie to be remembered.
Servings: 24
Instructions
Preheat the oven to 350°F.

In a heavy skillet set over high heat, melt a good amount of cooking fat, preferably

lard

.

While the pan is heating up, mix all the spices of "Part I" together in a large plate. Pat the pork shanks dry and dredge them in that spice mixture, making sure that all sides are well coated.

Add the shanks to the hot pan, 4 at a time, and sear them nice and good on all sides, until a nice golden crust forms, about 3-4 minutes per side. Add more fat when/if necessary.

Place the shanks in a Dutch oven, add the water, onions, savory, mustard, parsley, as well as the rest of the spice mixture that didn't get used to coat the pork shanks.

Cover and place to cook slowly in the oven for about 4 hours, or until meat falls off the bones.

Remove shanks from the cooking liquid and set aside to cool. Strain cooking liquid if necessary and return to Dutch oven.

Add ground pork, ground beef and spices included in "Part II" of the recipe. Mix well with a large spoon until the meat is completely broken down into what almost looks like a puree.

Place this back in the oven, partly covered, for about 1½ hour, taking care to mix well from time to time.

While the meat is cooking, and when your shanks are cool enough that you can safely handle them, pick the meat out and set it aside; discard bones and fat.

Toast the hazelnut flour over medium high heat in a dry skillet, constantly whisking until the flour takes a nice caramel brown color and starts to smell really good.

When the minced meat is fully cooked and the liquid has pretty much completely evaporated, add toasted hazelnut flour and shank meat and mix well.

Return to oven, uncovered, for another 20-25 minutes or until the cooking liquid has completely evaporated.

Allow your meat mixture to cool then divide between 2 large pies or 24 individual pies. (see

this post

for pie crust recipe and instructions)

Bake pies in a 400°F oven for about 20 minutes.
Notes
Makes 2 large pies or 24 individual pies
Nutrition
Calories: 457kcal, Carbohydrates: 16.5g, Protein: 21.9g, Fat: 32.1g, Saturated Fat: 11.8g, Cholesterol: 64mg, Sodium: 432mg, Fiber: 5.8g, Sugar: 1.6g
If you've tried this recipe, please take a minute to rate the recipe and let me know how things went for you in the comments below. It's always such a pleasure to hear from you!
You can also FOLLOW ME on PINTEREST, FACEBOOK, INSTAGRAM and TWITTER for more delicious, healthy recipes!