Pork Shank and Meatball Stew – A Christmas Tradition made Paleo
Christmas tradition is slowly starting to go down the drain in this household.
No, sorry, scratch that. I refuse to call it that. "Down the drain" has way too much of a negative connotation to it and Christmas should be about nothing but happiness and positivism…
So let me rephrase that: traditions in this household have been shifting and evolving these past few years, adapting to our ever constantly changing reality.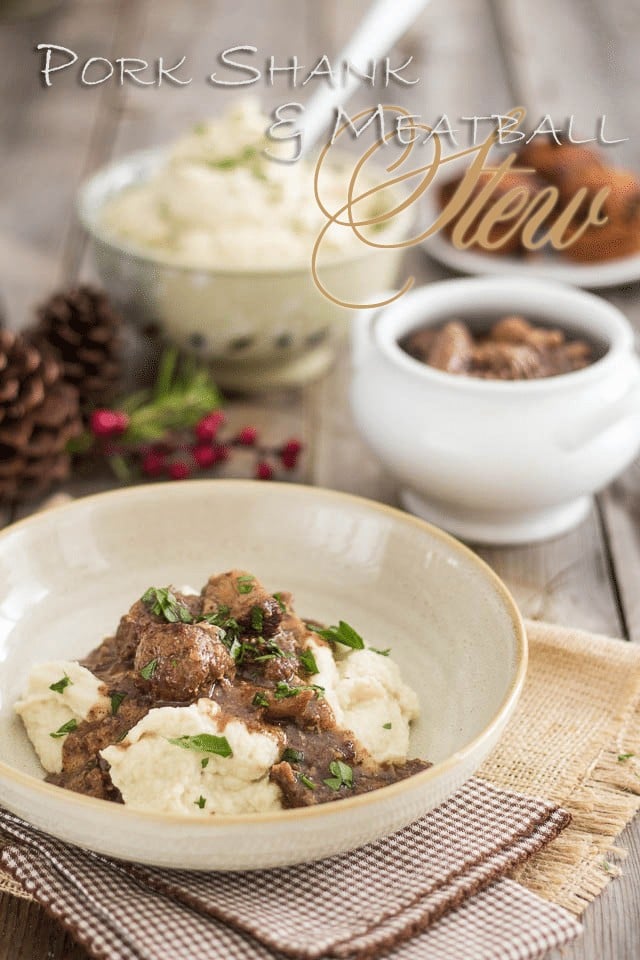 The kids simply aren't kids anymore, they have a life of their own now, they have jobs and spouses, so we need to plan around work schedules and visits to the step families.
So far, we've been lucky and always managed to celebrate our traditional and absolutely sacred Christmas Eve together as a family.
Sure, we've had to make a few adjustments here and there, but to this day, our precious family night reunion has remained fairly undisturbed.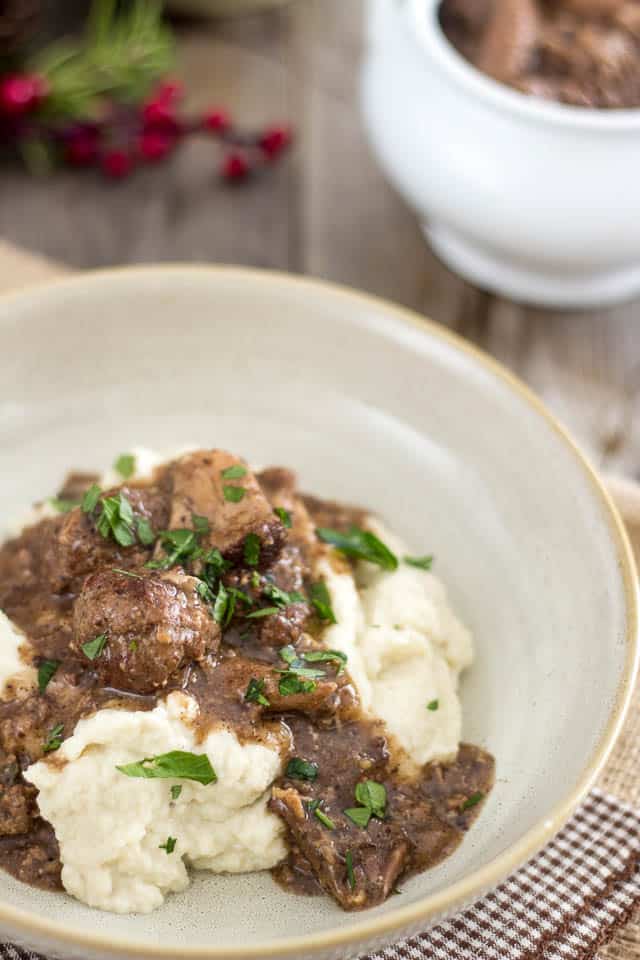 Then, there's the case of my new health "limitations". Our good ole menu just doesn't cut it for me anymore.
Still, the food that makes it to our table seems to be one of those revered traditions that simply cannot be touched. Year after year after year, there are certain dishes that just HAVE to be on the menu. As in, Christmas simply wouldn't be Christmas without them.
This Pork Shank and Meatballs Stew would be one of them.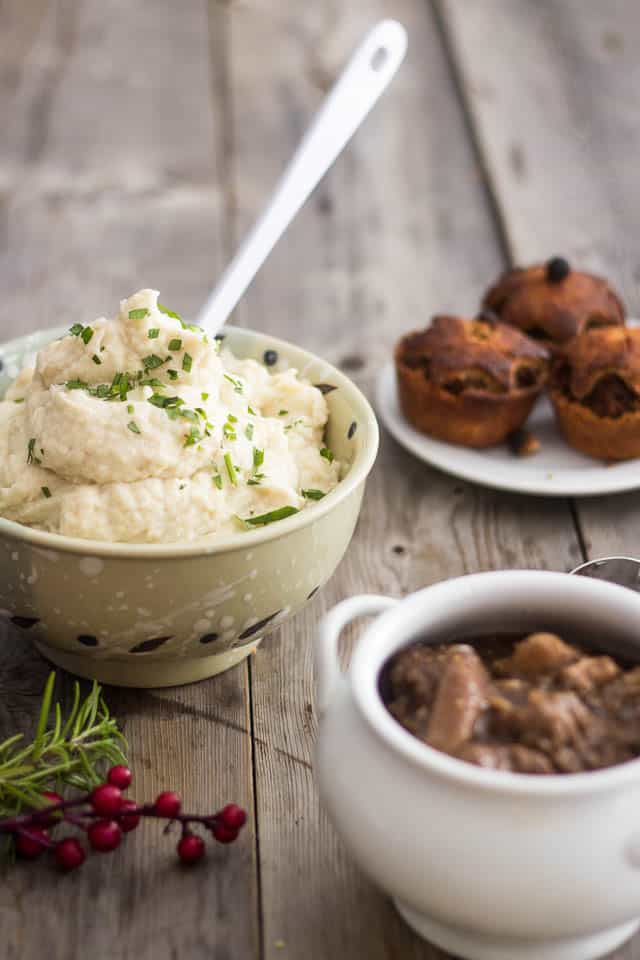 Ever since I can remember, this has been a part of our Christmas menu. My parents used to make this when I was but a little kid. This was their contribution to the extended family reunion, so they always made a HUGE batch. Much bigger than the one I now make. Probably twice as big. Or maybe it's that I was twice as little, so it only looked like that much more!
I remember staying up very late at night, waiting for it to be done and ready to sample, at last.
Of course, I helped. How else was I going to learn how to make my own?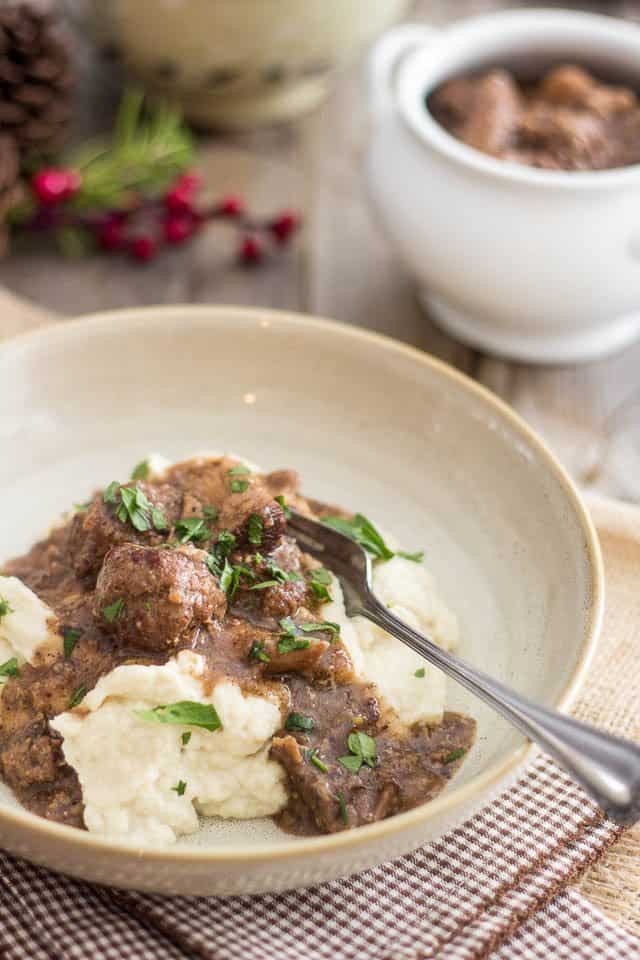 And that, I did. I don't think I ever skipped a year making this.
Of course, there have been many variations over the years, in an effort to make it healthier. Last year I even made an all turkey version, which was incredibly good and surprisingly true to the real thing, despite containing no pork at all!
This year, however, I decided to go back to my beloved pork, but wanted to stay within the guidelines of the Paleo lifestyle, so I had to eliminate all traces of grains… You might think that it has to be quite easy to remove grains from meatballs and pork shanks, but really, the challenge in keeping the integrity of this dish was in removing the crusted bread soaked in buttermilk which made the meatballs so moist and tender, as well as the toasted flour that made the sauce so thick and gave it its signature taste.
Well, I think that I really nailed it. To the absolute perfection. Visually, it looks exactly the same and the sauce is nice and thick just like it should be. The taste is absolutely brilliant, perfect, exactly like, if not better than the real thing. And the meatballs are melt-in-your-mouth juicy and tender.
The entire family approved. Phew. *Insert huge sigh of relief here.*
I think I've got me a keeper here. A new "official" traditional Christmas Meatball Stew recipe, so to speak.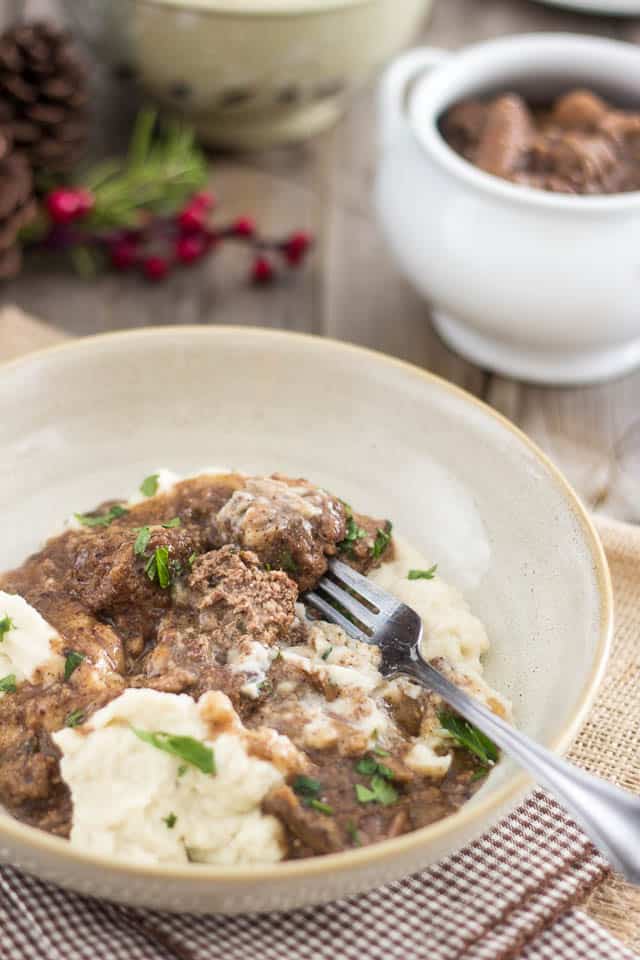 Oh! I did do another change, too! That one was so subtle that it could probably almost go completely unnoticed: I swapped the traditional sacrosanct mashed potatoes for a more nutritious Creamy Garlic Cauliflower Mash.
Goes perfectly well with the stew, if you ask me. And honestly? I think I personally prefer it to potatoes.
Cauliflower is so much lighter and fluffier! I'd even say tastier, too. And it goes amazingly well with the stew…
Now that can't be a bad thing, can it?
Pork Shank and Meatball Stew
This Pork Shank and Meatball Stew is the very definition of what Christmas should smell and taste like. Just one bite and you will be sold, too!
Servings: 24
Ingredients
Meatballs
2 lb grass fed lean ground beef
2 lb pastured lean ground pork
2 whole eggs
1 cup blanched almond flour
1 small onion, finely chopped
1 red apple, very finely chopped
2 tbsp dried mustard
2 tbsp Dijon mustard
2 tsp cinnamon
1 tsp nutmeg
1 tsp clove
1 tsp ginger
1 tsp ground coriander
½ tsp ground cardamom
2 tsp Himalayan or fine sea salt
2 tsp freshly ground black pepper
½ cup fresh parsley, finely chopped
7 oz chestnuts, roasted and peeled, slightly crushed
Zest of one orange
To thicken the sauce
1½ cup hazelnut flour – toasted
3/4 cup tapioca flour
1/2 cup water
Instructions
For the sauce and added chunks of meat
In a heavy skillet set over high heat, melt a good amount of cooking fat, preferably

lard

.

While the pan is heating up, mix the spices together (cinnamon through dried parsley) in a large plate. Pat the pork shanks dry and dredge them in that spice mixture, making sure that all sides are well coated.

Add the shanks to the hot pan, 4 at a time, and sear them nice and good on all sides, until a nice golden crust forms, about 3-4 minutes per side. Add more fat when/if necessary.

Transfer the shanks to a large stock pot, add the 12 cups of water, the rest of the spice mixture that didn't get used to coat the pork shanks, plus the onions, savory, mustard and parsley.

Bring that to a boil then lower heat, cover partly and simmer until the meat falls off the bones, about 3½ to 4 hours.

Remove the shanks from the cooking liquid and allow them to cool for a while, until you can safely handle them. Pick the meat out and set it aside; discard bones and fat. Strain the cooking liquid and return it to the stock pot. Add an extra 4 cups of liquid, more cinnamon, clove, ginger and nutmeg and bring it to the boil, then lower heat to keep in on a slow simmer.
For the meatballs
Add all the ingredients to a large mixing bowl and mix well with clean hands.

Form into approximately 80 meat balls, roughly the size of a ping pong ball (a small ice cream scoop really helps in getting this done quickly)

Heat a large heavy skillet over medium high heat and add a liberal amount of cooking fat, again, preferably

lard

. Sear the meatballs (you will have to do that in several batches) until nice and golden all around, then transfer them to the stock pot that has the cooking liquid on a simmer. Crank up the heat until the liquid comes to a boil, then lower the heat and cook the meatballs for at least one hour on a slow simmer.

Add the reserved pork shank meat and simmer for another 5 minutes or so.

To thicken the sauce, toast the hazelnut flour over medium high heat in a dry skillet, constantly whisking until the flour takes a nice caramel brown color and starts to smell really good.

Transfer to a mixing bowl and very slowly add a few ladles of the cooking liquid to the flour and whisk until smooth. Add a few more ladles and again, whisk until smooth. Continue adding broth until you end up with a very thick sauce. In a separate container, mix the tapioca flour and water together to form a slurry and add that to the thick flour mixture. Mix well and add that mixture to the stock pot. Very carefully mix it in with the rest of the stew.

Simmer for another 5 minutes or so, just to finish cooking the flour and starch.

Serve.

This will keep in the fridge for up to 5 days, and can be frozen for several weeks. Just make sure you reheat it over very low heat and add a little bit of water to help loosen it up, as it will get very thick when cold.

Nutrition
Calories: 356kcal, Carbohydrates: 14g, Protein: 25g, Fat: 23g, Saturated Fat: 6g, Cholesterol: 90mg, Sodium: 815mg, Potassium: 448mg, Fiber: 3g, Sugar: 2g, Vitamin A: 178IU, Vitamin C: 7mg, Calcium: 72mg, Iron: 3mg
If you've tried this recipe, please take a minute to rate the recipe and let me know how things went for you in the comments below. It's always such a pleasure to hear from you!
You can also FOLLOW ME on PINTEREST, FACEBOOK, INSTAGRAM and TWITTER for more delicious, healthy recipes!