Paleo Chestnut Fruit Cake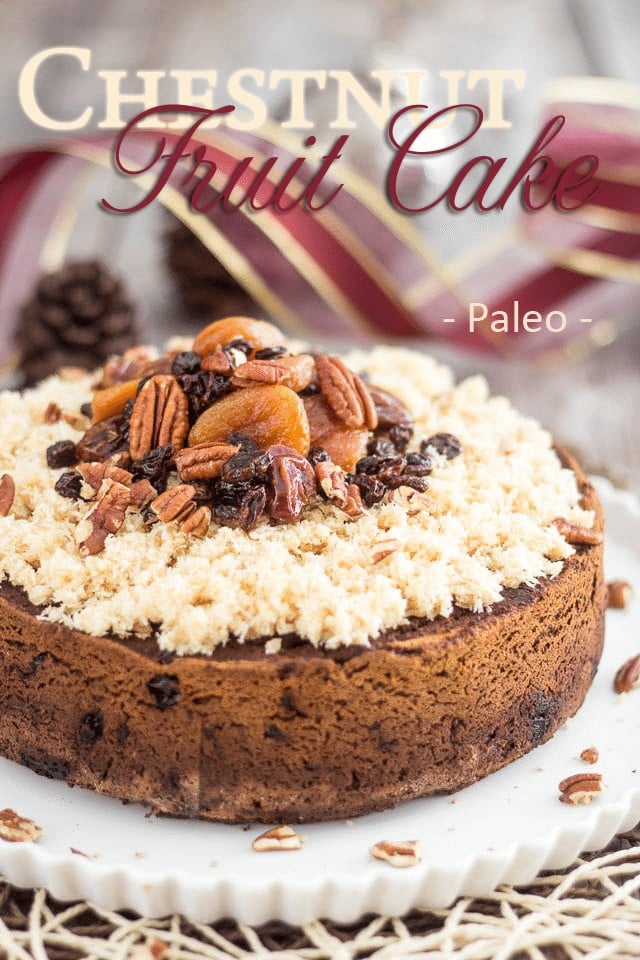 Okay, guys, this is the last entry in my Christmas Recipe Log for this year. I swear.
I know I'm really stretching it and it's about time I got back with the regular program, but there was just no way I could not share this awesome recipe with you on the simple account that this is what I had for dessert over 3 weeks ago and that this night also happened to coincide with Jesus Christ's birthday.
In fact, I had planned on making this dessert for a VERY long time and it was sitting right at the top of my list of reasons to look forward to Christmas this year.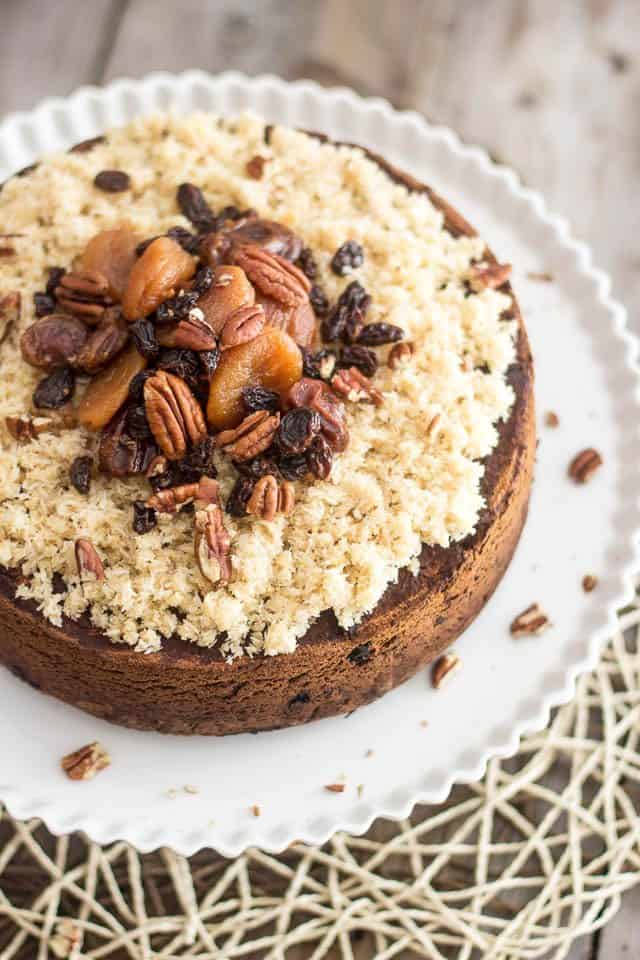 I must confess that, ever since I was a little kid, I've always been a HUGE fan of the classic Fruit Cake. For me, and for the longest time, it was part of my Holiday tradition and Christmas just wasn't Christmas if it didn't include a slice or ten of my beloved treat.
Well, I can now officially affirm that this cake has converted me. From now on, when I get a craving for Christmas Fruit Cake, this is what will come to mind. For this was probably a thousand times better. 
In fact, I liked it so much that I would've loved to roll myself in it. All day. Or well, at least half the day.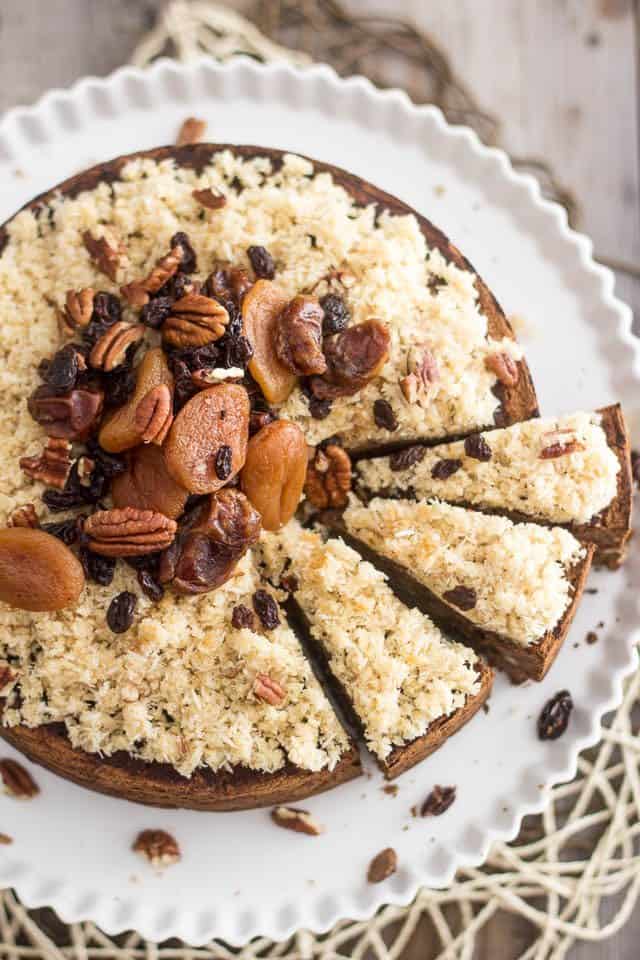 I'm afraid I also have a second confession to make. I must shamelessly admit that when I made this dessert, I was in a very festive (and fairly loose) mood, so I decided to soak my dried fruits in a bit of rum for the night. It was a very good move, though, buh-lieve you me!
My oh my, did this add a lot of depth and intensity to the flavor of this already delicious dessert. Plus, hey, I used so little that in the end, each slice probably got the equivalent of a teaspoon of booze. Nothing worth loosing sleep over. 
But adding the booze really isn't mandatory. I'm absolutely certain that even without the rum, this cake would be just as decadent.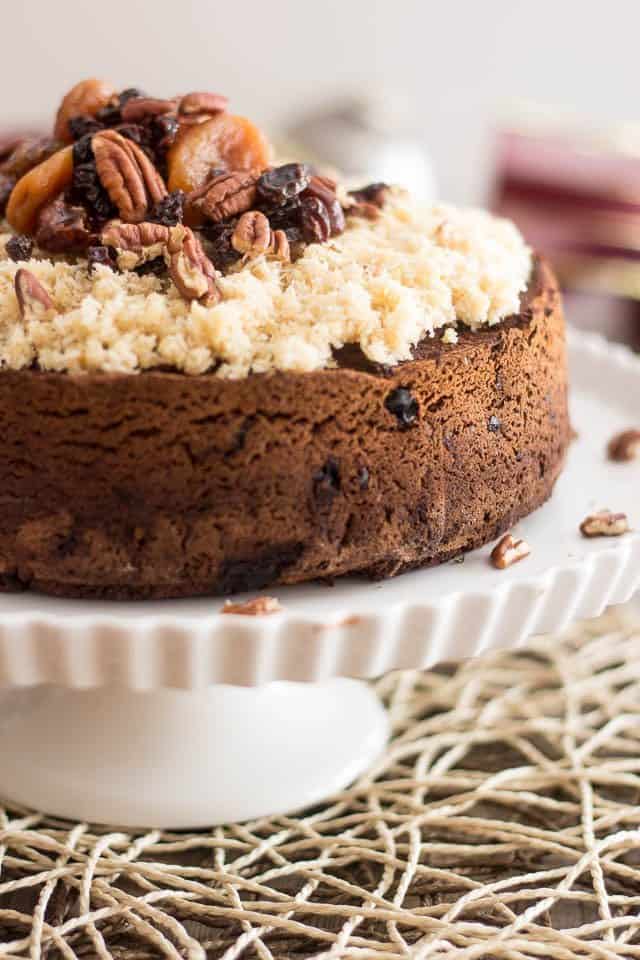 Everything about it is perfect, if you ask me. The texture is nice and dense, yet unbelievably moist, just like you would expect from a good Fruit Cake. The dried fruits and nuts are bountiful and the creamy pieces of chestnuts confer a little touch of distinction to this elegant and classy cake.
In fact, it came out even better than the non-paleo version of this same cake that I'd made earlier last year.
A hundred times better.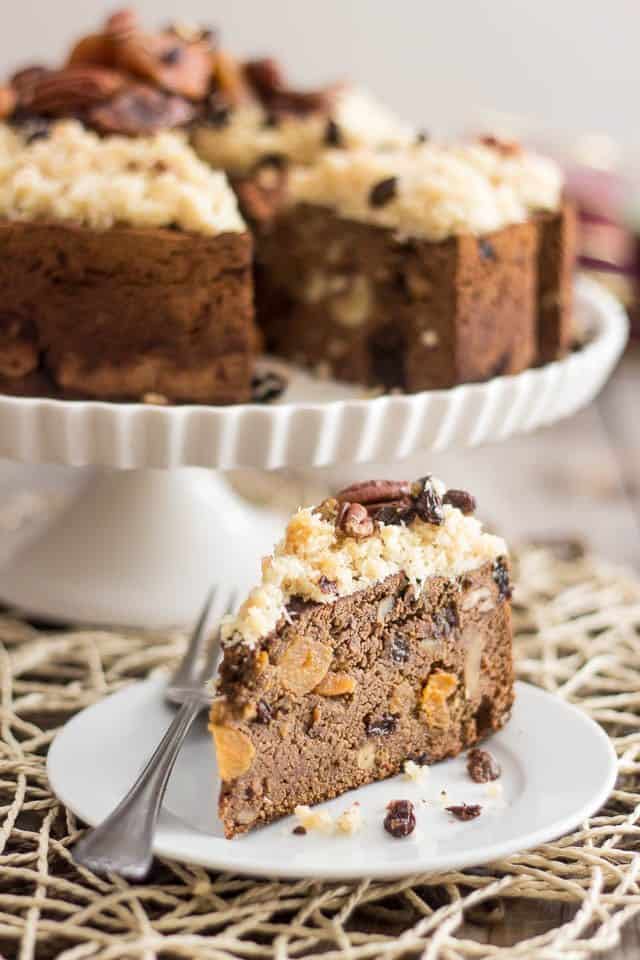 And in case you are wondering, no, I do not miss the artificially colored candied cherries or the sugar bombs that are chunks of dried pineapple.
I'm telling you, this cake definitely takes the cake. And I can guarantee you that it'll find a spot on my Christmas table again next year, and the year after, and the following year…
Between the Meatball Stew, the Pie Crust, the Tourtière, and this cake, I think I've successfully rewritten tradition and made it deliciously Paleo this year.
And trust me, that's a good thing!  
Paleo Chestnut Fruit Cake
Free of grains, gluten and refined sugar, this Chestnut Paleo Fruit Cake is so good, you too will probably want to make it a part of your Holiday tradition!
Servings: 16
Ingredients
Optional
¼ cup rum to soak the dried fruits, if desired*
Instructions
For the cake
Preheat oven to 350°F

Add all the dry ingredients to the bowl of your food processor and give them a good spin until everything is nicely combined.

Transfer that to a large mixing bowl and incorporate the ingredients from the "Fruits and Nuts" section. Mix well with a large wooden spoon or rubber spatula so that all the little bits and pieces get completely covered in flour. Set aside.

Add all wet ingredients to the bowl of your food processor and process until smooth and creamy.

Pour that mixture over the reserved dry ingredients and mix delicately with a rubber spatula until very well combined. Do not overmix.

Transfer batter to prepared pan and bake in the oven for 70-75 minutes or until a toothpick inserted in the middle comes out clean.

Set on a cooling rack and allow to cool completely before removing cake from pan.
For the glaze
Add all the ingredients to a small mixing bowl and mix until well combined.

Place cake on a cake plate and pour glaze right in the center. Spread it gently and evenly all the way to the sides.

Garnish with a few chopped apricots, raisins, pecans and walnuts.
Notes
*If you want to soak your fruits in rum, which really confers a nice festive flavor to the cake, do so the night before. Simply place all of the dried fruits (those that go in the cake and those that get used for garnish) to soak in about 1/3 cup of rum. When comes time to add the fruits to the cake, simply scoop out those that go in the batter and leave the rest in the bowl until you are ready to use them. When that happens, simply add the nuts to the bowl, give it all a good stir, fish out the goods out and arrange them in the middle of the cake, then pour the rum that's left in the bowl right over the cake: it'll get soaked up and make your cake extra moist and boozy! I know, I know, rum isn't really paleo, but hey, sometimes, you got to give a little... just promise you won't make it a habit, alright?
Nutrition
Calories: 426kcal, Carbohydrates: 58g, Protein: 8g, Fat: 20g, Saturated Fat: 7g, Cholesterol: 41mg, Sodium: 251mg, Potassium: 604mg, Fiber: 8g, Sugar: 23g, Vitamin A: 332IU, Vitamin C: 15mg, Calcium: 78mg, Iron: 3mg
If you've tried this recipe, please take a minute to rate the recipe and let me know how things went for you in the comments below. It's always such a pleasure to hear from you!
You can also FOLLOW ME on PINTEREST, FACEBOOK, INSTAGRAM and TWITTER for more delicious, healthy recipes!