Baked Apple Cinnamon Quinoa Squares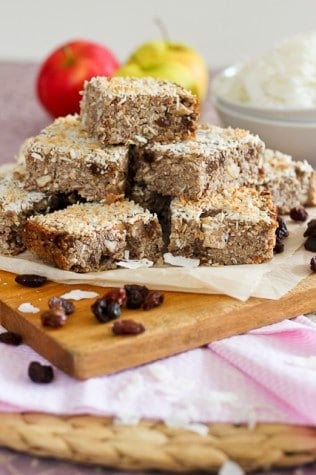 Sorry guys, I haven't been around much lately…
Life kinda got in the way, you see! 😉
Ever since my friend got here, the hours have been flying like they were mere minutes and it feels like every single day is over before it's even begun.
Hey, time flies when you're having fun!
To say that there aren't enough hours to a day would be an understatement.
Needless to say that my "computer time" has taken a serious hit.
Can you imagine that I barely even took my camera out this week? My last photo upload was made almost 2 weeks ago. I think that the food blogger in me is a bit destabilized…
But fear not, people, things will return to normal soon; Sadly, my friend will have to go back to their far far away home and this little vacation of mine will come to an end.
Plus, I'm not saying that I haven't been cooking anything at all, you know. I WILL have recipes for you, that much is a certainty. And I've got some pretty great ones coming up too!
Much like these Apple Cinnamon Quinoa Squares.
Of course, you already know that whenever I cook quinoa, I ALWAYS cook extra in order to work on some new and creative way to use it. It's almost become like a personal challenge of some sort.
One that I truly enjoy. And I think that, this last time, I've really outdone myself.
Since I'd really been dying to try Annie's baked oatmeal recipe but want to stay off grains for a while still, I thought I'd create something similar, using quinoa instead of oats. Oh, and of course, I had to throw in some of that almond pulp, you know!
Then the vision transformed and took the shape of a square…
Squares are just so much more portable, you know. And I'm all for portability, since I tend to bring a lot of my creations to work with me and enjoy them as a morning or afternoon snack.
These baked quinoa squares fit the bill perfectly. They are sweet, but not overly so, are loaded with apples and raisins and all sorts of ingredients that'll do your body good.
So basically, you're looking at a super tasty and convenient snack, quick grab breakfast, or even a light dessert.
This one, I will definitely be making again!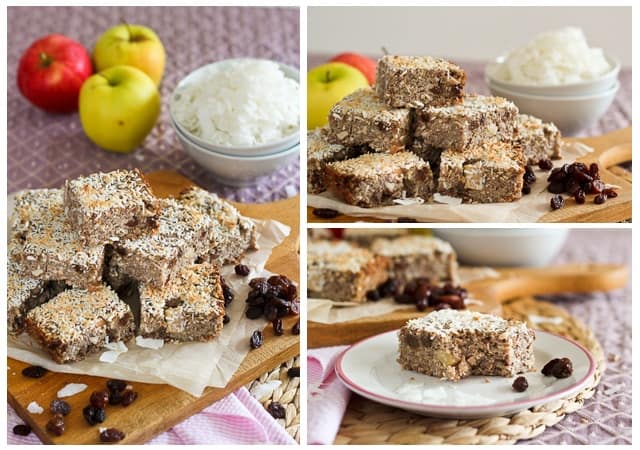 Baked Apple Cinnamon Quinoa Squares
Healthy enough for breakfast but good enough to qualify as dessert, these Baked Apple Cinnamon Quinoa Squares sure will hit the spot!
Servings: 15 squares
Instructions
Preheat oven to 375F. Coat a 8 x 12 baking dish with cooking spray (or brush with olive oil) and set aside.

Add flaxseed meal, almond pulp, cooked quinoa, apple sauce and egg whites to a large mixing bowl and mix until well combined.

In a seperate bowl, combine apple, raisins, pecans, ¼ cup coconut and spices. Fold into quinoa mixture.

Pour that mixture into prepared dish and press it down rather firmly with a spatula, until nice and even. Sprinkle ¼ cup coconut overtop and bake for 45 minutes.

Cool for an hour or two and transfer to refrigerator to cool completely (at least 6 hours) then cut into 15 squares.
Notes
Grain Free, Gluten Free, Dairy Free, No Sugar Added
Nutrition
Calories: 185kcal, Carbohydrates: 19g, Protein: 5g, Fat: 10g, Saturated Fat: 2g, Sodium: 104mg, Potassium: 212mg, Fiber: 4g, Sugar: 3g, Vitamin A: 10IU, Vitamin C: 1mg, Calcium: 48mg, Iron: 1.5mg
If you've tried this recipe, please take a minute to rate the recipe and let me know how things went for you in the comments below. It's always such a pleasure to hear from you!
You can also FOLLOW ME on PINTEREST, FACEBOOK, INSTAGRAM and TWITTER for more delicious, healthy recipes!