Black Forest [Pan]cake
Sorry to report that I am not flying very high today. But the week-end went fairly well, I had lots of visitors and that kept me really busy. It had been a long time since I'd seen my house so crowded and that felt pretty nice.
I spent my time cooking, for the most part, and I had a bunch of people to cook for, for a change! Boy did that feel good! I don't know about you, but cooking is very therapeutic for me. So I guess we could say that I've had a very therapeutic week-end, sort of… 😉
My "therapy" started a little before company arrived, on Saturday morning, with the execution of this pretty elaborate pancake recipe, which I had envisioned a few days after making this gorgeous instant buckwheat bake. I'd been dreaming about them since and couldn't wait to finally put them to the test.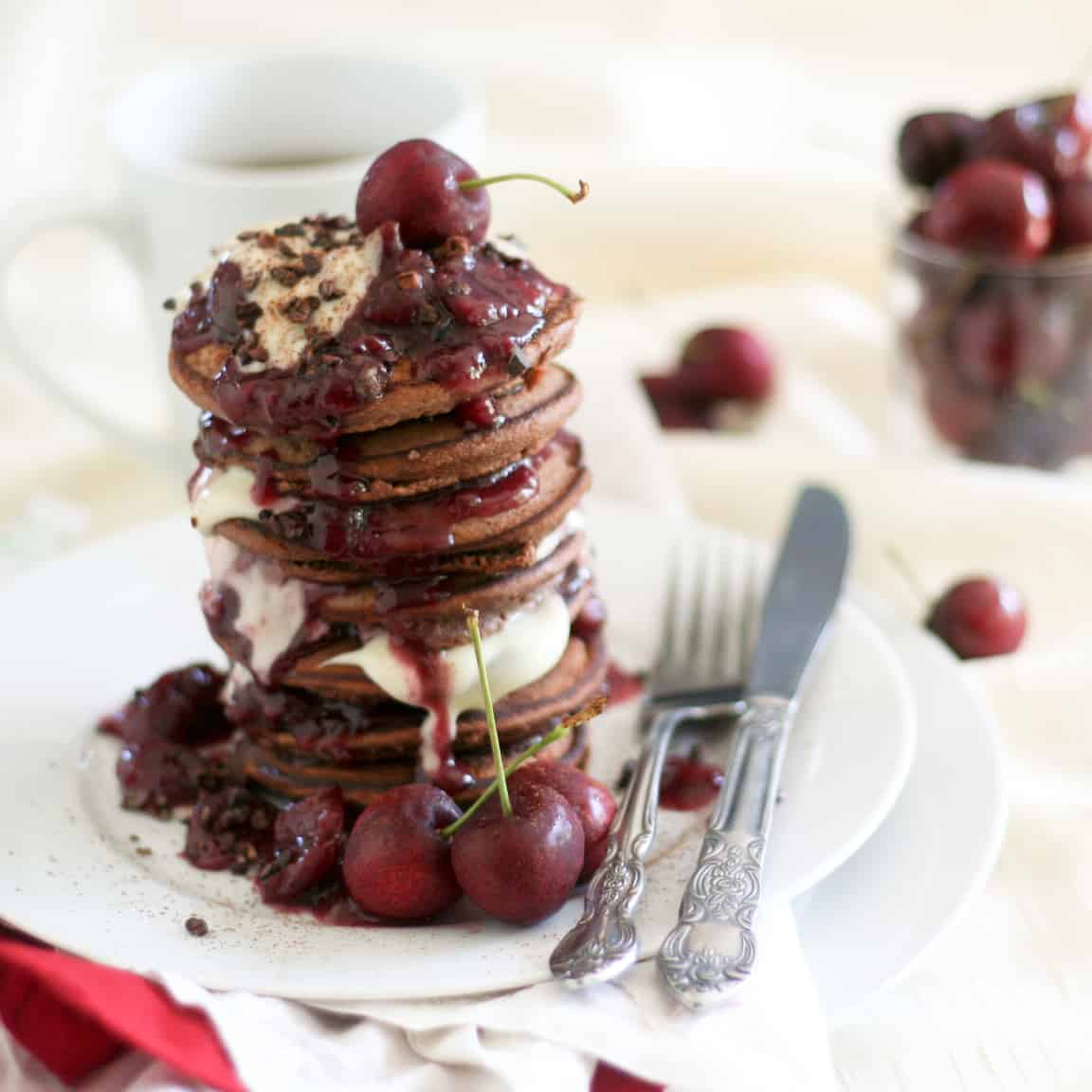 I have to say they came out better than anticipated. Wow were they good! The pancakes themselves had a very decadent, rather intense chocolate taste and they got really poofy, light and moist.
I'm telling you, now matter how sad I was feeling that morning, what a moment of bliss eating those pancakes has been!  Sitting there quietly at my dining room table, slowly savoring every bite, trying to think of nothing else but this delicious meal that I was eating.  Comfort food at its best is what it was!
And comfort food that also happens to be good for me?
I can't say no to that!
Black Forest Pancakes
Servings: 2
Ingredients
Cherry Sauce
150 g cherries, pitted and chopped (about 16 cherries)
1 tbsp unpasteurized honey
¾ cup water
½ tsp corn starch mixed with 2 tbsp water
Vanilla Custard
2 tbsp fat free plain Greek yogurt
½ scoop vanilla flavored whey protein powder
Instructions
For the Cherry Sauce:
In a small saucepan, bring cherries, water, and agave nectar to a boil. Reduce heat and simmer over low heat, stirring occasionally, until cherries start to "melt" and sauce thickens, about 5 minutes.

Turn off the heat and set aside to cool for about 5 minutes, then puree half the sauce in a food processor until smooth.

Return to the sauce pan and bring back to a boil. Stir in corn starch mixed in water, simmer for 1 minute and turn off the heat.
For the Vanilla « Custard »:
Mix plain yogurt together with whey protein powder to make vanilla custard. It might look like there is too much powder at first, but it will come together eventually, just keep stirring. Same goes for the "lumpy" feeling. Just let the custard rest for about a minute after mixing and it will become nice and smooth.
For the Pancakes:
Combine all ingredients in a food processor and blend until well combined.

Spray a non stick panwith cooking spray and heat over medium-high heat.

When pan is hot enough, spoon as much or as little pancake batter onto griddle as you want, depending on what size pancake you desire. A little less than ¼ of a cup per pancake will yield about 8 small pancakes. (and a very high tower!)

Turn pancakes over when tops are covered with bubbles and edges look cooked. Transfer to low temp oven to keep them warm while you cook the remaining pancakes.
Assembly
Start by laying a pancake on the plate, top with a little bit of cherry sauce, followed by a small amount of custard, about half a teaspoon of each.

Keep building layers like that until you run out of pancakes, or until tower has reached desired height (mine got pretty high!).

Finish by topping with cherry sauce, vanilla custard and about a teaspoon cacao nibs. Dust lightly with cocoa powder, if desired.
If you've tried this recipe, please take a minute to rate the recipe and let me know how things went for you in the comments below. It's always such a pleasure to hear from you!
You can also FOLLOW ME on PINTEREST, FACEBOOK, INSTAGRAM and TWITTER for more delicious, healthy recipes!
Mile high pile!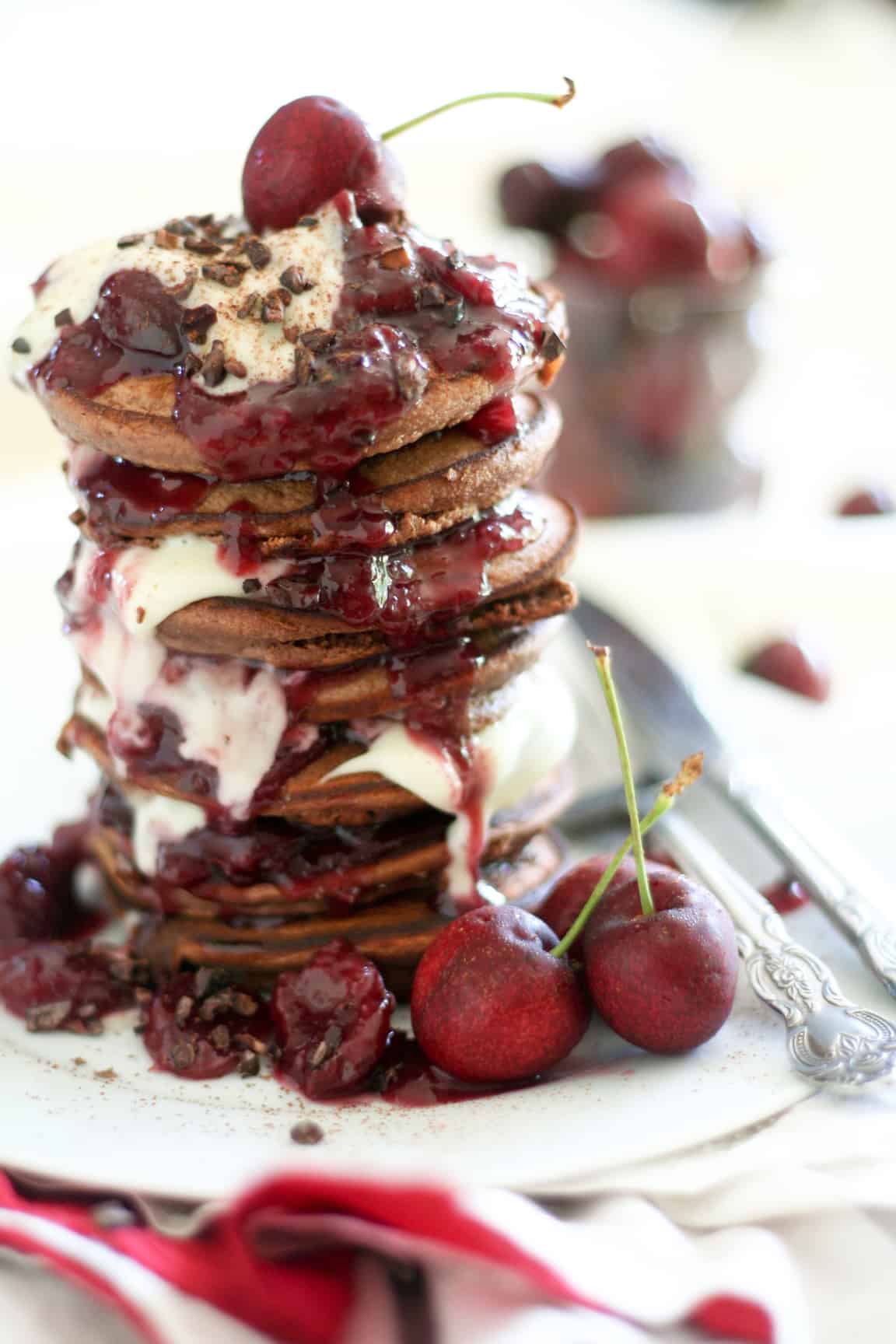 Precision work!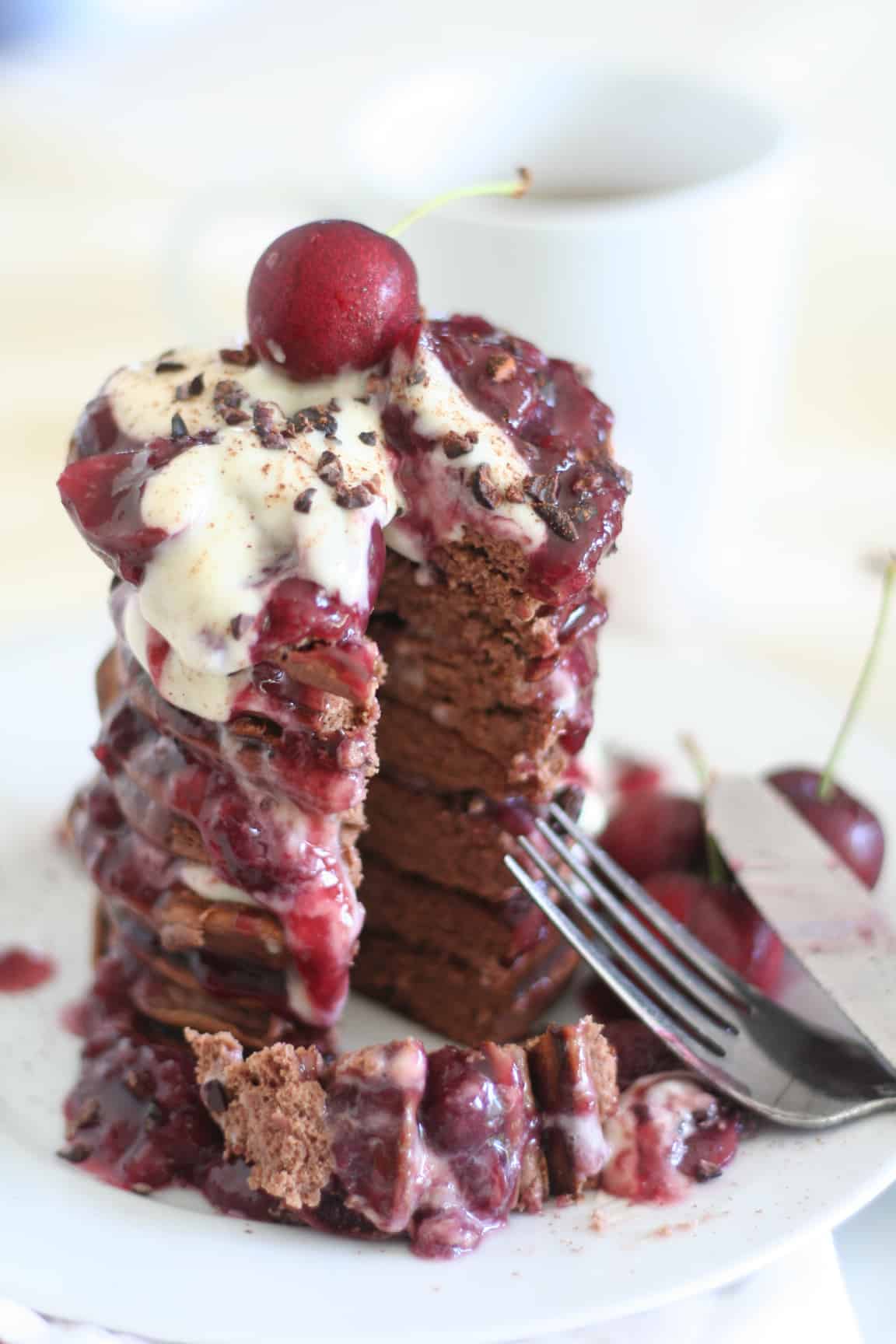 Collapsed!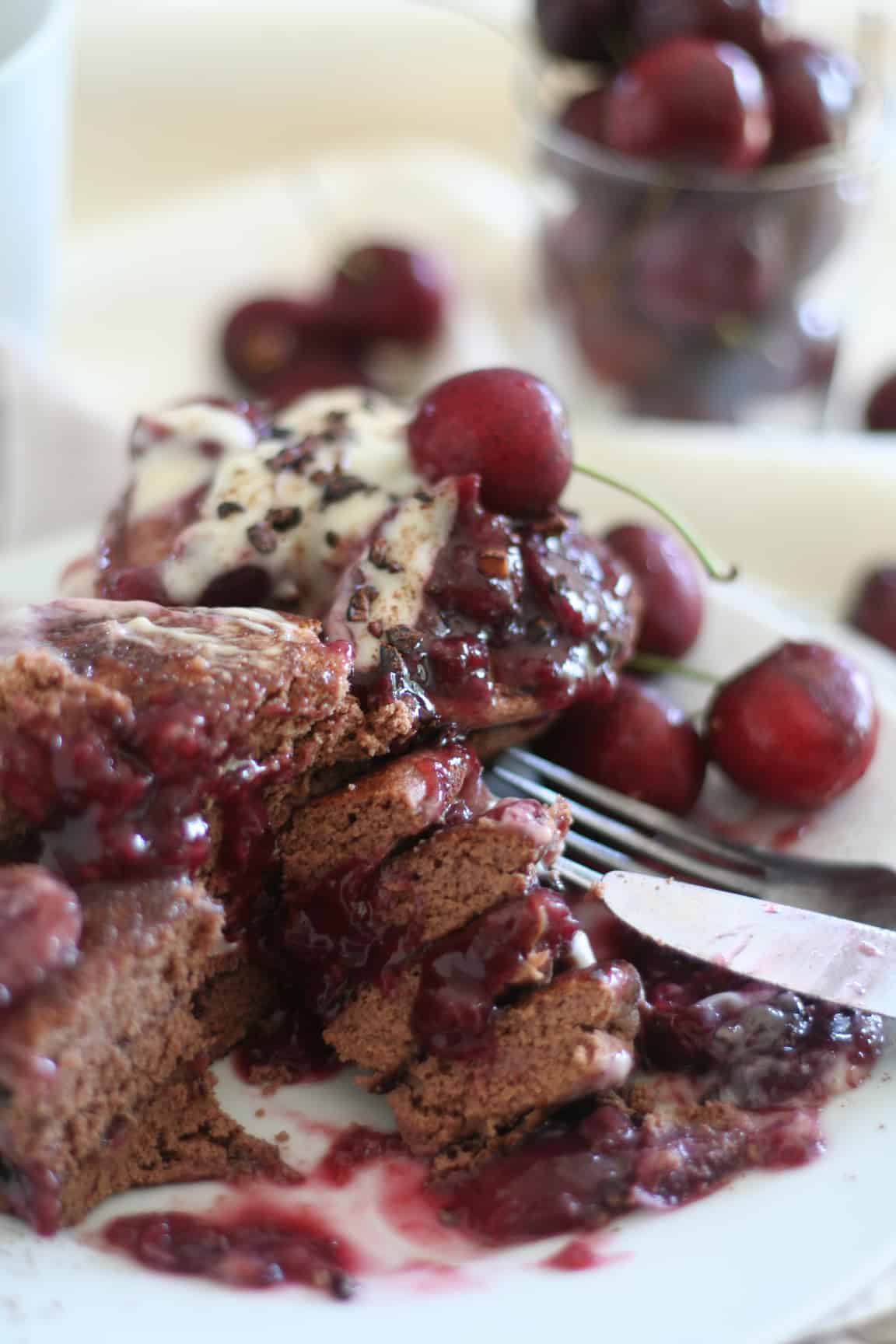 So unbelievably moist!