Coconut and Cacao Nibs Pancake Tower
I'm always super excited when I make new food discoveries that I really really like. Imagine when I make two fabulous discoveries in the same dish!
This is exactly what happened here! This particular pancake recipe got me to discover not one, but two super fantastic foods that I am now totally hooked on.
The first one is coconut flour! When I first saw this recipe on Katie's site, I thought that the pancakes looked super duper good, but I figured I would probably substitute the coconut flour, since I didn't have any on hand.
Then, I changed my mind and decided I would go and get some specifically for the recipe. It sounded so yummy, I just had to try it. I figured it was well worth the wait.
GOOD MOVE, LET ME TELL YA!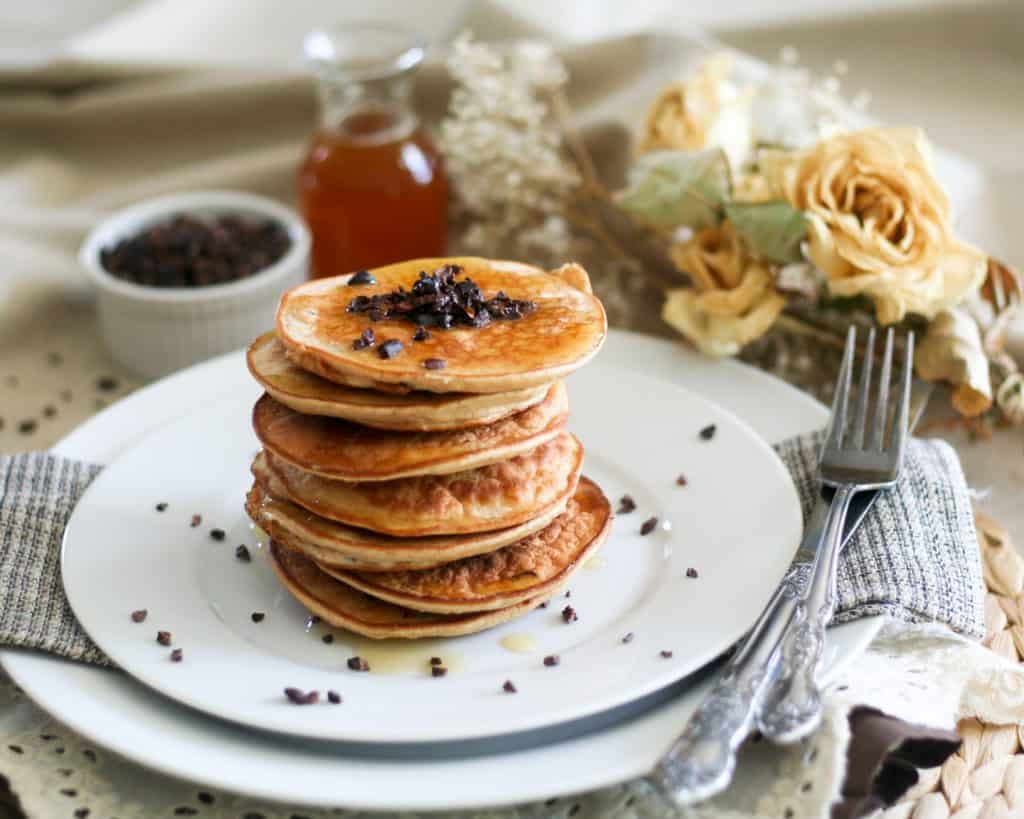 While at the store, I stumbled upon cacao nibs… again. I had seen them a couple of times before and was extremely curious as to what they might taste like. I really wanted to try them out, but always thought they were a wee bit too expensive and ended up putting them back on the shelf. This time, curiosity took over and the bag made it to my shopping basket.
Did I wait until I made the pancakes to taste the cacao nibs? Of course not! I am not that patient. The bag got opened as soon as I got in my car.
Verdict?
It was love at first bite! The nibs have a crunchy yet creamy consistency, an experience that is very hard to describe. They almost feel cold in your mouth, but I think it's their extreme bitterness that creates that illusion. Despite that bitterness, you also get a strong, intense chocolaty flavour. MEGA YUM! I could so easily get addicted to those!
As for the coconut flour, (now that bag I didn't open in my car, for the record…) it has a delicious yet delicate toasted coconut flavour and a dry, sort of absorbent consistency. It confers a very special texture to the pancakes, one that I would describe as dry but smooth and velvety at the same time.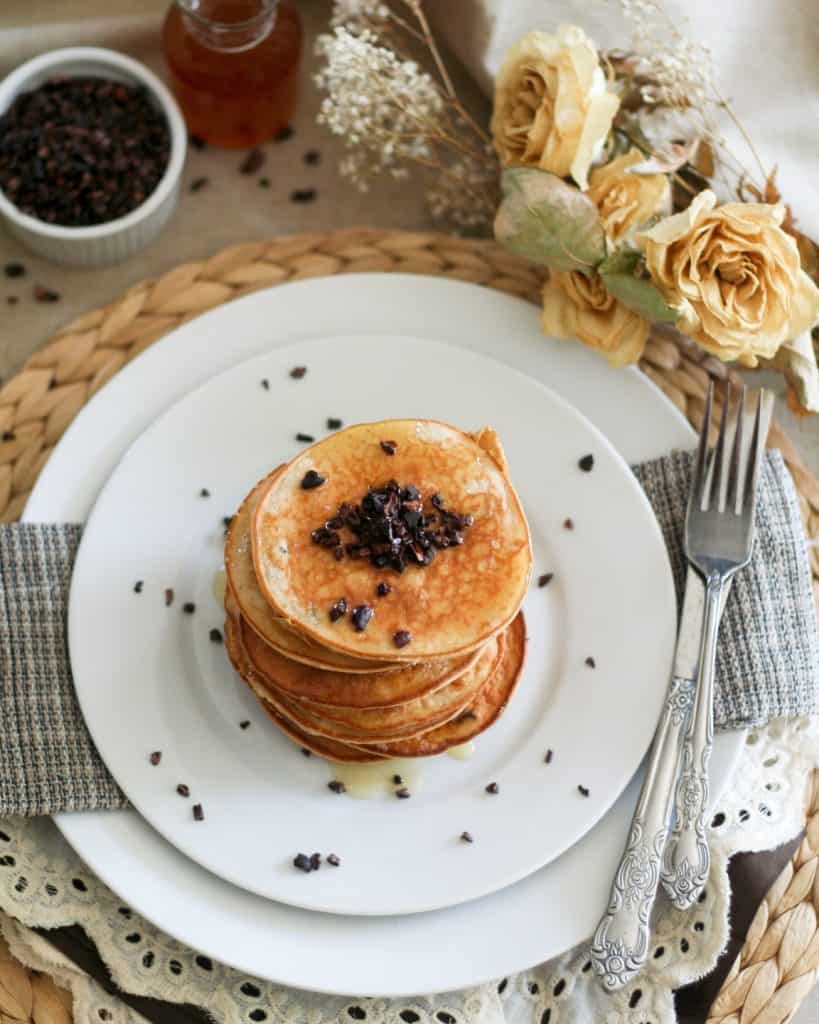 At first, I wasn't convinced that I liked it all that much, but the more I ate, the more I realized that the texture played a big role in making this breakfast so highly pleasurable. It feels like you are eating forever, that your breakfast will just never end and trust me, that IS a good thing when you are eating something THAT good.
Plus, never before have pancakes satisfied me so much and for so long. I felt good and full for a long time after I was done eating.
The addition of the cacao nibs just sent those already delicious pancakes through the roof. The added crunch and bitterness… OH MY! Just like Katie said, I could eat these every day for the rest of my life.
Now, Katie promised that I would get 8 pancakes out of this recipe. I figured they would be very small pancakes, and indeed they were, but still, not quite AS small as I would've imagined. I would say about the size of a slice of grapefruit. I used a little under a quarter of a cup per pancake, (I filled my ¼ cup measure only ¾ of the way up for each pancake) and I did manage to get all of the 8 promised pancakes, although I did have to scrape my bowl really well and still, the last one was a wee bit smaller than the others.
You don't have to make 8 pancakes either, you can make as little or as much as you want, it just depends on the size that you choose to make yours. In the end, you will be getting the same amount of super-healthy-yet-decadently-yummy-and-oh-so-satisfying-breakfast.
Allright, I'm done talking now, I'll give you the recipe. But before I do that, I've only got this one more thing to say: Thank you so much Katie for that brilliant addition to my cooking repertoire!
Convinced? Time to give them a try!  
Coconut and Cacao Nibs Pancake Tower
Servings: 1
Instructions
Combine all ingredients except cacao nibs in a food processor and blend until well combined. Add cacao nibs and mix with a spoon to incorporate.

Heat a non stick pan coated with cooking spray over medium-high heat.

Spoon as much or as little pancake batter onto griddle, depending on what size you desire. A little less than ¼ of a cup per pancake will yield about 8 small pancakes.

Turn pancakes over when tops are covered with bubbles and edges look cooked. Transfer to low temp oven to keep them warm while you cook the remaining pancakes.

Serve warm and garnish with cacao nibs and a drizzle of liquid honey.
If you've tried this recipe, please take a minute to rate the recipe and let me know how things went for you in the comments below. It's always such a pleasure to hear from you!
You can also FOLLOW ME on PINTEREST, FACEBOOK, INSTAGRAM and TWITTER for more delicious, healthy recipes!