Spinach and Strawberry Salad
You don't get to see what I eat for lunch all that often… For one, I think that if I started carrying my camera with me to work, setting up and shooting my food, people would probably think that I am insane and have me arrested or something… (come to think of it, there is a very good chance that many of them are already thinking that, but I'd rather not give them another reason, you see…) 😉 
Also, the truth is, how ever diversified the rest of my meals may be, I tend to eat salads for lunch. Day in, day out. A whole bunch of veggies with a side of cottage cheese for protein. While I vary my vegetable selection somewhat, it's still fairly similar every day, so I don't think that you would find it all that interesting, really! 😉
Here's one salad that I truly like though, and that I find worthy of sharing. It's a great classic, visually pleasing, superb to eat, and so easy to make you don't really need a recipe.
You just basically need a handful of this and a little bit of that… it's one that you can so easily play by ear and sub, add or remove just about any ingredient.
For instance, I sometimes like to use pecans, other times, I will use walnuts, or cashews, or pine nuts even. For fruits, this time, I chose to use strawberries, but raspberries are equally good.You could even do blueberries, or grapes why not?
There are days when I like to add a few thin slices of red onion to my salad. This time, I opted to leave them out. A handful of sprouted beans for variation doesn't hurt either!
You can also use whatever kind of cheese tickles your fancy… or none at all.
Some people even add cooked chicken to that strawberry spinach combination. Me? I'm not convinced… I've never tried it, but I'm not saying I never will. In fact, I almost did this time, but I chickened out at the last minute… (pun definitely intended!) 😉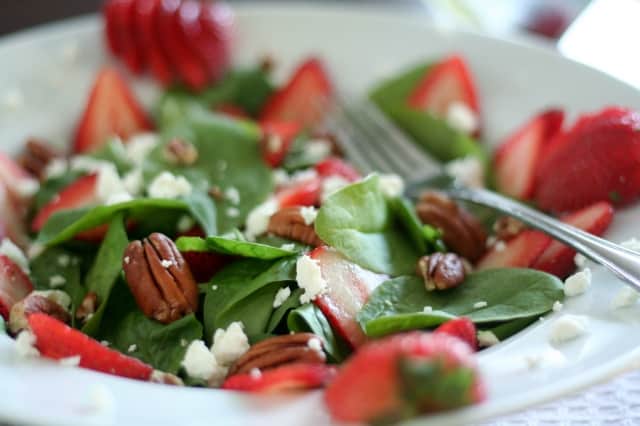 There is only one ingredient that, to me, is absolutely essential to the success of this salad and that is balsamic vinegar. I just think it goes magically well with strawberries. This time 'round, I even chose to reduce it some before I used it. I think that I'll always do that, from now on! What a burst of flavor it added! I might tone it down with a tiny little bit more honey, next time, though…
Oh, and just in case you're wondering, no, I didn't shoot that at work! 😉
2 cups fresh baby spinach
8 strawberries , sliced
20g pecans
20g goat cheese
generous sprinkle of freshly cracked pepper
pinch of salt
2-3 tsp balsamic vinegar (use reduced for more flavor)
1-2 tsp extra virgin olive oil
1 tsp liquid honey
INSTRUCTIONS
If you want to use reduced balsamic, start by bringing about 1/3 of a cup balsamic vinegar to a boil. Reduce heat and simmer until only a few tablespoons are left in the saucepan. This will take about 3-5 minutes. Set aside to cool while you put the salad together
In a medium mixing bowl, add spinach leaves, strawberry slices and pecans and give that a good toss.
In a separate bowl, mix balsamic vinegar, oil, honey and salt. Whisk to combine.
Transfer salad to serving plate, sprinkle goat cheese and drizzle dressing overtop. Sprinkle generously with freshly cracked black pepper.
Garnish with more strawberries if desired.