Butternut Squash, Pear and Chestnut Salad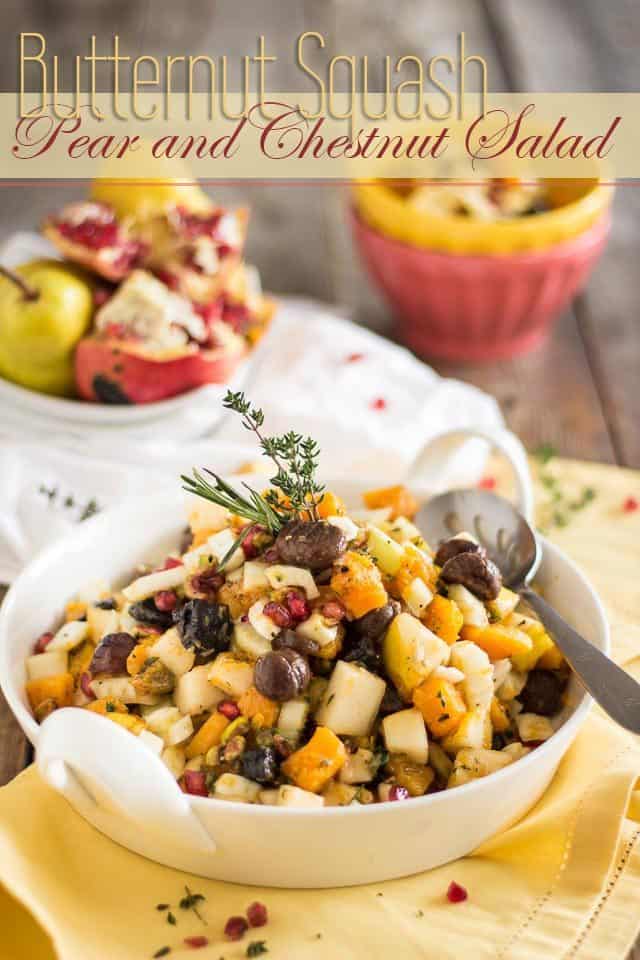 Remember how I'd been asked to contribute a couple of salads to our Christmas family reunion this year? While I initially found the idea of eating salad at Christmas kind of strange, I still thought the concept to be extremely intriguing and inspiring and was looking forward to coming up with delicious salads worthy of the special occasion.
But then, due to complicated life circumstances, my kids and I eventually decided not to attend said family reunion. That put a halt to my creativity and I had stopped at just this one Perfect Christmas Salad.
Eventually, though, our circumstances changed for the better, so we decided that we were going to attend the reunion after all. It didn't take long for me to come up with this Butternut Squash, Pear and Chestnut Salad, which was perfectly suitable for the occasion.
Sadly, though, I never got to share it with the fam… it seems like faith had decided that I was not to celebrate Christmas with them this year. I managed to catch a nasty illness the day right before Christmas; the kind that transmits all too easily, if you get my drift. So I was politely asked to stay at home with my germs.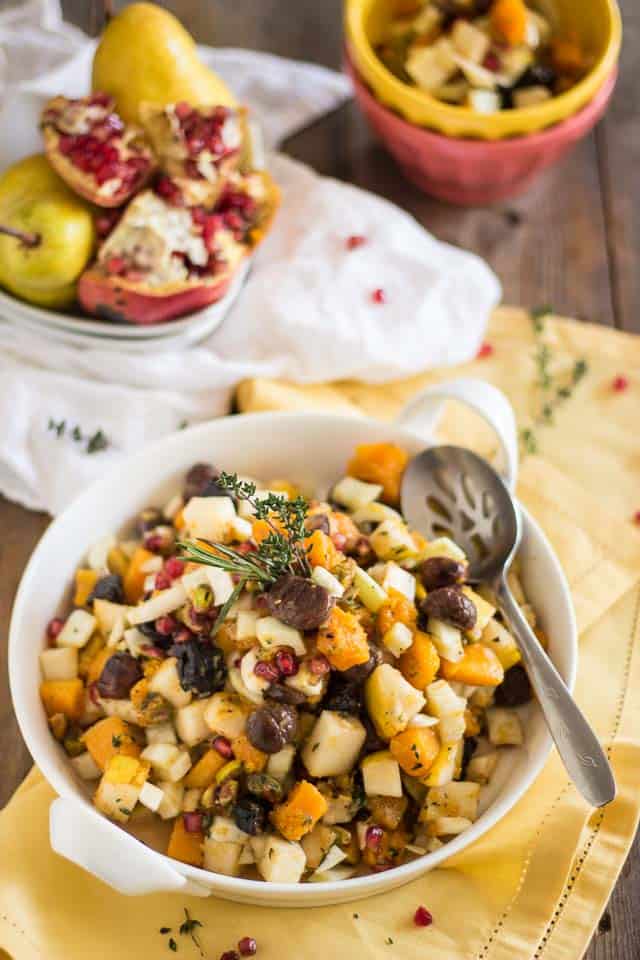 That's not the only thing that didn't quite go according to plan with this salad. I had originally intended on making it with fresh chestnuts, which I was going to bravely roast in the oven and peel myself and all.
I was full of good intentions, too! I had purchased the chestnuts and got so far as to make the X shaped incisions on them and even roasted them… but then I got to the part when one is supposed to remove the shell from the blistering nuts. I never was really good at that. I managed to peel a few but then I just lost it.
How one manages to successfully extract a complete, unbroken chestnut from its crazy hot, fairly sharp and rigid protective armor is beyond me. All I ever manage to get is some kind of a crumbly mess. Plus, that dang peel always seems to obstinately cling to the nuts, too. How one is supposed to remove that, I have no idea! I eventually gave up on the whole fresh roasted chestnut project, tossed the whole batch in the trash (yeah,I did feel bad about it. I do not do throw out food, it goes against my principles) and reached for the bagged stuff instead.
HA! Now THAT was SO much easier, and honestly, I find these things taste just as good as the fresh ones. So I officially decided that this was my final attempt at roasting chestnuts. I hereby officially give up on them.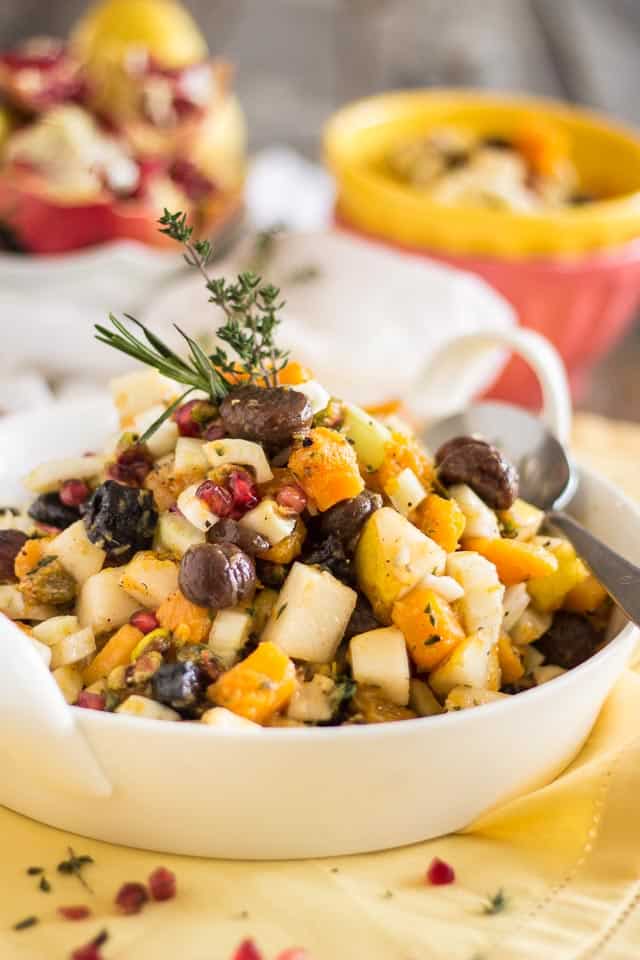 That being said, I also decided not to include my usual step-by-step pictures and instructions in this post. For one, because this salad is so easy to make: simply throw all the ingredients for the salad in a bowl, mix all the ingredients for the dressing in another bowl, add dressing to salad, toss and serve.
Still, I could've added pictures and instructions on how to prep and steam the butternut squash, how not to roast and peel chestnuts, or how to extract the arils from a pomegranate…
Unfortunately, I wasn't feeling my best that day, so I decided to limit myself to taking pictures of the the final product.
Good thing I did at least that, for this salad was utterly FAN-TAS-TIC! Even better than the first Christmas salad I'd come up with.
I think that this one will be making a regular appearance on my table at Christmas… and a few more times throughout the year, too!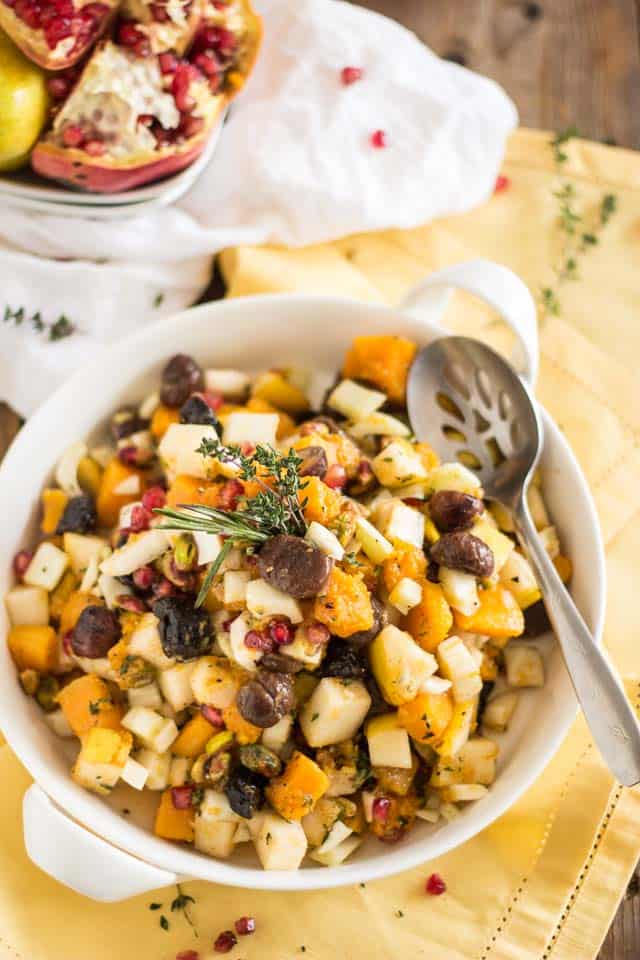 Butternut Squash, Pear and Chestnut Salad
Butternut Squash, Pear and Chestnut Salad with pomegranate, fennel, dried prunes and pistachio. So good, it's worthy of getting a spot on your Holiday menu.
Servings: 8
Ingredients
The Salad
1/2 medium butternut squash, cut into 1" chunks, cooked and cooled
1 ripe Bartlett pear, diced
1 fennel bulb, top removed, diced
3.5 oz roasted and peeled chestnuts
12 dried prunes, chopped
1/2 cup raw shelled pistachios
The arils from 1/2 a pomegranate
Instructions
In a large bowl, add all the ingredients for the salad and set aside.

In a separate bowl, add all the ingredients for the dressing. Mix well with a whisk and pour over the salad.

Toss delicately until well combined.

Serve immediately or leave in the fridge for a few hours to allow the flavors to meld.

Stored in the refrigerator in an airtight container, this salad will keep well for 4-5 days.
Nutrition
Calories: 235kcal, Carbohydrates: 35g, Protein: 3g, Fat: 11g, Saturated Fat: 1g, Sodium: 310mg, Potassium: 605mg, Fiber: 5g, Sugar: 15g, Vitamin A: 5183IU, Vitamin C: 22mg, Calcium: 63mg, Iron: 1mg
If you've tried this recipe, please take a minute to rate the recipe and let me know how things went for you in the comments below. It's always such a pleasure to hear from you!
You can also FOLLOW ME on PINTEREST, FACEBOOK, INSTAGRAM and TWITTER for more delicious, healthy recipes!