Out Spending Again, IKEA part II and a Chocolate Cherry Buckwheat Bake
A few weeks ago, I put up this cabinet that I got at IKEA and wasn't too sure whether I should keep the sofa table that I had bought to go with it, or if I should return it and get another cabinet similar to the first one, but without doors.
Well, I decided to keep the sofa table after all. I think I made the right decision.
You see, I had an hour to kill last week and ended up going to that fabric store... just to pass time, you know! But while killing time in said store, I might have stumbled upon a bargain or two, which sort of resulted in me taking home this pile of beauties!
Of course, I needed some place where to store that, now, didn't I? It didn't take long before the box that had been sitting there in the corner, patiently awaiting its fate, got opened.
Hmmm… Let's do this the right way and start at the beginning, shall we? The instructions clearly say show that this should not be assembled by one person alone.
It would seem that, to get the job done, you need one person holding a hammer in their left hand and one person with a pencil behind their left ear. Also, both people should have their hands on their hips and a huge grin on their face.
Hey, I didn't make this up… it's all right there, I swear!
See for yourself!
Now, that might be a problem, seeing that no one seemed to be available to help me.
Think any of these two can give me a hand, maybe?
Or a paw, rather!
I thought not… Looks like Maisha can't even be bothered to look at that instructions booklet. Too complicated, I guess…
Bah, it doesn't matter, really. After taking a closer look at the instructions, I noticed that the list of required tools didn't show a hammer, so I guess that meant I could also do without the guy that's holding the hammer.
Good. 😀
Now, just let me put a pencil behind my left ear and get started.
Pffft… Piece of cake… I'm already half way there!
Besides, there's so little hardware. The cabinet was up in no time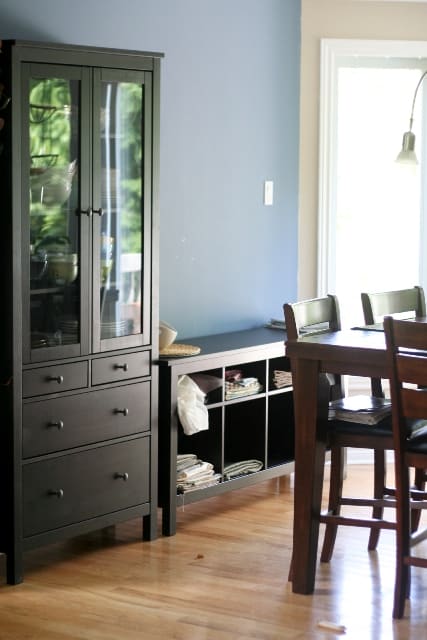 Not bad, is it? I like!
I think it looks perfect. Now I only need to add a couple of nice looking frames on the wall.
Guess where I'll be headed again?
The sofa table took so little time to put together, it left me with ample time to bake some beautiful Buckwheat Chocolate Cherry Bakes.
This is pretty much the oven baked version of the Instant Buckwheat Chocolate Cherry Bake that I made earlier. Of course, I also got the recipe for this one off of Ashley's site!
The texture of this version is a lot heavier, it's like a very dense bread. Since you all know how much I love dense, I guess I don't need to tell you that I really appreciated that buckwheat bake.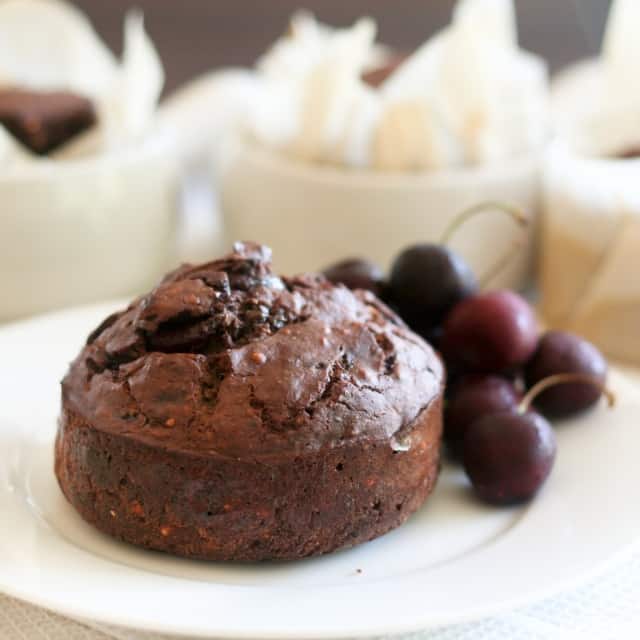 Another great thing about them is that they are truly LOADED with cherries.
Check this out!
That's how much cherries went into the batter! YUM! Of course, there SHOULD have been one or two, or maybe ten more, you know… but they somehow got trapped between my molars and never managed to escape!
Oh well…
And how about that batter… I think I could've just sat down with the bowl and wolf it down with a spoon.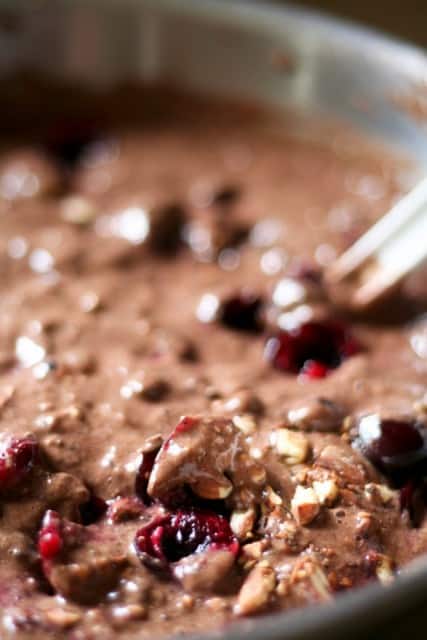 You want to bake these in individual oven safe soup dishes. I lined mine with parchment paper. I am a great fan of this technique because I find this is the only way to make sure that unmolding will be a success. I get so frustrated when my baked goods refuse to let go of their molds, liked they're joined in holy matrimony or something! 😉  Of course, you could always use the good old greasing technique… do whatever works for you.
If you are going to have these bakes for breakfast, I think this is a great, filling and satisfying serving size. However, seeing that I tend to have mine as a snack, I found them to be a tad too big and ended up slicing them up as I would bread. I even ended up toasting a couple of slices, once.
Need I tell you these toasts were heavenly? Even my daughter really liked them, even though she doesn't care for the earthy taste of buckwheat flour.
I think next time, I will try and make this one into a bread instead, to have it as an afternoon snack, and enjoy my breakfast bakes in their instant version!
INGREDIENTS
(for 6 individual bakes)
Adapted from The Edible Perspective
Dry
1½ cup buckwheat flour
1/3 cup raw buckwheat groats
1/3 cup dutch processed cocoa powder
1/3 cup chia seeds
3 scoops vanilla flavored whey protein powder
1 1/2 tsp baking powder
1/4 tsp salt
Wet
3 large ripe bananas
1  1/2 cup (12) egg whites
2/3 cup unsweetened soy milk
1 tbsp pure vanilla extract
Goody Add-Ons
2 cups pitted cherries, halved
1/2 cup toasted almonds, chopped
1/2 cup carob chips
INSTRUCTIONS
Preheat oven to 425F
Line individual oven safe soup bowls with parchment paper (or coat with cooking spray or olive oil)
Mash banana, until very wet.
Whisk in egg whites, milk, and vanilla.
In a separate bowl, mix dry ingredients together until well combined.
Add wet ingredients and stir with a spatula until mixture is homogenous.
Mix in cherries, almonds and carob chips
Ladle mixture into prepared bowls and bake for 5 minutes at initial temperature. Lower heat to 350F and bake for an extra 25-30 minutes.
Unmold the cakes as soon as they come out of the oven and cool completely on a cooling rack.
See, that's what happens when I don't line with parchment paper… 🙁
 That's much better!