Cherry & Chocolate Overnight Oats
Breakfast that tastes just like dessert but that's as nutitious as can be? That's exactly what you get in a bowl of these Cherry & Chocolate Overnight Oats!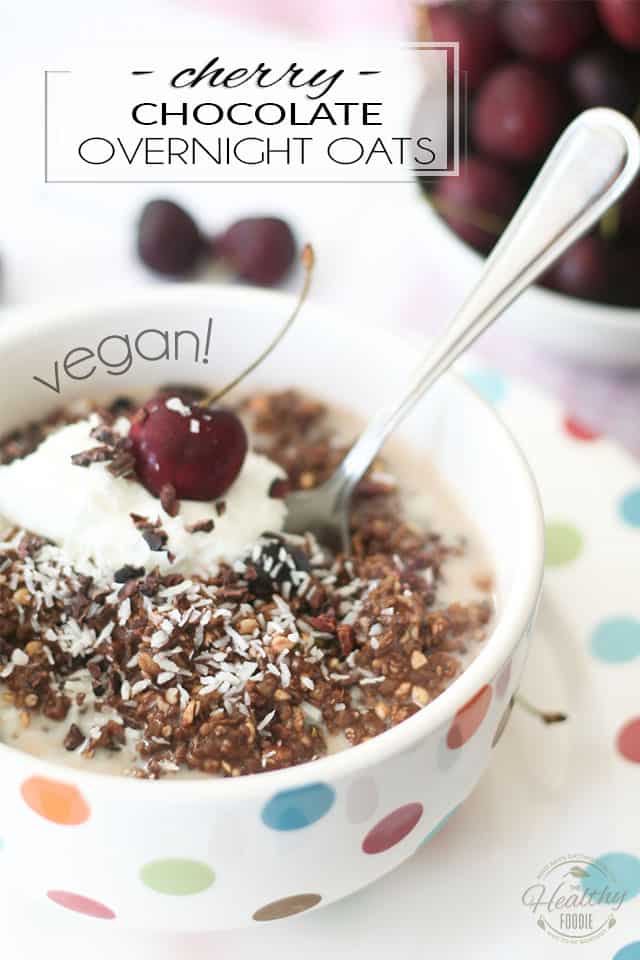 Cherries are in season!!! Yay, yay, and double yay! 😀
For as far as I can remember, cherries have always been my ultimate favourite fruit. Mind you, raspberries are very close behind, if not right next to them. In fact, I'd have a very hard time picking one between the two. But cherries have one little advantage over raspberries: their gorgeous, shiny, deep ruby colour. To me, they look just like jewels!
So anyway, cherries being on sale at my local grocery store, and me being me, well, I went out and bought close to 8 pounds of the delicious fruits. What can I say, I just totally lost all sense of control when I saw this bunch of beautiful, shiny, plump, BRIGHT burgundy cherries all piled up like a mountain of golden coins, looking like some sort of a lost treasure just waiting for me to take home as much as I possibly could.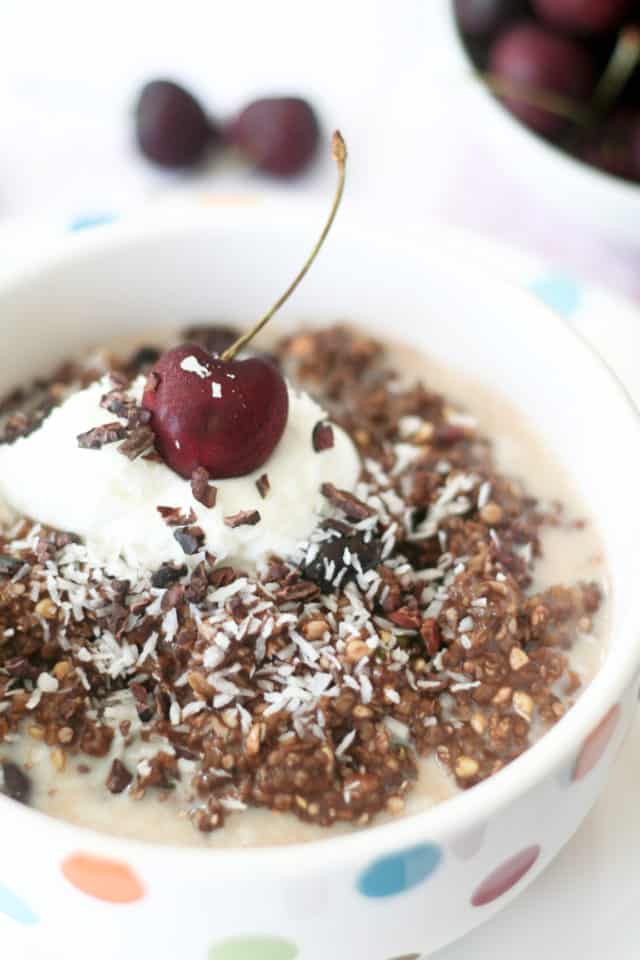 To my defense, I was planning on freezing some of them… about half of what I bought, in fact. I had every intention to. Really, I swear! But I think I got a bit carried away… I must've gone through 6 pounds already, and not one has seen the interior of my freezer as of yet.
And I don't think any of them will, to be honest.
Of course, I have made cherry this and cherry that, so expect to see a few recipes including cherries in the next couple of days, like these amazing cherry overnight oats, for instance. What a superb breakfast that was. I actually had to eat these 2 days in a row, because the first time I had them, I liked them so much I thought I  just had to take pictures and log the recipe. Not that I minded, really! 😉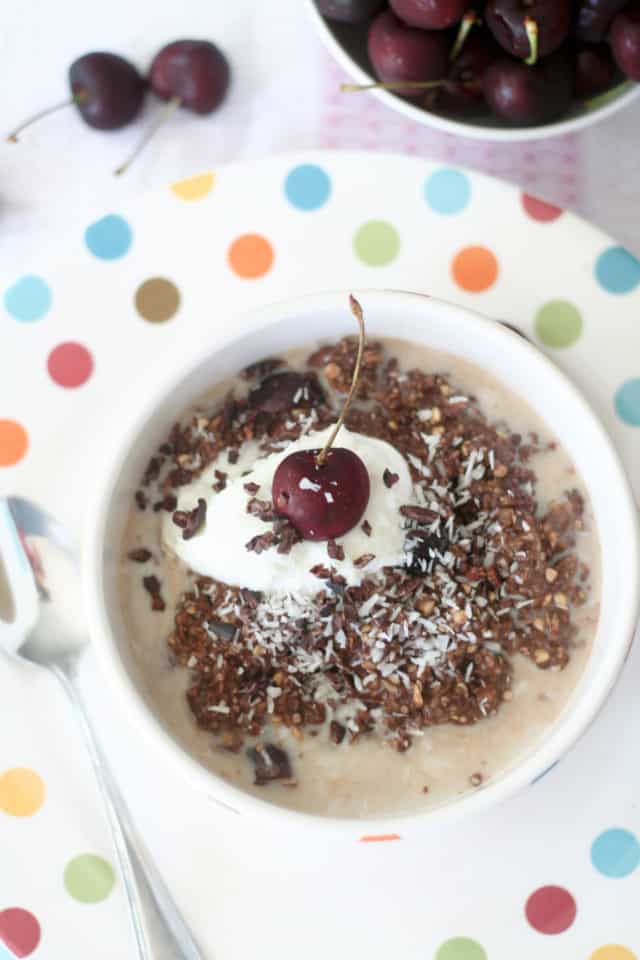 You're looking at a breaksfast that is super easy to make, crazy nutritious, but that tastes so good it feels just like you're eating dessert first thing in the morning…
Personally, I've nothing against that… And I don't think you'll mind, either!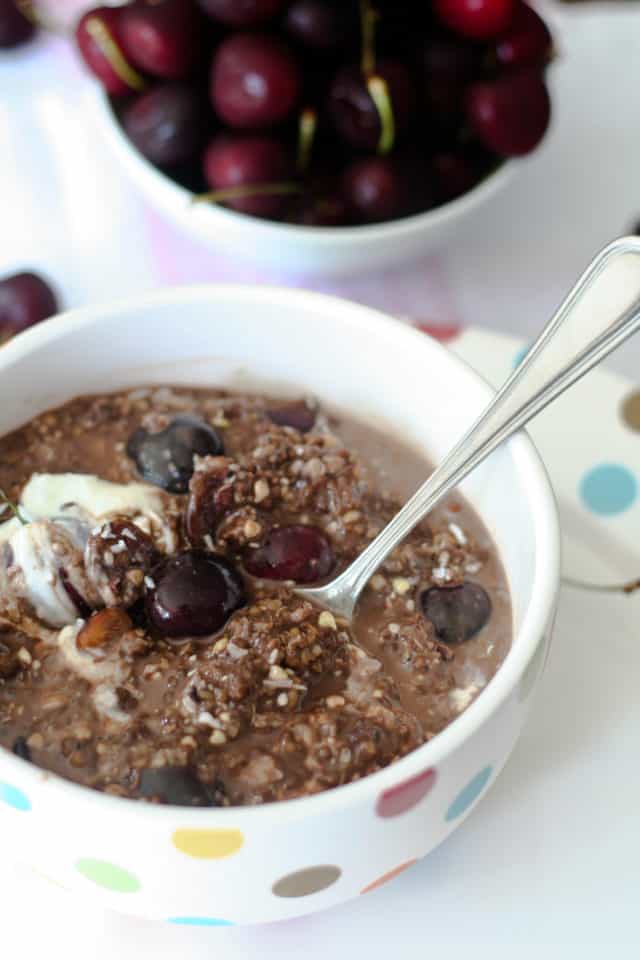 Cherry Chocolate Overnight Oats
Breakfast that tastes just like dessert but that's as nutritious as can be? That's exactly what you get in a bowl of these Cherry & Chocolate Overnight Oats!
Servings: 1
Ingredients
Garnish
1 tbsp full fat coconut cream
1 fresh cherry
1 tsp cacao nibs
Unsweetened non-dairy milk, to taste
Instructions
The previous night
Bring water to a boil.

Toast almonds and coconut in a small non stick pan, over medium heat.

Meanwhile, pit and chop cherries. Try not to eat them all…

Add oats, chia, bulgur, hemp seeds, buckwheat groats, toasted almonds, coconut, cocoa powder and cinnamon to a plastic container with a tight fitting lid. Close the lid and give that a good shake.

Add boiling water and agave nectar and stir until well combined. Toss in cherries and give that a quick stir.

Put the lid on and refrigerate overnight (or at least 4 hours)
In the morning
Transfer to serving bowl and add as little or as much of your favorite non-dairy milk as you like

Top with a dollop of coconut cream and a fresh cherry

Sprinkle with cacao nibs and shredded coconut
Nutrition
Calories: 591kcal, Carbohydrates: 78g, Protein: 19g, Fat: 27g, Saturated Fat: 10g, Sodium: 24mg, Potassium: 730mg, Fiber: 20g, Sugar: 24g, Vitamin A: 166IU, Vitamin C: 10mg, Calcium: 166mg, Iron: 6mg
If you've tried this recipe, please take a minute to rate the recipe and let me know how things went for you in the comments below. It's always such a pleasure to hear from you!
You can also FOLLOW ME on PINTEREST, FACEBOOK, INSTAGRAM and TWITTER for more delicious, healthy recipes!