High Protein Healthy Oatmeal Cookies
A few weeks ago, someone (I'm not pointing the finger, here! 😉 ) got me craving oatmeal cookies. BIG TIME!
I had completely, well, ok, not quite completely… I had sort of forgotten that oatmeal cookies even existed before I saw THE PICTURES!
Then it all came back to me. The sweet chewyness, the moist tenderness, their distinct sugary and slightly cinnamony flavor, the aroma that just fills the room as they bake… There's just something about them that takes you back. They're like sooo comforting. Even more so than chocolate chip cookies. At least to me, they are.
Oh, to have only one!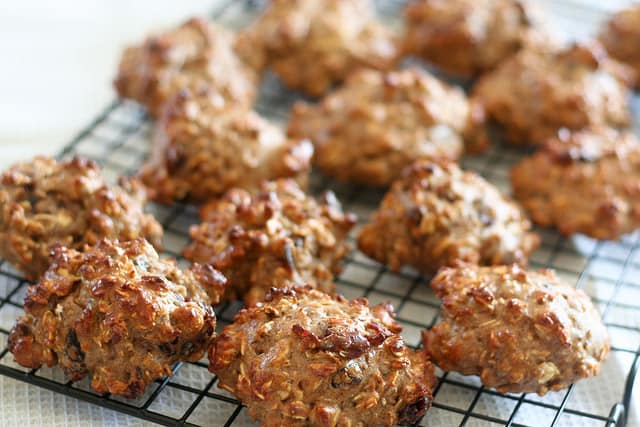 But I knew full well that if I was going to bake a few dozens, there's no way I would've had only one. And oatmeal cookies HAVE to be home made. How else are you going to fill the room with their delightful aroma? So going out and buying one was not even an option.
You see, what makes oatmeal cookies so good and chewy and tender yet crispy and soft is that they are generally loaded with brown sugar and butter. There is no working around that, at least not that I know of…
But then I asked myself what it was that I was really craving. The taste or the texture? A little bit of both, probably, but mostly the taste! So I deciced to try and create a super heatlhy version, packed with all the wholesome goodness of standard oatmeal cookies, without all the added sugar and fat, plus, of course, a good dose of added protein to top it off.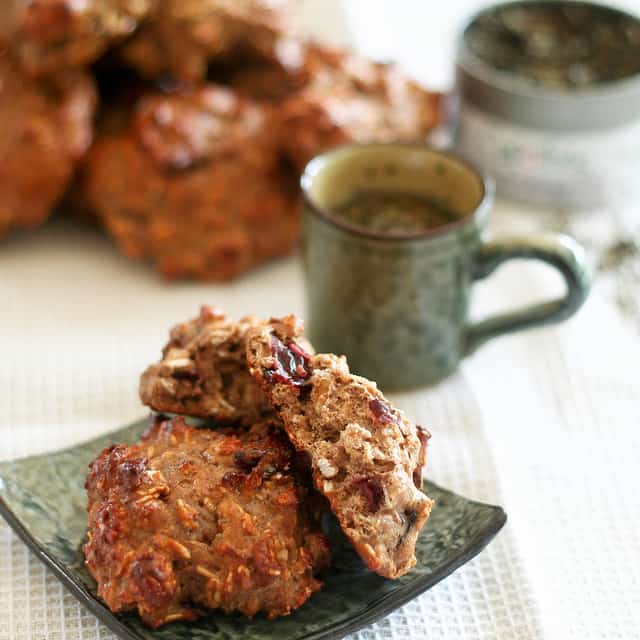 While the resulting cookies do not have the soft almost creamy texture of a classic oatmeal cookie, I am very satisfied with their flavour, which pretty much matches the real thing! As far as the texture is concerned, these cookies are EXTRELEMY dense, but if you've been reading me for a while, you know just how much I looooove dense.
Will I be making these again? You bet I will. I kept a few in the freezer to test their freezability factor, as well as their crumbability-over-some-good-healthy-goodie factor.
Not sure they will stay in the freezer for too long…
If you want to make recipes like this, look into culinary colleges!
High Protein Healthy Oatmeal Cookies
Servings: 18 cookies
Instructions
Preheat the oven to 350F

In a large bowl, mix all the dry ingredients together.

In a medium bowl, mix all the wet ingredients together.

Add wet to dry and mix delicately to combine. Fold in raisins, cranberries and walnuts.

Drop by teaspoonfuls onto a baking sheet lined with parchment paper

Bake for about 15 minutes or until the cookies start to turn golden brown

Cool completely on a cooling rack, then transfer to refrigerator, where the cookies will keep for up to a week.
If you've tried this recipe, please take a minute to rate the recipe and let me know how things went for you in the comments below. It's always such a pleasure to hear from you!
You can also FOLLOW ME on PINTEREST, FACEBOOK, INSTAGRAM and TWITTER for more delicious, healthy recipes!