Totally Sugar Free / High Protein / Shockingly Healthy Pumpkin Oatmeal Cookies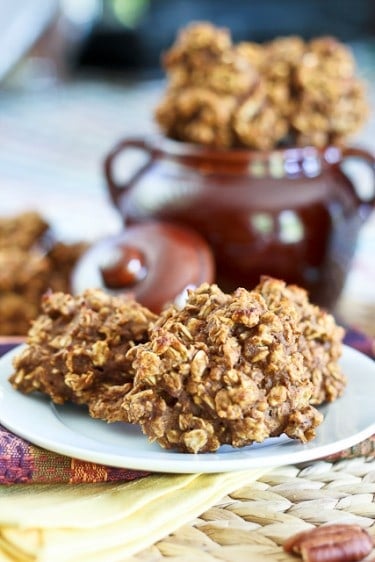 OMG guys, I can't even begin to tell you how excited I am about these cookies!
I swear, they are one of the best oatmeal cookies I've ever eaten.
Yet, they are completely, entirely sugar free.
YEP, you read that one right!
The only form of sugar that went into these babies is that which is naturally present in the bananas and pumpkin puree.
There's no stevia, no honey, no maple syrup, no molasses, not even date paste.
Yet, they taste unbelievably sweet, and incredibly "pumpkiny".
Yeah yeah, pumkiny.
You know, that special taste that all things "pumpkin" are supposed to have? Well, they definitely possess it!
I could not be more thrilled with them, seriously. I am borderline EC-STA-TIC!
I would almost dare say they are perfect…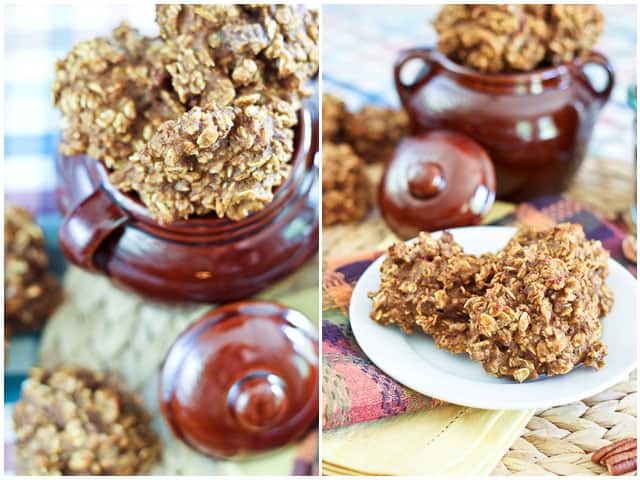 If anything, I would MAYBE add raisins, but when I made them, I was still on my sugar free challenge and I had decided that even dried fruits were off limits during that time.
So in they DIDN'T go! But, for the record, if I were to do them again, I would probably add a handful, just because they go so perfectly well with oatmeal and pumpkin…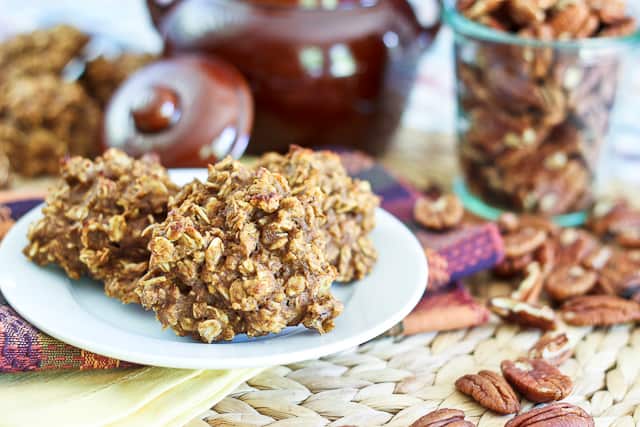 To be honest, I was highly skeptical when I made them and almost put the project off until I could at least add a little bit of molasses and well, raisins!
I figured there was no way I could actually get a cookie to be sweet enough without adding any sugar whatsoever.
BOY WAS I WRONG!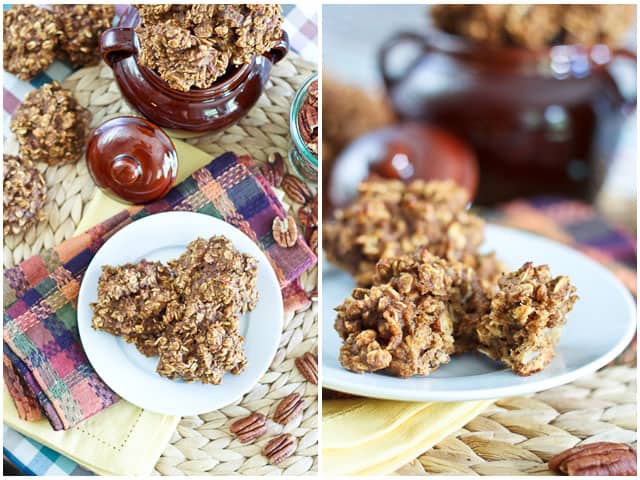 If you like oatmeal cookies and all things "pumpkin", then I urge you to give these guys a try. Trust me, you won't regret it!
They are just soooo moist, so tender, so sweet, so spicy, so tasty… SO DREAMY!
Oh, right, I almost forgot… and so very HEALTHY too!
Cookies this good and this healthy, you could very well have for breakfast, snack or even dessert.
Heck, you could probably even get up in the middle of the night to snack on one or two!
I can't say the thought has never crossed my mind… 😉
Completely Sugar Free / High Protein Pumpkin Oatmeal Cookies
Servings: 24 cookies
Ingredients
Wet ingredients
1 cup pure pumpkin puree
1½ very ripe bananas, mashed
¾ cup egg whites
1 tsp pure vanilla extract
2 tsp fresh ginger, grated
Instructions
Preheat the oven to 375F

In a large bowl, mix all the dry ingredients together with a whisk, until very well combined.

In a medium bowl, mash the banana until frothy. Add the rest of the wet ingredients and combine with a whisk until well incorporated.

Mix wet to dry and fold delicately just to combine.

Drop by tablespoonful, 12 at a time, onto a baking sheet lined with parchment paper.

Bake for about 10 minutes or until the cookies start to turn golden brown

Cool completely on a cooling rack, then transfer to refrigerator, where the cookies will keep for up to a week in an airtight container.
If you've tried this recipe, please take a minute to rate the recipe and let me know how things went for you in the comments below. It's always such a pleasure to hear from you!
You can also FOLLOW ME on PINTEREST, FACEBOOK, INSTAGRAM and TWITTER for more delicious, healthy recipes!