Green Beans, Artichoke and Hard Boiled Eggs Salad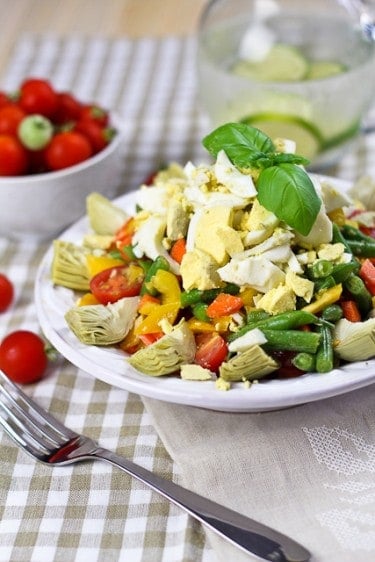 So this is Labor Day…
Some of you might remember that, a few months ago, I had made a pledge that I would be 8 kilos lighter by today.
Well… erm… the thing is, you see, in my mind, when I set the date, I'd calculated that it gave me a window of 12 weeks to get the job done.
However, I soon came to realize that the window was much smaller than I thought!
I, in fact, only had 8 weeks…
Right… and you guys trust me with calorie counts and stuff? 😉
Still, I decided not to change my goal or the target date and work real hard to get as close as I could.
Well, I am very happy to report that I managed to drop 6.6 kilos.
That's close to 15 pounds!
I'm REAL pleased with this. And very proud, too!
The best part is I don't feel I have sacrificed much lean mass at all. In fact, I feel much firmer, trim and muscular now than I ever had.
I haven't made many changes in my workout regimen, except that I now lift heavier weights and no longer consider "girly" push-ups to be acceptable. No more knees, lady! I do less of them and don't go quite as deep, but I do them like a real man! 😉
As for my diet, it hasn't changed much either. I still eat healthy food, only I eat less of it.
AND NO MORE MUNCHING BETWEEN MEALS!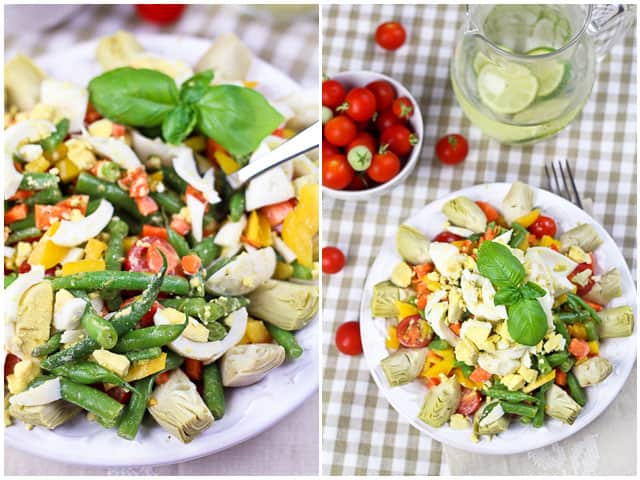 If you are curious to see what I eat, you can always check out my food diary on My Fitness Pal.
For the time being, I do keep track of every single calorie that goes into my body, for I strongly believe that this is a crucial aspect of weight management.
Same goes for macros.
Keeping track helped me realize that I wasn't eating enough protein, so I'm working on increasing my protein intake to get it closer to one gram per pound of lean body weight. That is proving to be a real challenge for me, but I see a dramatic change in my body composition, so I will keep at it.
Hence, the hard boiled eggs…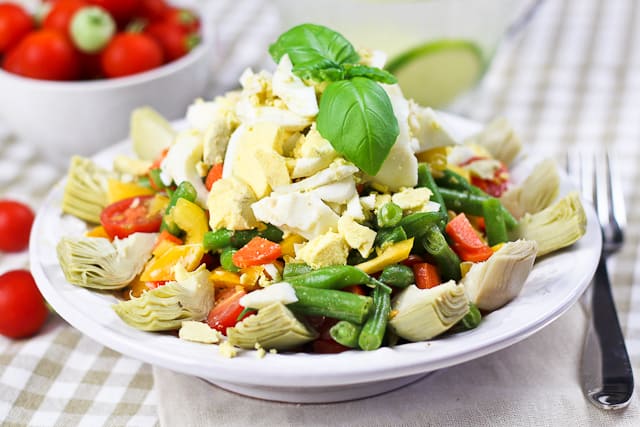 I tend to do mostly egg whites, for they are a great way to boost your protein intake without sending your calorie and fat through the roof, but I think that whole eggs from time to time are also beneficial. There ARE a lot of great nutrients in the yolks too, after all.
And I really like a good hard boiled egg or two once in a while. I should make it a habit to enjoy them more often. They make such a great snack or quick on the go breakfast!
And they are magnificent in salads also! They sure went fantastically well with this one.
And seriously guys, have you seen the size of this baby? There's like a mountain of food! Now that's what I'm talking about!
MOUNDS of food that will make you feel really full and satisfied, yet set you back so very little calories while providing your body with TONS of awesome nutrients.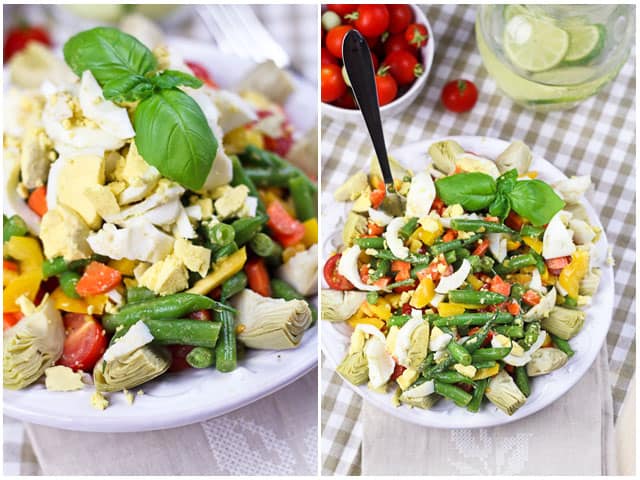 Dishes such as this one I really don't mind enjoying as a part of my regular diet for the rest of my life.
For THAT is wholesome goodness to me!
And that healthy lifestyle?
I am loving it more and more every day!
For it's simple, really:
Good food WILL make you feel good inside out!
Both short AND long term!
Green Beans, Artichoke and Hard Boiled Eggs Salad
Servings: 1
Ingredients
325 g green beans, steamed and cooled
12 cherry tomatoes, cut in half
1 small yellow bell pepper, chopped finely
1 large carrot, diced finely
3 canned artichoke hearts, rinsed and cut into quarters
2 hard boiled eggs, cooled and peeled
Instructions
Start by cutting the green beans into little bite size pieces and cook them over a steam bath for 1-2 minutes, just to make them a little bit more tender and bring out their beautiful green color.

Quickly stop the cooking by plunging them in a bowl of icy cold water. Drain well and place in a medium mixing bowl.

Prep the rest of the vegetables and add them to the green beans, except for artichokes.

Add all the ingredients of the dressing to your small blender or food processor and process until smooth and well incorporated. Pour that over the vegetables and mix well.

Transfer to serving plate and arrange the artichoke hearts around the plate.

Chop the hard boiled eggs coarsely and place them on top of your salad.

Garnish with fresh basil leaves and serve immediately.
If you've tried this recipe, please take a minute to rate the recipe and let me know how things went for you in the comments below. It's always such a pleasure to hear from you!
You can also FOLLOW ME on PINTEREST, FACEBOOK, INSTAGRAM and TWITTER for more delicious, healthy recipes!