Roasted Beet and Sweet Potato Salad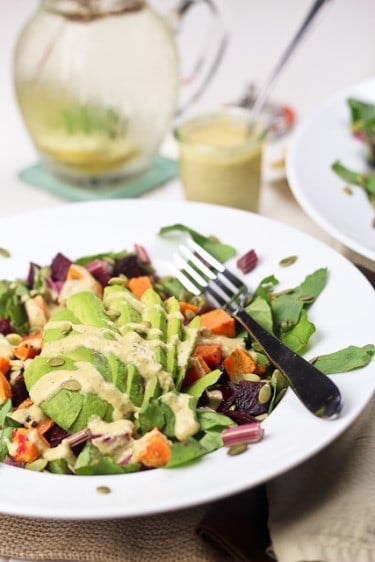 So tonight I was going to tell you about how I couldn't believe that I was already cooking beets and sweet potatoes and pumpkins and what not, and that I was seriously starting to crave squash and comforting warm dishes.
I was going to talk about how summer is already coming go an end…
I was also going to tell you about how excited I am to have officially booked my trip to Cuba! About how it's going to extend summer by that much for me and about how immensely good it is going to feel to just unwind for a week, forget about everything and enjoy the hot sun, infinite white sand and seemingly neverending turquoise sea.
But instead of that, I feel I need to vent. Rant. Get something off my chest.
I think I just need to share my frustration, as well as get other people's opinion, I guess.
Venting is not something that I've done often here, but you see, this situation is just infuriating me to no end.
I think smoke is actually coming out of my ears right now.
You see, I got a pingback yesterday to this site (god I hate the idea of sending traffic their way!) where this person posted a recipe that is VERY similar exactly the same as my Totally Sugar Free Pumpkin Oatmeal Cookies, which happens to be a recipe that I came up with myself and that I am EXTREMELY proud of and really super excited about, too.
Well, not only did they not give me credit for it, they litteraly claimed ownership of the recipe!
But it doesn't end there. Now they are telling me that I am being offensive and attacking them publicly and feel they don't have to give me credit for THEIR recipe. Basically, they are telling me that I am way out of place for accusing them of having stolen my work, because THEY created the recipe.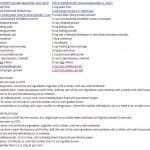 Now, seriously, take a look at this…
I haven't changed the order or anything. I pretty much just copied and pasted from both our sites.
And then they dare tell me that this is THEIR creation and that they did NOT copy and paste from my site…
They even left the link to my home made vanilla that I had inserted, for crying out loud.
Now, is this such a big deal? I guess not. I was just a little annoyed when I first took notice of this.
What really infuriates me now is that this individual is giving ME hell and making it sound like I'm the bad guy…
I mean, come on! How could one possibly have come up with the EXACT same ingredients in the EXACT same order and EXACT same quantities, and describe the steps in the EXACT same way?
Yet, they claim they did NOT copy and paste MY recipe and are now offering to modify THEIR recipe to "put my fears at ease".
I am just so furious right now!!!
I need to calm down…
So let's talk about tonight's recipe, shall we?
Yes, it contains beets and sweet potatoes…
Yes, it pretty much has an autumnal feel to it. Sorry to break it to you guys, but fall IS just around the corner.
Come on, admit it, most of you have probably started thinking about making plans for the Holidays, already…
Oh well, seasons come and seasons go, that's just the way it is!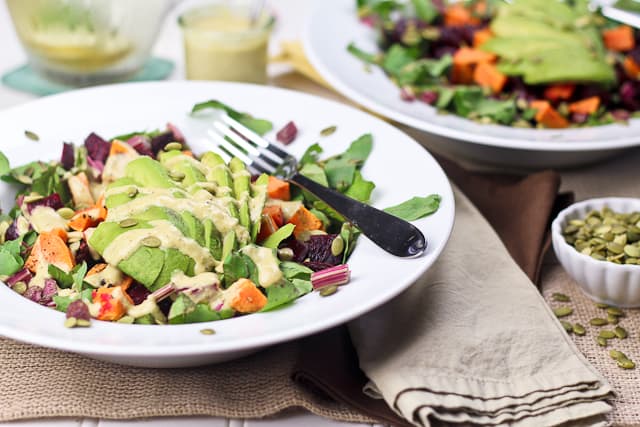 Now I know I've made something similar to this in the past, but this one has one very interesting particularity that the other version did not offer.
It uses the beets in their glorious entirety!
That's right. You need ENTIRE beets for this one, with their tops still attached.
If you've never tried beet greens before, you really have to! They are just FANTASTIC! They are a bit of a cross between Swiss chard, spinach and kale, I find.
Even the stems are super delicious so by all means, don't throw them in the trash…  They remind me a little bit of rhubarb, but in a MUCH sweeter version.
They sure make for a VERY interesting addition to any salad…
And if you can't find beets with their tops still attached, all is not lost. You could very well use Swiss chard, or any other greens that you happen to have on hand… The salad will still be very good!
I just find that there is a certain charm to using "complete" beets. 
Roasted Beet and Sweet Potato Salad
Servings: 2
Ingredients
2 large beets, complete with tops
1 large sweet potato
1 avocado, sliced
30 g pumpkin seeds
Instructions
The previous day
Preheat the oven to 425F

Trim the tops and stems off the beets and set aside.

Peel the beets and potato and cut them into bite size pieces.

Place the vegetables in a roasting pan lined with parchment paper and roast in the oven for 20 to 25 minutes, until fork tender but still a bit on the firm side.

Make sure you keep your veggies separated so the beets don't end up staining the potatoes.

While this is happening, rinse and dry the beets tops and stems and chop them coarsely. Place them in an airtight container and refrigerate until you are ready to put the salad together.

When the veggies are nice and roasted, take them out of the oven and let them cool for a while then transfer them to separate containers and place them in the fridge to cool completely, ideally overnight.
The day of
Add all the ingredients for the vinaigrette to your small blender or food processor and process until smooth and well incorporated. Set aside.

Divide the greens between two serving plates and top with beets, potatoes, sliced avocado and pumpkin seeds.

Drizzle vinaigrette on top and serve immediately.
If you've tried this recipe, please take a minute to rate the recipe and let me know how things went for you in the comments below. It's always such a pleasure to hear from you!
You can also FOLLOW ME on PINTEREST, FACEBOOK, INSTAGRAM and TWITTER for more delicious, healthy recipes!