A refreshing bowl of… soup? Oh yeah! Cucumber Soup!
So, one of my coworkers is making photocopies the other day, and she goes to me:
– You're not big on cold soups, you, are you?
(I have had bad experiences with cold soups…)
I'm like:
– Well, it depends… what do you have to propose?  It's been so hot lately, I guess I'd be open to giving it another try… Any meal with the word "refreshing" associated to it would be more than welcome!
So she handed me the recipe that she was making photocopies of. It was for a cold cucumber soup. Precisely THE kind of soup that I had had bad experiences with.
But, since I did have a cucumber that needed to be used up in my fridge, AND I also happened to have ALL the required ingredients, including the dill, (I had planned on making a cucumber & chick pea salad but I just wasn't feeling it), I decided that I would give this soup a go and asked for my own copy, if you please.
What a great decision that was! It totally reconciled me with cucumber soup. Totally! Completely. Honestly…
If you are looking for a quick, easy and super refreshing meal idea for a crazy hot and humid summer day, look no further. It doesn't get any better than this, I tell you!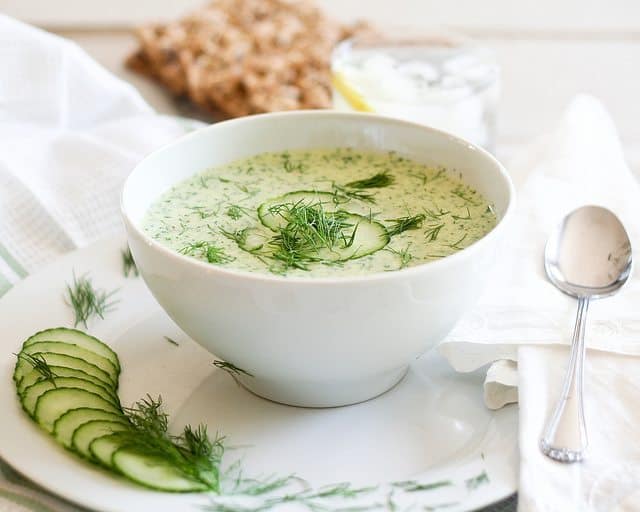 This cold cucumber soup takes no more than 10 minutes to whip up and is just as refreshing as a large glass of icy cold water, if not more. Plus, it tastes so much better.
There is only one small little detail though. This one HAS to be made ahead of time, for it needs to chill and macerate in the fridge for AT LEAST 4 hours. I guess the best way to go is to make it the night before, or in the morning. If you do make it the night before though, you might want to make some extra, for chances are you won't be able to resist bringing a bowl with you to work.
Hey, one has to have lunch, now, don't they?
Cold Cucumber Soup
Servings: 1
Ingredients
1 cup seedless cucumber, peeled and diced
1/2 cup water
1 cup plain Greek yogurt
1 green onion, diced
1 tsp Dijon mustard
2 tbsp fresh dill
2 tbsp fresh parsley
1 tsp salted herbs, I buy this ready-made at my local grocery store
Instructions
Add all the ingredients to your food processor and blend until nice and smooth.

Refrigerate for at least 4 hours before serving. This step is crucial as it really changes the flavor and consistency of the soup.

Serve chilled and garnish with a few slices of cucumber and sprigs of fresh dill.
If you've tried this recipe, please take a minute to rate the recipe and let me know how things went for you in the comments below. It's always such a pleasure to hear from you!
You can also FOLLOW ME on PINTEREST, FACEBOOK, INSTAGRAM and TWITTER for more delicious, healthy recipes!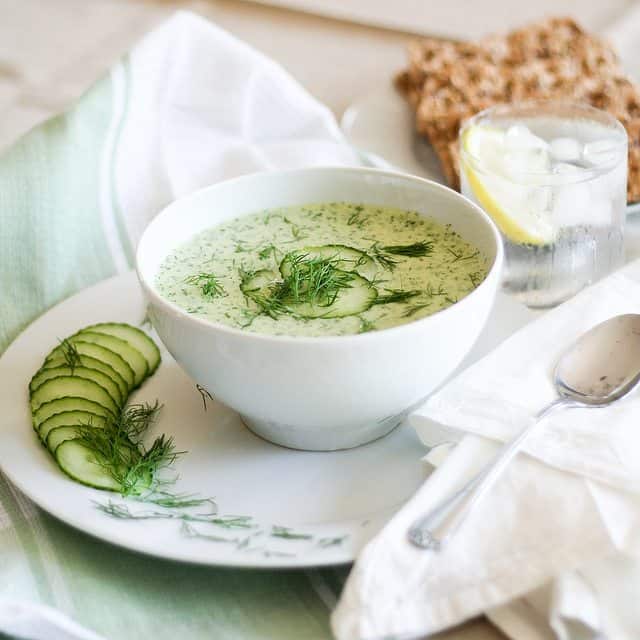 Did I mention it was hot? Just look at that glass of water! No, I did not spray it! 😉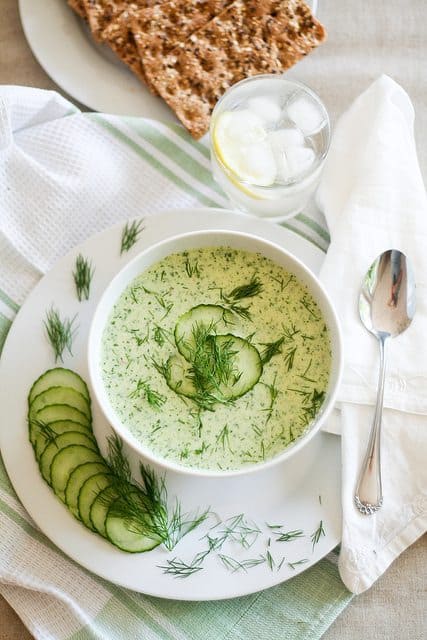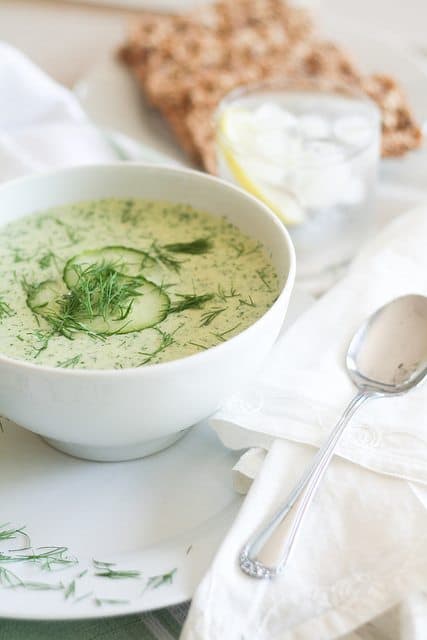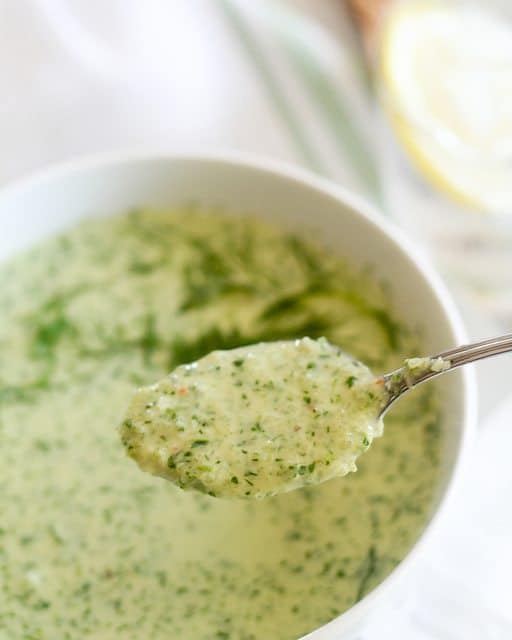 Just look at that beautiful texture. Yummy, crisp, cold, refreshing!