Korean Style Corn Pancakes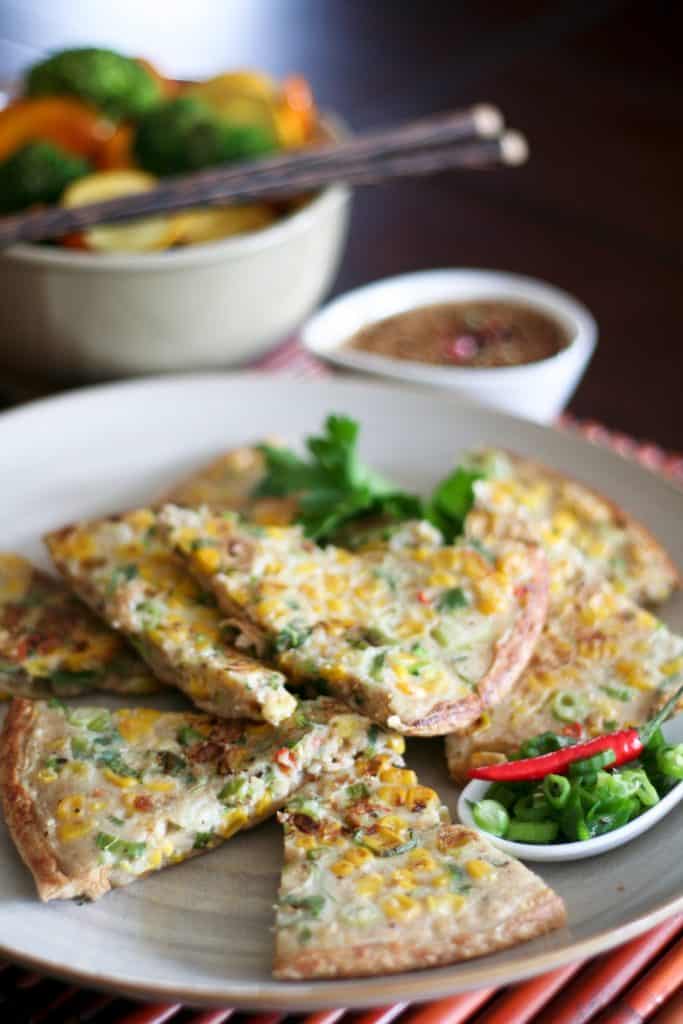 This is a recipe that I've had in my recipe box for a little while now. It's was actually photocopied from some French magazine… I forget which… sorry!
I had made the pancakes once before, about a year ago, and I remembered really liking them. They are the very description of "it feels like there's a party in my mouth and everyone's been invited".
Indeed, there sure is a lot going on in your mouth with every bite: first you get the doughy texture of the pancake together with the sweet crunchiness of the corn, then comes a nice zing from the green onions and, as a final note, a [not so] little kick of heat from the chili peppers.
Dip them in the sauce and you get to add yet another layer of taste and texture, with the tangy garlic and vinegar, salty soy sauce and nutty sesame seeds. I'm telling you, this is flavor and texture overload that you can hold at your fingertips.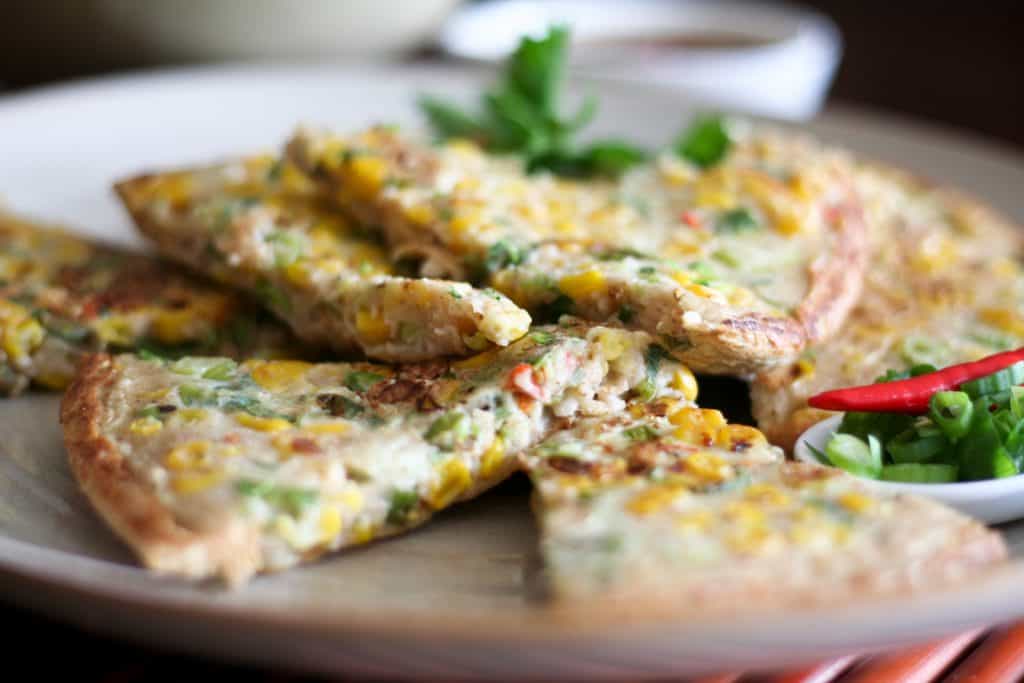 Of course, the original recipe called for all purpose flour, which is what I had been using when I first made the recipe. Bust since I now refuse to use the whiter than white overprocessed stuff, I had to replace it with another kind of flour, one that actually adds to the nutritional value of the dish.
Since I found the pancakes to lack a bit in the protein department, (you know me and protein) I figured I'd try quinoa flour. That, I attempted a few months ago. It was a sad moment… what I would call an almost complete failure. While the pancakes looked like they wanted to stay together, they would in fact, as soon as you'd pick up a piece, completely crumble apart.
Shame! Plus, there was something with the texture of the quinoa flour that just didn't work out. I remembered the original to be very chewy and doughy. The quinoa version was grainy and crumbly.
Allright, cross that one off the list.
This time, I tried making them with pastry whole wheat flour. The result was a lot better. The pancakes had the right consistency and texture. Good! 🙂 But that didn't solve my protein problem. Bad. 🙁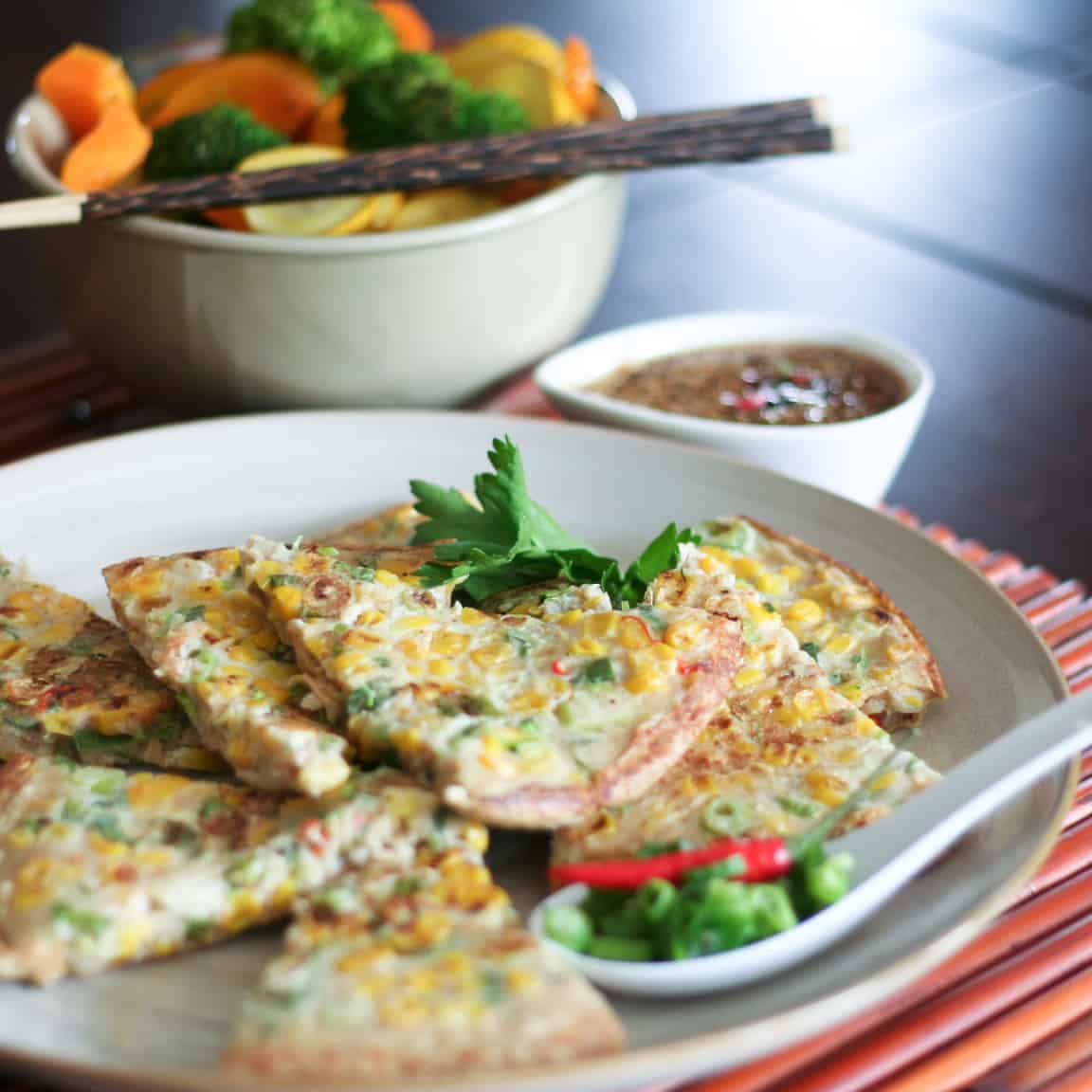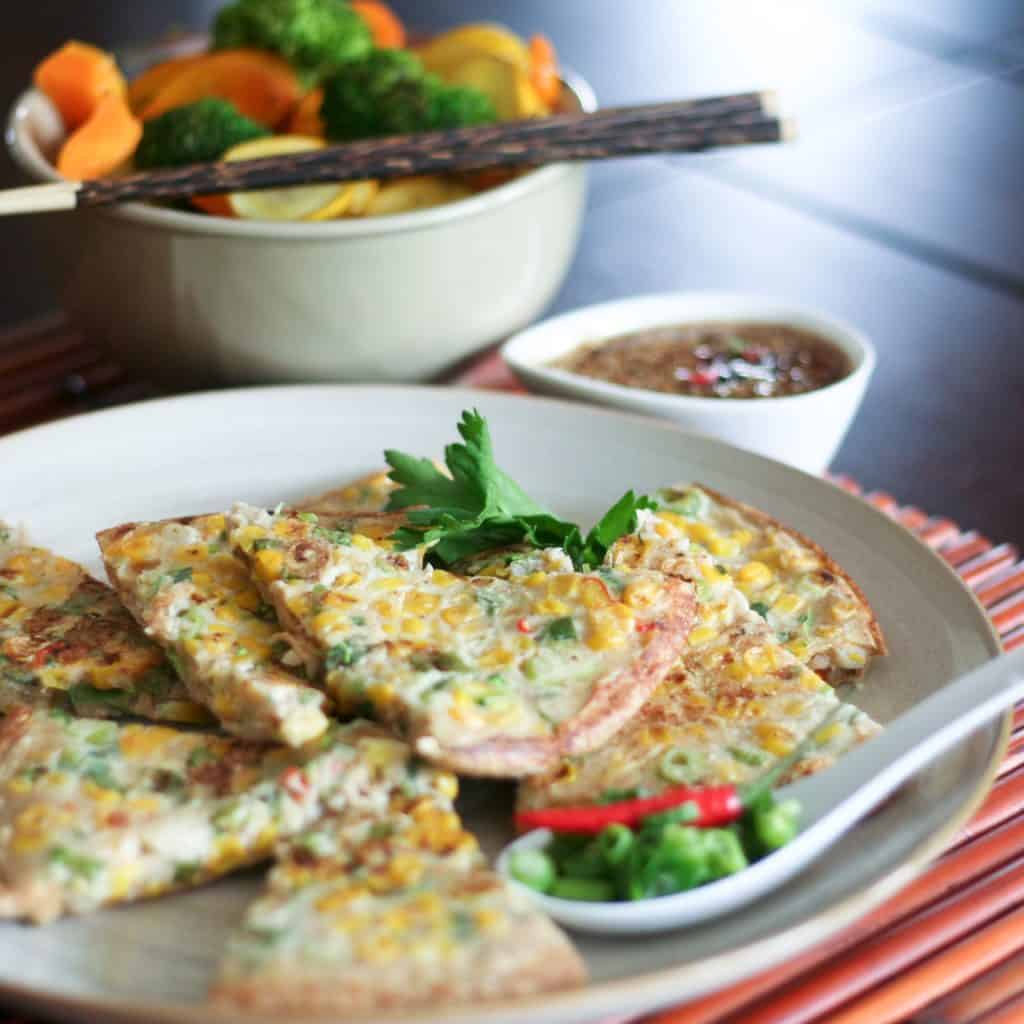 This can only mean one thing: I will have to try making these pancakes again. Next time, I will try using chickpea flour. I have never worked with chickpea flour before, so I have no idea what to expect. Hopefully, it will be the happy medium that I am looking for.
They say third time's the charm, don't they?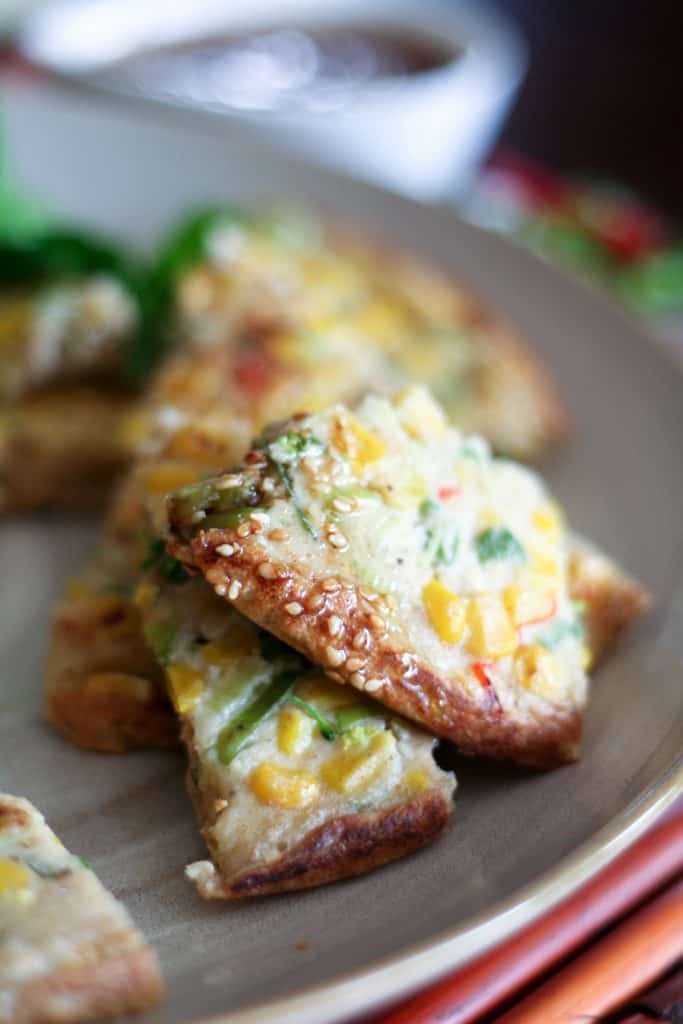 Korean Style Corn Pancakes
Servings: 4
Ingredients
1½ cup whole wheat pastry flour
2 tbsp cornstarch
½ tsp salt
¼ tsp black pepper
2 cups ice cold water
2 eggs, beaten
2½ cups fresh, or frozen corn kernels
6 green onions, finely chopped
4 birds eye chilis, finely chopped
Sauce
¼ cup soy sauce, Japanese, or tamari
4 tsp rice vinegar
1 tbsp roasted sesame seeds
2 tsp sesame oil
2 garlic cloves, minced
Instructions
For the sauce, simply mix all the ingredients together. Set aside to marinate at room temperature while you prepare the pancakes.

In a large mixing bowl, whisk together flour, corn starch, salt and pepper. Add 2 cups ice cold water and mix until smooth and well incorporated. While whisking, add eggs  mix until just incorporated, no more. Add corn, green onions and peppers. Again, stir lightly, just to combine.

Over medium heat, heat a little bit of olive oil in a cast iron or non stick pan and pour half the batter. Spread to the edges of the pan. Cook for about 8 minutes, until the bottom is nice and golden and the pancake starts to set. Flip it over and continue cooking until the other side is golden, about 5-6 minutes.

Slide into a plate and repeat process with rest of the batter.

Cut each pancake into 8 wedges.

Serve warm with dipping sauce and lots of sauteed vegetables.

These pancakes are also delicious served cold and would make a great appetizer.
Nutrition
Calories: 270kcal, Carbohydrates: 44g, Protein: 12g, Fat: 7g, Saturated Fat: 1g, Cholesterol: 82mg, Sodium: 1145mg, Potassium: 445mg, Fiber: 8g, Sugar: 1g, Vitamin A: 1493IU, Vitamin C: 13mg, Calcium: 136mg, Iron: 4mg
If you've tried this recipe, please take a minute to rate the recipe and let me know how things went for you in the comments below. It's always such a pleasure to hear from you!
You can also FOLLOW ME on PINTEREST, FACEBOOK, INSTAGRAM and TWITTER for more delicious, healthy recipes!