Chicken Apple Egg White Omelet
Easter has come and gone, which means Lent is now officially over.
And you know what guys?
I did it! I made it through this year's Lent challenge without ever cheating, not even one minute little time.
But I don't think I really have much merit, for I liked it so much, it was pretty much a piece of cake.
In my mind, I thought it was going to be my toughest challenge yet, and it turned out to be my easiest by far.
And most rewarding too!
Initially, I had planned on completing a Whole30 during the initial 4 weeks, then start reintroducing dairy, grains and legumes on weeks 5 and 6.
However, once the initial 4 week period was over, I felt so good and was still so excited about the whole thing that I decided to extend it.
I still had way too many recipe ideas to "quit" right then and there… so I turned my Whole30 into a Whole45, instead.
And now that the Whole45 is over, I have no intention of stopping just yet either.
I am loving this lifestyle way too much!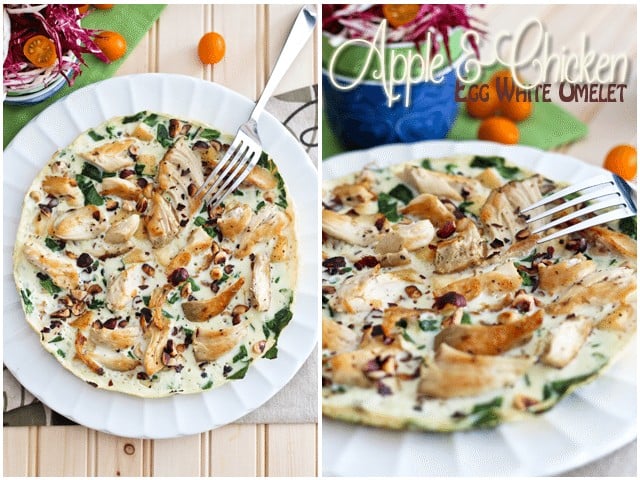 Don't get me wrong though… I did have a little break and sipped on a few glasses of wine on Easter day, as well as treated myself to a few pieces of Paleo desserts.
Also, from now on, I'm not going to be "as strict" with my diet as the Whole30 program demands, but I am planning on sticking with the general rules and stay about 90-95 percent compliant.
At least, as far as "allowed" ingredients are concerned. I might do the Sex With Your Pants On a little bit more often than that! 😉
But for sure, I'll have a glass of wine once in a while, and perhaps a little bit of cheese here and there. And of course, I can't possibly pledge to go my entire existence without having a bowl of French Fries or a slice of pizza ever again.
Or cheesecake, for that matter…
But for the time being, and for the next several months at least, I've decided to eat within the general guidelines of the Paleo lifestyle.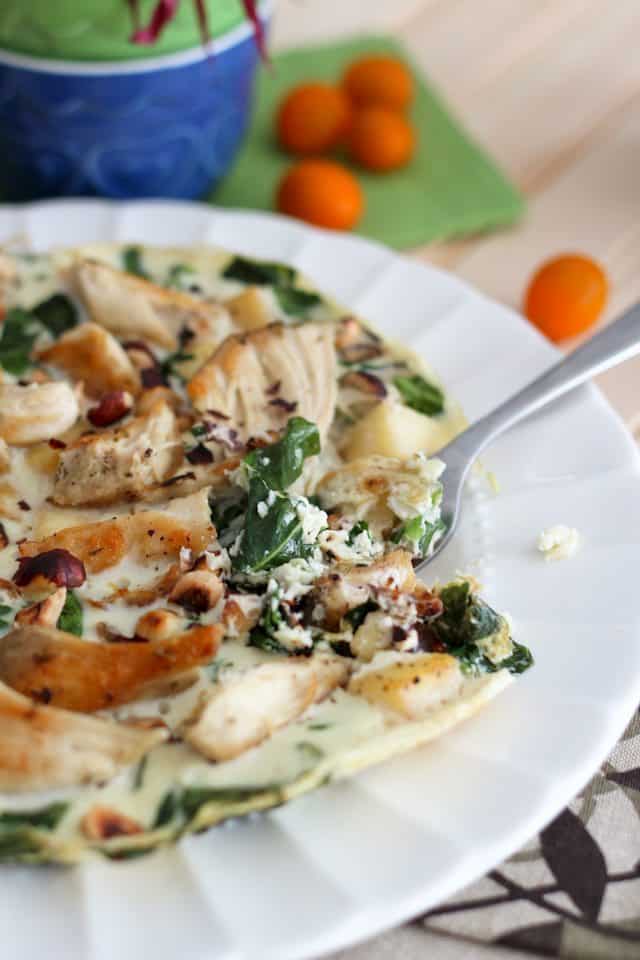 Why would I want to do that? Me, the foodie who used to love her grains and dairy so much?
Well, the thing is, the benefits far outweigh the sacrifices I had to make.
I no longer crave sugar, you see? I'm not saying that I am no longer addicted, but at least, I don't have to live with the constant craving anymore!
That alone feels AMAZING!
And I'm no longer bloated either. And my clothes, they fit much better!
My mood has also improved quite a bit, for I no longer live in a state of constant semi-hunger. I don't even track my food anymore. I eat 3 times a day, per the recommended guidelines, and it feels like I get to eat TONS of food, so I really don't feel hungry or deprived in the least.
Seriously, I eat more food than I used to, I feel so much better and still managed to lose a few pounds! I'd say that's reason enough to stick with the program for a while…
Plus, hey, I might have had to remove some of my beloved food items from my diet, but I've made a few other regular additions that make me incredibly satisfied, namely coconut, sweet potatoes, olives and avocados!
Oh, and raw cashews!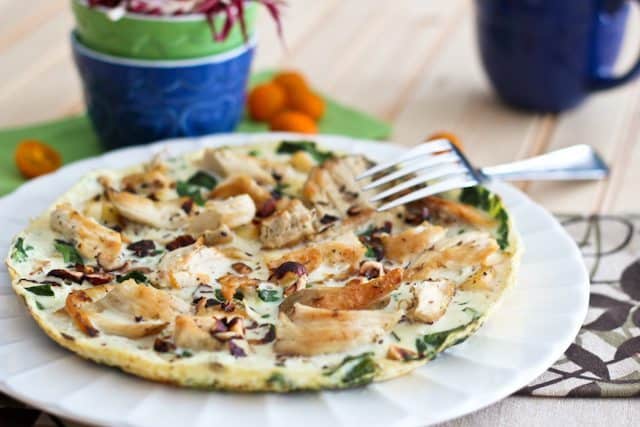 Ironically, the recipe that I am sharing with you today contains none of these "new" additions…
But it sure fits the "ton of food" description, though.
This is one HUGE omelet that will supply your body with a whole bunch of healthy nutrients and keep you satisfied for a very long time.
And talk about super tasty, too!
I made this version with egg whites only, but know that it's equally good with whole eggs also!
Yes, yes, I did try it… I'm not just saying that.
To this day, I still prefer my omelets with egg whites only, but I'm getting better and better at incorporating some yolks too.
And frankly, the yolks work wonderfully well with this flavor combination.
Oh, and if you don't have collards on hand, spinach works just as well!
Chicken Apple Egg White Omelet
Servings: 1
Ingredients
1 tsp coconut oil
1 cup 8 egg whites*
1 small, 150g cooked chicken breast, shredded
1 Golden Delicious apple, cored, peeled and diced
3-4 large collard leaves, stems removed, finely chopped
20 g hazelnuts, lightly toasted and crushed
Pinch salt and pepper
Instructions
Add coconut oil to small non-stick pan and heat over medium heat.

Add the pieces of chicken, sprinkle with salt and pepper and cook until nice and golden brown ;

Add apples and cook until softened, about 30 seconds. Transfer to a small plate and reserve;

Add collards and cook until wilted, about 30-45 seconds. Add reserved chicken and apples back into the pan.

Pour in the egg whites and sprinkle chopped hazelnuts overtop.

Reduce heat, cover loosely (a pizza pan works wonders for this) and cook for about 5 minutes, until the omelet is completely set and opaque throughout.

Delicately slide omelet onto serving plate and serve immediately.
Notes
* You could also use whole eggs or a combination of whole eggs and egg whites; I like to do 2 whole eggs and 4 egg whites, or 1 whole egg and 6 egg whites.
If you've tried this recipe, please take a minute to rate the recipe and let me know how things went for you in the comments below. It's always such a pleasure to hear from you!
You can also FOLLOW ME on PINTEREST, FACEBOOK, INSTAGRAM and TWITTER for more delicious, healthy recipes!