Chicken, Bacon and Roasted Asparagus Salad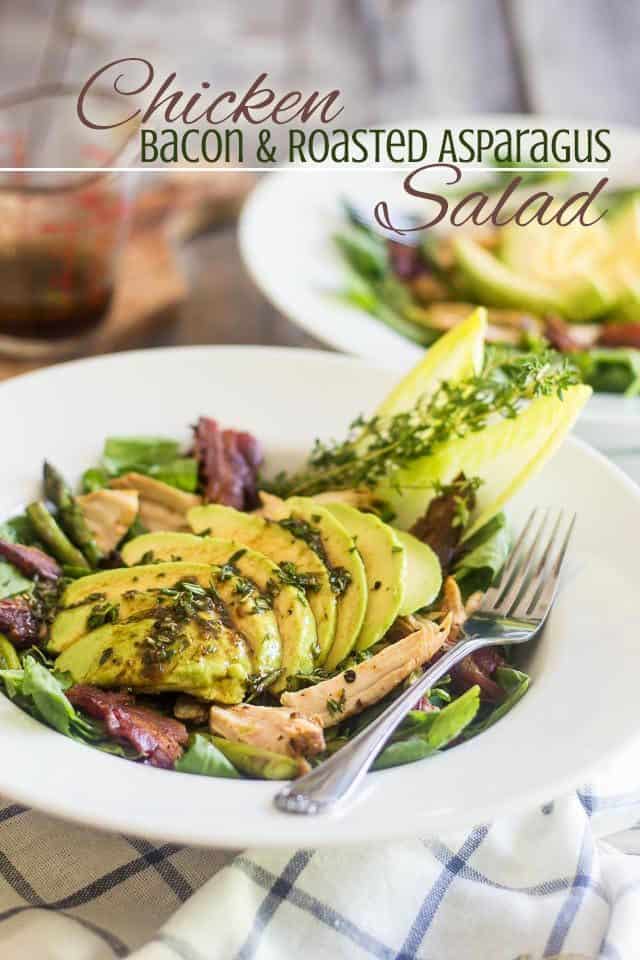 Have you ever fallen for someone so madly that you can't seem to function or even get your thoughts aligned properly? Whatever you do (or try to accomplish anyway) they invariably go back to that special person?
YEP! That's pretty much where I'm at right now… and in this very moment, I find it almost impossible to focus on food and entertain you about this Chicken, Bacon and Roasted Asparagus Salad.
There's this certain guy who has totally, wholeheartedly, monopolized my attention.
All my brains can seem to focus on is the deep color of his eyes, like the color of the sea on a cloudy day, and the way they seem to effervesce when he talks about things that fascinate and passion him. Or the cute little faces that he makes when he teases me, and the way he tilts his head to the side and smiles ever so enigmatically, as in almost wickedly sometimes… The way he says my name, and how lovely it sounds when he's the one calling it…
And all my fingers want to be typing right now are the letters that make up his name. I feel like such a friggin' teenager, unreal!
It amazes me sometimes when I think of how strongly a human being can affect another one without even knowing it. Still, it's a beautiful feeling, when you think of it. But hey, the guy's not available, so I'm afraid I need to let that one go.
Hopefully, I'll manage to get him out of my system eventually. Putting a little bit of distance between the two of us, as in not frequenting the box anymore and start working out from home instead, should help some I hope…
In the meantime, please forgive me if my writings sound a bit… whimsical!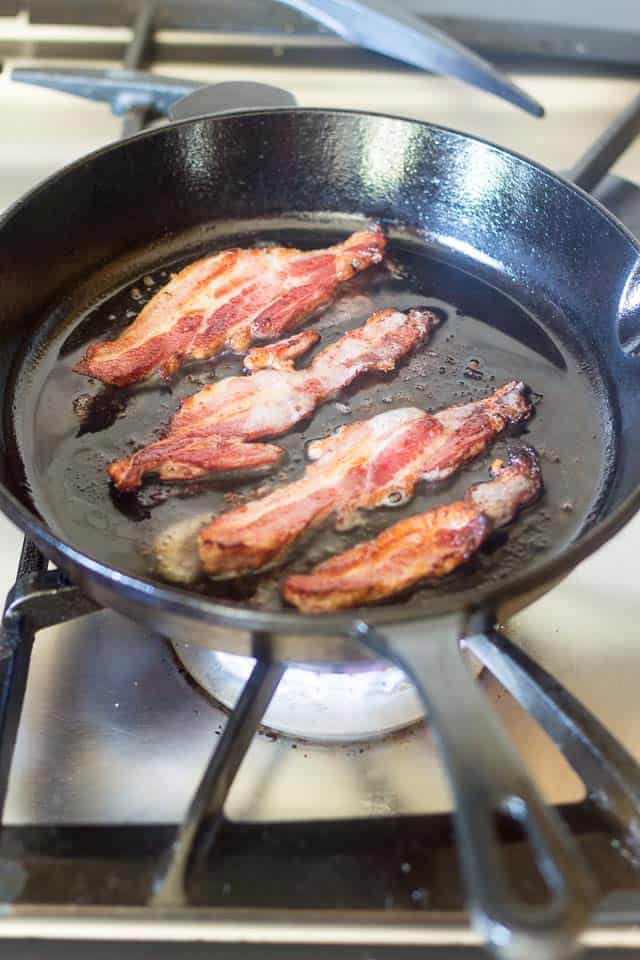 I've got just the thing to coax my tummy into wanting food though: BACON!
No tummy can ever say no to bacon, especially not when it's paired with cooked chicken, roasted asparagus and creamy avocado to form the most crazy delicious salad.
I got the inspiration for that salad from the lovely and extremely talented Lindsay over at Pinch of Yum. In fact, I practically stole the recipe from her and almost feel bad re-publishing it here, for I changed so very few little things… Hey, for once I *almost* followed a recipe to a tee!
First, one must cook a few slices of bacon until crispy. Hey, that was easy to follow! I think I got that one right…
But then I made my first tiny little change: I chose to add my asparagus to the hot bacon drippings and cook them until nicely roasted and infused with all that wonderful bacon aroma… hey, why waste?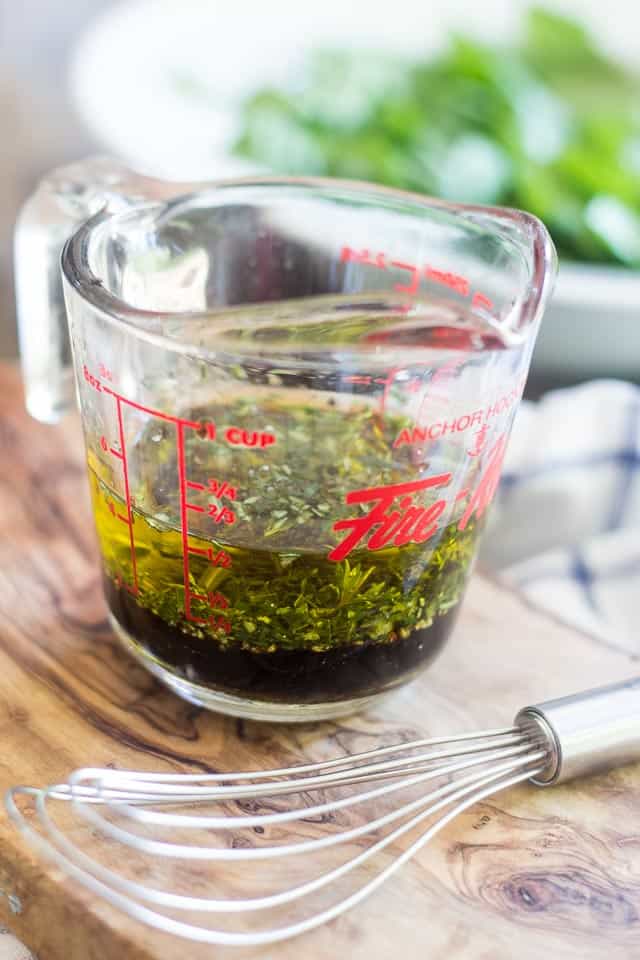 Then, I decided to make an actual vinaigrette for my salad. All the ingredients went into a glass measuring cup and were mixed well with a flat whisk until combined and slightly emulsified.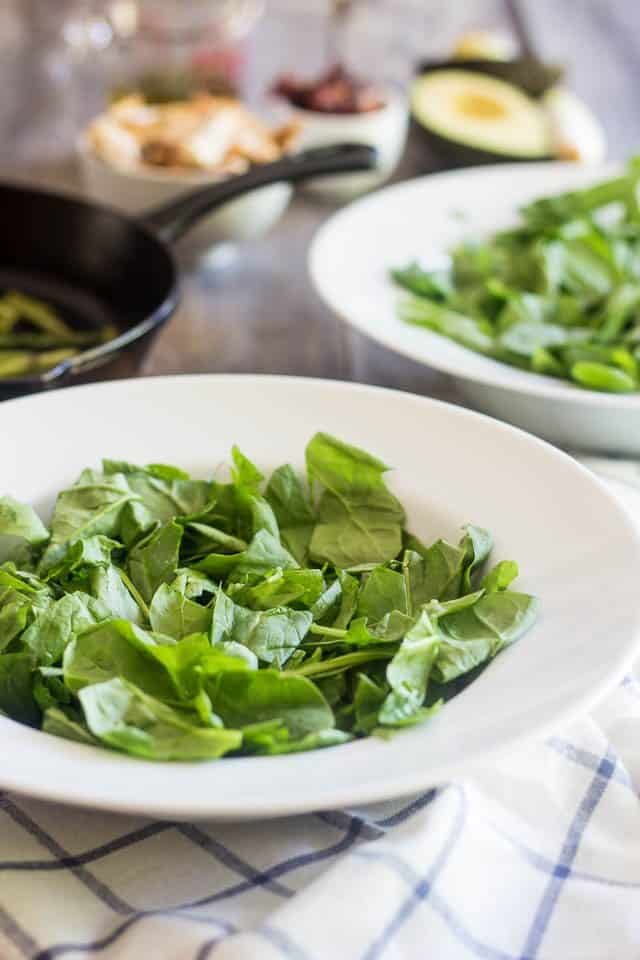 Just like Lindsay, I divided the chopped spinach and arranged it directly at the bottom of empty salad bowls.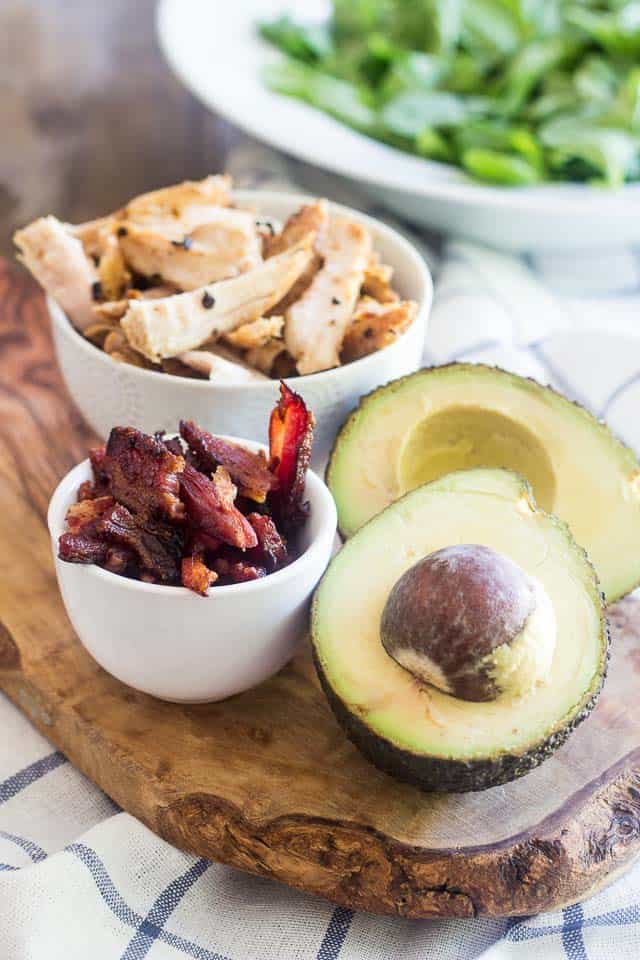 I then tore the cooked chicken into bite size pieces and broke the bacon into large bite size chunks.
As for the avocado, it got cut in half, peeled and sliced…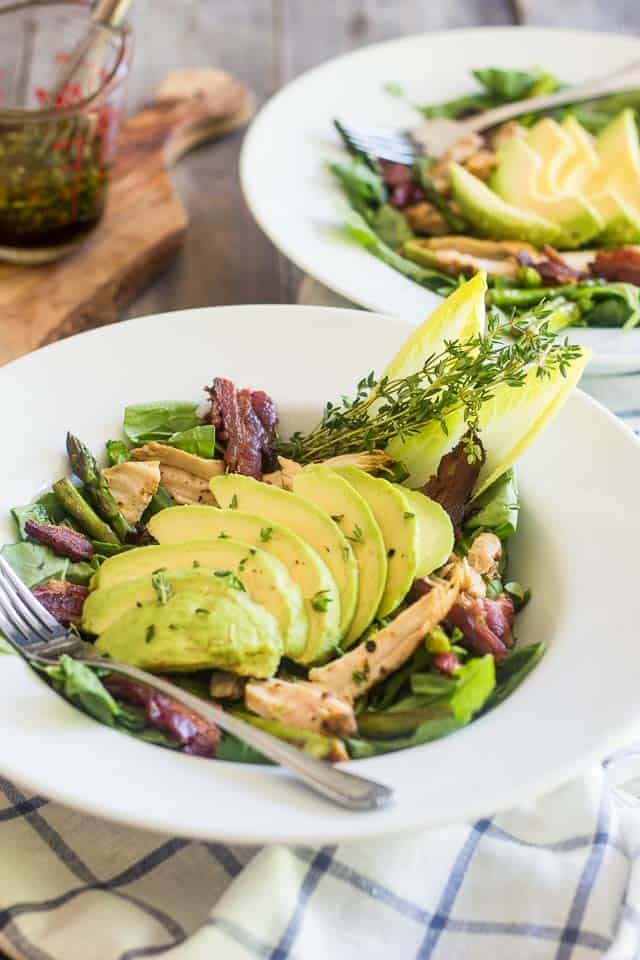 Then all of that delicious food got layered over the spinach: chicken first, followed by smokey bacon and roasted asparagus.
The avocado then got arranged in a lovely little fan over each of the salads. A few garnishes finished decorating the plate…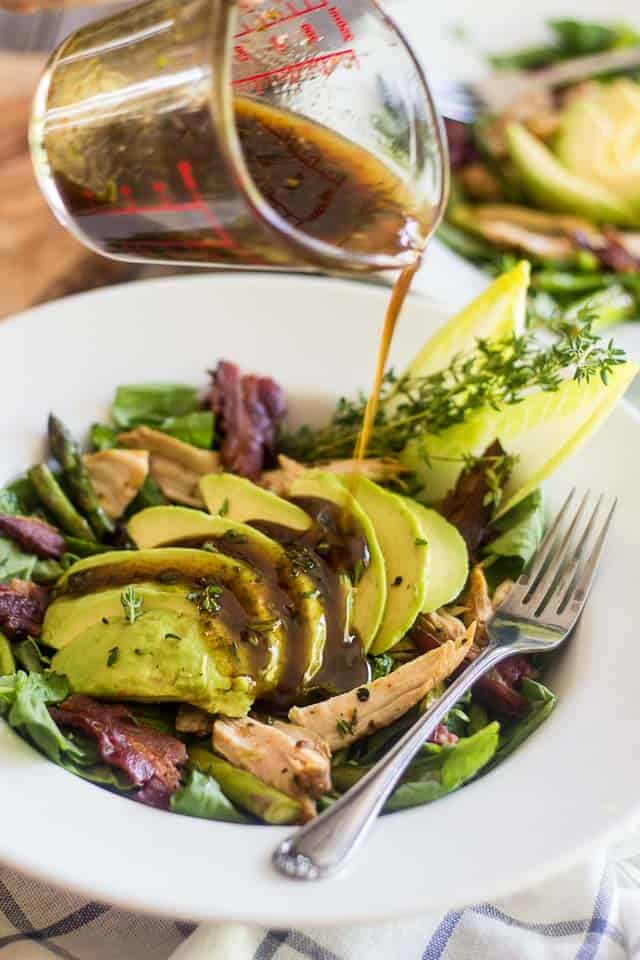 Now all that's left to do is drizzle generously with the vinaigrette and serve without delay!
Oh yeah! No tummy could ever say no to that.
No matter how tightly tied up in a knot it may be…
Chicken, Bacon and Roasted Asparagus Salad
Servings: 2
Ingredients
4 slices thick well sourced bacon, or better yet, homemade
1/2 cup fresh asparagus, cut into 2-3 inch pieces
4 cups baby spinach leaves, roughly chopped
200 g 6oz leftover cooked chicken, ripped into bite size pieces
1 ripe avocado, peeled and sliced
Instructions
In a medium skillet set over medium heat, cook the bacon until crispy then remove it to a plate. Add the asparagus to the hot bacon drippings and cook them until nicely roasted and infused with bacon fat flavor, about 4-5 minutes. Kill the heat and set aside.

Divide the chopped spinach between two shallow salad bowls. Tear the chicken into bite size pieces and break the bacon into large bite size chunks. Layer that over the spinach, followed by the roasted asparagus. Cut the avocado in half, slice it and arrange it over each of the salads.

Drizzle generously with the vinaigrette and serve without delay!
Nutrition
Calories: 1kcal
If you've tried this recipe, please take a minute to rate the recipe and let me know how things went for you in the comments below. It's always such a pleasure to hear from you!
You can also FOLLOW ME on PINTEREST, FACEBOOK, INSTAGRAM and TWITTER for more delicious, healthy recipes!