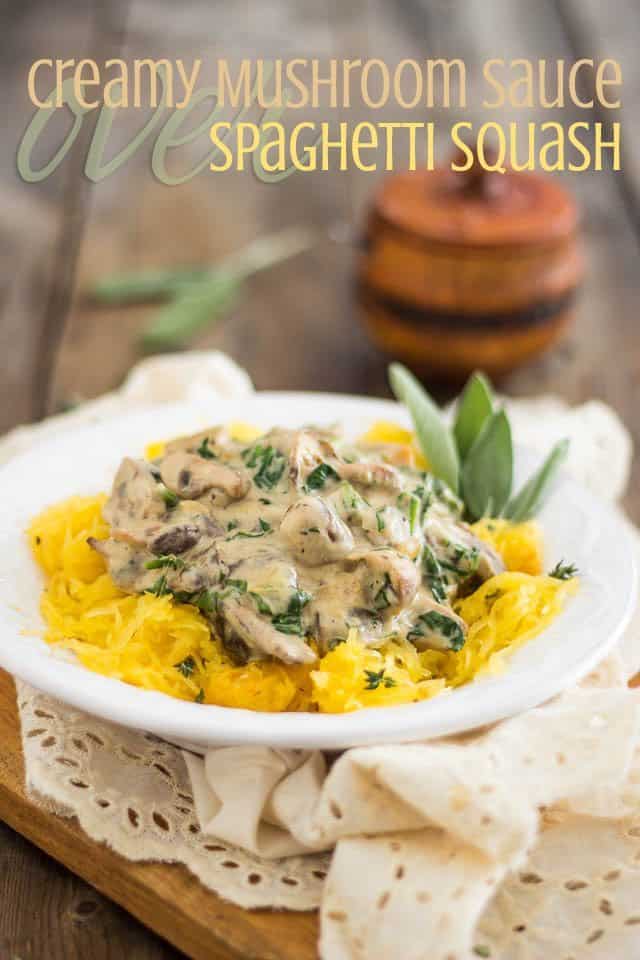 Someone recently contacted me after The Huffington Post included my Spaghetti Squash Pomegrenate and Goat Cheese Salad in one of their roundups. She notified me that she was trying to access the recipe for Creamy Mushroom Sauce over Spaghetti Squash which was also a part of that roundup, but when she clicked on the link, she would invariably land on my salad recipe instead, so she wanted to know if I could fix the faulty link or at least send her the recipe she'd been after.
I explained that there was nothing I could do about it, because the recipe she was looking for was not mine, and I was not the owner of the site who linked to it, so I told her that she should get in touch with the people at The Huff Post instead. She replied something like: "I contacted them already but never heard back from them, which is too bad really, because that particular recipe was the only one out of the lot that actually looked good". HA! Thank you very much for mine! Could she have been more insulting?Still, she had piqued my intrigue so I quickly googled the recipe she'd been looking for and found it in a matter of seconds… But seeing as how she had been so kind to me, I didn't really feel compelled to send her the link, so I just let the conversation die out.
One thing I did feel compelled to do, though, is give that recipe a try. It just looked soooooo delicious. Hey, I mean seriously… it has squash in it. How could I not want to try it?
So this is precisely what I did!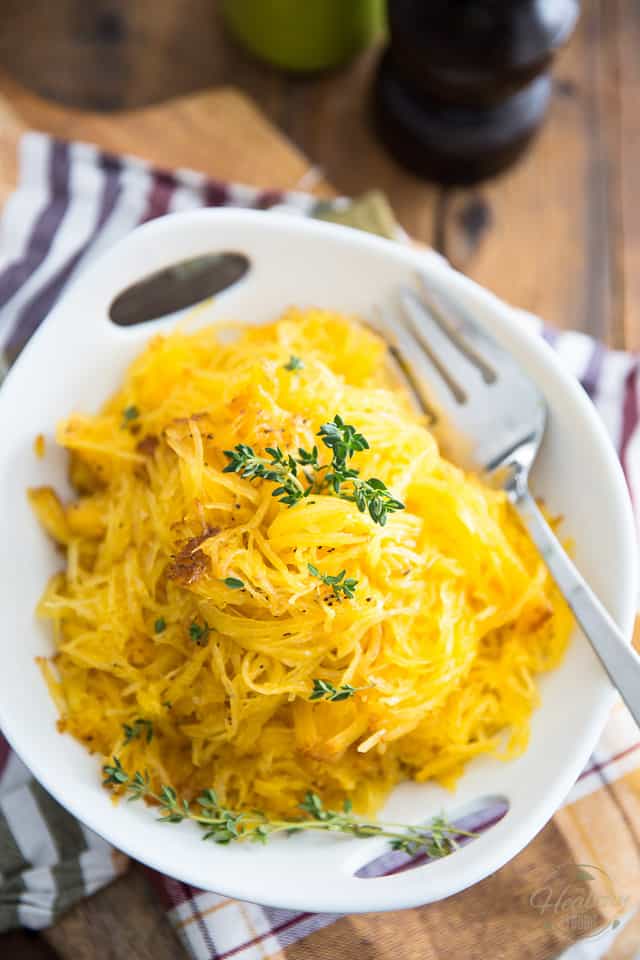 And yes… sorry, that means we'll be having squash again. Told you I was addicted! I think I may even have a slight problem… but fear not. The season shall end, eventually!
So the first thing you'll want to do is tackle the spaghetti squash and get it baking in the oven. Hop on over to this post to get the recipe and instructions…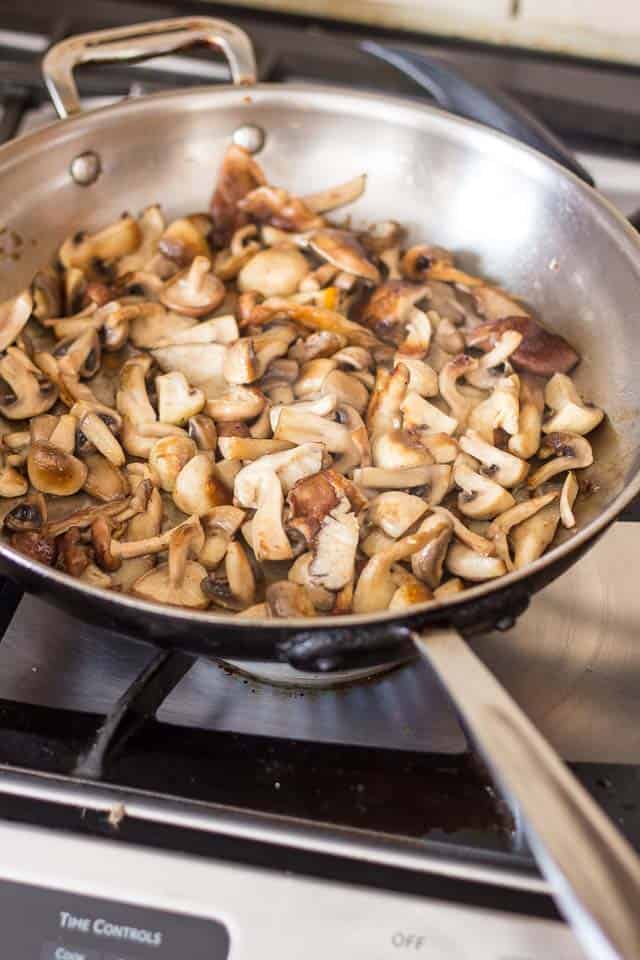 About 10 to 15 minutes before your squash is done baking, melt the ghee in a skillet set over high heat and add the mushrooms. Cook them until they become nice and golden brown.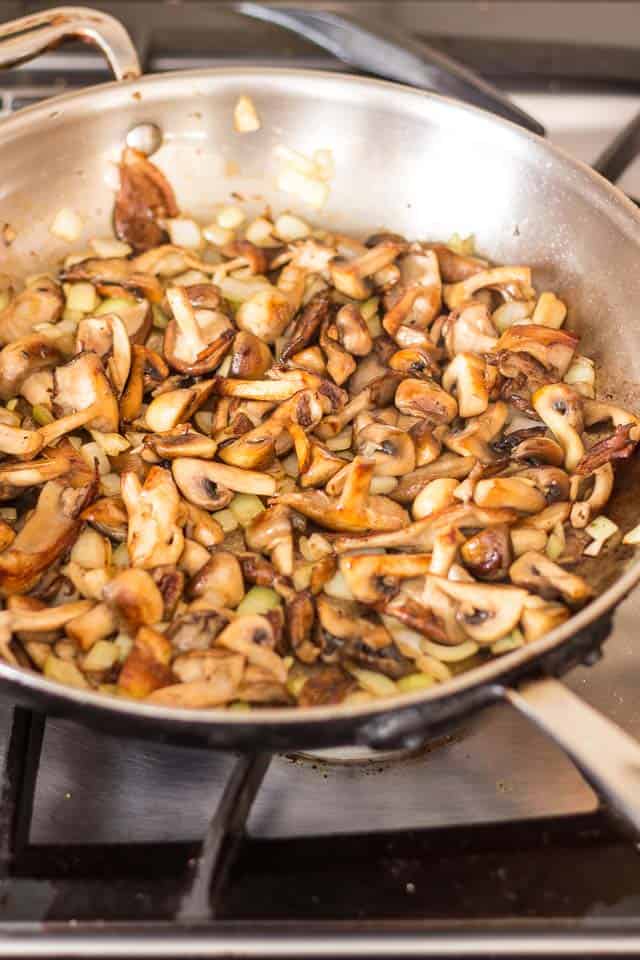 Lower the heat to medium, add the onion and let it sweat for 3-4 minutes, until softened and translucent.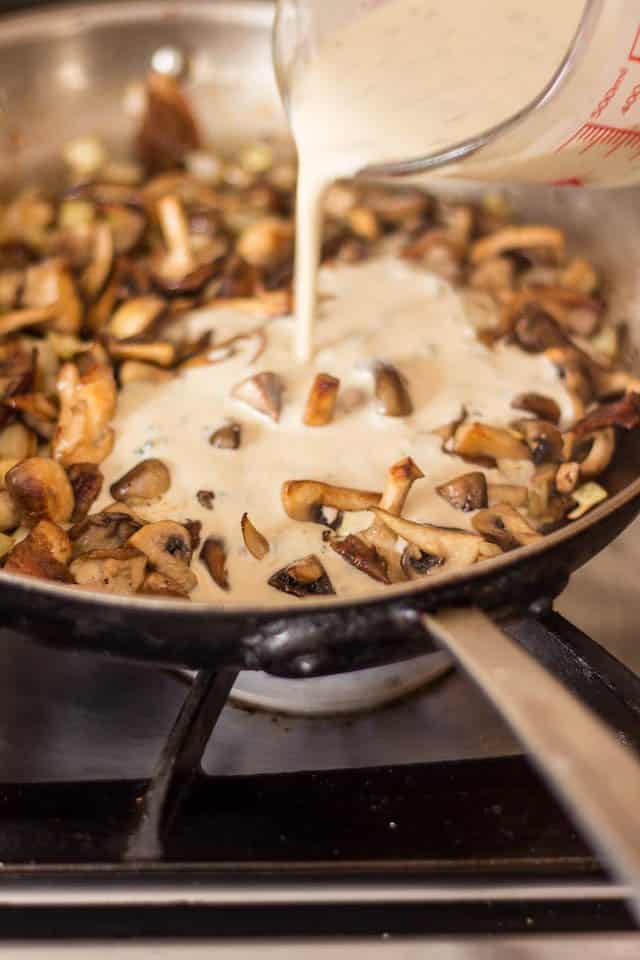 While the mushrooms and onions are cooking, add the raw cashew butter, Dijon mustard, sage, thyme, salt and pepper to a large glass measuring cup and mix well with a whisk until completely combined. Add the water, about ¼ cup at a time and mix well between each addition, to avoid the formation of lumps and ensure that the sauce will be smooth and creamy.
Pour that cream over the cooked mushrooms and onions, turn the heat down to low and mix until well combined.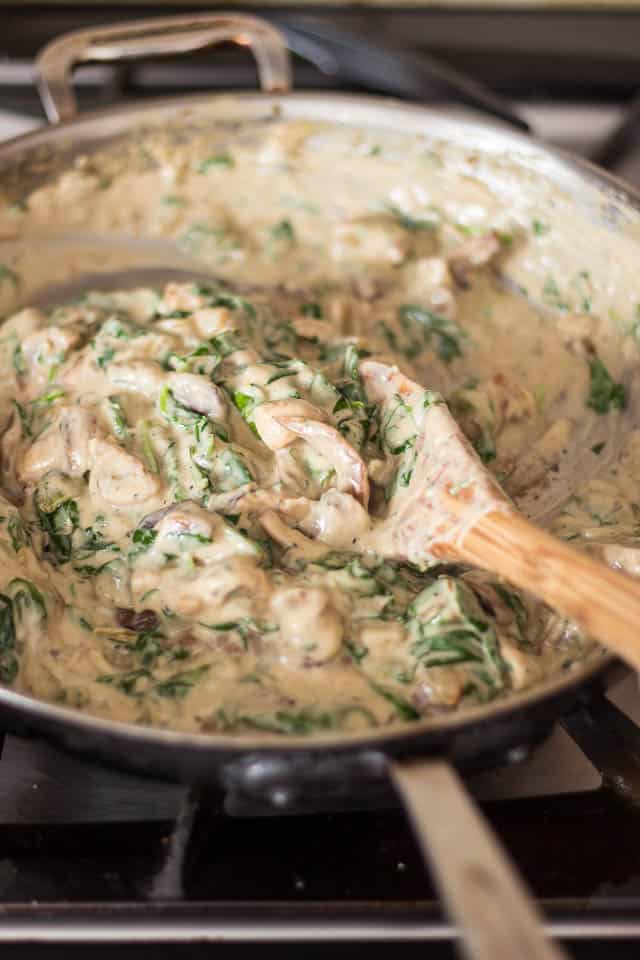 Throw in the chopped spinach and delicately mix them in. Kill the heat and let the sauce sit for a few minutes while the spinach wilts, then give it a final stir.
If you feel the sauce is too thick, feel free to add a little bit more water.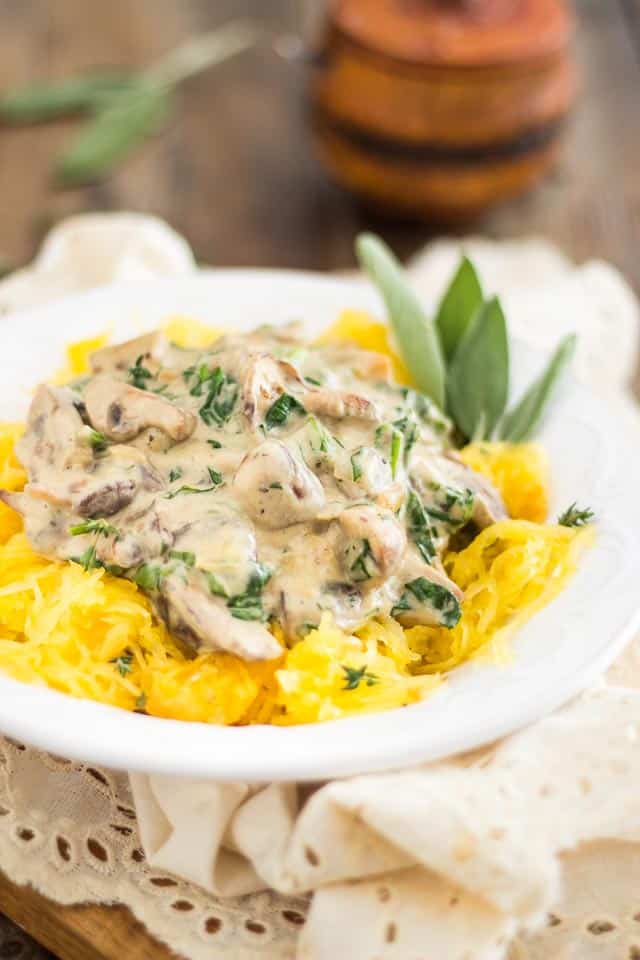 As soon as your spaghetti squash is good and ready, divide it equally between four shallow bowls or plates and then top it with the creamy mushroom sauce.
Now, prepare to be amazed. I'm not usually big on vegetarian dishes, but this one truly delivers! I'd even say it became an instant favorite. And while I was making it, I thought of so many additions and variations I could've made to the dish, or could make in the future, when I make it again!
Think BACON, diced ham, cooked chicken, BACON, chestnuts, toasted hazelnuts, BACON, pine nuts, water chestnuts, BACON…
Oooooh yeah. I get the feeling I'll be making this often.
And so will you, me thinks!

Creamy Mushroom Sauce over Spaghetti Squash
Creamy Mushroom Sauce over Spaghetti Squash Serves: Serves 2 - 4
Instructions
Melt the ghee in a skillet set over high heat and add the mushrooms. Cook them until nice and golden brown, then lower the heat to medium, add the onion and let it sweat for 3-4 minutes, until softened and translucent.
While the mushrooms and onions are cooking, add the raw cashew butter, Dijon mustard, sage, thyme, salt and pepper to a large glass measuring cup and mix well with a whisk until completely combined. Add the water, about ¼ cup at a time and mix well between each addition, to avoid the formation of lump and ensure that the sauce will be smooth and creamy.
Pour that cream over the cooked mushrooms and onions, turn the heat down to low and mix until well combined.
Throw in the chopped spinach and delicately mix them in. Kill the heat and let the sauce sit for a few minutes while the spinach wilts, then give it a final stir. If you feel the sauce is too thick, feel free to add a little bit more water.
As soon as your spaghetti squash is good and ready, divide it equally between four shallow bowls or plates and top with the creamy mushroom sauce.

Serve without delay.
Serving size:
NF based on 1 of 4 servings