Creamy Plantain and Squash Ground Beef Mash
I know what you're thinking.
It's probably something along the lines of "Ewwww, bananas and ground beef? Gross!"
But hear me out, please.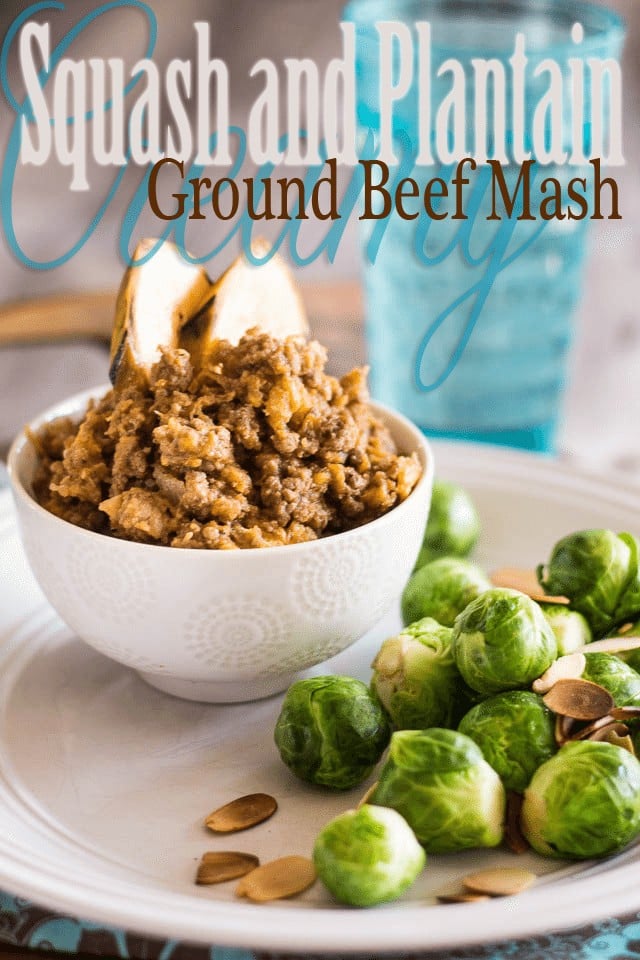 I know that this is a very strange combination and I would've NEVER thought of it myself, had I not seen it with my own two eyes and tasted it with my own thousands of taste buds during my recent stay in Cuba.
Indeed, on my first day there, as I was checking out my protein options at the lunch buffet, I spotted this very yummy looking, super creamy ground beef dish. It had a little bit of a light orange-y color to it, so I figured it was probably mixed with some kind of calabaza, which is surprisingly very popular there. At pretty much every meal, there will be offerings of steamed or baked pumpkin or other members of the squash family.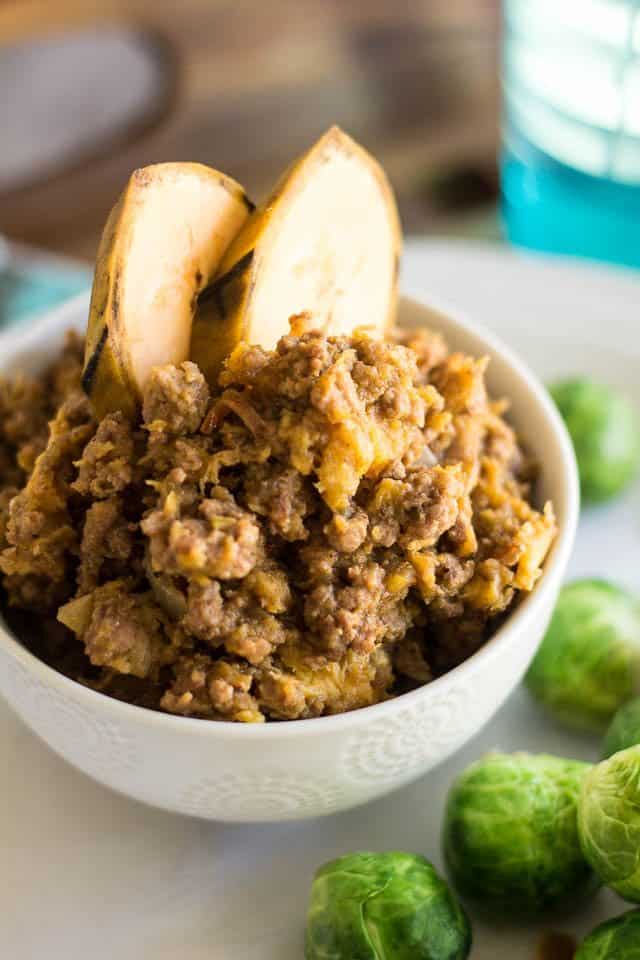 So with a very eager tummy and anticipating taste buds, I grabbed a serving spoon and proceeded to scoop some of this delicious looking concoction onto my plate.
That's when I noticed little bits of something lighter in color throughout the meat, like a light, creamy yellow…
Upon closer inspection, I realized that they were chunks of "plátano".
I was like "WHAT? They actually mixed plantain with ground beef? Surely they used the greener than green individuals, so they will have no sweetness to them whatsoever!"
Still, my initial taste test was conducted with a lot of caution. I really wasn't certain that this was going to work for me.
Well, let me tell ya, I was in for a surprise. No, make that 2 surprises.
Surprise #1: The plátano they used was NOT of the green variety. It must have been very yellow indeed. Perhaps not black, but definitely very ripe, and definitely sweet!
Surprise #2: It was absolutely delicious. By some kind of strange wizardry, the combination actually worked. Not only did it work, it was absolutely DELICIOUS! I was looking forward to having more of this fabulous discovery every following day for the rest of my stay.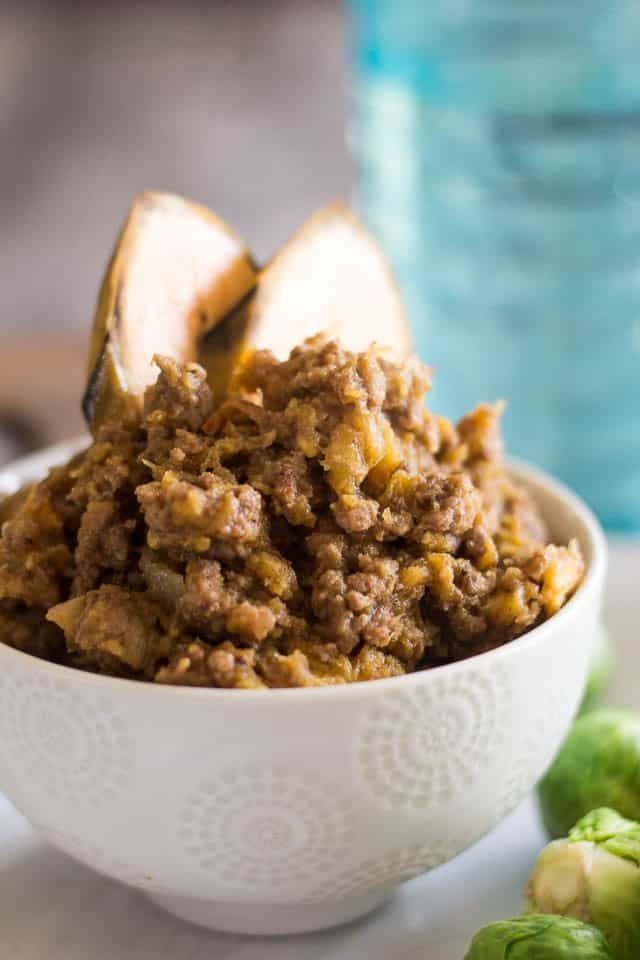 Unfortunately, I was in for a major deception: this dish never again made it to the buffet table.
All week I crossed my fingers that it would eventually make an appearance, to no avail. Looks like it was gone for good. If I was going to ever have some again, I'd have to make it myself.
For days, I thought of asking Raoul, the chef, for the recipe but seeing as how his Ingles is as good as my Español, I figured I wouldn't understand anyway, so I might as well come up with my own personal rendition.
While I can't say that I have completely nailed it, I think I came up with something that is fairly close, still.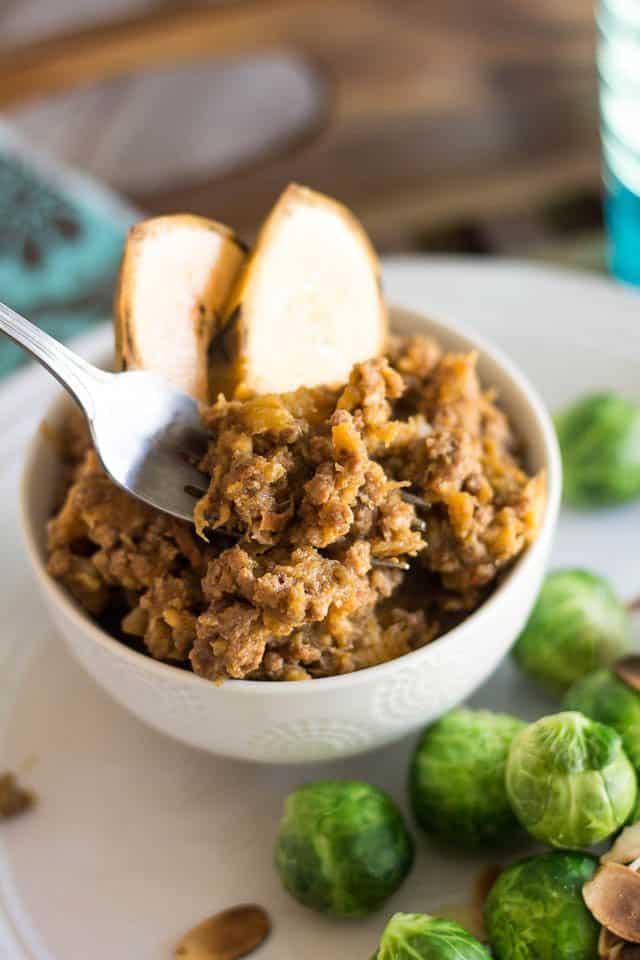 You are looking at a meat dish that is super creamy and warm and comforting and sweet enough that it can be enjoyed any time of day.  Just like a good bowl of oatmeal, it'll start your day oh so right but it also has the potential to end it as spectacularly as a good ole Chicken Pot Pie would.
For me, this is definitely a winner: an exotic yet comforting dish that will now bid me good day before I head out for work on a regular basis.
So, what say you? Will you dare try it?
Creamy Plantain and Squash Ground Beef Mash
Servings: 4
Instructions
Add ground beef, chili pepper, cinnamon and allspice and continue cooking until the beef is no longer pink.

Stir in the Dijon mustard and coconut aminos, then add the plantain and continue cooking until it becomes really soft and only a few visible pieces remain. It might help to smoosh it with your spoon to better break it down.

Add squash puree and water and continue cooking until well combined, creamy and heated through.

Serve piping hot
If you've tried this recipe, please take a minute to rate the recipe and let me know how things went for you in the comments below. It's always such a pleasure to hear from you!
You can also FOLLOW ME on PINTEREST, FACEBOOK, INSTAGRAM and TWITTER for more delicious, healthy recipes!