Paleo Pumpkin Bread (that almost didn't make the cut)
And when I say "almost didn't make the cut", I do mean that quite literally, too! This bread is so moist that it barely holds its shape when you slice through it. I'll be honest, upon slicing it for the first time, this one had pretty much been given the "FAIL" label.
Almost.
I hadn't officially stamped it yet. But the stamp was right there, on stand-by, heavily inked-up and ready to be used.
That was until I got my first taste. After that happened, I just couldn't do it anymore. I just couldn't bring myself to scrapping such a wonderful, blissfully tasting treat. I'm telling you, this puppy tastes SO good, I just couldn't stop eating it. See the slices up there on the board? Well, I ate every.single.one.of.them. Not over the course of the entire week-end, no, that would've been way too sensible of me. Over the course of an entire… hour!
But wait, there's more: see the other 2 slices right down here? The ones with the nice dollop of creamy coconut butter on them? That was my breakfast the very next day. I reheated them "French Bread Style" in a skillet set over medium heat where I'd melted a little bit of ghee…
Oh, lordy lord have mercy on me, I think I almost died on the spot.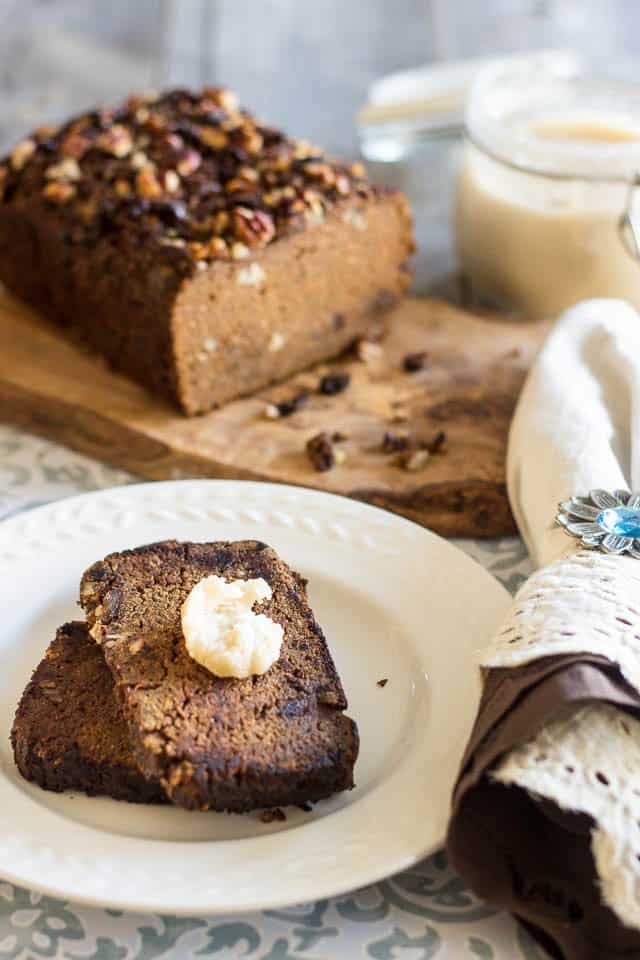 I'm usually MUCH better at resisting the baked goods and treats that I make. Heck, remember my Paleo "Knock-You-Right-Off-Your-Feet" Sweet Potato Brownies? As good as they were, I only ate THREE pieces over the course of an entire week, then gave a bunch away and put the rest in the freezer, where a few of them are still patiently waiting for their time to come.
But this bread, it just made me lose my mind. All sense of self-control: completely abandoned. It was all I could think about, all week-end. It's image and smell and flavor was occupying the whole of my mind.
With such a strong response from my brain, there's just no way I could NOT log this recipe.
So, while this bread is incredibly dense and solid, the slices get very fragile once they have been detached from the loaf… with that in mind, I strongly recommend refrigerating this puppy overnight before even attempting to slice it.
Problem pretty much solved!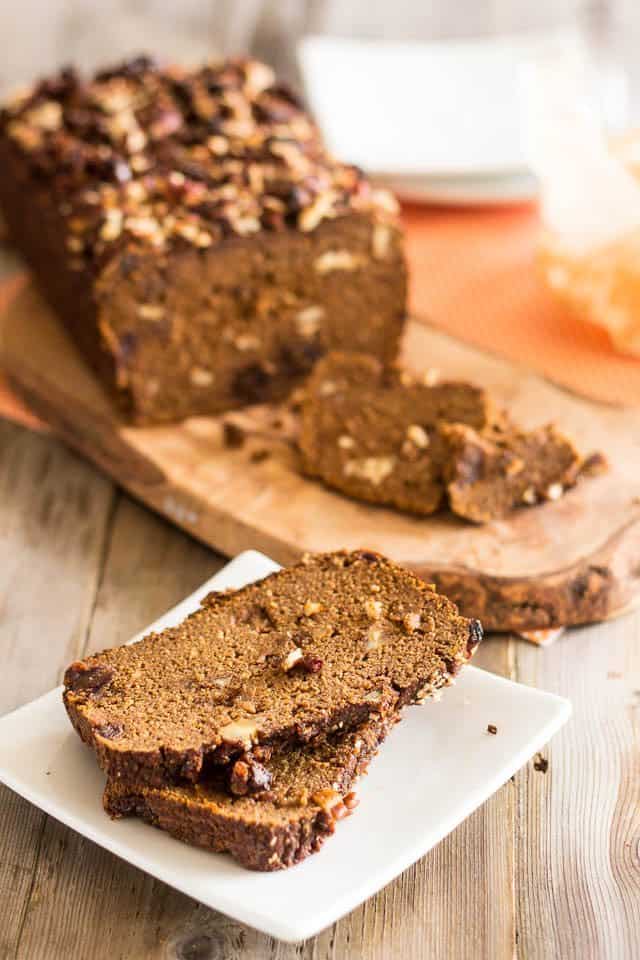 And if the slices still refuse to stay in one piece? Well, eat them in several pieces and call this a crumble!
Heck, grab a fork if you have to. I'm telling you, it's well worth it.
Oh, and in case you are wondering what happened to the rest of the loaf after I wolfed down FIVE slices? I sliced it all up and threw it in the freezer, where it'll safely remain for the next couple of weeks.
That's if it will ever let me forget that it's there.
It does have a VERY loud voice, that one…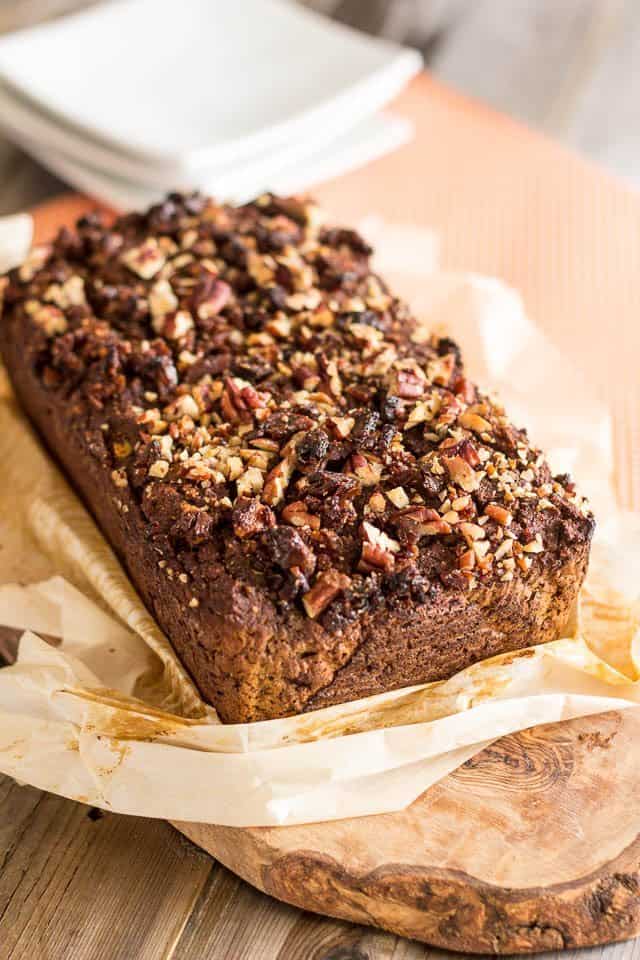 Look at all that yummy stuff on top. Almost looks like a fruit cake.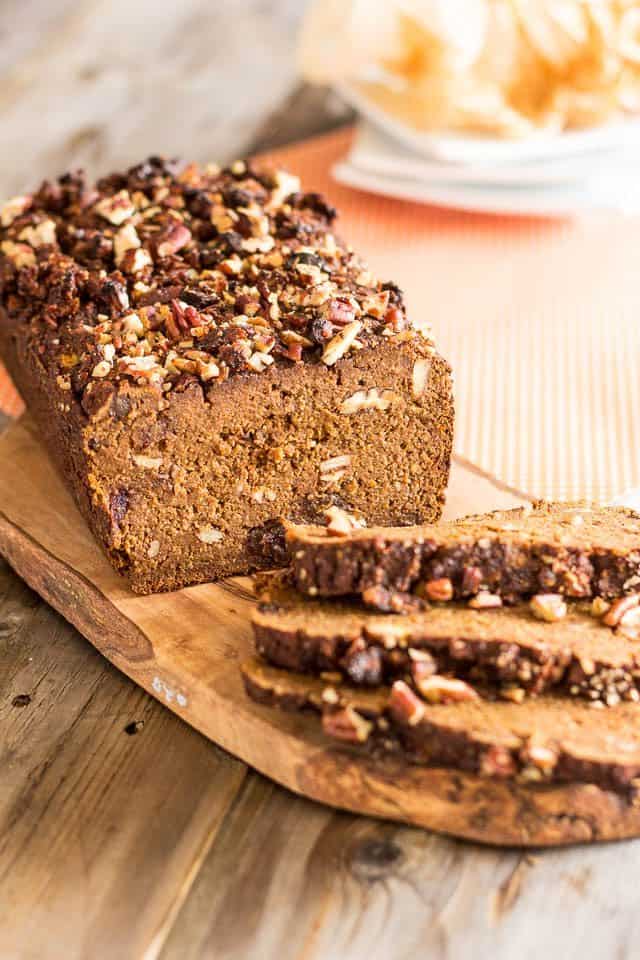 Can you tell how very moist this puppy is? The slices are barely holding in one piece! But see? You can still hold little pieces with your fingers!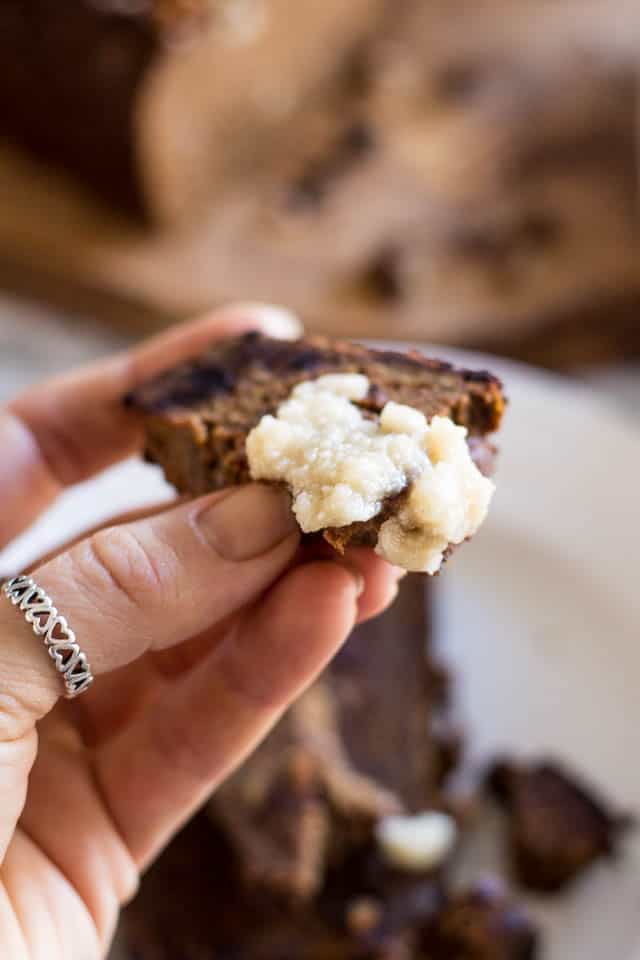 Paleo Pumpkin Bread
This bread is so moist that it barely holds its shape when you slice it up, but it tastes so good that you probably wouldn't mind eating it with a spoon!
Servings: 12
Instructions
Preheat oven to 350°F; Line a loaf pan with parchment paper or grease it really well with lard or coconut oil and set aside.

In a small bowl mix dry ingredients, except for chopped dates and pecans. Sift and set aside.

In a separate bowl, mash banana with a fork and whisk until frothy. Add all the other wet ingredients and whisk to combine. You could also do this in the food processor.

Add dry ingredients to wet and mix with a rubber spatula until well combined, no more. Delicately stir in dates and pecans.

Pour the batter into the prepared loaf pan and sprinkle the extra chopped dates and pecans all over the top. Place in the oven and bake for 70-75 minutes, until the center is set (a toothpick inserted in the middle of the loaf should come out clean).

Set loaf on a wire rack and let it cool in the pan for about 5 minutes before very delicately unmolding it.

Finish cooling on the rack and transfer to the refrigerator to cool completely before slicing.

This bread will keep for up to a week in an airtight container.
Notes
This bread is so moist that it barely holds its shape when you slice it, so I strongly recommend refrigerating overnight before attempting to slice it.
If you want to warm it up, do so in a frying pan set over medium-high heat, where you will have melted a little bit of ghee.
TO.DIE.FOR!
Nutrition
Calories: 279kcal, Carbohydrates: 32g, Protein: 7g, Fat: 16g, Saturated Fat: 4g, Cholesterol: 41mg, Sodium: 540mg, Potassium: 369mg, Fiber: 8g, Sugar: 18g, Vitamin A: 8018IU, Vitamin C: 4mg, Calcium: 82mg, Iron: 2mg
If you've tried this recipe, please take a minute to rate the recipe and let me know how things went for you in the comments below. It's always such a pleasure to hear from you!
You can also FOLLOW ME on PINTEREST, FACEBOOK, INSTAGRAM and TWITTER for more delicious, healthy recipes!