Quick & Easy Dark Chocolate Mousse Recipe you'll want to know by heart!
I'm not a big fan of Valentine's Day. Never have been, never will be.
To me, it's just one of those Holidays that was invented by big corporations so they can fill their pockets with big handfuls of dollars. I don't really need a special occasion to remind me to tell the people that are important in my life that I love and appreciate them, to offer them flowers, give them little surprises or make them a special meal or treat.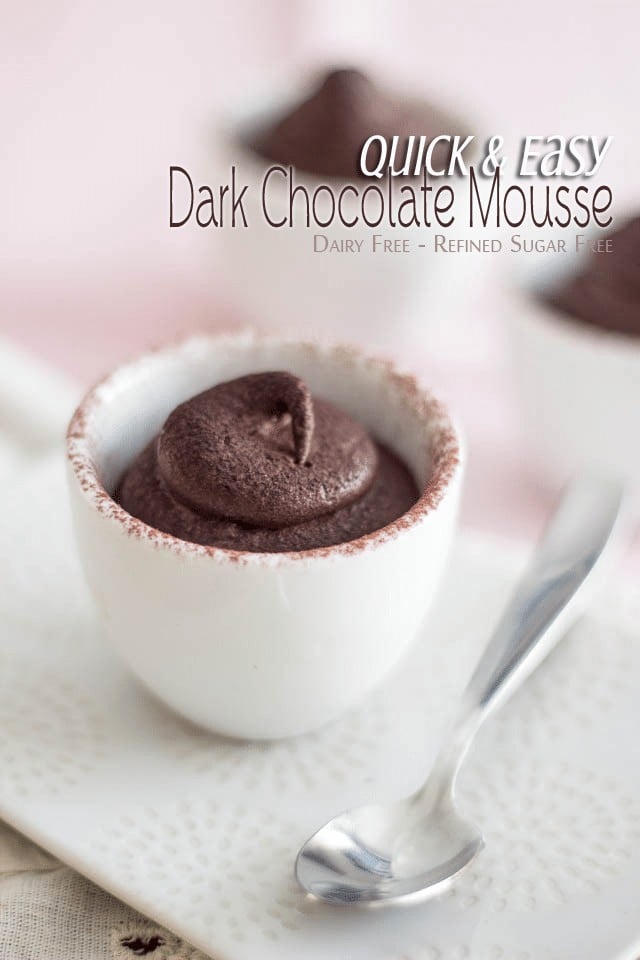 I am, however, a real fan of chocolate. And since chocolate is such a biiiiiig part of Valentine's Day, then I guess it means that I have no choice but to, in that sense at least, show a tiny bit of appreciation for the so-called Holiday.
Not that I need a special occasion to enjoy chocolate, though, especially not when chocolate is presented to me in such a nutritious and guilt free way!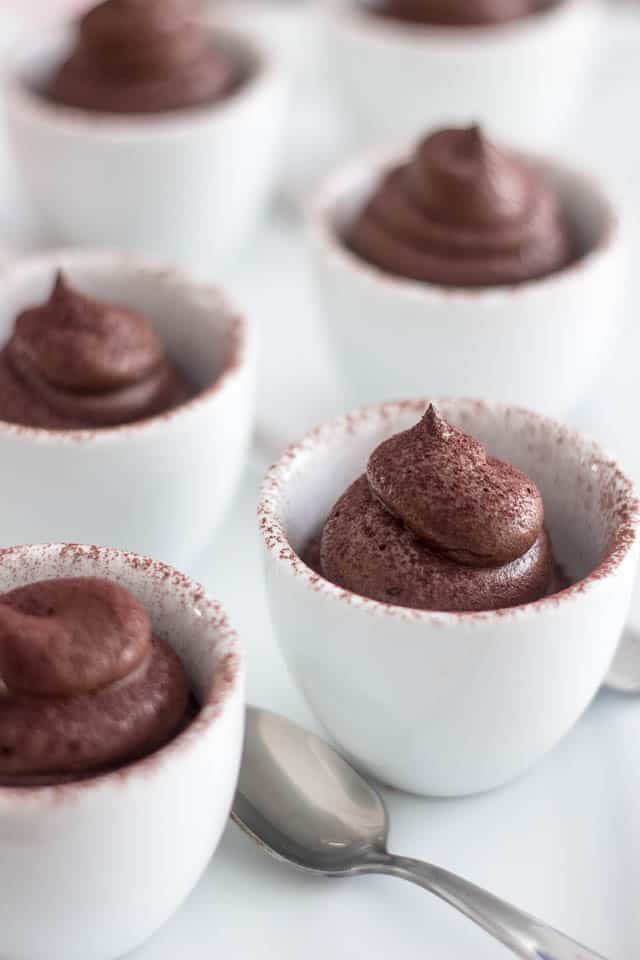 What you are looking at here might very well become your go-to solution for those days when you need a delicious yet nutritious dessert in a pinch. Not only can this Dark Chocolate Mousse be ready for you in mere minutes, it also uses nothing but ingredients that you probably have all the time in your fridge and cupboards.
Indeed, this Chocolate Mousse Recipe is so easy to whip up, it's absolutely fool proof and honestly, it doesn't even come close to tasting like it's good for you.
Not in the least!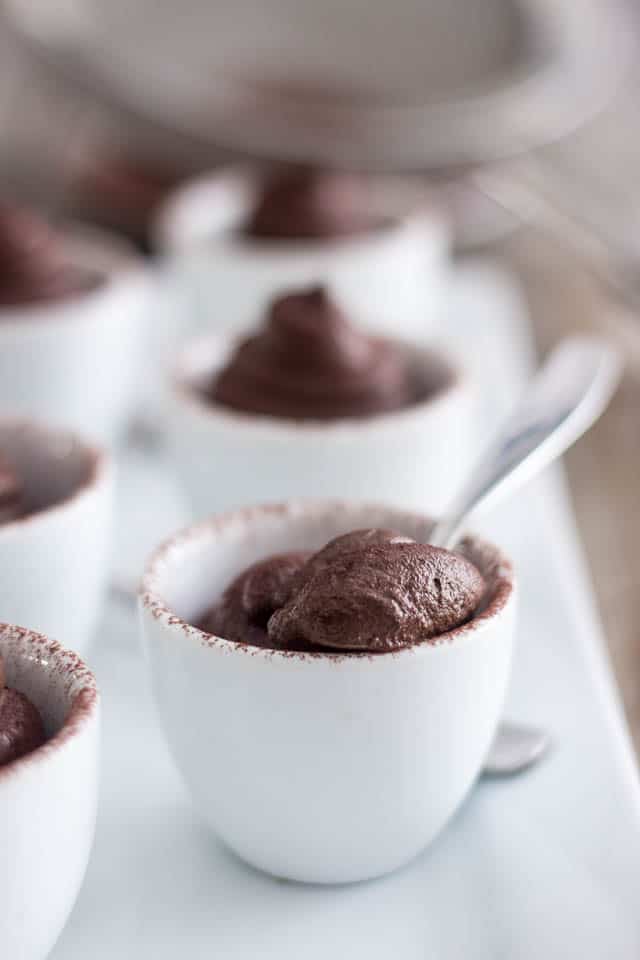 Did I tell you about how this one comes together super fast? Really, it does. I mean it!
How fast, you ask? Well, from start to finish, I would say you're looking at oh, probably 10 minutes, tops. And that's if you take the time to clean the kitchen after you're done. And although it does benefit from sitting in the fridge for a couple of hours before you eat it, you could still serve this mousse as soon as it's finished whipping.
I don't know if you can tell from the photos alone, but the picture above was taken immediately after the mousse was transferred into the dessert cups. At this point, the texture was really soft and creamy, sort of like a mix between a pudding and a mousse, maybe close to a smooth frosting, maybe?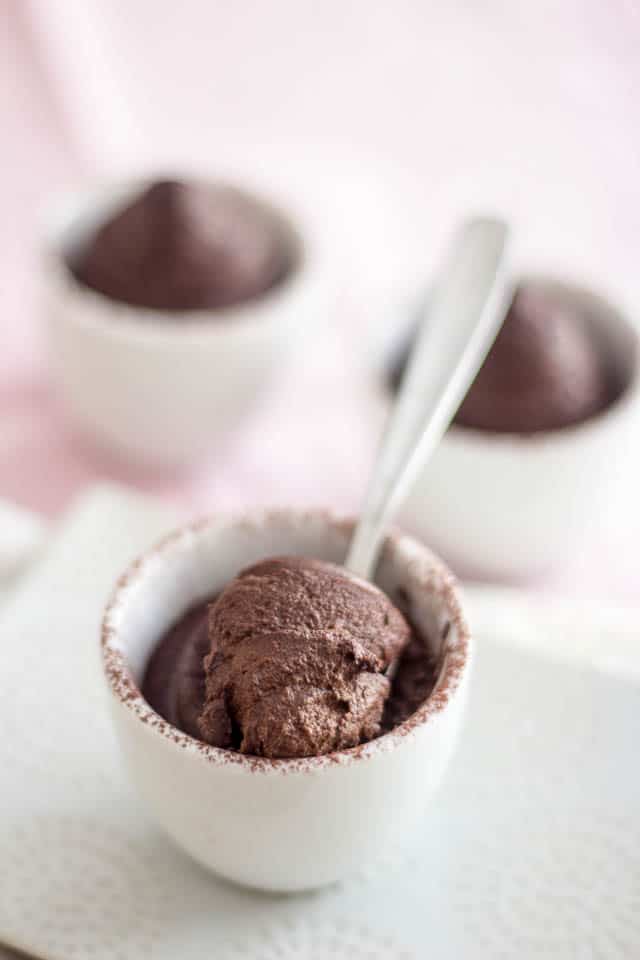 But after the mousse gets to sit in the fridge for a couple of hours, the texture becomes a lot firmer, silkier, crazy rich yet very fluffy still; an almost exact replica of genuine, authentic chocolate mousse, made the hard, long and complicated way.
That's the texture you're looking at in the picture above as well as the ones below. I wish you could experience the difference by taking a great big lick at your screen. Ha! Now wouldn't that be grand!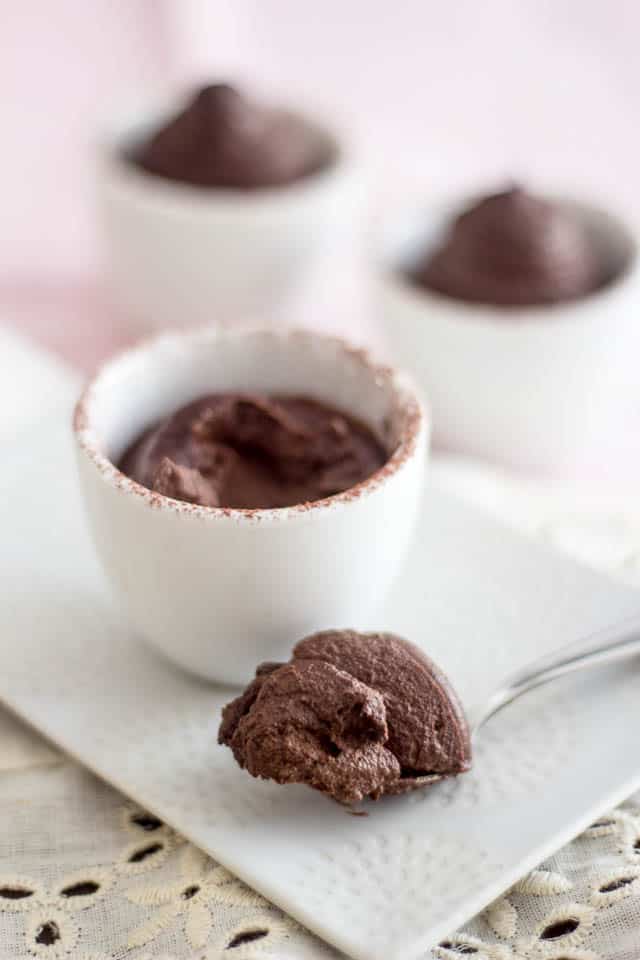 Alright, so this fabulous mousse of yours comes together super quickly and it has an amazing texture. That's all good, but how does it taste? you're probably wondering…
Tell you what: this terrific dessert's flavor truly matches the rest of its qualities!
It has a very intense and not overly sweet chocolate flavor, just the way I like it. Also, the addition of Ancho chili powder gives it a pleasant little touch of heat, just enough to make your palate a tad curious. It doesn't scream chili powder at all but rather just binds and combines with the flavor of the chocolate to the absolute perfection.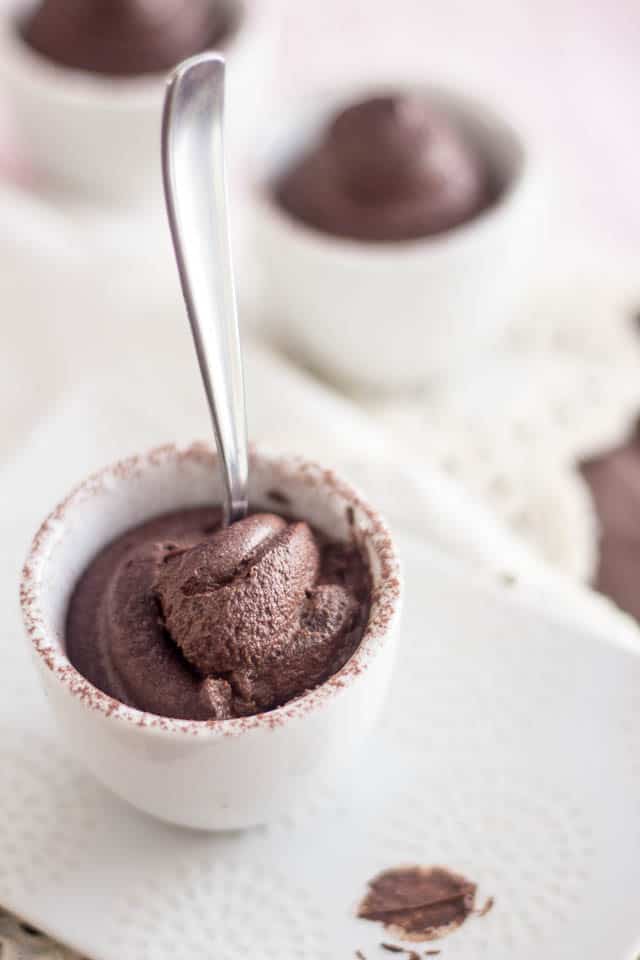 And if your palate should find that it could use a little bit more sweetness, you could very well add a little bit more honey, or a little bit more date paste.
For me, this is just the perfect thing to satisfy my need for a little something sweet at the end of my meal.
Hope your sweet tooth likes it too!
Paleo Dark Chocolate Mousse
Ready in minutes, this dairy free and refined sugar free Dark Chocolate Mousse is so insanely rich and delicious, you'll want to know the recipe by heart!
Servings: 6
Instructions
Process avocado, date paste (or pitted medjool dates), honey and coconut milk in a small food processor until smooth and creamy.

Add cacao powder,instant coffee, ancho chile powder, salt and vanilla and resume processing until well incorporated. You might have to scrape the sides once or twice to get all the powder to mix in nicely.

Transfer this mixture to the bowl of your stand mixer and whisk on high for 4-5 minutes until light and fluffy. You could also do this with a hand mixer if you don't have a stand mixer.

Divide the chocolate mousse between 4 to 6 indidual dessert bowls, dust lightly with cacao powder or ancho chile powder and refrigerate for 4-6 hours, or up to 2 days.

Note that this mousse can also be served immediately, but its texture greatly benefits from it sitting in the fridge for at least a few hours.
Nutrition
Calories: 176kcal, Carbohydrates: 18g, Protein: 1g, Fat: 11g, Saturated Fat: 7g, Sodium: 105mg, Potassium: 321mg, Fiber: 2g, Sugar: 13g, Vitamin A: 85IU, Vitamin C: 2.9mg, Calcium: 20mg, Iron: 1.5mg
If you've tried this recipe, please take a minute to rate the recipe and let me know how things went for you in the comments below. It's always such a pleasure to hear from you!
You can also FOLLOW ME on PINTEREST, FACEBOOK, INSTAGRAM and TWITTER for more delicious, healthy recipes!