Italian Sausage, Egg and Spinach Breakfast Bowl
This is probably the most ironic post I've ever written.
Right after announcing that, given my new situation, I would have more time to work on more elaborate recipes with plenty of pictures of step-by-step instructions and all, I give you this super-flash-instant recipe and barely enough snapshots of the finished product to even whet your appetite.
Not only that, but I just had you go through the, let's be honest, rather lengthy and messy process of stuffing your very own Italian Sausage at home only to have you strip the meat from its casing with the very next recipe.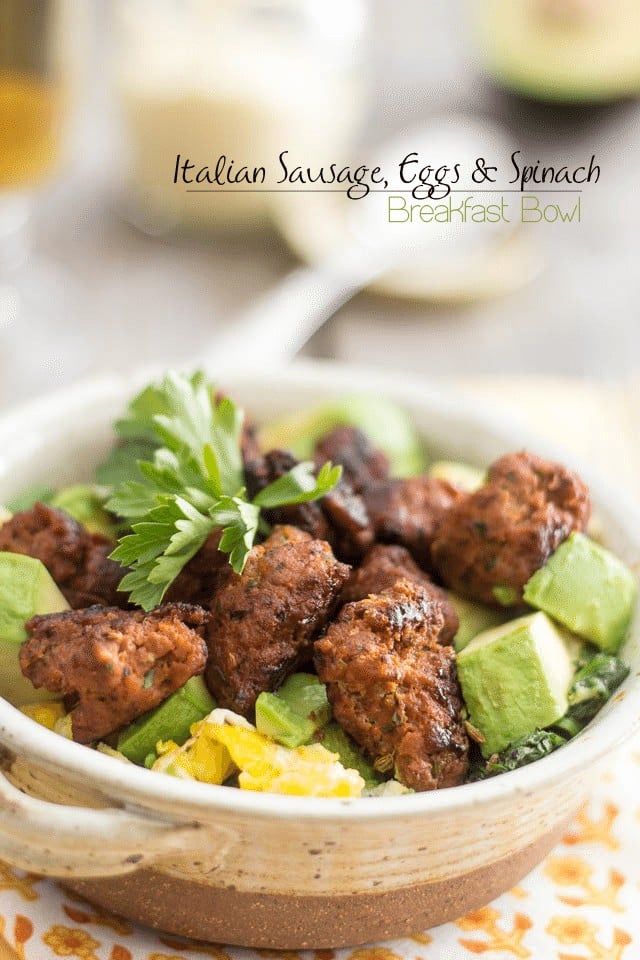 Go on, say it:  – Are you like totally out of your mind or what? Well, not exactly…
Want to know the truth? The tooth, the whole tooth and nothing but the tooth?
Alright then. I'll give it to you.
I *may* have been a little bit over enthusiastic while twisting my sausage into links… So much so that one of them kind of uhm… exploded on me while I was twisting it. Yeah, I know. I totally hid that detail from you. How very unprofessional of me. Sorry about that. Hopefully this will never happen to you.
But if it does, now you'll know exactly what to do with that "unstuffed sausage meat" that's been forced on you! And, well, if you decided that you didn't really want to go through the whole process of stuffing the meat in the first place, then you need ideas of how to use it, right?
Right!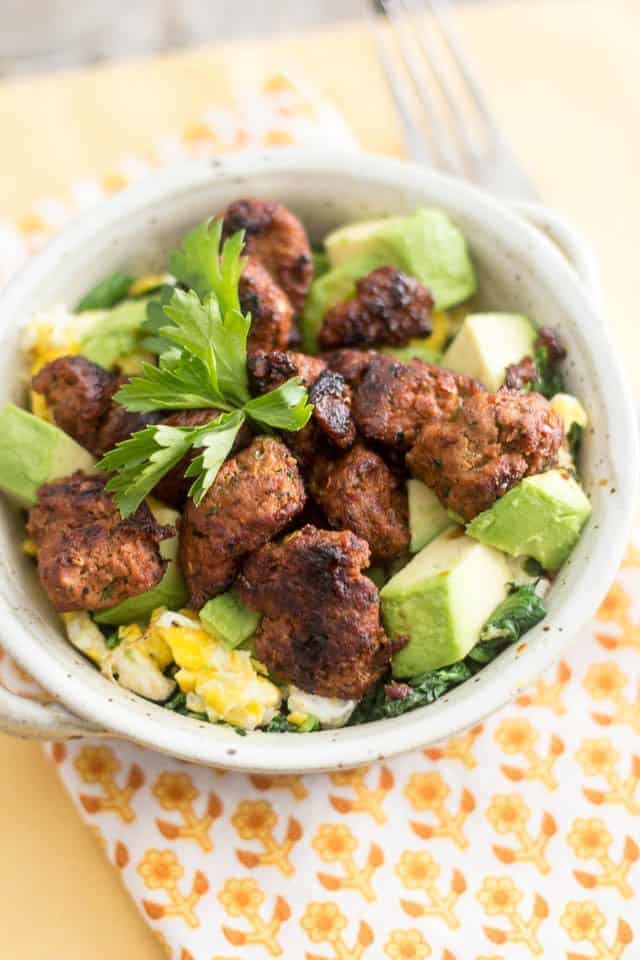 Well, this idea right here is a glorious one, indeed. In fact, had it not been for the fact that I'd just fastidiously stuffed all the sausage meat into hog casing, I would've gladly eaten that same dish for breakfast several days in a row.
I even think that next time I make my own Italian Sausage, I will double the recipe and keep half the batch unstuffed so I can revisit this particular breakfast again and again.
For seriously, that Breakfast Bowl is KILLER!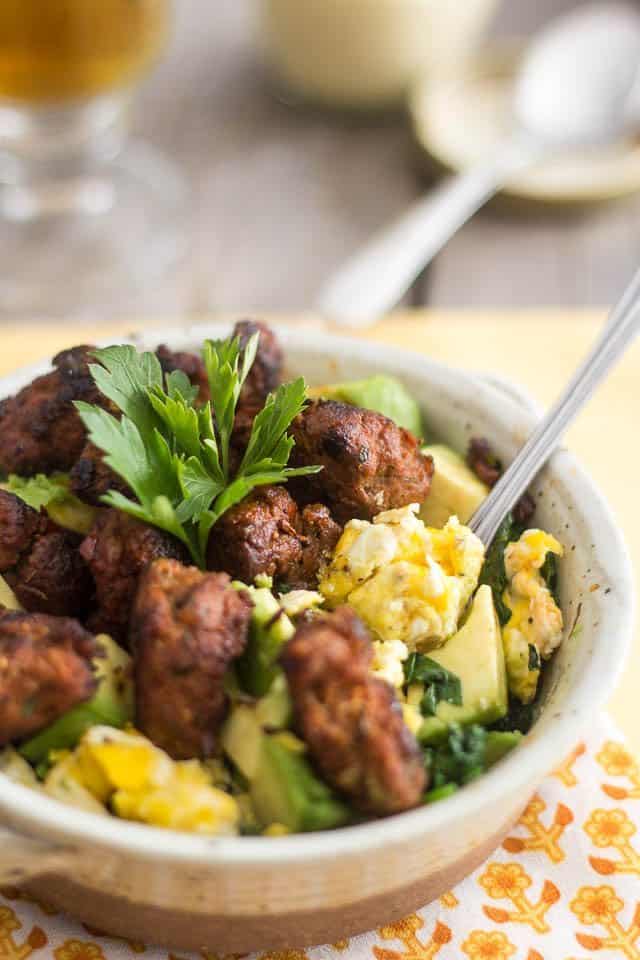 Very simple, exploding with flavor, it comes together in no time and keeps you full and satisfied for a very long time.
My kind of breakfast!
But hey, no one is forcing you to have this for breakfast either. I'm sure it would be just as good for lunch, dinner, or whenever hunger strikes.
Oh, and if you happen to have some good Sriracha or Frank's Red Hot on hand, now's a good time to take it out. Just a little squirt over this and you'll suddenly find yourself flying high, very high.
So high, planes will pass you by!
Italian Sausage, Egg and Spinach Breakfast Bowl
Servings: 1
Ingredients
1 tsp ghee
1 Italian Sausage
2 whole eggs
150 g baby spinach leaves
1/2 avocado, diced
Salt and pepper to taste
A squeeze of lime juice
Instructions
Chop the spinach leaves and cook them in the microwave, loosely covered, for about 60-90 seconds. Let cool for a few minutes, until cold enough to handle, and squeeze them between your hands to remove excess moisture.

Remove casing from sausage, separate the meat with your fingers into small, bite size chunks and cook over medium-high heat, stirring frequently until golden on all sides.

Reserve sausage to a plate and add ghee to your pan. When ghee is melted, add the eggs, sprinkle with salt and pepper and delicately move them around with a wooden spoon or heat resistant rubber spatula until scrambled and cooked to your liking.

Mix in reserved spinach, transfer to serving bowl and top with diced avocado and cooked sausage.

Squeeze a little bit of lime juice on top of everything and dig in while it's still hot.
If you've tried this recipe, please take a minute to rate the recipe and let me know how things went for you in the comments below. It's always such a pleasure to hear from you!
You can also FOLLOW ME on PINTEREST, FACEBOOK, INSTAGRAM and TWITTER for more delicious, healthy recipes!