Fennel, Pear and Cranberry Salad
Do you like fennel?
I know I do. I really, really do!
However, I don't eat it as much as I'd like to.
Why?
Well, because frankly, I lack the inspiration as to what to do with it.
Apart from this classic "Paper Thin Fennel Salad" which I've made and enjoyed on a few occasions in the recent months, the only other way that I've ever had fennel, I think, was in the form of a braised vegetable, always drenched in booze and olive oil, basically deprived of all its nutrients… Of course, that was in my past life, but that's probably the reason why I've never been tempted to give that method a try…
Now that I think of it, I think it would be a great idea for me to try and make a lighter version of this dish that I remember to be fantastically delicious.
But the truth is, fennel is a vegetable that I am a little intimated with, because I don't know how to prepare it, or rather, what to prepare with it. It's one ingredient that I am simply not familiar with.
However, I recently decided to use it in a salad… in a different salad, that is. I just let my imagination guide me, and this is what it came up with.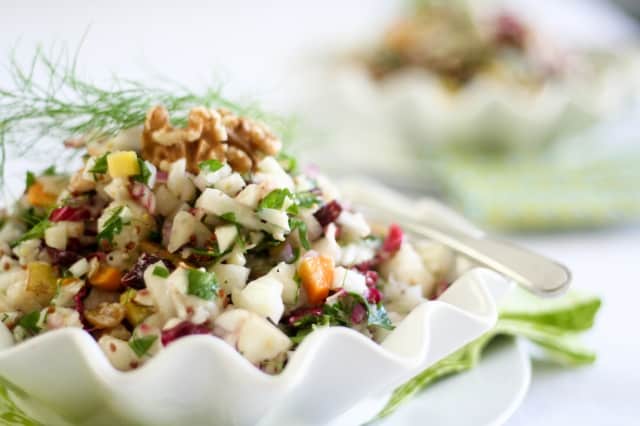 Pretty isn't it?
If I told you it tasted even better than it looked, would you believe me?
I had a friend over for dinner that night, and his comment was "this dish has the perfect balance of everything".
And all I can do is agree with him.
This salad is fresh, it's crispy, it's sweet, it's salty, it's tangy, it's zesty, it's… well, it's super well balanced. 😉
So really, if you like fennel, try it for yourself and let me know what you think.
Oh, and if you happen to have suggestions as to how to use fennel? Please share!
I'd be more than happy to hear them!
FENNEL, PEAR AND CRANBERRY SALAD
INGREDIENTS
(serves 2 as main -4 as side)

1 fennel bulb, finely chopped (save  some of the leaves to use as garnish)
2 carrots, diced (I used one yellow and one light orange carrot)
¼ radicchio, shredded
1 large pear, diced
2 tbsp red onion, finely chopped
¼ cup fresh parsley, chopped
½ cup dried cranberries
1/3 cup walnuts, chopped
juice of half a lime
1 tbsp white wine vinegar
1 tsp liquid honey
1 tbsp extra virgin olive oil
1 tbsp whole grain mustard
½ tsp salt
½ tsp black pepper
INSTRUCTIONS
Add all ingredients to large mixing bowl and toss to combine.
Refrigerate for about an hour to allow flavors to blend.
Garnish with fennel leaves and walnut halves.
This salad can be made up to a day in advance and will keep in the fridge for a couple of days.