Fresh Pear and Dried Figs Bran Muffins
You guys already know this. I have a thing for muffins.
I have an even bigger thing for bran muffins.
I will flip over backwards, then forward and sideways, and then backwards again for a bran muffin.
The problem is, most bran muffins, although one might believe are healthy and good for you since they, well, contain bran, are in fact so loaded with fat and sugar, that you can't give in and indulge in one without feeling somewhat guilty.
That was true for me, until now.
In my previous post, I had come up with an instant version of a Bran Bake, which I liked so much, it inspired me to make it into an actual muffin.
Well, I think I've died and gone to heaven. Not only is this the the most decadent, moist, tasty, sweet and crunchy bran muffin I have ever had, I was also able to eat the whole thing without feeling the tiniest speck of guilt.
Not an ounce I tell you.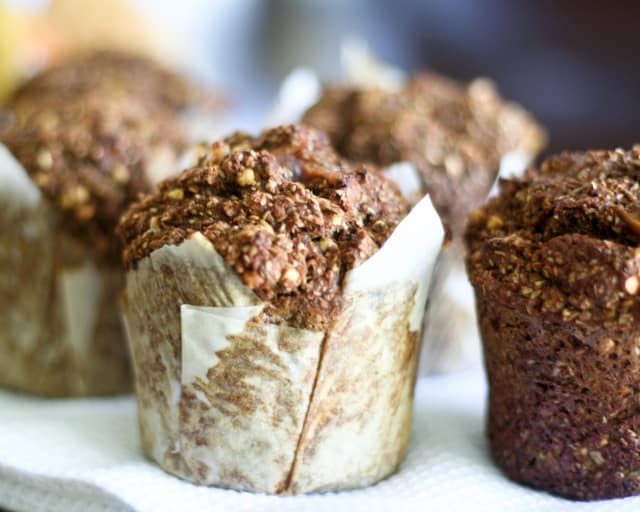 There is not ONE ingredient in that recipe that isn't good for your body. There isn't ANY added fat whatsoever, and all the sugar comes from natural sources.
Despite the fact that I haven't added any sugar, so to speak, if I had to change one thing about the recipe, I'd use even less sugar. I like my muffins to be sweet, but not overly so, and I found these to be a little bit on the sweet side. I'd probably cut down on the molasses, and maybe add a one or two fewer figs.
Other than that? I say this is one fantastic and DELICIOUS way to get fibers into your body…
Or that of your kids, maybe?
Gilbert the teddy sure had his eye on 'em… *
Fresh Pear and Dried Figs Bran Muffins
Servings: 9 large muffins
Ingredients
Fruits add-ons
1 large pear, diced
5-6 dried figs, chopped
Instructions
Preheat your oven to 425F and line your muffin pan with parchment paper "cups" or coat with cooking spray

In a large bowl combine dry ingredients and whisk until well incorporated. Set aside.

In a separate bowl, mash banana with a fork, until almost frothy in consistency. Add the rest of the wet ingredients and whisk until well blended. Pour into dry ingredients and stir with a wooden spoon or spatula until well combined, then delicately fold in pears and figs.

Pour mixture into prepared pan.

Bake for 5 minutes at initial temperature of 425F, then lower oven temperature to 375F and bake for an additional 20-25 minutes until tops look nice and crunchy and a toothpick inserted comes out clean.

Allow to cool for 5 minutes before removing from the pan and then place on on a wire rack until they reach room temperature.

Store in an airtight container for up to 5 days. (That's if you have any left to store, that is…)
If you've tried this recipe, please take a minute to rate the recipe and let me know how things went for you in the comments below. It's always such a pleasure to hear from you!
You can also FOLLOW ME on PINTEREST, FACEBOOK, INSTAGRAM and TWITTER for more delicious, healthy recipes!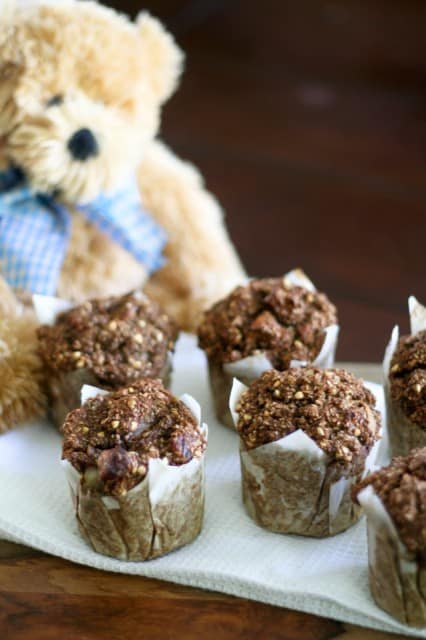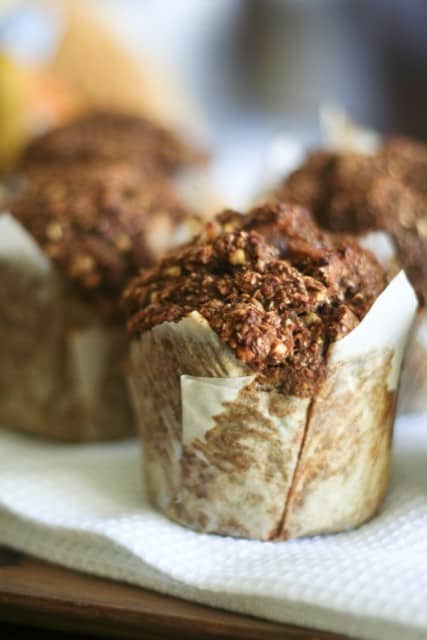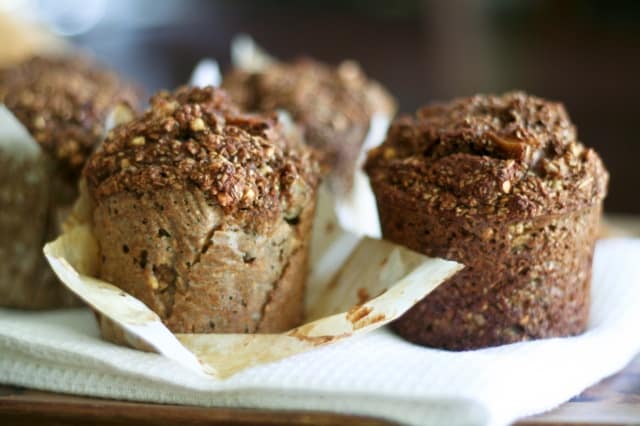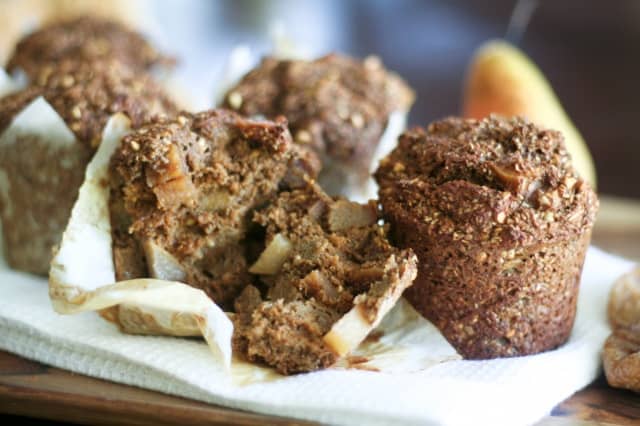 *Huge thanks to Gilbert, my daughter's teddy, who was such a sport and diligently accepted to pose for this photo shoot, without even asking for compensation (although he did beg to get one of the muffins).
He was such a good sport and sat there so patiently still for the whole duration of the shoot that I had to oblige and at least give him a little piece to taste…
Of course, he loved 'em! 😉