General Tso Chicken Meatballs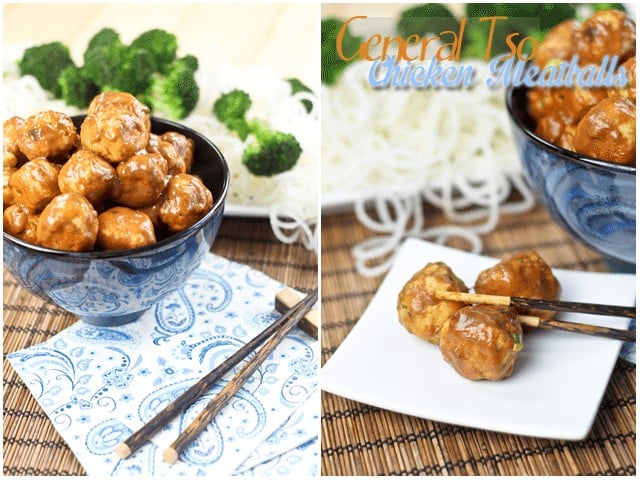 Here's another recipe that I knew I would have to try the very instant I laid eyes on it.
Mellissa, over at I Breathe… I'm Hungry, came up with the most delicious looking General Tso's Meatballs.
And when I say delicious looking, I mean D.E.E.E.E.L.I.C.I.O.U.S looking. As in drool-all-over-your-keyboard worthy.
As in wet dreams material, even!
Well, ok. That might be pushing it a bit a little bit, but still. Her meatballs just look plain AMAZING, if you ask me.
Unfortunately, I must say that I was extremely disappointed with my results.
Oh, don't get me wrong. I'm not saying that Mellissa's recipe wasn't good. I'm just saying that my version doesn't look nearly as good as hers.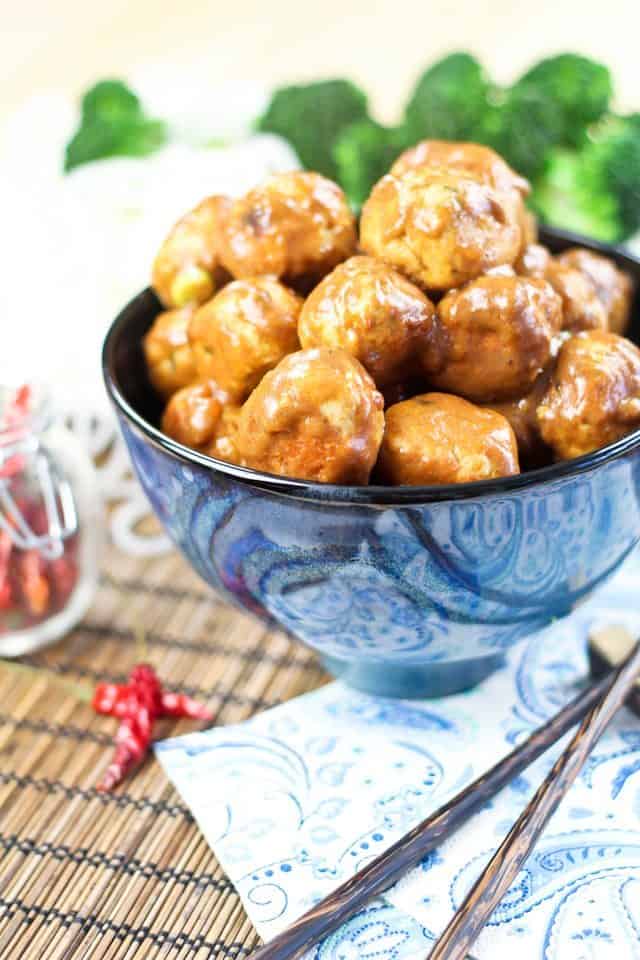 Maybe I should've followed her recipe to the T instead of improvising and changing all the ingredients like I did always do.
Or maybe I should have Mellissa ship me some of her meatballs.
Hey, there's an idea! But unfortunately not a very viable one: it would cost at least a fortune and a half to get them here… Not to mention all the paperwork that would probably need to be filled out.
Ah, if only shipping weren't that expensive and complicated between Canada and the US, we could organize a Great Meatball Swap.
Argh. How I wish I weren't located in Canada, sometimes…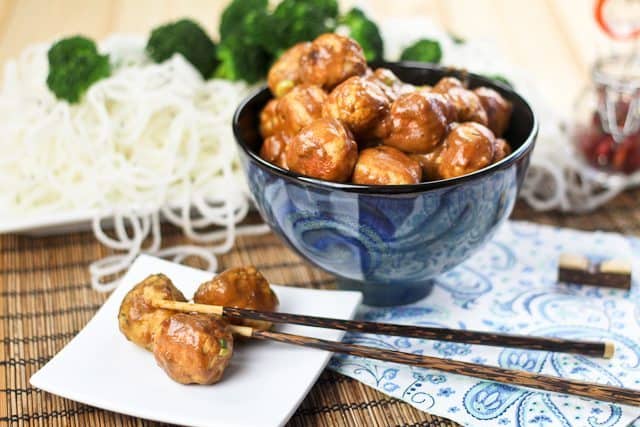 Guess I'll have to continue making my own meatballs and try all kinds of different recipes for myself.
I know exactly where to go for inspiration, too! Mellissa is such a huge fan of meatballs, she has tons of different flavors on the menu. She even has a Meatball Monday thing going… Yeah! I told you she's a huge fan. And I'm a fan of her being a fan!
Maybe next time I try one of her recipe, I can stick to the actual recipe for a change and pay it a real tribute instead of half-ruining it…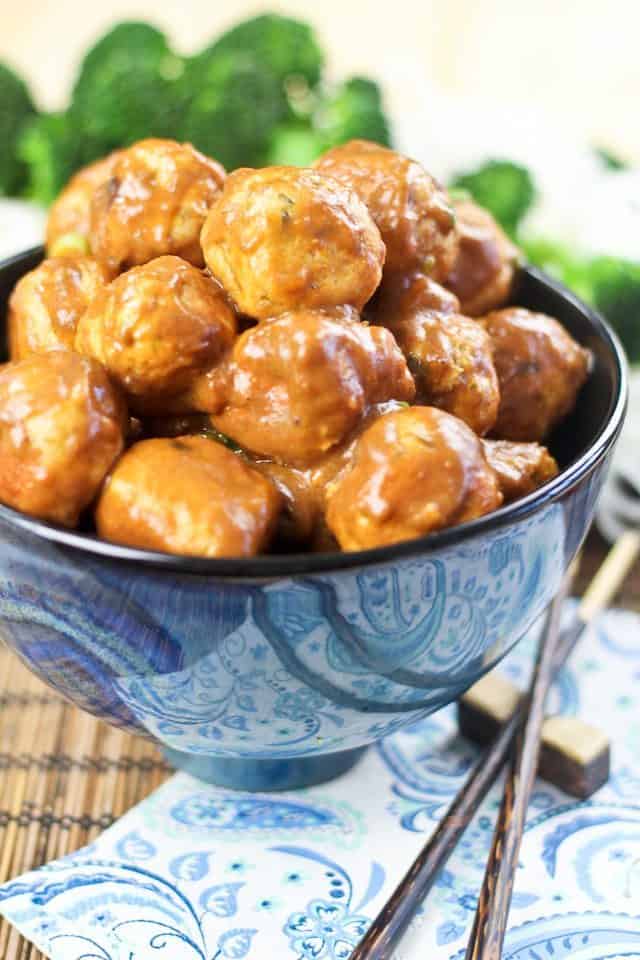 Mind you, I can't say that my version has been a total waste of time. Those meatballs were totally worthy of seeing the light of day, as they seriously delivered!
Packed with flavor? That, they were, although I'm not sure if we could really call it genuine, typical General Tso. Oh, they were sweet and sour alright, with just a hint of heat. Just don't go expecting a whole lot of sweetness followed by a crazy intense sour kick. These guys, they like to keep it subtle…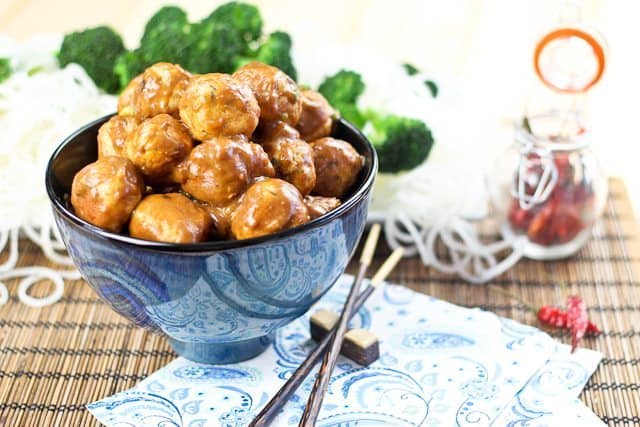 The thing is, a lot of the staple flavor building ingredients of Asian cuisine don't really walk hand in hand with the paleo lifestyle, so it makes it kinda hard to hit the exact right notes without using the "proper" ingredients.
Still, I think it was close enough.
And definitely, positively delicious!
As a side note, in case you haven't done that already, you have until midnight this coming Sunday to enter my Albion Fit giveaway for your chance to win a $100 gift card. Don't miss out, head over there right now!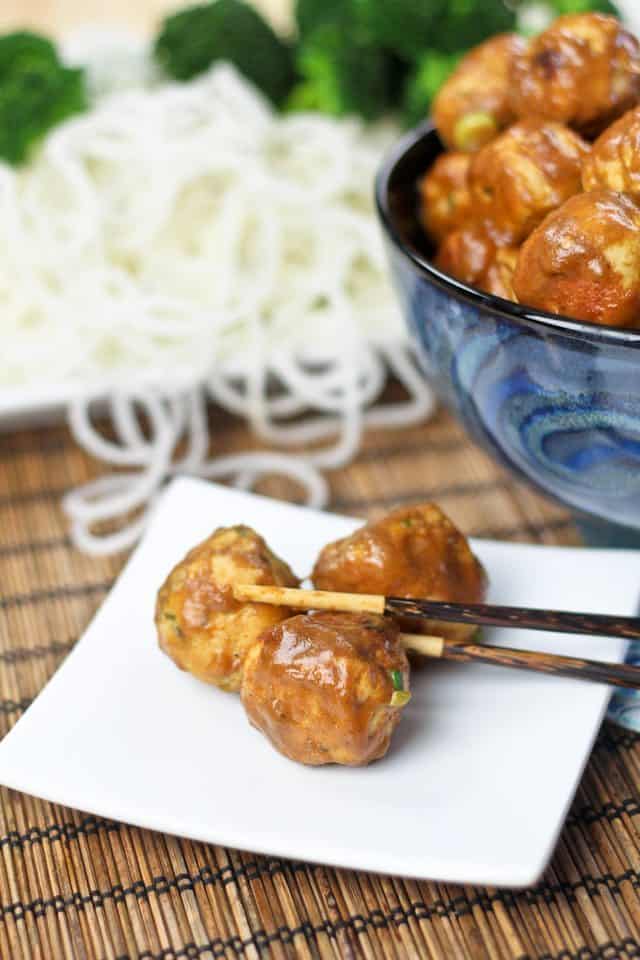 General Tso Chicken Meatballs
Those General Tso inspired chicken meatballs are packed with tons of delicious flavor! Subtly sweet and slightly sour, with just what it takes of heat.
Servings: 8
Ingredients
For the Meatballs
2.2 lb boneless, skinless chicken breasts , (or ground chicken meat)
3 tbsp 3-4 tbsp fresh ginger, minced
4 green onions, chopped
3 garlic cloves, crushed
¼ cup coconut flour
2 eggs
1 tbsp anchovy paste
1 tsp salt
1 dried bird's eye chilli pepper, crushed
1-2 tbsp coconut oil for frying, I used refined because I didn't want the coconut taste in this dish
For the Sauce
1 tbsp sesame oil
¼ cup rice wine vinegar
2 tbsp tomato paste
2 tbsp anchovy paste
1 cup water
The zest and juice of one orange
¼ cup date paste
1 tbsp arrowroot powder
2 dried bird's eye chillies, crushed
Garnish
1/4 cup green onions, chopped
Instructions
Cut the poultry into 1" cubes and place the meat in the bowl of your food processor. Process on pulse until the meat reaches the right consistency. Add the rest of the ingredients, save for the coconut oil, and process on pulse until well combined.

Form the meat mixture into 36 to 48 balls, depending on big or small you like your meatballs. (an ice cream scoop really helps getting the job done!)

Heat coconut oil in a large skillet over medium high heat. When pan is nice and hot, add the meatballs and cook until crispy and golden brown all around. You might have to work in 2 or 3 batches, depending on the size of your skillet.

While the meatballs are cooking, combine all the ingredients for the sauce in the bowl of your small food processor (you could also use a stick blender) and blend until smooth

When the meatballs are cooked through, pour the sauce over them and continue cooking over medium heat for about 5 minutes, until the sauce thickens. Stir in green onions and serve.

Garnish with more green onions if desired.
Nutrition
Calories: 243kcal, Carbohydrates: 8g, Protein: 31g, Fat: 9g, Saturated Fat: 3g, Cholesterol: 126mg, Sodium: 714mg, Potassium: 612mg, Fiber: 2g, Sugar: 4g, Vitamin A: 256IU, Vitamin C: 4mg, Calcium: 39mg, Iron: 1mg
If you've tried this recipe, please take a minute to rate the recipe and let me know how things went for you in the comments below. It's always such a pleasure to hear from you!
You can also FOLLOW ME on PINTEREST, FACEBOOK, INSTAGRAM and TWITTER for more delicious, healthy recipes!