Paleo Banana Bread – The True, One and Only Last Banana Bread Recipe you'll ever need!
I know, when I came up with this Spelt Banana Bread recipe a while back, I said it was the "last-banana-bread-recipe-you'll-ever-need". 
Well, I'm sorry to say that I might have erred.
When I recently decided to go paleo, I thought for sure that I'd had to give up on that one and that I would never get to sink my teeth into a nice thick slice of the heavenly bliss that is banana bread ever again.
That very thought made me really sad, but I was ready to make the sacrifice, I guess. Or so I thought.
That was until I got sort of stuck with two VERY RIPE plantains, crying, begging, praying on their knees to be used up very very soon. I don't think there was any way they could've turned even one shade darker.
Sure, I could've simply thrown them in the freezer. But where's the fun in that?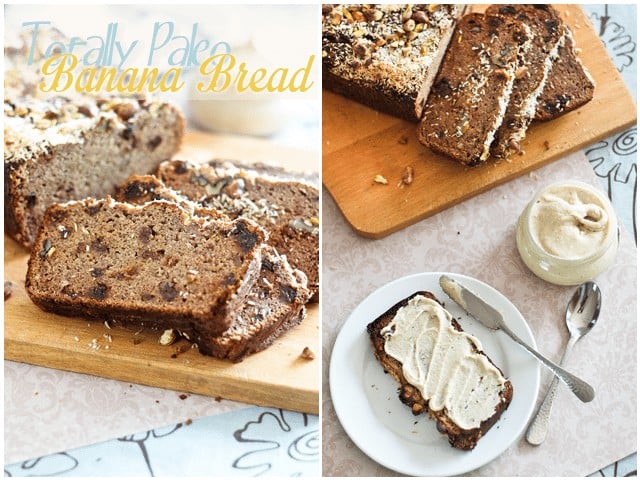 Then, I got this wicked, crazy, devilish idea: what if I revisited my "last-banana-bread-recipe-you'll-ever-need" and made it the REAL last recipe you'll ever need?
A version that would be entirely GRAIN FREE, GLUTEN FREE, DAIRY FREE AND REFINED SUGAR FREE?
Of course, it would still have to be delicious, though. What's the point of eating "cake" if it ain't gonna make you die, right?
In a good way, of course. I mean that in a good way!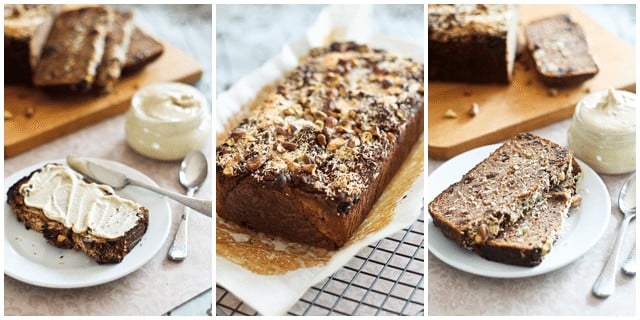 Well, I totally pulled it off, guys.
This one IS going to make you die. Probably even more than once, too! I'd say the odds are you're going to die at least once or twice with every.single.bite.
And if you do like I did and slightly toast it then top it with some of that delicious Raw Cashew Butter, chances are you're never going to recover from these multiple deaths either.
If anything, this version is even better than the last. I can't even begin to explain. You're gonna have to try it for yourself.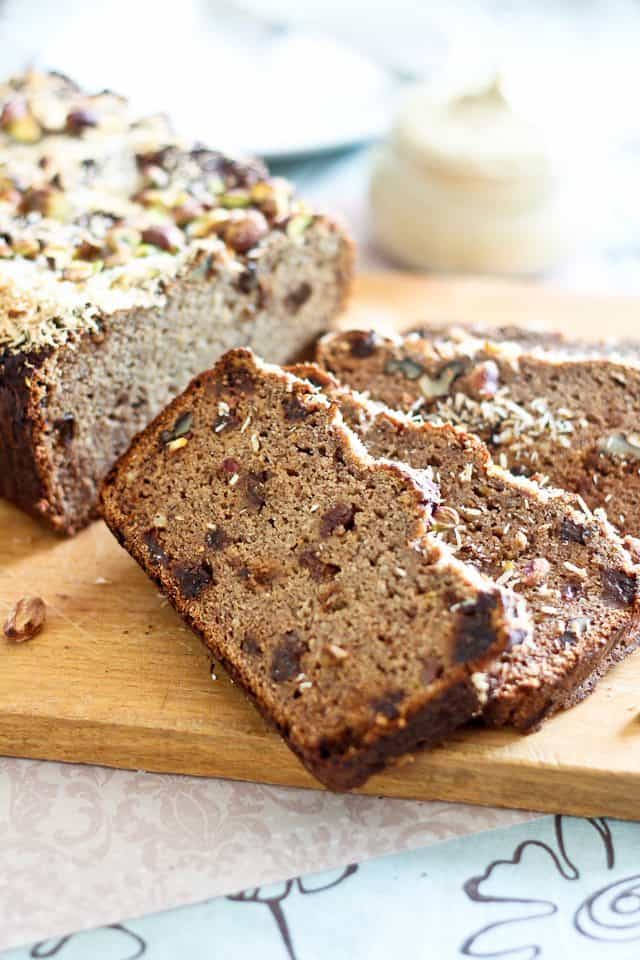 Oh, and if you don't happen to have plantains that are begging to be used, you could always go with bananas instead. My guess is you'll only end up with a banana bread that's a tad sweeter than mine was.
Not that it needs it, trust me. This one is plenty sweet enough as it is. In fact, I would dare say that it is the absolute banana bread perfection. So incredibly moist, chewy, tender, sweet, tasty and dreamy.
It has JUST what it takes of everything. It's perfect, I tell you!
And no one would EVER be able to tell that this was healthy if you didn't tell them. his, I swear!
Guaranteed, or you get your money back. But not your life, sorry.
So, what are you waiting for?
Go make some banana bread!
Paleo Banana Bread
Serves: Yelds 12-14 slices
Ingredients
Dry Ingredients
¾ cup coconut flour
¼ cup arrowroot flour
½ cup almond flour
2 tsp cinnamon
2 tsp baking soda
¼ tsp sea salt
½ cup chopped walnuts
½ cup raisins
Wet Ingredients
2 medium bananas
2 very ripe plantains
3 large eggs
½ cup coconut milk
½ cup unsweetened applesauce
1 tsp pure vanilla
¼ tsp pure almond extract
To be sprinkled on bread
2 tbsp unsweetened shredded coconut
2-3 tbsp finely chopped pistachio
Instructions
Preheat oven to 350F; Line a loaf pan with parchment paper or grease well with coconut oil and set aside.
In a small bowl mix flours, cinnamon, baking soda, and salt. Add walnuts and raisins and stir until well coated and set aside.
In the bowl of your food processor, combine all the wet ingredients and process until very smooth.
Add that to the dry ingredients and mix with a rubber spatula until well combined, no more.
Pour the batter into the prepared loaf pan and sprinkle with coconut and chopped pistachio. Place in the oven and bake 70-75 minutes, until the center is set (a toothpick inserted in the middle of the loaf should come out clean).
Set loaf on a wire rack and let it cool in the pan for about 5 minutes before unmolding it. Finish cooling on the rack and transfer to the refrigerator, where it will keep for up to a week in an airtight container.

Nutrition Information
Serving size: NF is based on 1 of 12 slices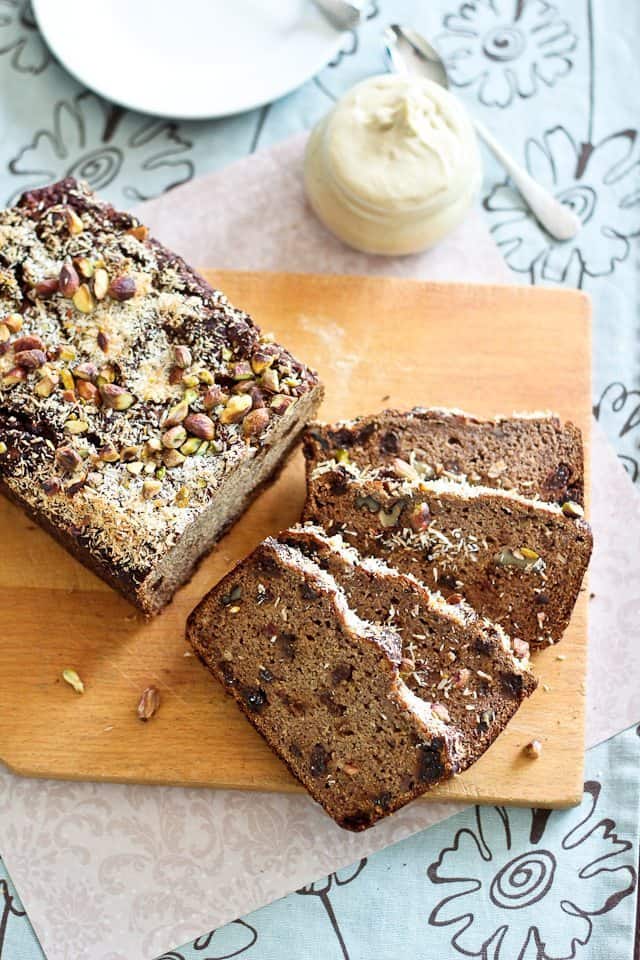 Can you SEE how moist this is?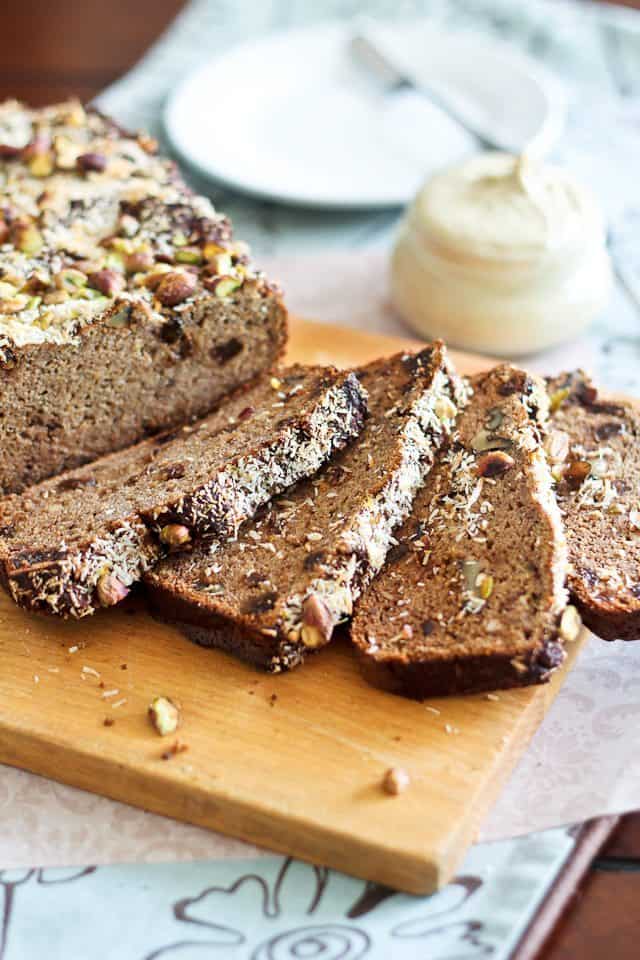 All sliced up and ready to be served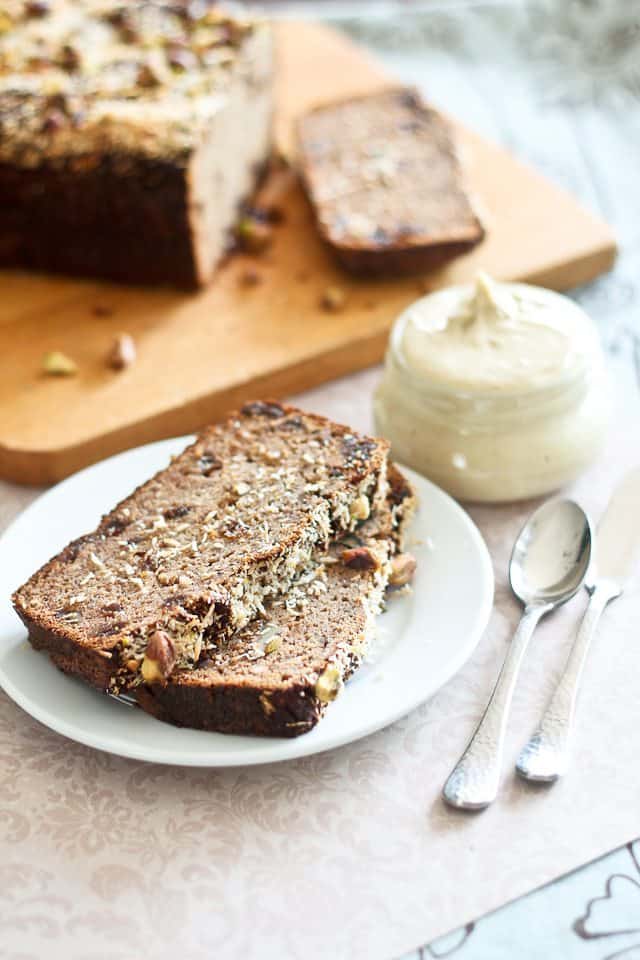 Breakfast is served!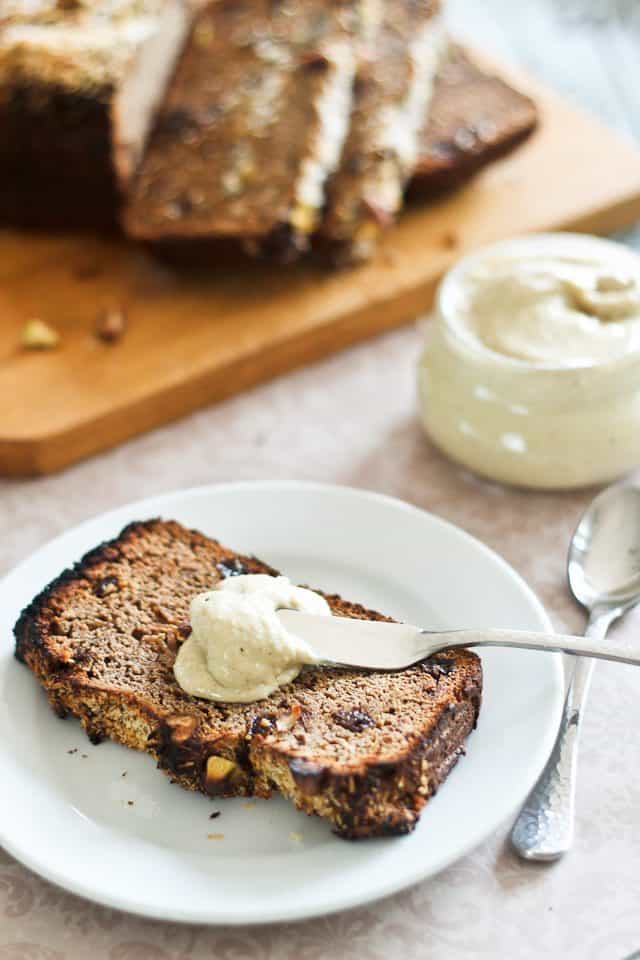 Slightly toasted with a dollop of Raw Cashew Butter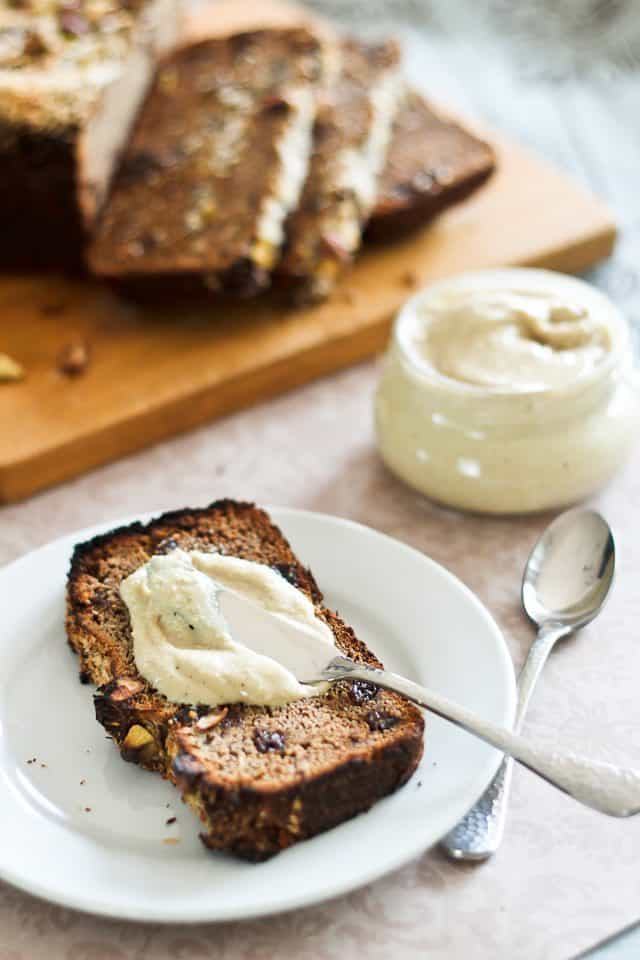 The bread is so nice and warm…
That creamy cashew butter doesn't waste any time to start melting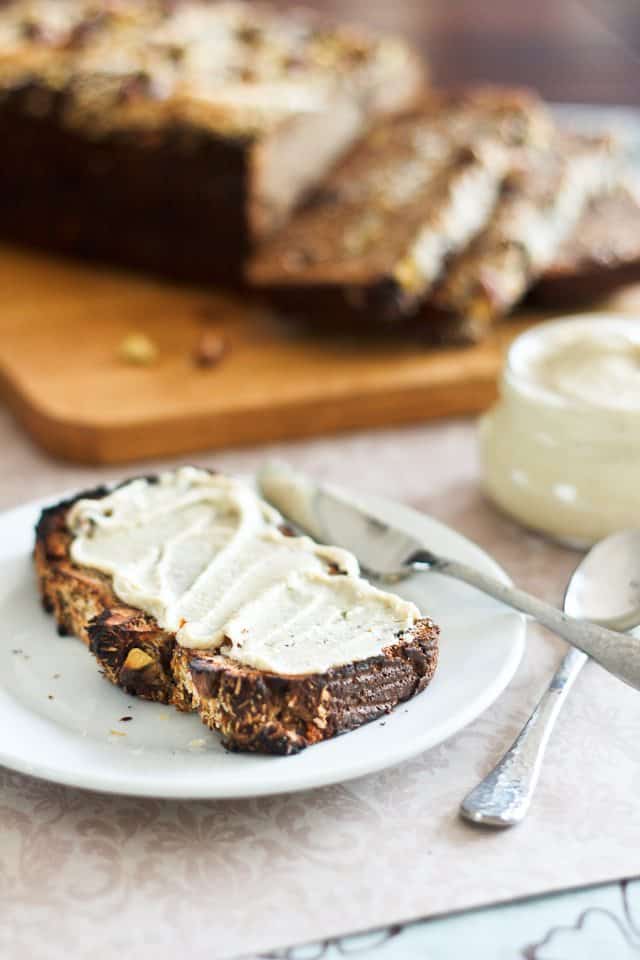 Spread it out nicely… and get ready to die!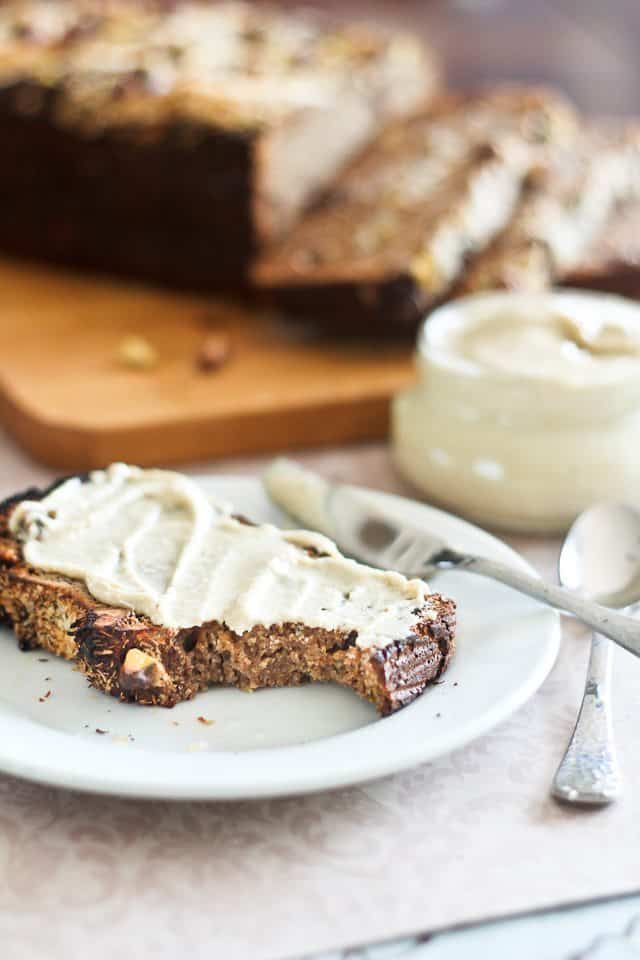 And there you are…  I betcha death never felt so good!