Orange Infused Boneless Leg of Lamb
WOOHOO! We're having roast tonight, guys!
And not just any roast, either. We're having boneless leg of lamb!
YUMMERS! I really love me some extra tasty, tender and juicy lamb meat
What's the occasion, you ask? None in particular! I just had this crazy craving for some of that delicious meat. It had been ages since I'd last had some.
So I decided to man up and get my hands dirty.
For I need to confess that this was my very first time roasting a leg of lamb.
Up until now, I never dared try it, solely based on the fact that lamb is a tad bit costly and I would've hated to waste such a valuable and delicious piece of meat.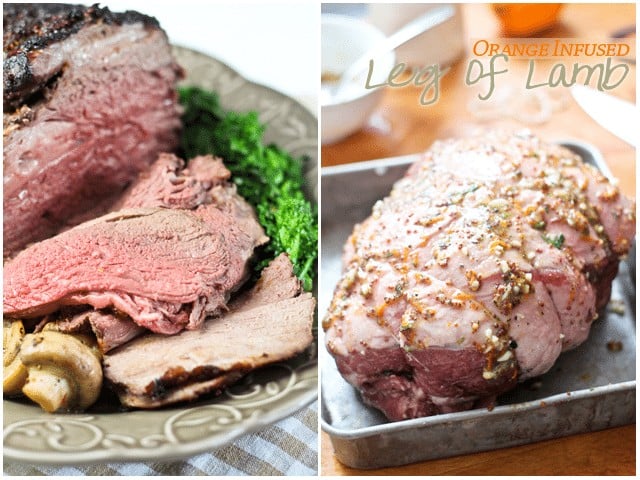 Plus, I've always been somewhat intimidated with the whole concept of roasting meat. I thought for sure that it required a whole set of extra special skills to get it done just right and I really didn't think that I had it in me.
But you know what?
It really is super easy to make and require no special skills at all; all you need is the right information.
And a good meat thermometer.
You don't even have to go through the extra step of unrolling the roast like I did. That one is totally optional. Leaving the roast in its original netting will get the job done just as well.
However, taking the time to unroll the meat will give it that much more flavor…
This roast was absolutely hmmm hmmm deeeelicious!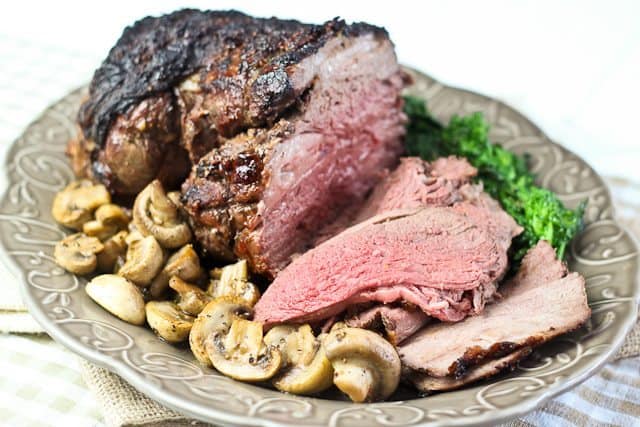 Trust me, now that I have broken the ice, I will be making lamb roasts a lot more often (mind you, "never" isn't really hard to beat now, is it?)
And just wait 'til you see what I've done with the leftovers.
O.M.G YUM!
Think lamb stew with huge chunks of meat and tons of figs in it.
If this sounds good to you, make sure you hold on to the pan juices: they are pretty much crucial to the success of that stew!
But again, if you're going to generate the leftovers you need, you have to get busy making the roast first.
So off you go. Give it a try.
You'll see, it's pretty easy!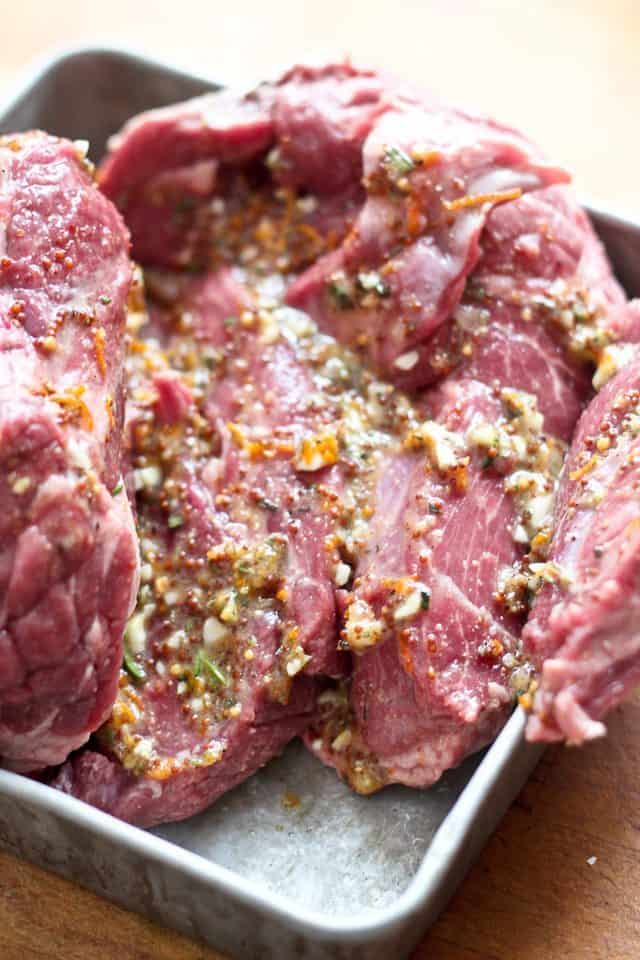 Unroll the lamb roast and spread about three quarters of the spice rub all over the piece of meat.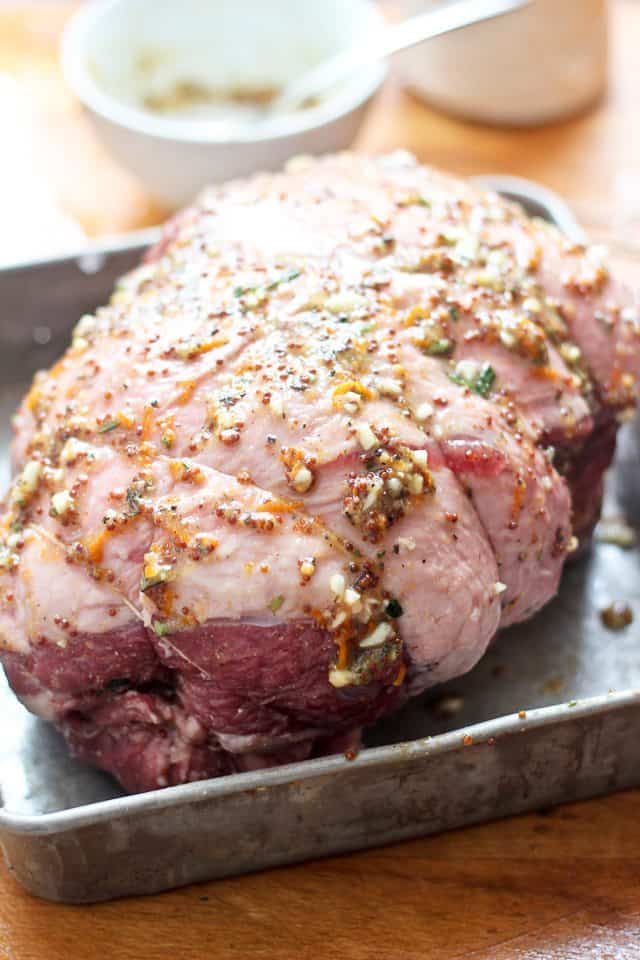 Roll the lamb back up and tie it up with butcher's twine. Rub the rest of the spice mixture all over the roast.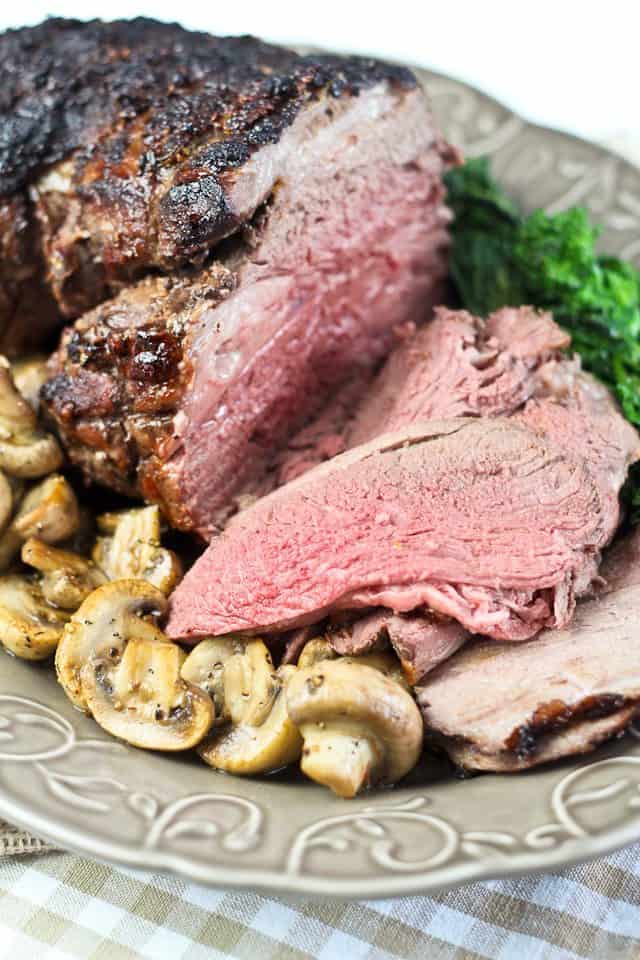 Carve and serve…
Boneless Leg of Lamb
Delicious, tender and juicy boneless leg of lamb infused with a fragrant, sweet and spicy orange rosemary and garlic rub.
Servings: 12
Ingredients
The zest of 1 orange
2 tsp fresh rosemary, finely chopped
4 cloves garlic, crushed
1 tsp Himalayan or unrefined sea salt
1 tsp freshly cracked black pepper
2 tbsp whole grain mustard
2 tsp unpasteurized liquid honey
A boneless leg of lamb, mine was 2.75 kg
the juice and peel of the orange you previously zested
Instructions
Finely grate the zest from the orange. Keep the orange whole and hang on to it; you're going to be using it later. Place orange zest, rosemary, garlic, salt, pepper, mustard and honey in a small mixing bowl and stir until evenly combined; set aside.

Unroll the lamb roast and lay it flat on a cutting board. Trim off all large pieces of fat, if any. With your hands, spread about three quarters of the spice rub all over the piece of meat. Roll the lamb back up and tie it up with butcher's twine. Rub the rest of the spice mixture all over the roast and place it in a shallow baking dish. Cover tightly with plastic wrap and place in the refrigerator to rest at least 2 hours or better yet, overnight.

Preheat oven to 325°F.

Cut the orange in half and squeeze the juice at the bottom of the roasting pan. Place the empty orange shells right under the roast. This will allow air to circulate all around your roast and will also infuse it with some beautiful orange flavour into your meat.

Roast in the oven for about 20 minutes per pound or until desired doneness is achieved: A thermometer inserted in the thickest part of the roast will read 130°F (rare) 145°F (medium-rare) 160°F (medium) and 170°F (well done). Mine cooked for 2 hours – for an internal temperature of 130°F

Lightly tent your roast with aluminum foil and let it rest for 20-25 minutes; Transfer the meat to a cutting board, remove the twine, carve, and serve.
Nutrition
Calories: 192kcal, Carbohydrates: 2g, Protein: 30g, Fat: 7g, Saturated Fat: 2g, Cholesterol: 92mg, Sodium: 312mg, Potassium: 425mg, Fiber: 1g, Sugar: 1g, Vitamin C: 1mg, Calcium: 12mg, Iron: 3mg
If you've tried this recipe, please take a minute to rate the recipe and let me know how things went for you in the comments below. It's always such a pleasure to hear from you!
You can also FOLLOW ME on PINTEREST, FACEBOOK, INSTAGRAM and TWITTER for more delicious, healthy recipes!