Crispy Pulled Pork and Caramelized Apples Pancake Stack
I'm not gonna lie to you and tell you that these were a walk in the park to make.
They were simply the bitchiest, trickiest and most fragile pancakes I ever made.
In fact, I came this close to throwing the whole batch right out the window…
Wait, this sounds familiar… didn't I say exactly that not too long ago?
Darn right I did! Remember that carrot cake?
Well, believe it or not, I made those pancakes AND that carrot cake on the very same day.
Yep! There must've been something in the air, that day. It's almost like I was jinxed, or something!
But hey, just as was the case with the carrot cake, those pancakes turned out so freaking delicious that I could NOT not share the recipe with you. Or at least inspire you to make something similar…
Because tricky or not, trust me, I WILL be making theses babies again, that's for sure.
Although next time, I will try adding a third egg to the batter and perhaps decrease the apple juice by half.
The thing is, you see, these pancakes were nearly impossible to flip. Well, for a very impatient and extremely hungry individual such as myself anyway.
Normally, you want to cook pancakes over fairly high heat for a short amount of time. But not these guys. I had to have a lot of self-control and let them cook over medium-low heat for a fair bit amount of time (a LOT longer than I had patience for) in order to be able to flip them.
So one tip to you, if you're brave enough give them a go: cook them over fairly low heat, so they don't burn, and give them time to cook all the way through before you even try and flip them. Also, make sure to keep your pancakes on the small side: the smaller the pancake, the easier it is to flip! So go no more than a quarter of a cup of batter per pancake.
Oh, and by all means, don't you go make these when you are absolutely starving and have no patience whatsoever (as in right after your morning workout). You'll only end up wanting to flip your pancakes when they're not nearly done and mess them all up, like I did.
Once they have been flipped, though, you're pretty much home free. You will be able to handle them without them falling apart on you. They will, however, always remain delicate and, as you can see, somewhat crumbly.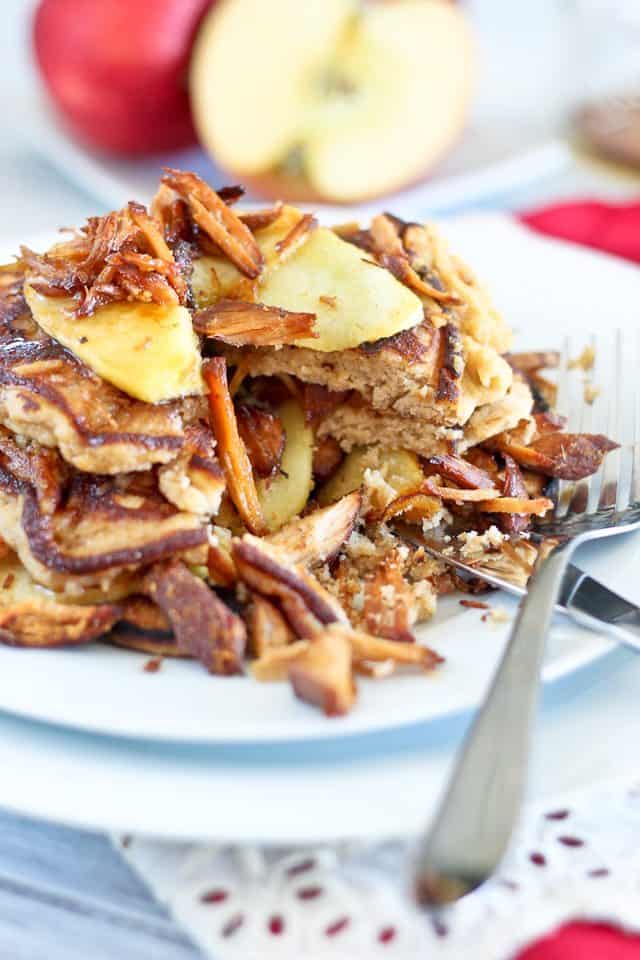 But hey, once the stack is on your plate, I guess you don't really mind if they do crumble and fall to pieces, do you?
Heck, use a spoon to eat them if you have to! You're not gonna hurt my feelings… 😉
So long as they make it your mouth…
Trust me on this one, you're not gonna regret this.  
Once these babies hit your taste buds, you'll forget all about the nightmare they just put you through!
Crispy Pulled Pork and Caramelized Apples Pancake Stack
Servings: 2
Ingredients
For the garnish
100 g leftover pork stew, shredded (or any leftover braised/pulled pork)
½ apple, cored, peeled and sliced (choose a cooking variety such as Gala, Fuji or Golden Delicious)
1-2 tsp coconut oil, to fry the pork and apples
Maple syrup to taste
Instructions
For the pancakes
Combine all ingredients for the pancakes in a small food processor and blend until very well combined.

Let the batter sit for a few minutes to give the coconut flour a chance to thicken.

Meawhile, add some coconut oil to a large skillet and heat over medium-high heat.

When pan is hot enough, slowly pour about ¼ of a cup of batter per pancake. Spread slightly, lower heat to medium-low and cook all the way through, until tops become sort of matte and dull looking and edges are nice and golden.

Very, VERY delicately flip the pancakes and continue cooking until golden on both sides.

If you have to work in several batches, place the cooked pancakes in a very low temp oven to keep them warm while you cook the remaining pancakes.

While your pancakes are cooking, heat some coconut oil in a separate skillet over medium-high heat. When pan is hot enough, add the apple slices and cook until nice and caramelized on both sides. Remove from pan and reserve. In the same pan, add the pork and cook until nice and crispy; reserve.
Assembly
To assemble the pancakes, place one or two pancakes in a small plate, top with a few slices of apple, a pinch of crispy pork followed by another pancake or two. Continue building layers until you run out of ingredients. For a prettier look, finish with a few slices of apples and a few pieces of crispy pork.

Drizzle with maple syrup to taste.
Notes
*Nutritional Information does not include Coconut Oil or Maple Syrup
If you've tried this recipe, please take a minute to rate the recipe and let me know how things went for you in the comments below. It's always such a pleasure to hear from you!
You can also FOLLOW ME on PINTEREST, FACEBOOK, INSTAGRAM and TWITTER for more delicious, healthy recipes!