I want to eat nothing but this for the rest of my life.
It's just soooo amazing!
The inspiration for this stew came to me from a magazine that my daughter subscribes to: Ricardo
The original, a Caramel Pork Stew, was made with pork shoulder but I decided to go with a bit of a leaner cut: the loin. As well, the recipe called for regular brown sugar which was turned into some sort of a caramel.
It was a no-brainer to me that I was going to replace that refined sugar with my ultimate preferred sweetener of all, the one I like to refer to as liquid gold: Pure Canadian Maple Syrup. I went with the dark amber variety, too! Not only is it my favorite but it also happens to be tastiest.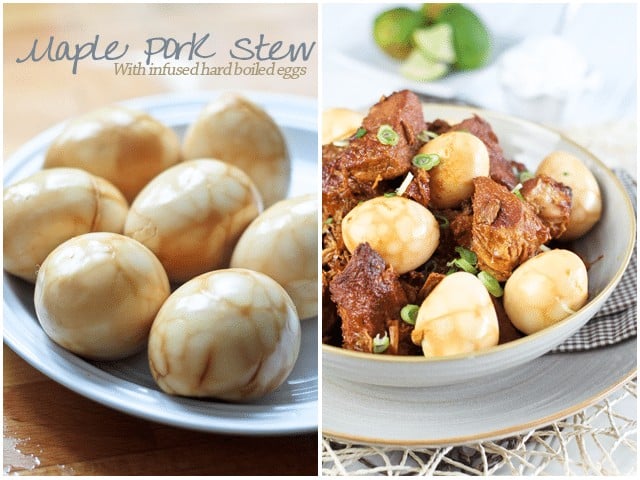 Also, I decided to be fancy schmancy and make beautiful infused eggs instead of just plain adding hard boiled eggs at the very end, like the original recipe suggested.
Hey, it might be a little bit more trouble, but you have to admit that it does add some of that WOW factor.
I've always been extremely fascinated with infused eggs and find them really pretty, so I thought they would be a gorgeous (and tasty) addition to this already delicious stew.
Of course, infusing the eggs is entirely optional and you could very well do exactly like the original recipe said: add the hard boiled eggs only at the very end.
Or you could even skip them altogether if you don't care for them. You're not gonna hurt my feelings! 😉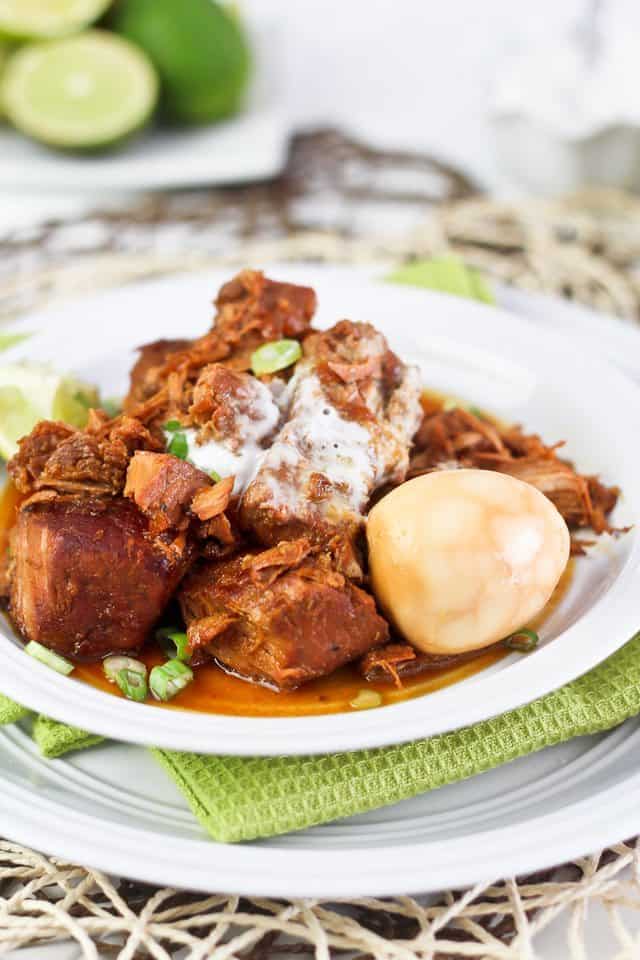 As much as I may have drooled over the picture in the magazine, I never imagined one minute that the stew was actually going to taste THIS good.
Seriously, I made this whole entire recipe, the one that's posted below, and ate it ALL to myself.
ALL, I SAID! I didn't share, not even ONE serving.
All week, I looked forward to getting out of bed and be done with my workout so I could finally do breakfast. You guessed it, breakfast was comprised of this delicious stew, which I mostly ate with a side of baked sweet potatoes and sauteed collard greens.
It was such a sad day when I ate the last of it.
Seriously. S.A.D.
Now I can't wait to make it again.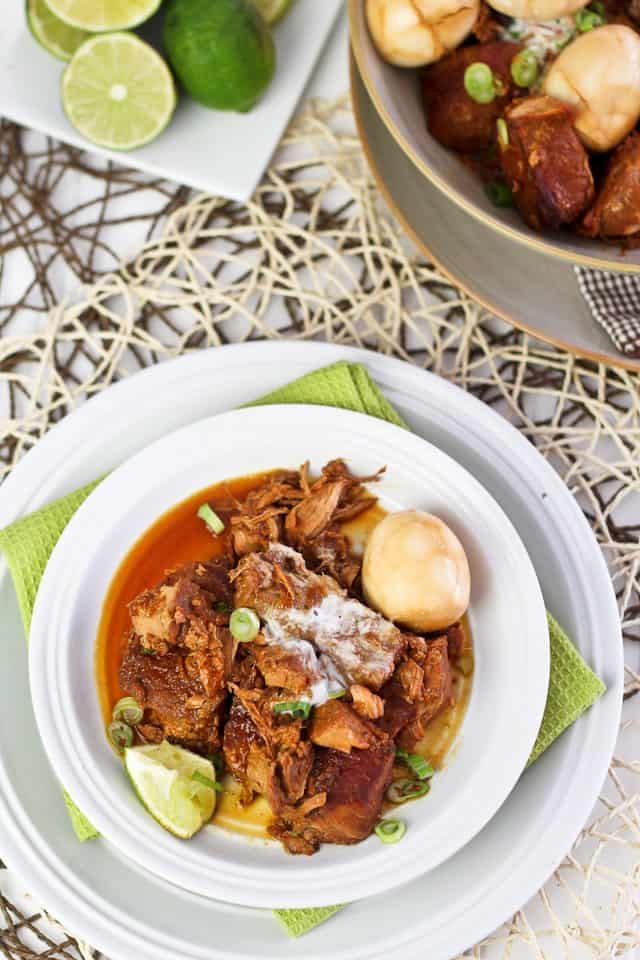 Oh! I almost forgot!
Just wait 'til you see the crazy-drop-dead-by-food-orgasm breakfast that I whipped up one good Saturday morning using some of the leftovers…
Picture this: a luscious pile of steaming hot Apple Coconut Pancakes layered with Crispy Pulled Pork and Caramelized Apples, covered with thick, sticky and sweet Dark Maple Syrup…
OH MY GOD! I nearly died!
And yes, I will be sharing the recipe.
Soon.
But you need to make the stew first, so go ahead and get busy doing that!
I don't think there's much else that I need to say in order to convince you that this is one tasty dish.
Just one final word of advice, maybe: DO hit it with that splash of lime juice just before you dig in.
That little hint of sourness coupled with the sweetness of the cooking juice and meat is just plain crazy-wow-manic-good in your mouth.
I swear.
Now go make this.
NOW!
(Oh, but before you go, have you entered my giveaway yet? If not, I think you should totally take a minute or two to do that! We're talking $100 gift card to shop for fitness gear at Albion Fit. Don't miss out!!!)
Maple Coconut Pork Stew with Infused Hard Boiled Eggs
Ingredients
2 kg pork loin, trimmed of all visible fat
2 tbsp coconut oil
2 medium onions, finely chopped
4 cloves garlic, minced
1 tsp Himalayan or fine sea salt
1 tsp freshly cracked black pepper
3 cups pure coconut water
½ cup pure maple syrup (grade B)
¼ cup rice vinegar (or white wine or white balsamic)
1 tbsp anchovy paste
¼ tsp cayenne pepper
2 tbsp fresh ginger, grated
3 cups water (after 2½ hours in oven)
8 large eggs
Coconut milk, lime juice and green onions to garnish
Instructions
Preheat oven to 325F
Heat the coconut oil in a large Dutch Oven set over medium high heat. Add the pieces of meat in a single layer, taking extra care that they do not touch. Sprinkle with salt and pepper and sear the pieces of meat until nice and golden brown on all sides. (you may have to work in several batches)
Once all the pieces of meat have been browned, return them to the Dutch Oven, add the onions and garlic and cook until fragrant, about 1 minute.
Meanwhile, in a large bowl, add coconut water, maple syrup, rice vinegar, anchovy paste, cayenne pepper and grated ginger and stir to combine.
Pour that liquid over the cooked meat and bake in the oven for 2½ hours.
After your stew has been in the oven for about 2 hours, steam the eggs in a vegetable steamer set over salted boiling water for about 10-12 minutes (make sure you place the eggs in the basket while the water is still cold to avoid cracking). Once the eggs are cooked, cool them under cold running water until they are cold enough to handle.
When the eggs are cold enough, gently crack the eggshells all over by rolling them on a paper towel or using the back of a spoon the tap the shells. The more you crack, the more intricate the design will be. However, make sure to keep the shells intact and not let pieces detach from the egg.
Place your cracked eggs in a cheesecloth bag to prevent pieces of eggshells from falling into your stew.
Remove stew from the oven, add 2½ cups of water and move the meat around to make room for the eggs. Place the bag containing the eggs at the bottom of the Dutch Oven and put meat back over it. The eggs should be almost completely covered in liquid.
Bake for an additional 2 hours.
Remove eggs, peel them delicately and return them to the pan.
Serve immediately and garnish with coconut milk, a splash of lime juice and a handful of green onions.

Nutrition Information
Serving size:
NF based on 1 of 8 servings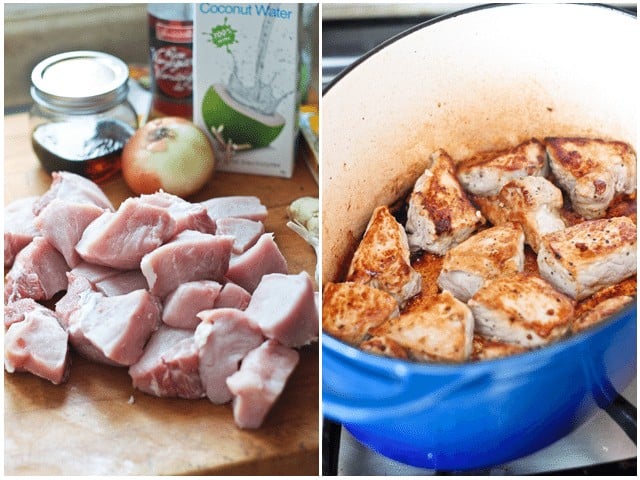 Cut the pork into cubes and brown on all sides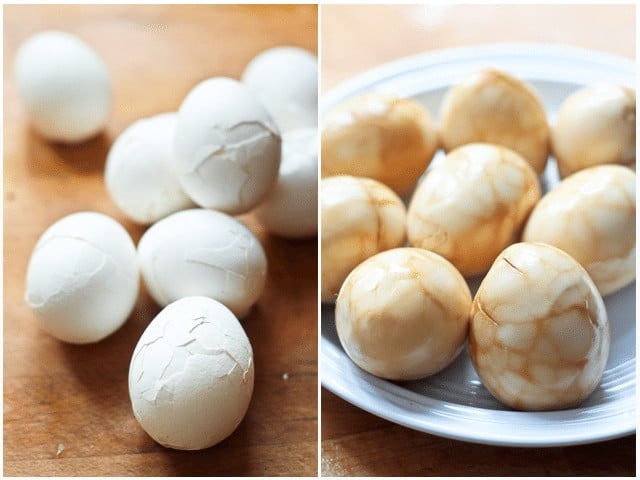 Crack the eggshells to let the cooking juices seep in.
The more you crack, the more intricate the design will be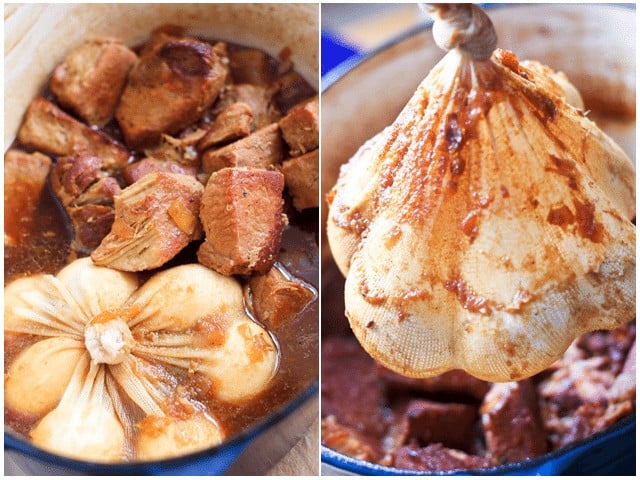 Place your cracked eggs in a cheesecloth bag to prevent pieces of eggshells from falling into your stew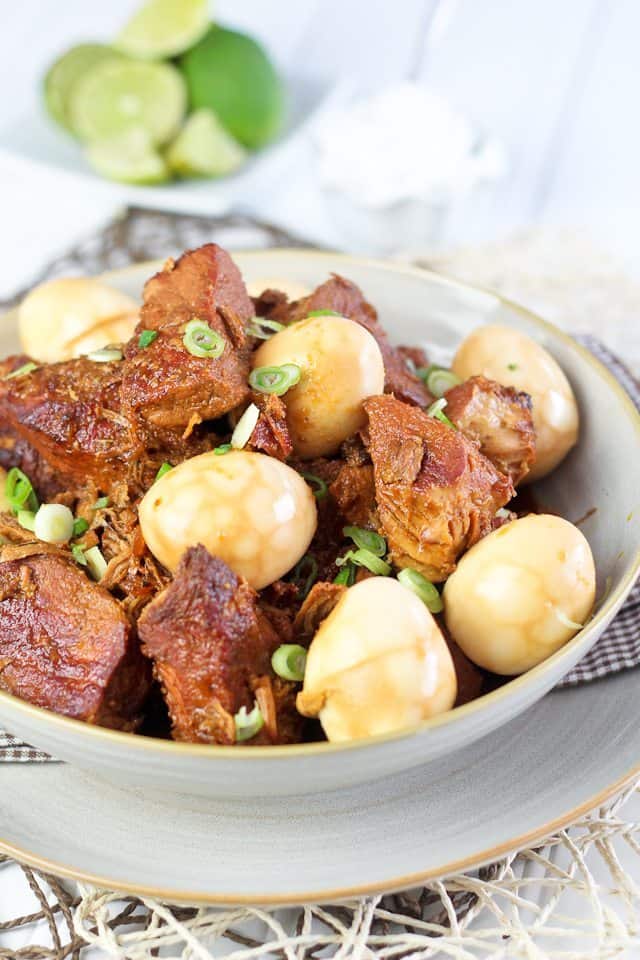 Shell the eggs and add them to the stew. Don't tell me this isn't super pretty!
Hit with a splash of lime juice, a few teaspoons of coconut milk and a handful of green onions before serving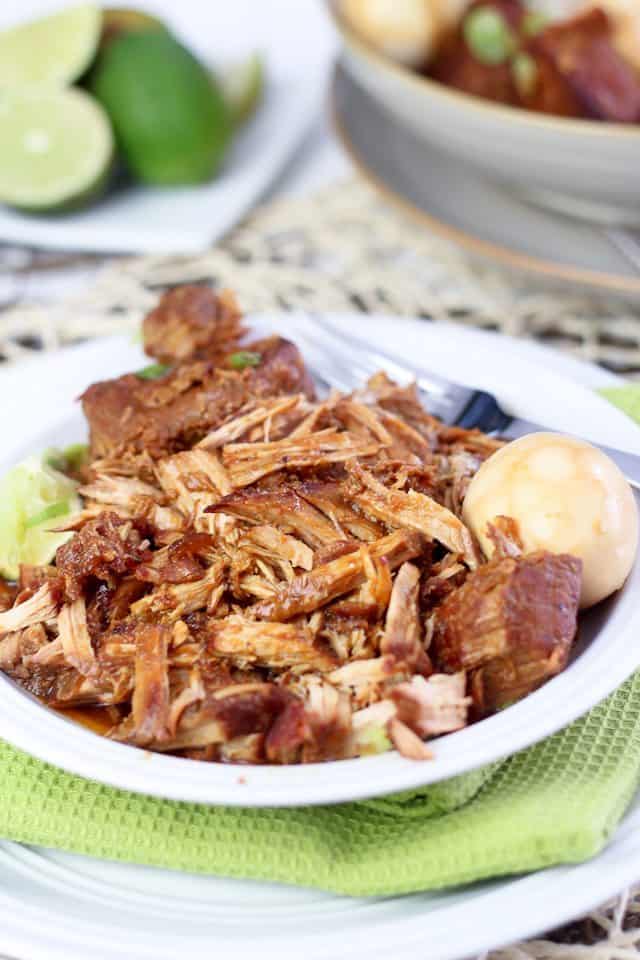 The pork meat is so tender, it just falls apart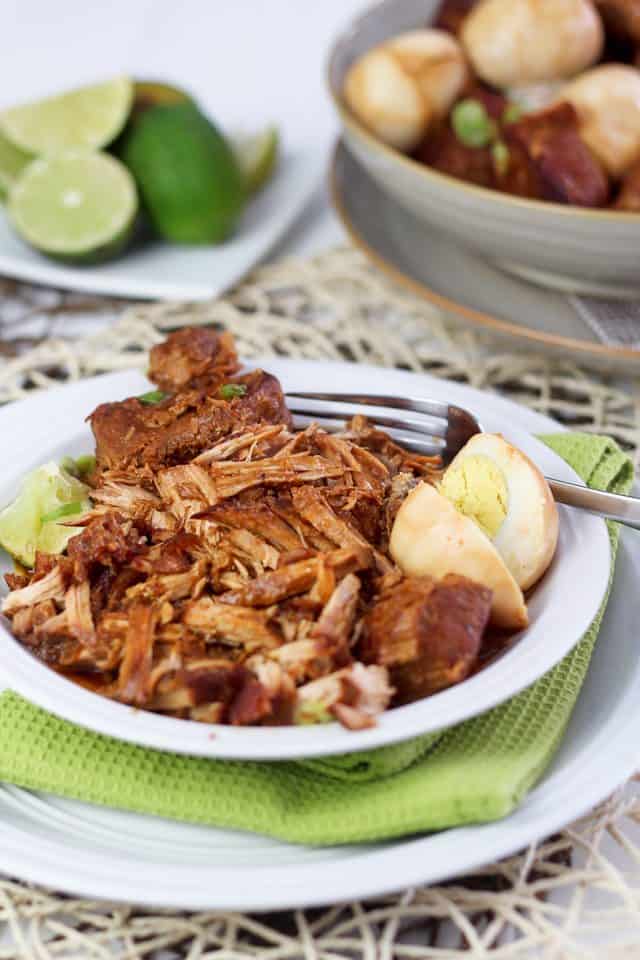 Care for a plate?
Sorry, you're gonna have to make your own 'cuz I'm not sharing!
I'm telling you… I want to eat nothing but this for the rest of my life!