Ginger Cashew Beef Stir-Fry
It had been forever since I'd last had a good stir-fry.
I wonder why that is… Stir-fries come together so quickly and easily, I feel it's something I should be having at least once a week, if not more.
Especially since I've always been such a huge fan of Asian food!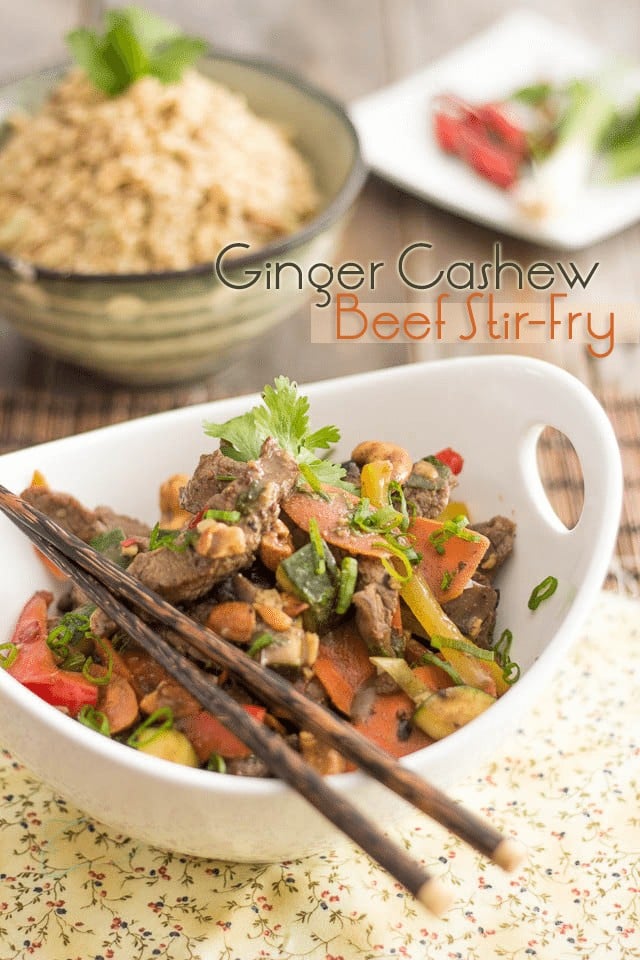 Plus, not only are they delicious and super quick to make, but they are also extremely versatile.
You can basically use any kind of meat that you like, so long as it's cut into thin strips, slices or bite size chunks. Beef, pork, chicken, lamb or shrimp all make very suitable choices.
Same goes for veggies. Your imagination is pretty much the limit in that department:  carrots, celery, snow peas, sweet peas, asparagus, bell peppers, zucchinis, broccoli, bok choy, cabbage, green onions, bean sprouts and mushrooms are only a few examples of possible tasty additions to any good stir-fry.
Seriously, sky is pretty much the limit when it comes to stir-fries. It's one of those dishes where you can just be super creative. Simply open the fridge, check out what's in there, gather a whole bunch of ingredients and get started.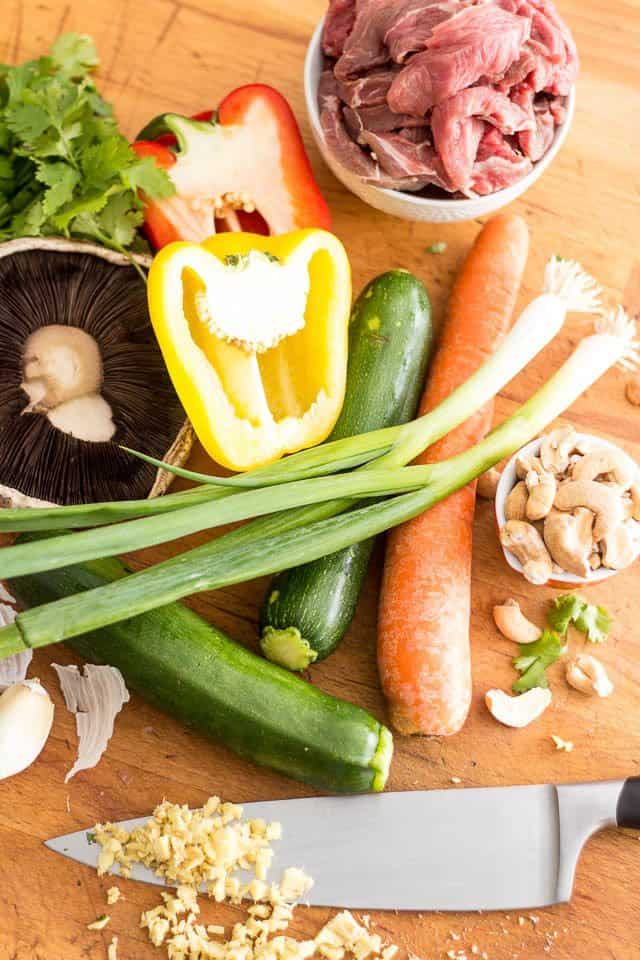 The only real "rule" that you'll want to abide by when making stir-fries is to have all your ingredients ready before you start cooking. Once you get started, everything happens so quickly, there will be no time for you to chop, slice, dice or mince…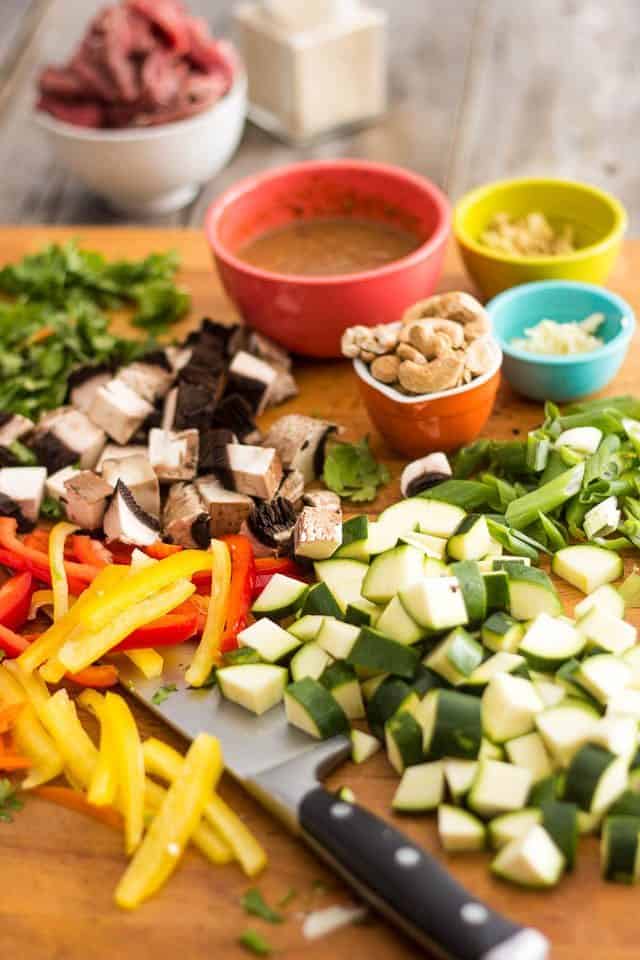 So before you even think of turning on the heat under that wok (or skillet!), make sure that your meat is cut, patted dry and seasoned, that your sauce is all mixed up and ready to go and that all your veggies have been chopped into the desired shape.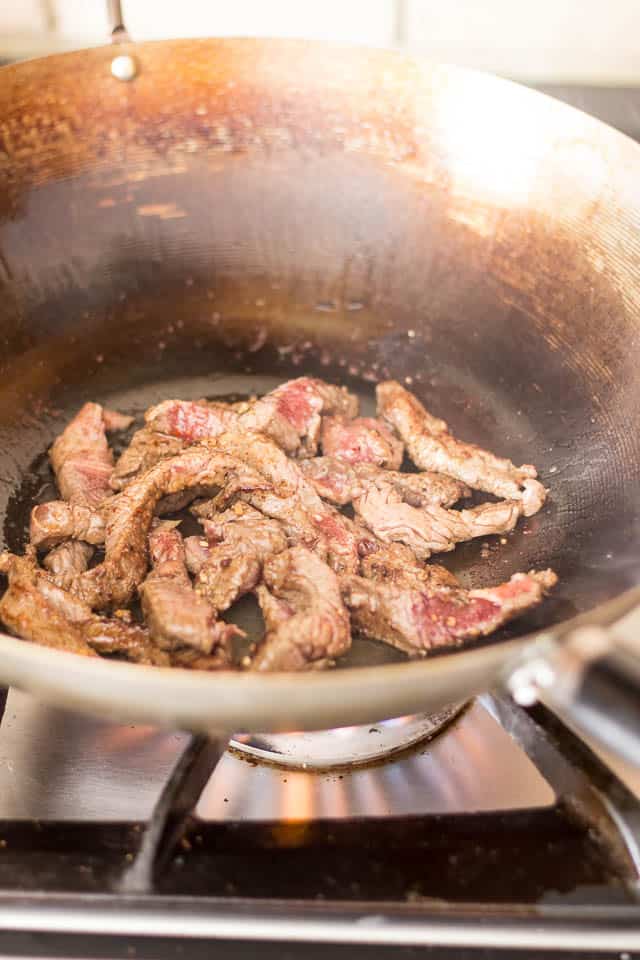 Typically, a stir-fry needs to cook at a very high temperature for a very short amount of time. And if you opted to go with beef for protein, you might want to keep it slightly under-cooked to make sure that it remains tender. Rare definitely is the way to go! 
Overcooking it will only result in tough, chewy meat and frankly, no one wants that…
So get that wok really scorching hot, add a generous amount of heat stable fat in there and cook that meat in several small batches for about 45 seconds to a minute per batch, tops.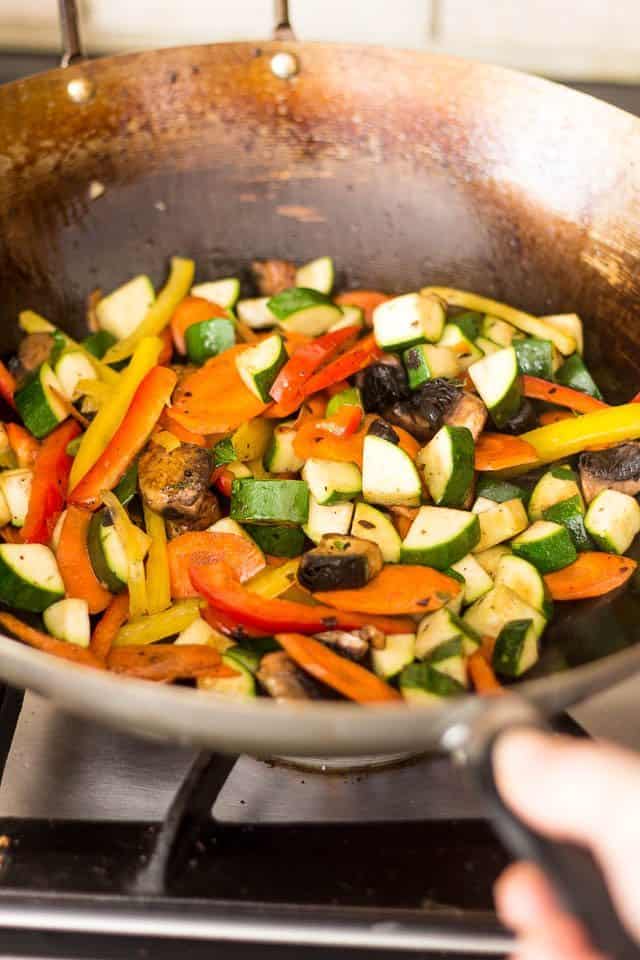 Once all the meat is cooked, it's time to add the veggies. In this case, they all go in at once and the same principle applies.
Cook them at high temperature for a short amount of time, and stir / sauté almost constantly. Don't let your veggies stay in the same spot for more  than a few seconds. After 2 to 3 minutes, your vegetables will be cooked plenty. You don't want to turn them into mush. Make sure that they retain a little bit of a bite to them.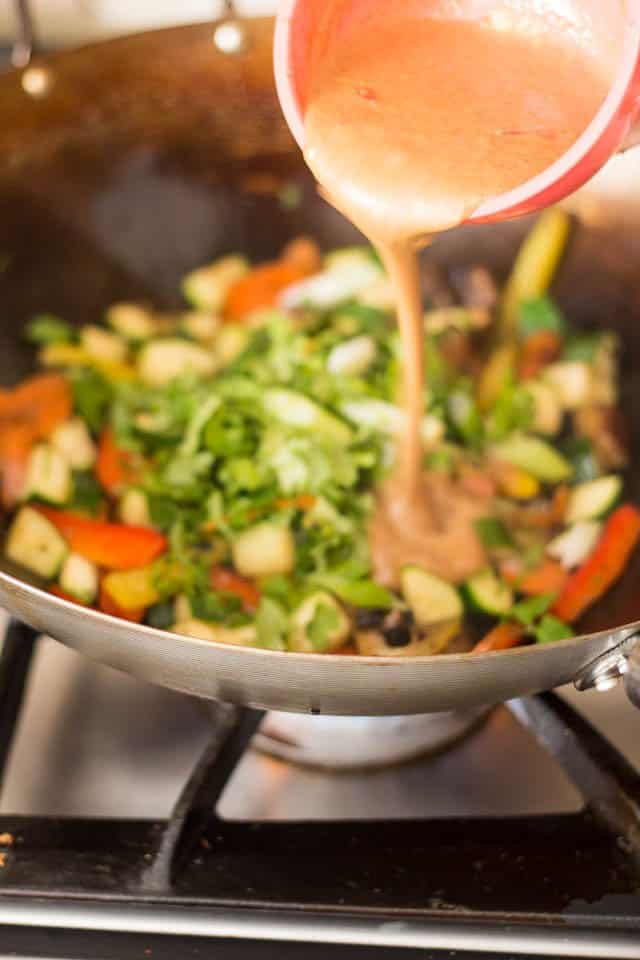 Time to add the fresh cilantro, green onions sauce. Stir that in quickly and let it cook until thickened, about 1 minute…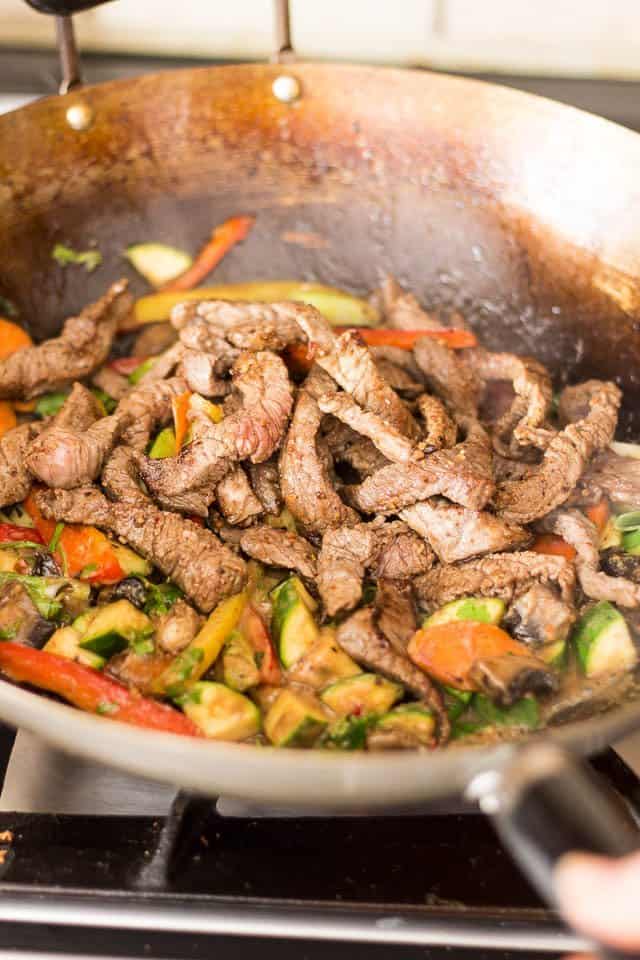 then throw the meat back in.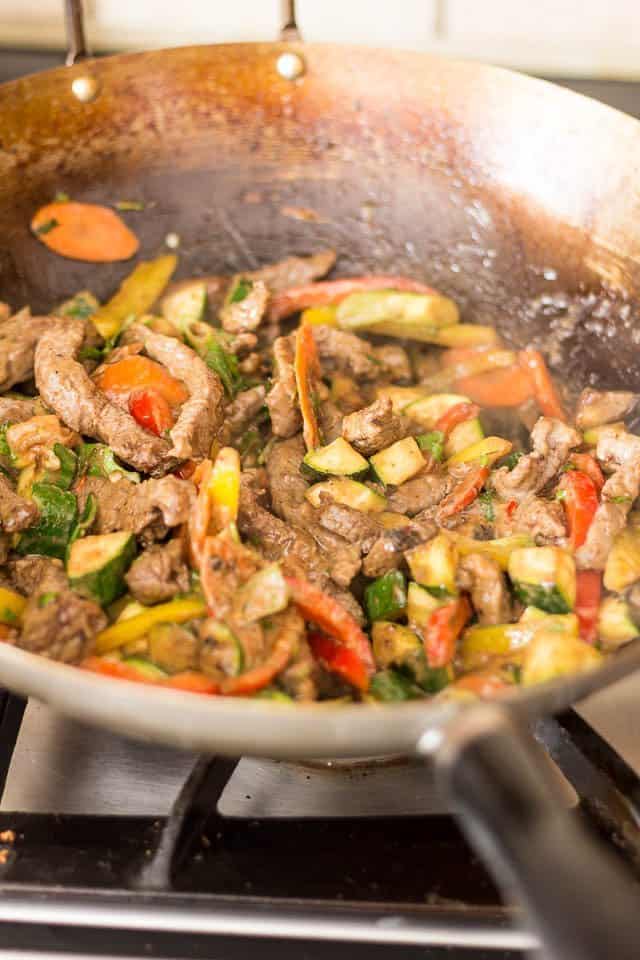 Give your dish a quick stir until everything is evenly coated.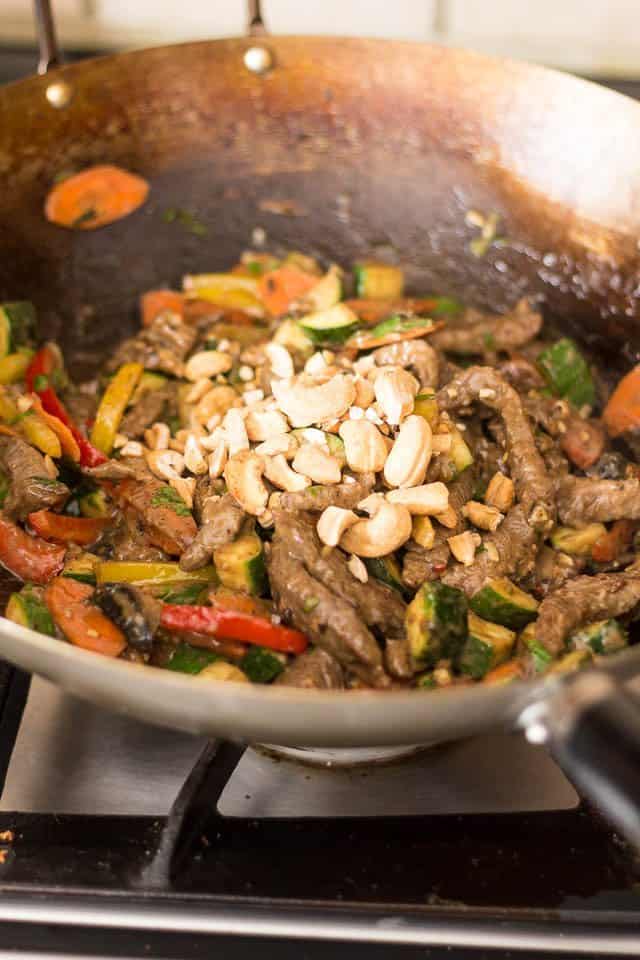 Then finally, add the cashews, stir one last time and serve.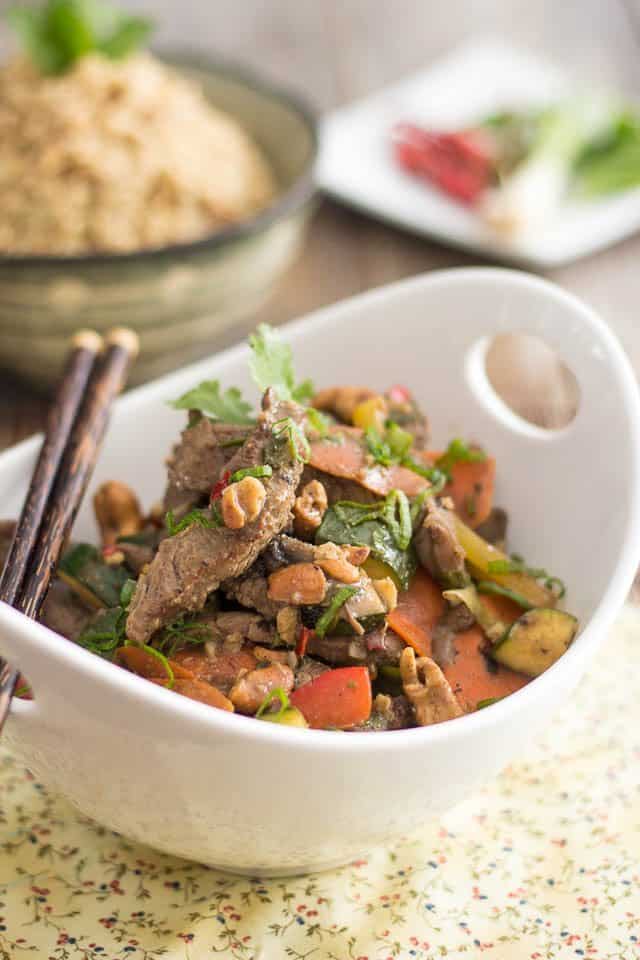 This dish is fantastic on its own and doesn't need much of anything else, but if you're one of those people who prefer to have their stir-fry with a side of rice, you might want to whip up a batch of Almond Coconut Cauliflower Rice to go with that.
The two of them do pair surprisingly well!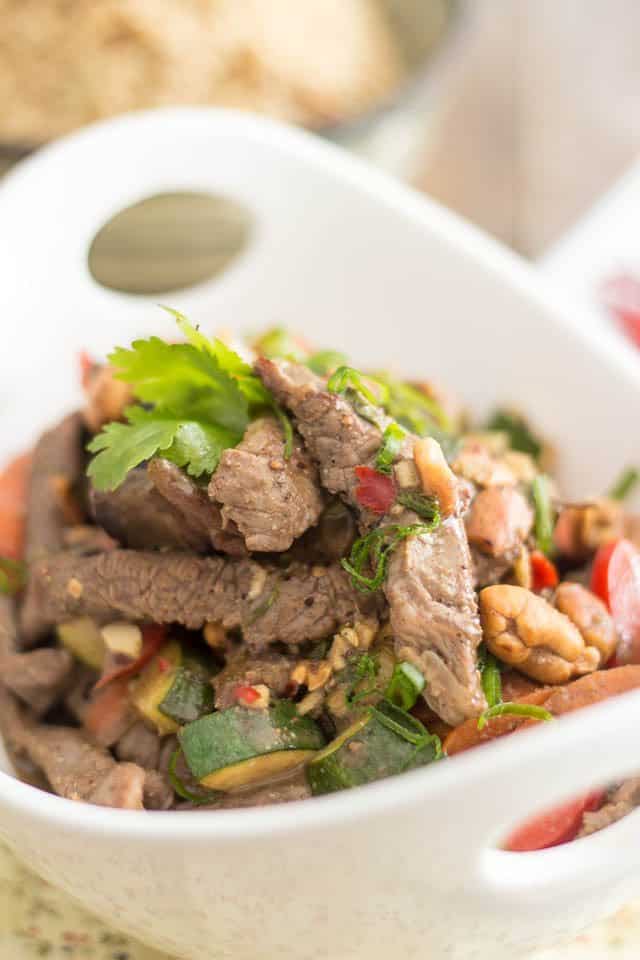 Yep. I definitely have to start making stir-fries more often.
I only wish that they reheated a little better… you all know how much I'm a fan of leftovers! Frankly, though, reheated stir-fries do tend to get a little too mushy for my taste.
But hey, they take so very little time to make from scratch, that's barely even an issue. Guess I'll just have to make a fresh batch every time.
It is very well worth the effort!
Ginger Cashew Beef Stir-Fry
Servings: 4
Ingredients
Meat and Veggies
675 g 1-1/2lb beef sirloin, cut into thin strips and patted dry
1 tbsp magic mushroom powder
2 medium zucchinis, diced
1 carrot, thinly sliced
1 portebello mushroom, diced
1/2 yellow bell pepper, sliced
1/2 red bell pepper, sliced
2 tbsp fresh ginger, finely chopped
1 large clove garlic, minced
Sauce
1/4 cup rice wine vinegar
2 tsp toasted hazelnut almond butter, or other all natural nut butter
2 tbsp coconut aminos
1 tbsp sesame oil
1 tbsp fish sauce
1 tsp Chinese 5 spice
2-3 dried birds eye chili peppers
1 tsp tapioca flour
1/4 cup water
Garnish
1/4 cup unsalted dry roasted cashews
2-3 tsp fresh cilantro, chopped
2 green onions, chopped
Instructions
In a small mixing bowl, add all the ingredients for the sauce and whisk until well incorporated.

Sprinkle the magic mushroom powder over the pieces meat and toss to coat meat as evenly as possible. (alternatively, you could sprinkle generously with salt and pepper)

Heat a generous amount of coconut oil in a wok set over very high heat. When your wok is scorching hot, add beef strips in 2 or 3 batches and saute very quickly, about 45 seconds to one minute total, until just browned but still slightly under-cooked.

Transfer the cooked meat to a bowl to collect the juices.

Once all the meat is cooked, add zucchini, carrots, mushrooms, bell peppers, ginger and garlic to the wok. Again, sauté until just tender, about 2-3 minutes total.

Add cilantro, green onions and sauce. Stir well and continue cooking for about 1 minute, until the sauce thickens.

Throw meat back in, add cashews, give one final stir and serve.
If you've tried this recipe, please take a minute to rate the recipe and let me know how things went for you in the comments below. It's always such a pleasure to hear from you!
You can also FOLLOW ME on PINTEREST, FACEBOOK, INSTAGRAM and TWITTER for more delicious, healthy recipes!