Goat Cheese Shrimp Dip and Canapés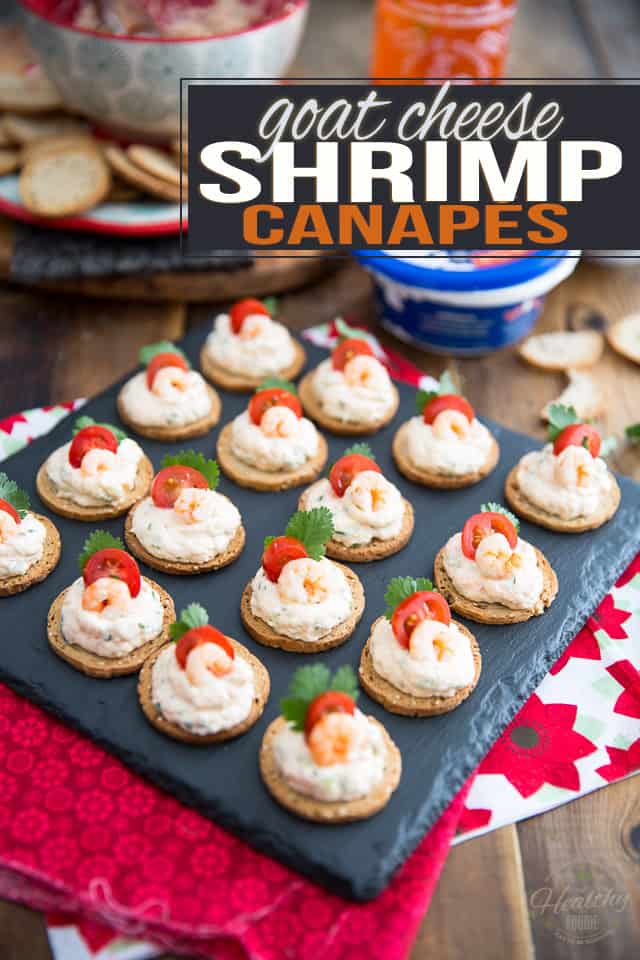 If you're looking for a last minute appetizer / finger food recipe idea for your New Year's party, I've got just the thing for you!
This delicious Goat Cheese Shrimp Dip can be served as is with crackers, or quickly and easily turned it into elegant little canapés that your guests will absolutely love and devour.
And the best part about these is, apart from being ready in no time, is that you can really adapt them to suit your or your guests personal preferences.
Oh, and they're fairly nutritious too… but that, no one really needs to know about!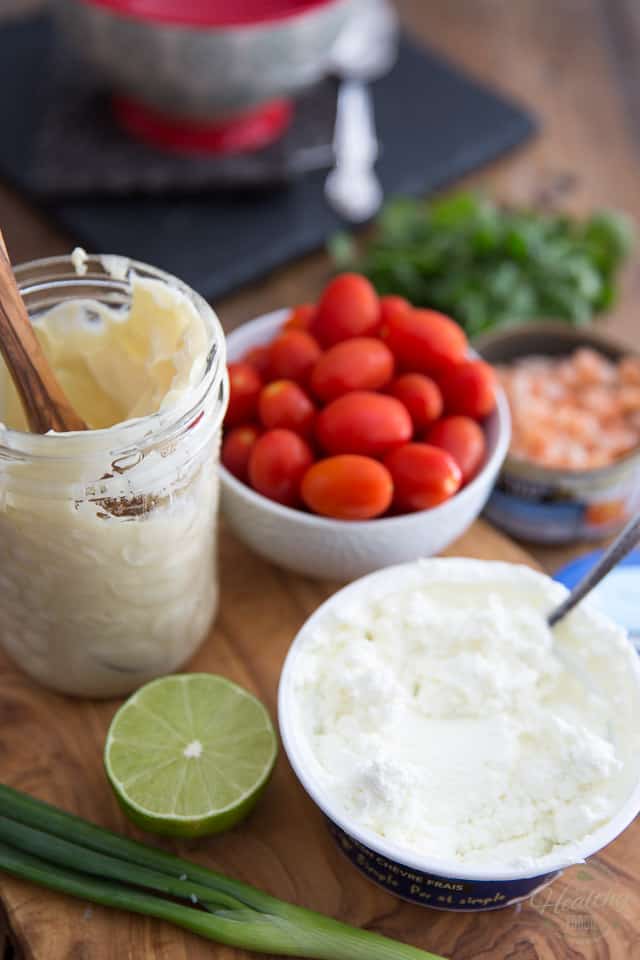 Regardless of how you choose to serve this delicious hors-d'oeuvre, the first thing you're gonna need to do is make the cheesy shrimp mixture.
To start, gather and prep all your ingredients…
I chose to make mine with soft goat cheese, cuz I'm a big fan of the distinctive zing that it confers to the dip, but if you're not a fan yourself, you could just as easily use softened cream cheese instead. Full fat, reduced fat – the choice is yours! Just make sure it's at room temperature, for easy mixing!
You could even use a combination of both cheeses, if you wanted some of the flavor from the goat cheese but wanted to tone it down a bit. As long as you use approximately the same total amount, you'll be just fine.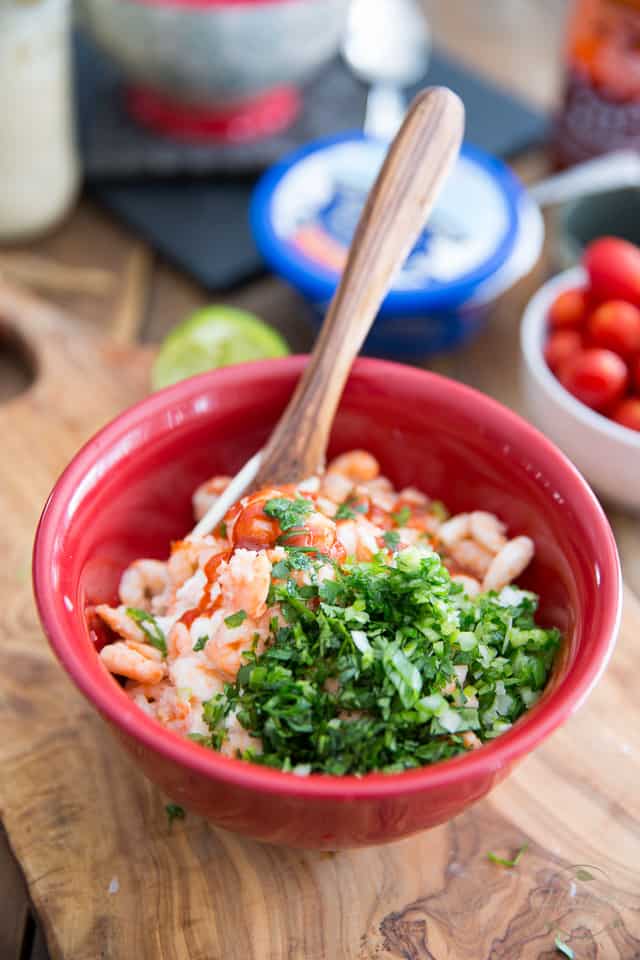 Likewise, I chose to use canned shrimp, for the sake of convenience, but you could also cook your own shrimp, let them cool and then chop them really finely, if you preferred. Crab meat would also work really really well, I'm sure of it!
Whatever you do, if you're planning on serving this in the form of canapés, make sure that you save a couple dozen intact shrimp (or pieces of crab meat) to garnish them later.
Otherwise, if you know you'll be opting the for dip and crackers or crudités option, just dump everything right into a mixing bowl…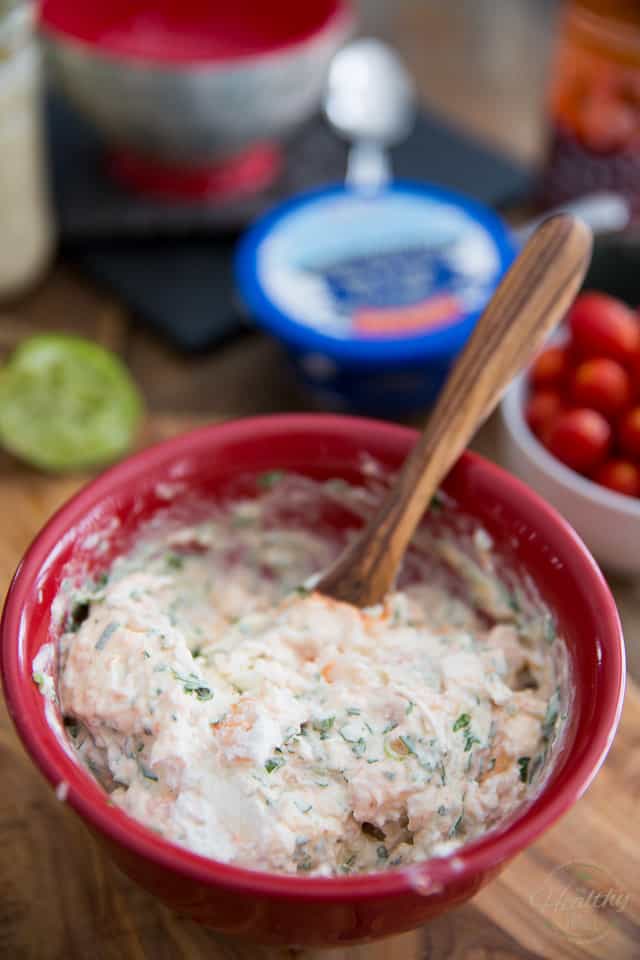 Give everything a good but delicate stir with a large spoon, until all the ingredients are evenly combined. Oh, but before you do that, here are a few other substitution ideas for you.
If you're not a fan of cilantro (I used to really hate it myself, but it's sorta started to grow on me now) you could very well replace it with fresh parsley instead.
For the lime juice, you could obviously sub lemon juice. As for the sriracha, I find that one teaspoon gives the dip a really nice and noticeable kick, but if you're not a fan of heat, feel free to use less or to even leave it out entirely. Or add more, if you like it really hot!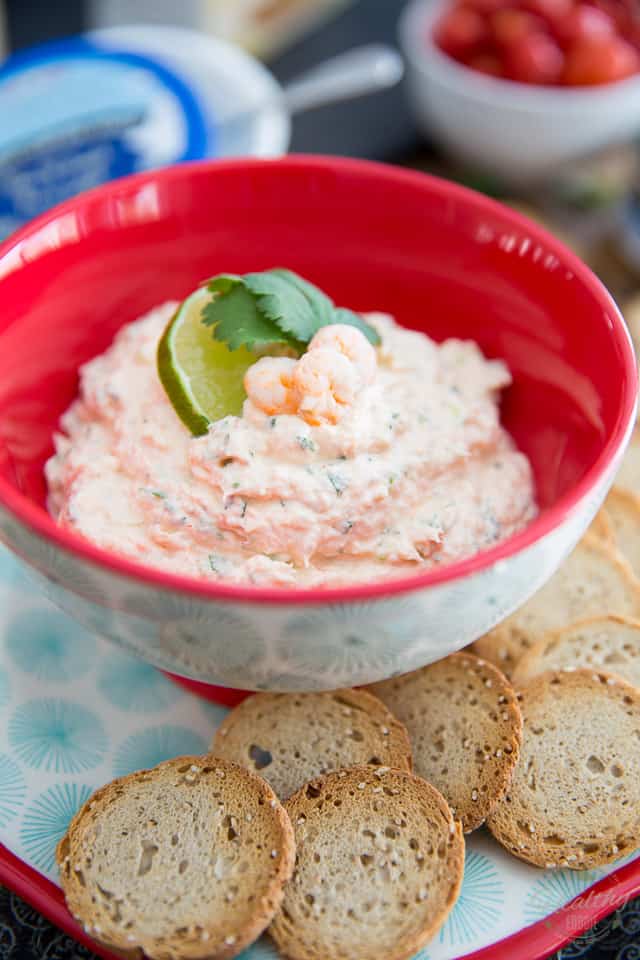 And of course, the green onions aren't absolutely necessary. If you wanted to go easy on people's breaths, you could also leave those out entirely, or maybe even replace them with finely chopped celery.
Just make sure that you keep all the quantities fairly similar to those mentioned in the original recipe…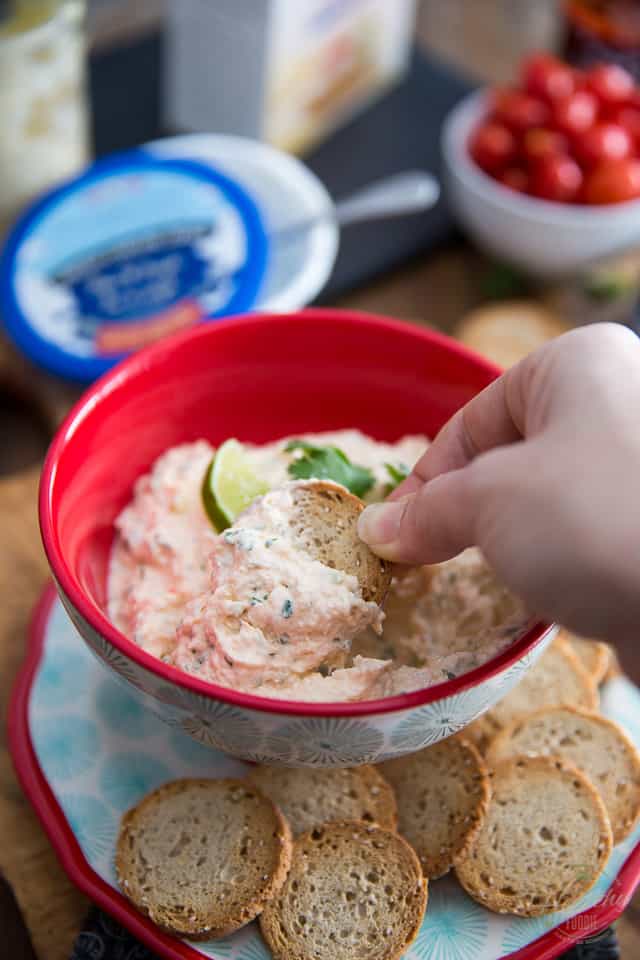 Now that you've got all your ingredients combined, you can stop right here and serve this as a dip, with a few crackers, melba style toasts, or even crudités.
See? The options they just keep on coming!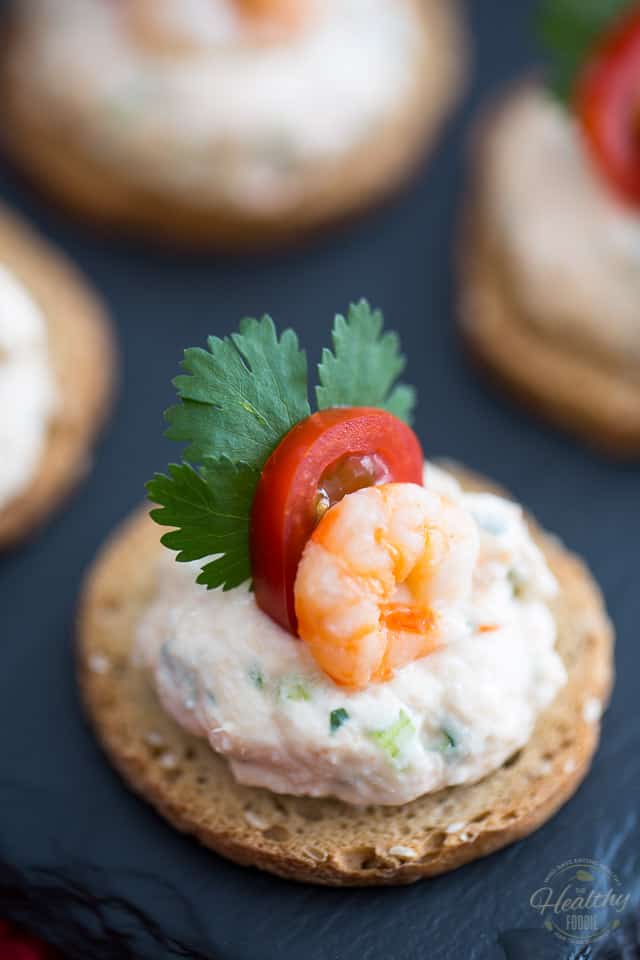 If you're gonna make the canapés, just pipe a little dollop of the cheesy shrimp mixture onto a round cracker or Melba type toast, then garnish with a shrimp, a thin slice of cherry tomato and a fresh cilantro leaf…
Arrange your canapés on a beautiful plate (I used my favorite plates in the whole wide world: gorgeous slate plates which were offered to me by the amazing people at SlatePlate.com) and then hit the whole platter with a little bit more sriracha sauce, if desired.
Oh, and one last thing: make sure that you assemble your canapés at the very last minute, otherwise they might get kind of soft and mushy on you. Not exactly what I would call ideal.
They only take minutes to assemble, though, so you won't have to keep your guests waiting too long…
And I can guarantee they'll disappear in no time!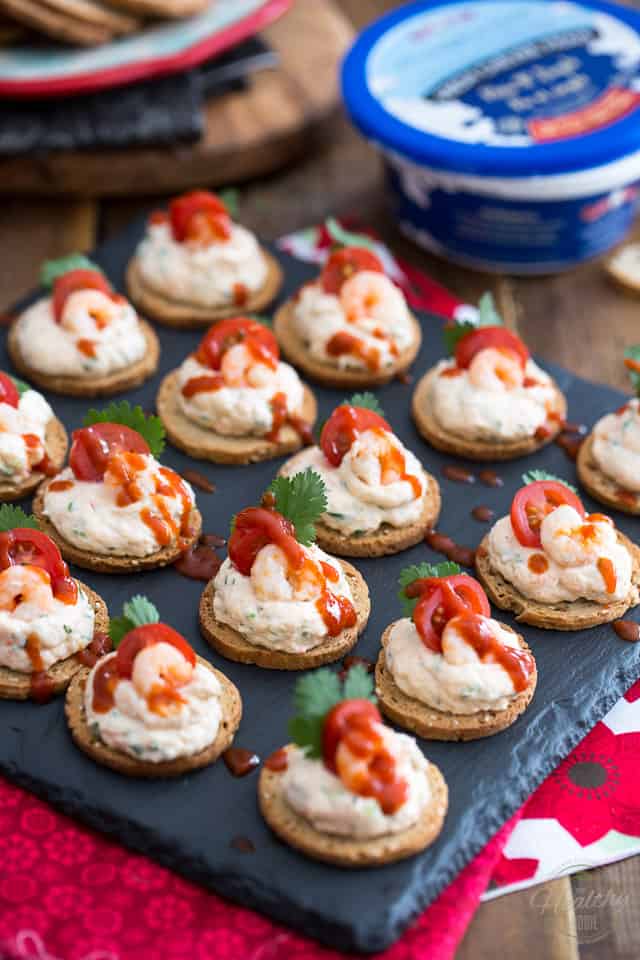 Goat Cheese Shrimp Dip and Canapés
You can choose to serve this delicious Goat Cheese Shrimp Dip as is with crackers, or quickly and easily turn it into elegant canapés.
Servings: 24 pieces
Ingredients
For the shrimp dip
2 - 4oz cans small shrimp, drained (save about 24 shrimp to garnish the canapés)
8 oz soft unripened goat cheese, (or softened cream cheese)
1/4 cup paleo mayo
1 green onion, finely chopped
2 tbsp finely chopped fresh cilantro
1 tsp sriracha
1 tsp fresh lime juice
To make the canapés
24 small shrimp, saved from above list
24 round crackers or melba style toasts
8-10 cherry tomatoes, sliced
fresh cilantro leaves
sriracha sauce
Instructions
Make the shrimp dip:
Combine the shrimp, goat cheese (or softened cream cheese), mayo, chopped green onion, cilantro, lime juice and sriracha in a mixing bowl and mix delicately with a large spoon until well combined.

If you want to serve as a dip, you can serve immediately with crackers or crudités.
To make the canapés:
Just before serving, pipe a small amount of the shrimp dip over round crackers or melba style toasts. Garnish each canapé with a small shrimp, a slice of cherry tomato, a fresh cilantro leaf and a splash of sriracha sauce, if desired.

Serve immediately.
Nutrition
Calories: 52kcal, Carbohydrates: 1g, Protein: 4g, Fat: 4g, Saturated Fat: 2g, Cholesterol: 29mg, Sodium: 129mg, Potassium: 22mg, Fiber: 1g, Sugar: 1g, Vitamin A: 133IU, Vitamin C: 2mg, Calcium: 28mg, Iron: 1mg
If you've tried this recipe, please take a minute to rate the recipe and let me know how things went for you in the comments below. It's always such a pleasure to hear from you!
You can also FOLLOW ME on PINTEREST, FACEBOOK, INSTAGRAM and TWITTER for more delicious, healthy recipes!