Healthier Mashed Potatoes
Mashed potatoes don't need to be filled with all kinds of cream, fat and butter to be light, creamy, fluffy and so deliciously comforting! Don't believe me? Here's proof…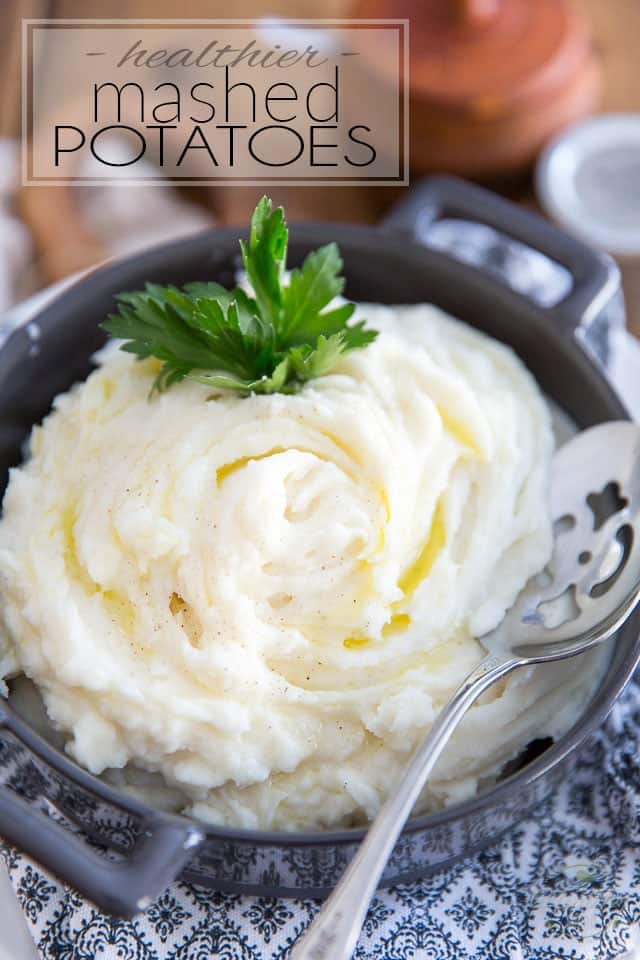 When you think mashed potatoes, healthy probably isn't the first thing that comes to mind… I'll give it to you, they probably don't rank first in the nutrition department; But hey, they're not SO bad either and let's face it, they're just so darn good and such a huge part of our heritage, there's just no way you could go your entire life without eating them.
And the way I see it, mashed potatoes don't need to be filled with all kinds of cream, fat and butter in order to be satisfyingly light, creamy, fluffy and so deliciously comforting! Here's proof!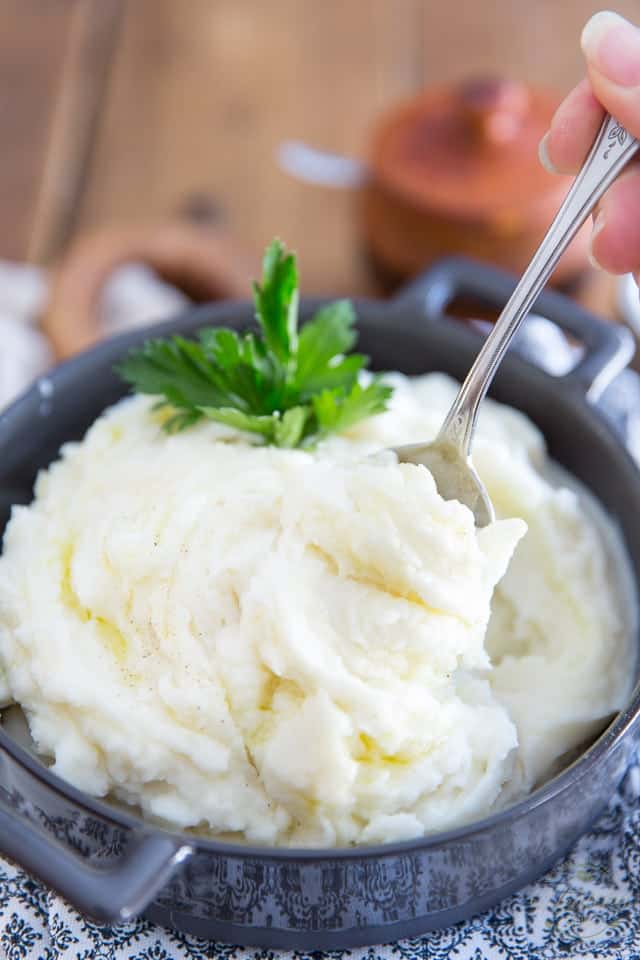 And yes, before you start scrolling down and have a heart attack on me, I feel I must warn you: I beat my mashed potatoes with an electric mixer. Now I can already hear the purists screaming, admonishing that in order to get perfectly light and fluffy potatoes, you have to puree them gently with a potato masher, or even better yet, use a ricer…
Well, I've personally been making mashed potatoes with an electric mixer ever since I was a little kid and I've always been renowned for the "extraordinarity" of my mashed potatoes. Ever since I can remember, I was the one in charge of making mashed potatoes, EVEN on Christmas day… I think that says a lot about the technique: It works, so long as you follow a few simple rules, which I'm more than happy to share with you…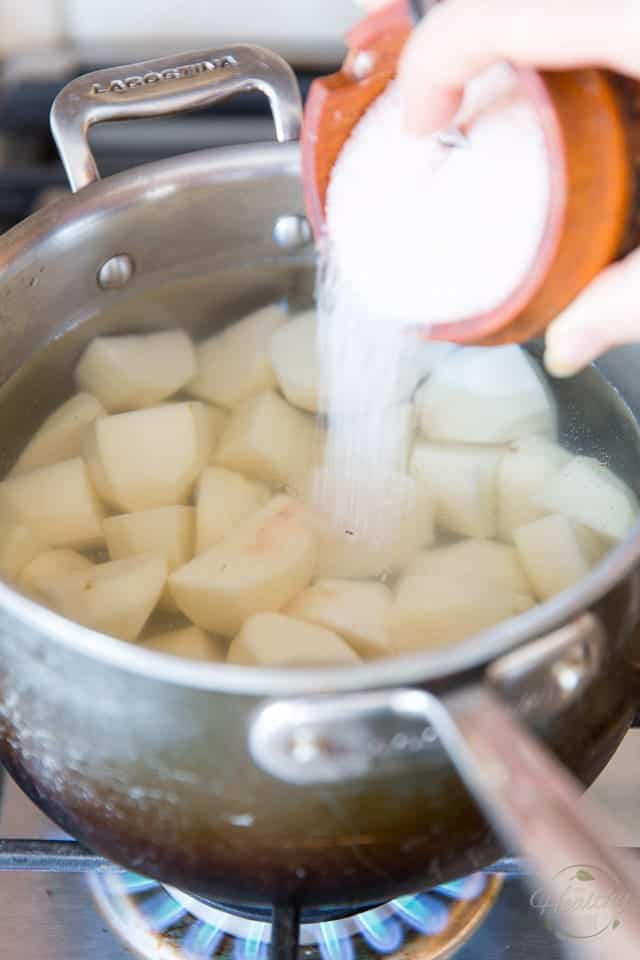 Rule #1. Use the right type of potatoes!
Be sure to choose a variety of potato that's high in starch, such as Russets, Idaho or Yukon Gold. They will give you a lighter, fluffier mash and also absorb more flavor than their waxy counterparts.
Rule #2. Start them in cold water
Peel, rinse and cut your potatoes into fairly large chunks. Cover them in plenty of cold SALTED water (more on this later), bring to a boil then cover and reduce to a high simmer. If you start cooking your potatoes in boiling water, they will likely cook unevenly and the outside will fall apart before the center even has had a chance to cook. This will result in a mash filled with all kinds of tiny hard lumps. Yuck!
Rule #3. Salt, salt, salt the water
Just like pasta, potatoes absorb water — and salt — as they cook. Adding salt now will ensure that every single starch particle in the potatoes gets infused with salt, so you won't need to add as much, if any at all, when you mash the potatoes, resulting in a mash that's well and evenly seasoned. How much salt should you add to your water, you ask? Enough that it tastes like the sea, I say.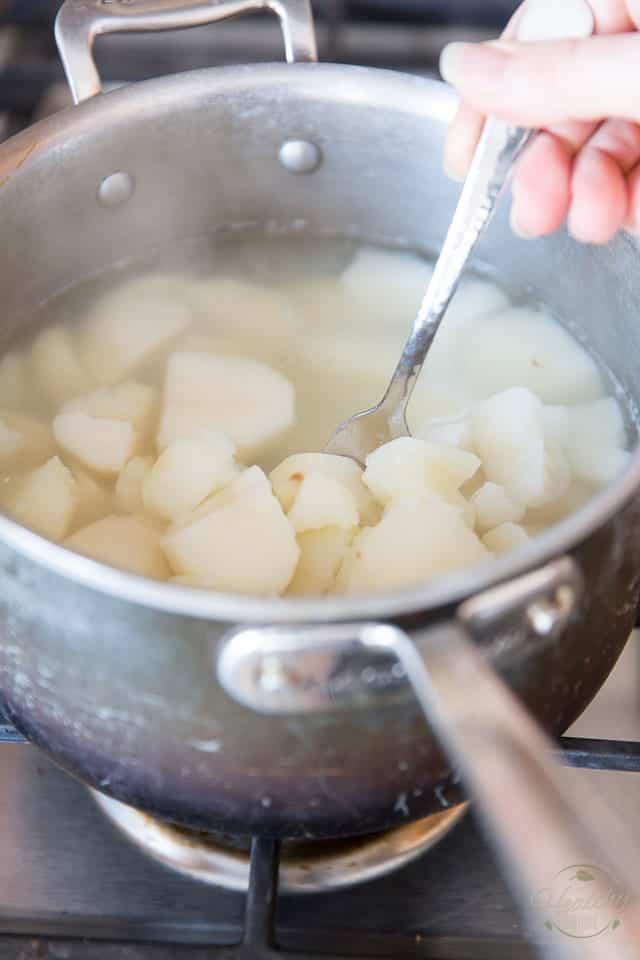 Rule #4. Cook your potatoes really well
Nothing will ruin your mash faster than a batch of undercooked potatoes. Be sure to cook your potatoes until they are super soft and tender and practically fall apart when you poke them with a fork.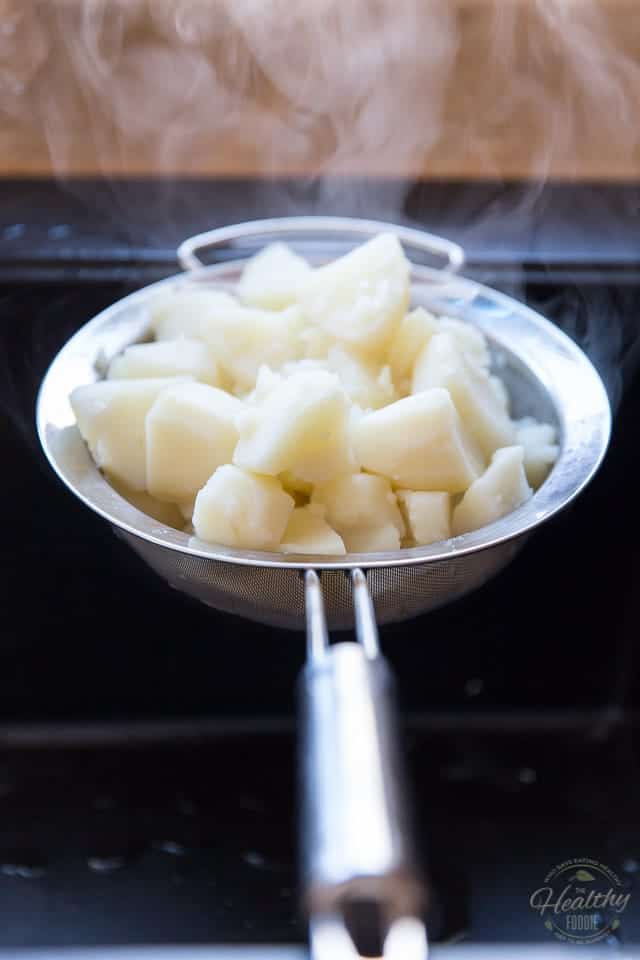 Rule #5. Drain your potatoes really well
Make sure to drain your tubers really well after cooking, otherwise they will give your mash a watery taste. Don't just remove the water from the pot; transfer the potatoes to a colander or sieve and leave them in there for a minute or two so they have a chance to really dry out. You could even go the extra mile and put them back in the pot and heat them slightly on the stovetop to be sure that they are really nice and dry.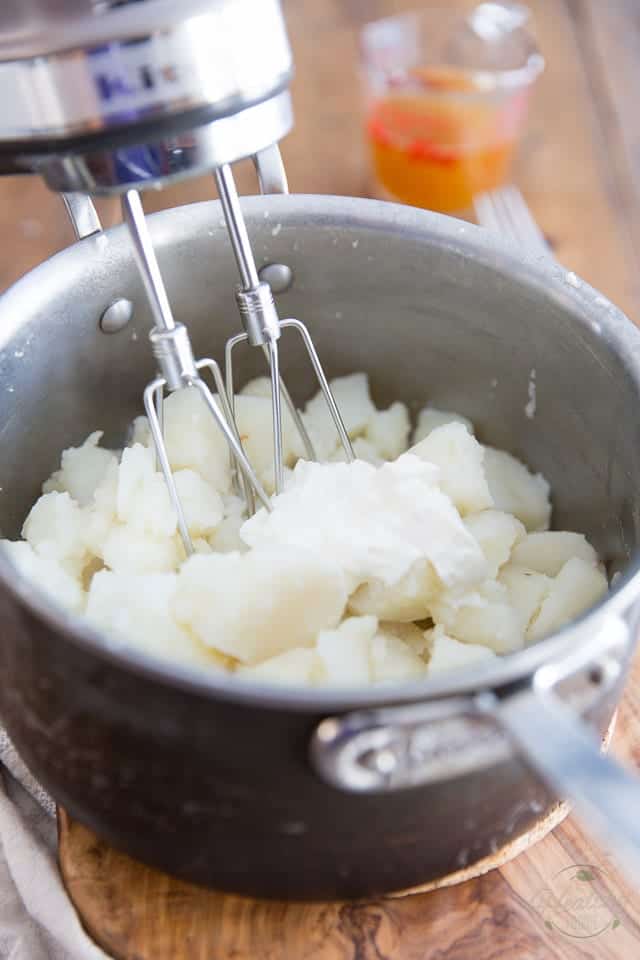 Rule #6. Don't go adding super cold ingredients to your hot potatoes
Ideally, you'll want to let your milk and sour cream come up to room temperature before adding them to the potatoes. For one, warm ingredients will get absorbed more easily by the potatoes, and they won't cool the whole thing down…
To keep my mash on the lighter side, I like to use sour cream in lieu of butter and milk instead of cream… Not only that, but I also happen to really love the tangy edge that the sour cream brings to the mash. However, if you were in an indulgent mood, feel free to use butter and/or cream if you prefer!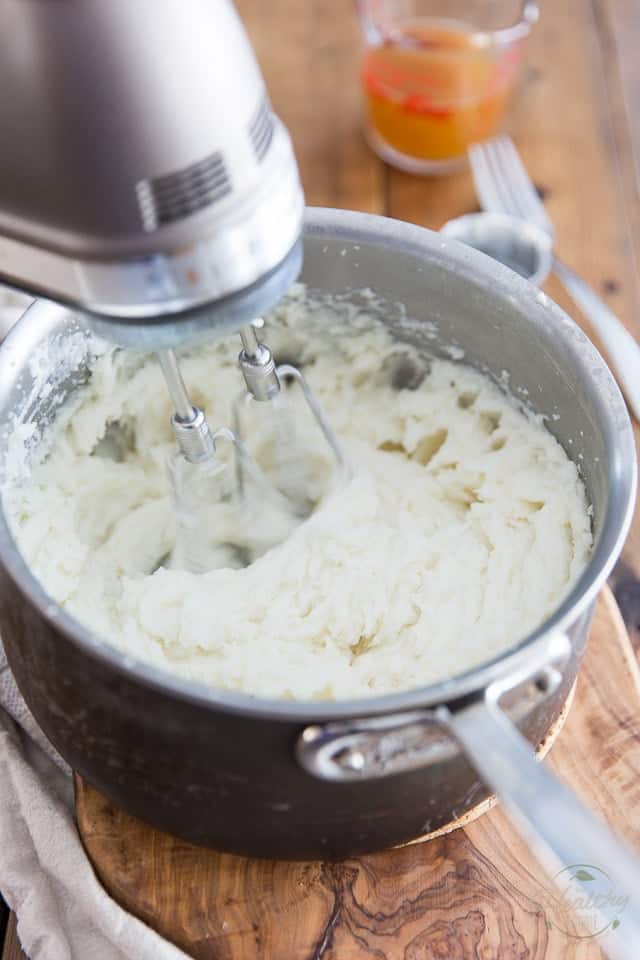 Rule #7. Don't over-do the beating thing
Even if we're using an electric mixer, it doesn't mean that we have to beat the living hell out of this mash. Start with the mixer on low and progressively move on to medium-high speed, and beat the potatoes until they are completely reduced to a smooth puree. Keep in mind that, theoretically, you still have more liquid to add to the mash, so don't get over-zealous at this point…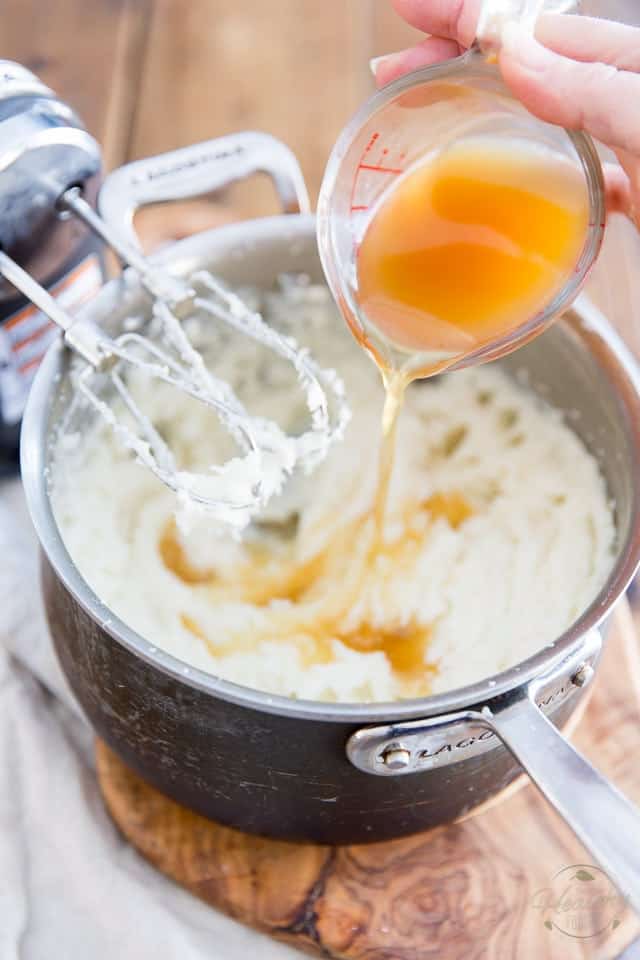 Rule #8. Don't go adding too much liquid at once
As Emeril used to say, it's always easy to add, but it's much harder to remove. Now is the time to adjust the consistency of the mash and we all have different preferences when it comes to that; be sure to add just enough warm liquid, a few tablespoons at a time and beating well between each addition, until your preferred consistency is achieved.
Again, to keep my mash on the lighter side, as well as to add tons of flavor to it, I like to use chicken stock, but you could just as well use more milk or cream, if that was more to your liking.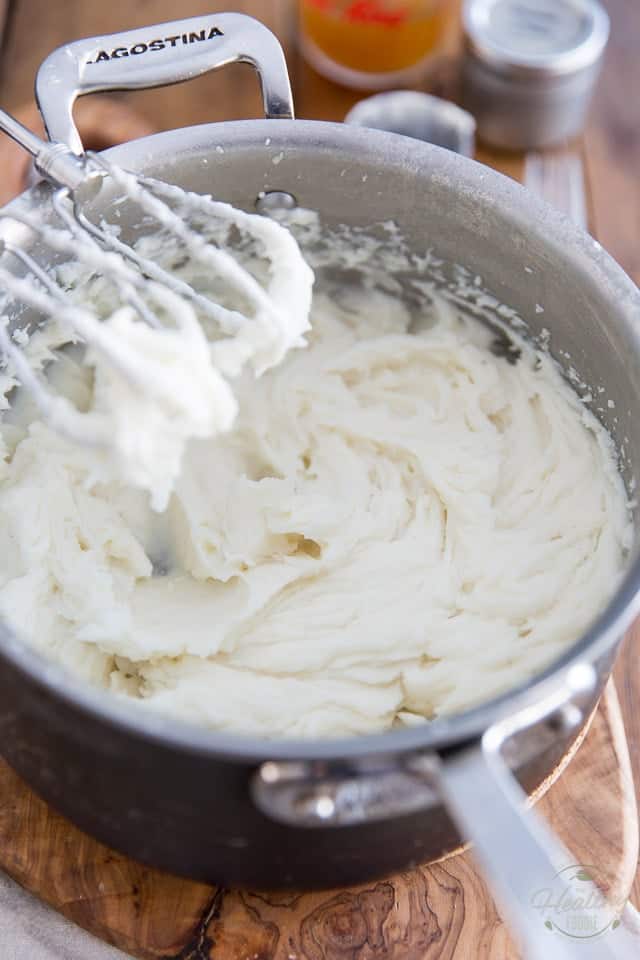 Rule #9. Wait until the very end to adjust seasoning
With so many variables along the way, not one mash will be identical, so it's better to wait until the very end to adjust seasoning. I like to keep things simple and season mine with just a little bit more salt (if needed) and a dash of ground white pepper, but now's the time to let your imagination run wild and spiff your mash up a bit, if you are so inclined.
Stir in a few tablespoons of finely chopped onions, chives or parsley, or even a little bit of minced garlic, why not?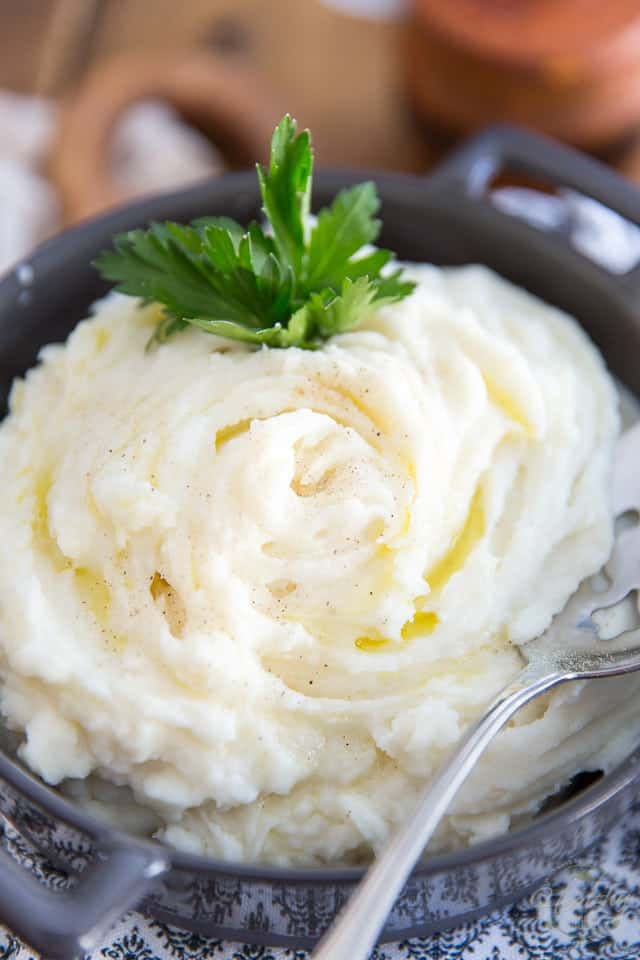 Rule #10. Mashed potatoes wait for no-one…
Ideally, you want to serve your mashed potatoes just as soon as you're done, as they tend to dry out and start to taste like cardboard in no time; in other words, it's one of those dishes that you definitely shouldn't even consider making ahead of time.
Leftovers can be reheated in the microwave with fairly good results, or used as part of a recipe that calls for leftover mashed potatoes… (I feel one of those coming up)
But for now… let's just enjoy this beautiful, light, fluffy and creamy mash of goodness, shall we?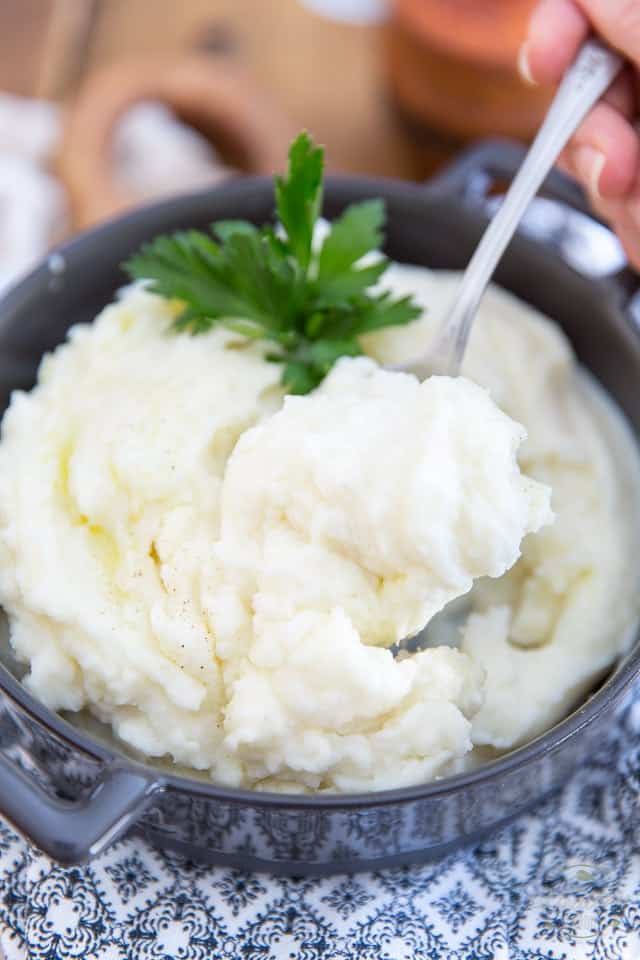 Healthier Mashed Potatoes
Here's proof that mashed potatoes don't need to be filled with all kinds of cream, fat and butter to be light, creamy, fluffy and so deliciously comforting!
Servings: 6
Ingredients
8-10 medium russet potatoes, or other starchy potato
1/4 cup sour cream, at room temperature
1/4 cup whole milk, at room temperature
1/4 to 1/2 cup warm chicken stock , (use only as much as necessary)
Salt and ground white pepper to taste
Instructions
Peel, rinse and cut the potatoes in 4 to 6 pieces.

Place the potatoes in a medium saucepan, cover them with cold water and add enough salt so that your water tastes like sea water; it's imperative that your water be fairly salty!

Cook over high heat until the water comes to a boil, then lower the heat to a high simmer, cover and continue cooking until the potatoes are super tender and pretty much fall apart when you pierce them with a fork, about 20 to 25 minutes.

Drain the cooked potatoes and give them a minute or two to dry out in the colander, then return them to the pot.

Add milk and sour cream and beat with an electric mixer, starting on low and progressively moving on to medium-high speed, until the potatoes are completely reduced to a smooth puree.

Start adding the warm chicken broth, a few tablespoons at a time, beating well on high speed between each addition, until the desired consistency is achieved.

Adjust seasoning, give the potatoes a final whipping and serve without delay.
Nutrition
Calories: 249kcal, Carbohydrates: 52g, Protein: 6g, Fat: 2g, Saturated Fat: 1g, Cholesterol: 6mg, Sodium: 26mg, Potassium: 1211mg, Fiber: 3g, Sugar: 2g, Vitamin A: 75IU, Vitamin C: 16.2mg, Calcium: 59mg, Iron: 2.4mg
If you've tried this recipe, please take a minute to rate the recipe and let me know how things went for you in the comments below. It's always such a pleasure to hear from you!
You can also FOLLOW ME on PINTEREST, FACEBOOK, INSTAGRAM and TWITTER for more delicious, healthy recipes!