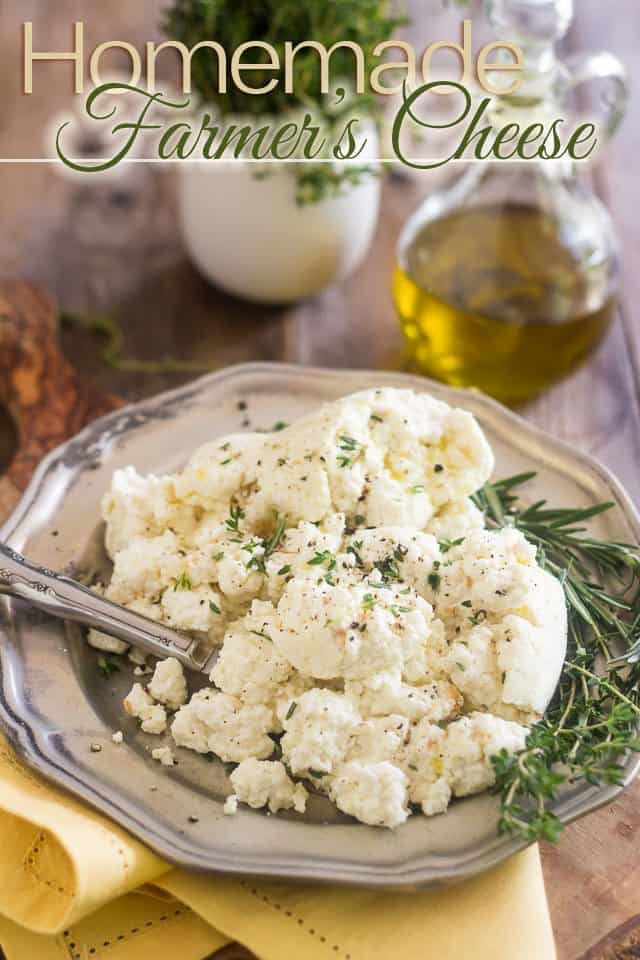 I know I said I wasn't doing dairy anymore, but this is different!
My primary reason for wanting to eliminate dairy from my diet is that it's really hard to come across high quality, well sourced, unprocessed dairy products in my part of the world.
But I was recently privileged enough to get my hands on some fresh raw milk which came directly from my son-in-law's grandpa's farm. I can't even begin to tell you how excited I was when he and my daughter handed me the precious glass jar! I felt just like I'd just been offered some kind of a long lost treasure. Yes, raw milk is THAT hard to come across around here.
I really wish it wasn't the case though, and hopefully, I'll be able to get some of that precious elixir more often. I'd forgotten just how much I LOVE cheese! And now that I got a chance to try my hand at making my very own Fresh Farmer's Cheese, and realized just how easy it is to make, I dream of being able to whip up a fresh batch every week.
I'd also love to try my hand at making homemade yogurt, cottage cheese, sour cream and more complex cheeses, like cheddar and mozzarella, too!
Maybe I should look into buying my very own cow… HA! If only it was that easy!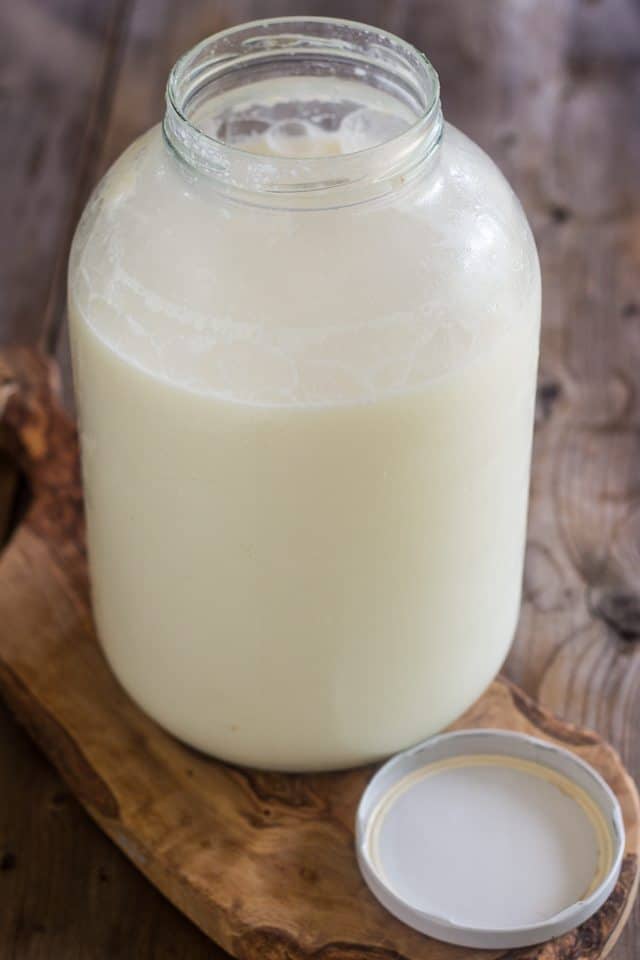 Alright, so theoretically, I was supposed to start with a full gallon of fresh milk, but I couldn't resist drinking a little bit from the jug before I got started making the cheese. Oh, and I also indulged in a couple of spoonfuls of cream before I mixed it all in. O.M.G. is that stuff ever good.
Oh, and before we go any further, I feel I should specify that, according to all the information I read on the art of making Fresh Farmer's Cheese, you absolutely HAVE to use fresh, raw milk for this. The process will not work if your milk has been pasteurized or homogenized.
So you really need to get your hands on the real deal, which might very well be the toughest part, for seriously, you will not believe how stupid easy this stuff is to make…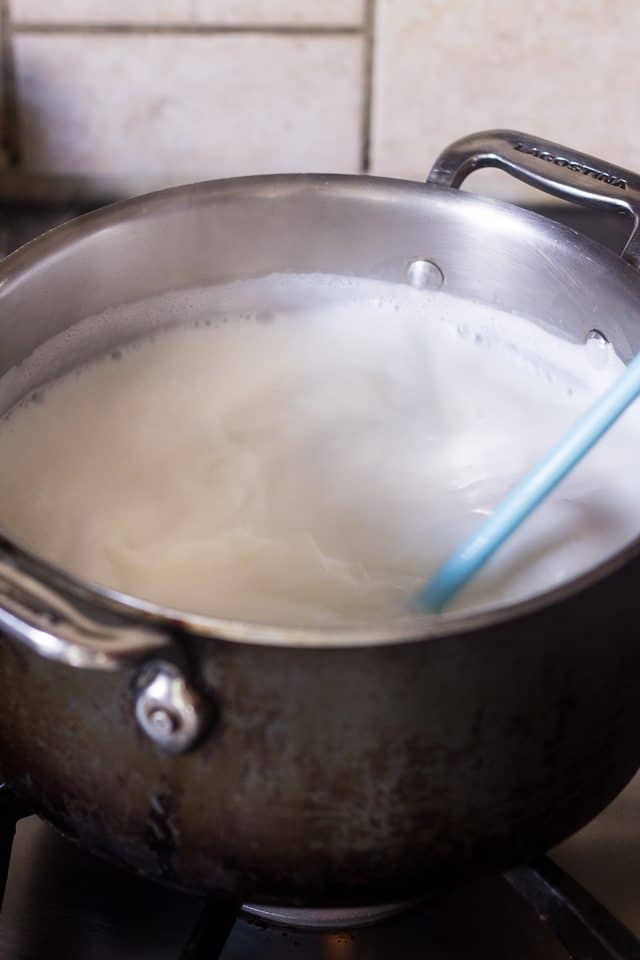 First, you need to bring your fresh farm milk to a simmer over low heat. You'll want to stir it pretty much constantly to make sure it doesn't scorch (to be honest, though, mine did a little, and my cheese was still excellent, so don't fret too much if it happens to you…)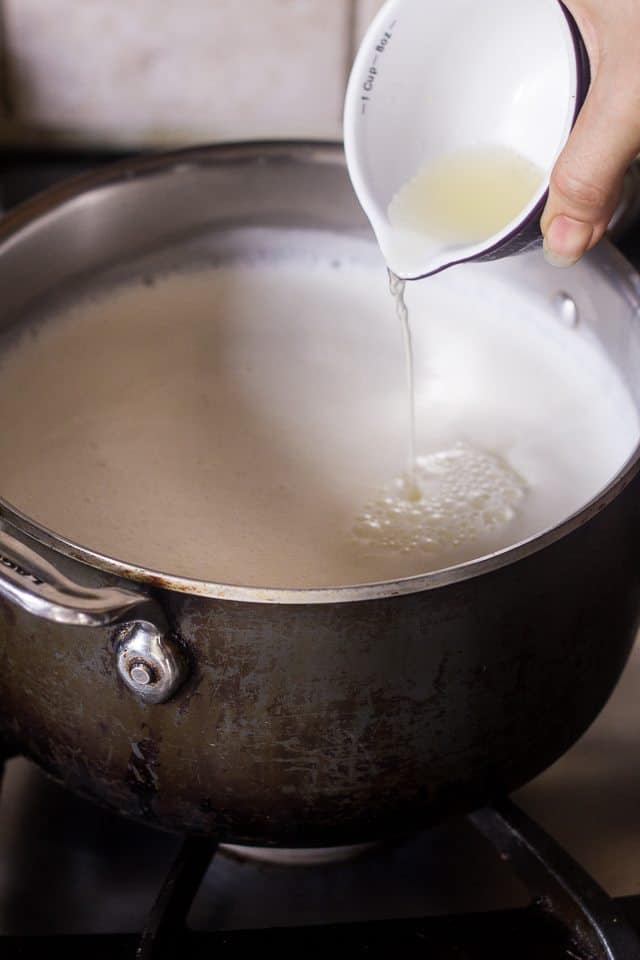 As soon as your milk starts to simmer, pour in the lemon juice and apple cider vinegar and stir well.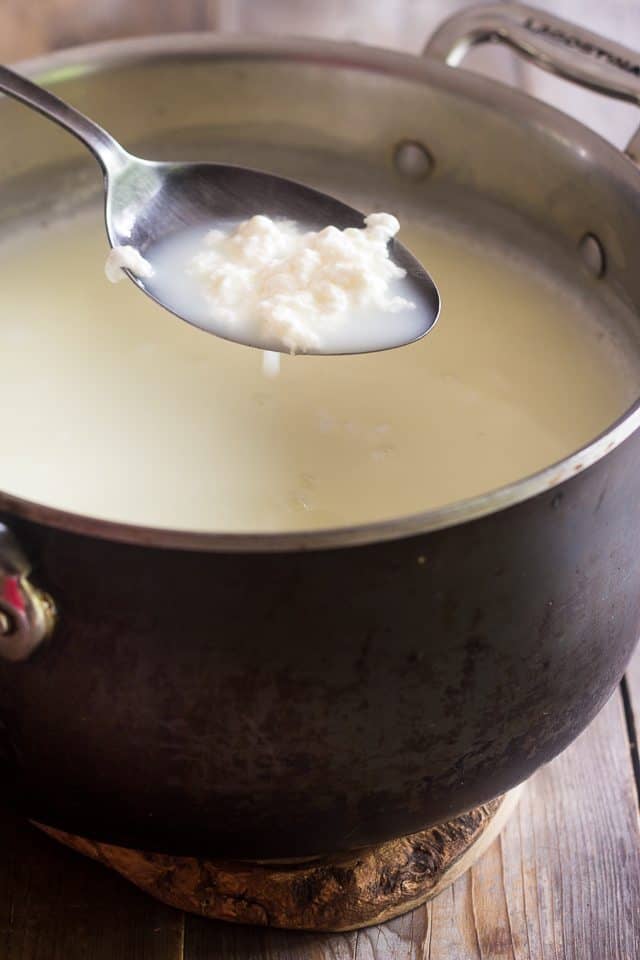 Almost instantly, you'll see the milk start to curdle. If it doesn't, add a little bit more vinegar, one teaspoon at a time, until the milk separates into whey and curds.
Kill the heat and let the milk rest for at least 10 minutes, undisturbed.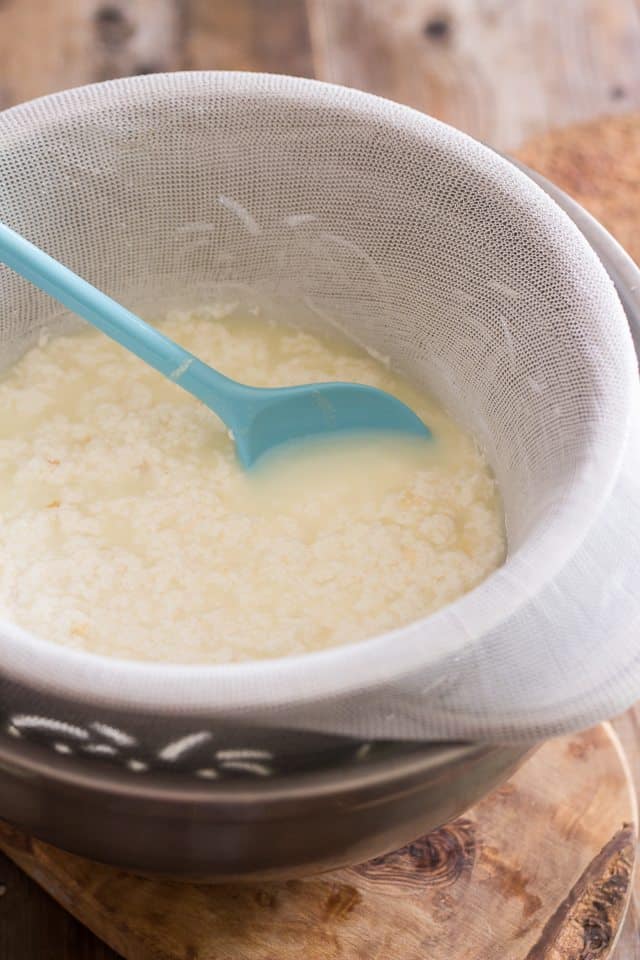 Line a colander with a layer of cheesecloth and place it over a large bowl to collect the whey (if you wish to save it, that is, but honestly, you really should!).
Pour the curdled milk into the lined colander…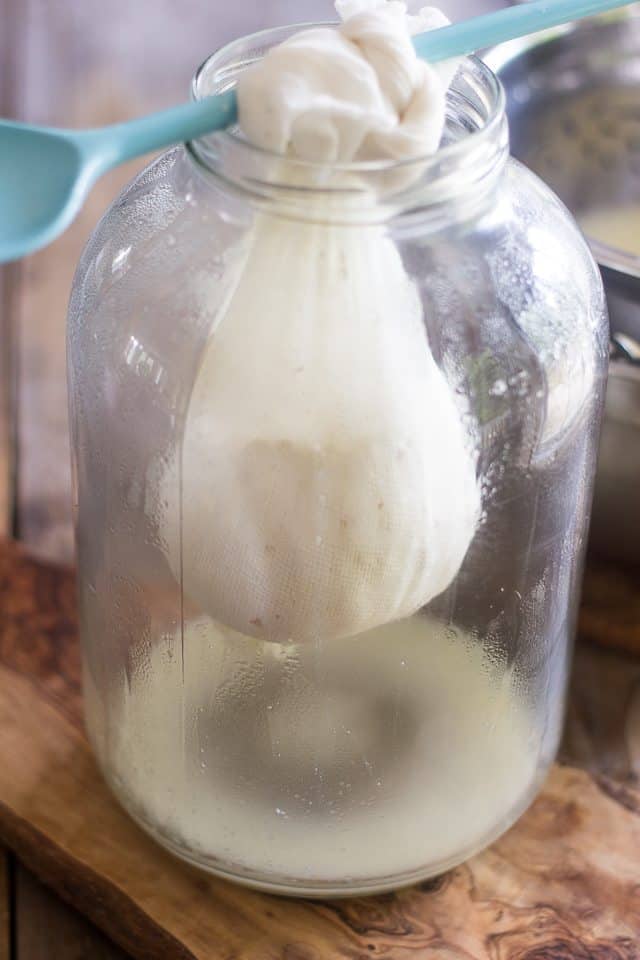 … then tie up the cheesecloth and hang it do drip for one or two hours.
You can just hang it over a bowl to collect the whey, or use a large glass jar or pitcher. Just make sure that your cheesecloth doesn't come in contact with the bottom of the recipient.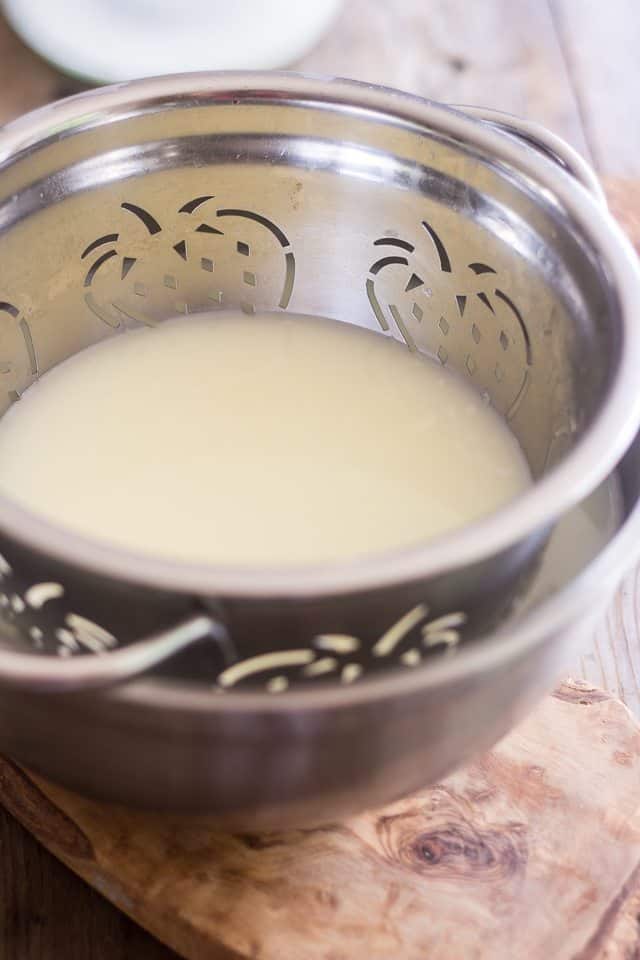 While that's dripping away, let's deal with all that whey that got left behind!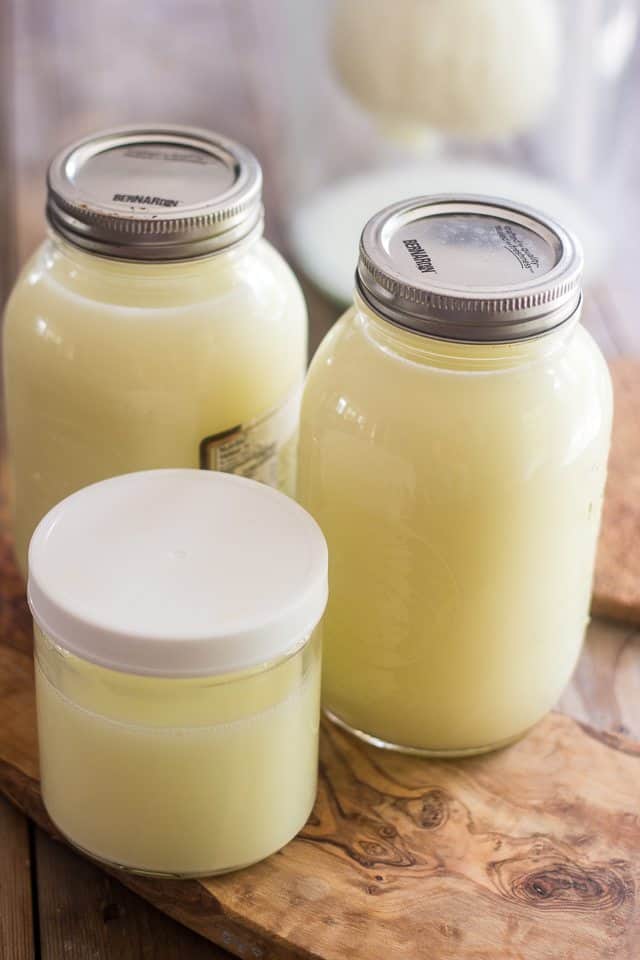 If you wish to save it (which again, I really think you should), transfer it to several mason type glass jars and keep refrigerated for up to a week of freeze it for up to 3 months.
You can then use this whey in your favorite recipes, pretty much like you would milk or buttermilk:
use it instead of milk in baked goods or pancakes;
make delicious marinades that will not only impart lots of flavor to your meat but will also help tenderize it;
add some to your favorite soups, stews and even smoothies to give them a bit of a zing
if you do white potatoes, whey is apparently a fantastic liquid to cook them in and is absolutely delicious when added to mashed potatoes (Now THAT, I can definitely imagine… I might have to try it someday! A few white potatoes won't kill me, will they? Hey, I mean, the starchy tuber's even Whole30 approved now…)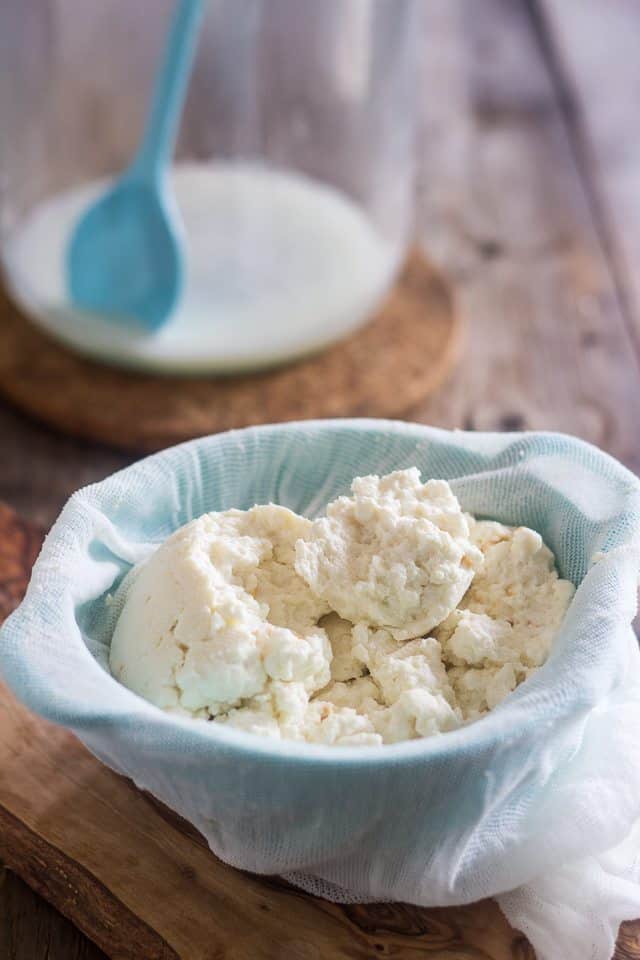 Alright, enough about white potatoes and whey already, let's get back to the pièce de résistance, shall we?
Once your cheese is done dripping, cut the cheesecloth open and roughly break up that yummy cheese between your fingers.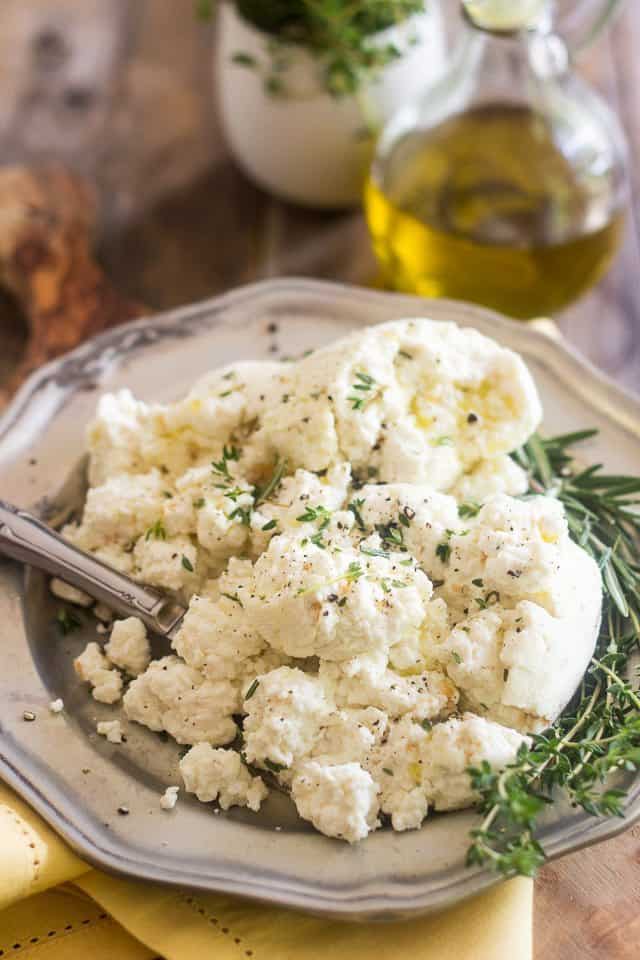 Transfer it to a plate, drizzle with a generous amount of extra-virgin olive oil and sprinkle with fresh herbs, salt and pepper.
This cheese is delicious as is, mounded on top of Rosemary and Sesame Paleo Crackers, but it's also absolutely magical to use in creamy, cheesy dishes. It melts in the most delicious way and it's mild yet slightly tangy flavor will transform an ordinary dish into a true gustatory celebration.
Just wait 'til you see the delicious casserole that this batch of fresh cheese went into…
Homemade Fresh Farmer's Cheese
Serves:
Yields approximately 1lb
Instructions
Bring the milk and salt to a simmer over low heat, stirring almost constantly to prevent the milk from scorching.
As soon as the milk starts to simmer, pour the lemon juice and apple cider vinegar right in and stir for a few seconds. The milk should start to curdle immediately; if it doesn't, add a little bit more vinegar, one teaspoon at a time, until the milk separates into whey and curds.
Kill the heat and let the milk rest for at least 10 minutes, undisturbed.
Line a colander with cheesecloth and place it over a large bowl to collect the whey (if you wish to save it). Pour the curdled milk into the lined colander then tie up the cheesecloth and hang it do drip for one or two hours.
Once the cheese is done dripping, open the cheesecloth and roughly break up the cheese with your finger. Transfer to a plate, drizzle with a generous amount of extra-virgin olive oil and sprinkle with fresh herbs, salt and pepper.
Keep refrigerated in an airtight container for up to a week.
If you chose to save the whey, transfer it to several mason type glass jar and keep refrigerated for up to a week of freeze for up to 3 months.*
Notes
*You can use this whey pretty much like you would buttermilk: use it instead of milk in baked goods or pancakes, make delicious meat tenderizing marinades, add some to give a bit of a zing to your soups and stews or even your favorite smoothies…