Kale Salad with a Tropical Twist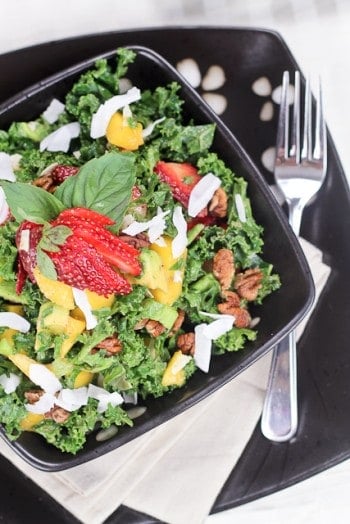 Please, guys, let me get something off my chest here…
AAAAARRRGGH!!!
There, I feel better… I think!
For tonight would be one of those nights… you know the kind when absolutely NOTHING seems to be working.
And when I say nothing, I'm not kidding.
EVERYTHING about this post seems to be going wrong.
I'm trying to upload images, but keep getting this stupid HTTP error… been at it for over an hour, to no avail. Getting a bit furious, I figure alright, forget this, I'll just take another route and host my images elsewhere this time 'round. Let's get busy writing that recipe instead.
So I call the plugin, start writing the recipe in the little box, write, write, and write some more. Finish writing the recipe… so far so good.
At least THAT went well and is ready to go!
NOT!
Somehow, I managed to click OUTSIDE the plugin window, and just like that, poof! without so much as a tiny little warning, the window disappeared, gobbling my entire recipe as it went.
Now I'm just sitting here in total disbelief.
I should just plain give up, shouldn't I? For this sure would be a tough night in the life of a food blogger who wanted to go to bed early.
But no way, I will not have that!  This thing will not win.
I will share this recipe tonight.
You know why?
Because it's soooooo worthy of being shared, and this poor thing has been sitting in my "upcoming projects" box for way too long. It's about time I set it free and reveal it to the world in all its magnificent glory!
OK, I might be pushing it a little. But seriously, have you ever seen a kale salad looking so pretty before? I think it's almost too pretty to eat! Looks like she's all dressed up and ready to hit the beach, all girly and sexy that she is.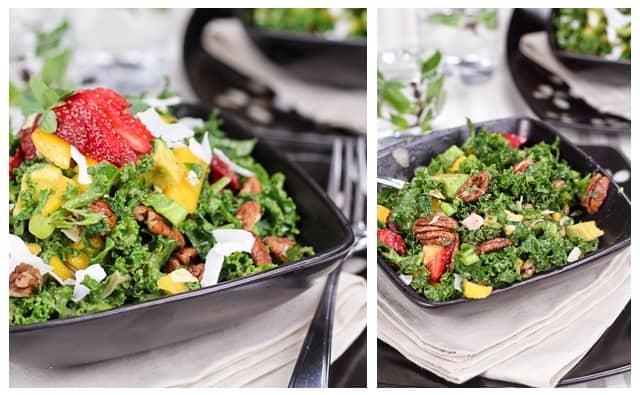 And the good thing is it tastes just as good as it looks.
With all these tropical accents, in the shape of strawberries, mangoes, pineapple and coconut, that one definitely makes for a very appropriate dinner on a warm summer night… or a superb salad to bring to a family picnic at the beach!
I can almost smell the sunscreen lotion and the ocean just looking at it.
Can't you smell it too?
(and now… to hit the publish button before everything blows up in my face… or the power runs out!)
Kale Salad with a Tropical Twist
Servings: 2
Ingredients
½ ripe mango, diced
12 large strawberries, sliced
1 ripe avocado, diced
2 tbsp unsweetened coconut shavings
50 g pecan, coarsely chopped
10-12 sweet basil leaves, shredded
4 cups fresh kale leaves, shredded
For the dressing
The juice of 2 oranges
The juice of 1 lime
½ tsp Dijon mustard
1 tsp fresh ginger, grated
¼ cup fresh pineapple, chopped (or canned, unsweetened)
2 tbsp coconut cream
1 tbsp pure vanilla extract
1 tsp white wine vinegar
¼ tsp each salt and pepper
½ tsp fresh thyme, chopped
Instructions
In a small food processor or blender, mix all the ingredients of the dressing and process until smooth and well combined. Set aside.

In a large mixing bowl, add all the ingredients of the salad, pour in dressing and mix until all is very well incorporated.

Divide between 2 serving plates and garnish with a fresh strawberry and a pinch of coconut shavings, if desired.

Although it's preferable to eat this salad right away, it will still keep somewhat well in the refrigerator until the next day.
If you've tried this recipe, please take a minute to rate the recipe and let me know how things went for you in the comments below. It's always such a pleasure to hear from you!
You can also FOLLOW ME on PINTEREST, FACEBOOK, INSTAGRAM and TWITTER for more delicious, healthy recipes!