Paleo Bread
Since going Paleo, a little over a year ago, bread is not something that I really, truly missed.
That holds so true that I never even felt the need to recreate a paleo friendly version of this staple of the Standard American Diet. Truth is, before I stumbled across this recipe a couple of weeks ago, I didn't even feel the need to. And I decided to try my hand at it more out of curiosity than out of true craving.
Guess I've never been much of a bread person. Mind you, that's not entirely true. I've always been a huge fan of *good* bread.
What defines good bread to me, you ask? Well, definitely not the super soft, mushy and flavorless stuff that comes in a plastic bag. That kind of bread never did anything for me. Not even when I was a kid.
No, to me, good bread has texture and flavor. It can be dense, chewy, thick, crusty, crispy but mostly, it's super tasty. Yep. That last factor is of utmost importance. Bread has to, first and foremost, taste great.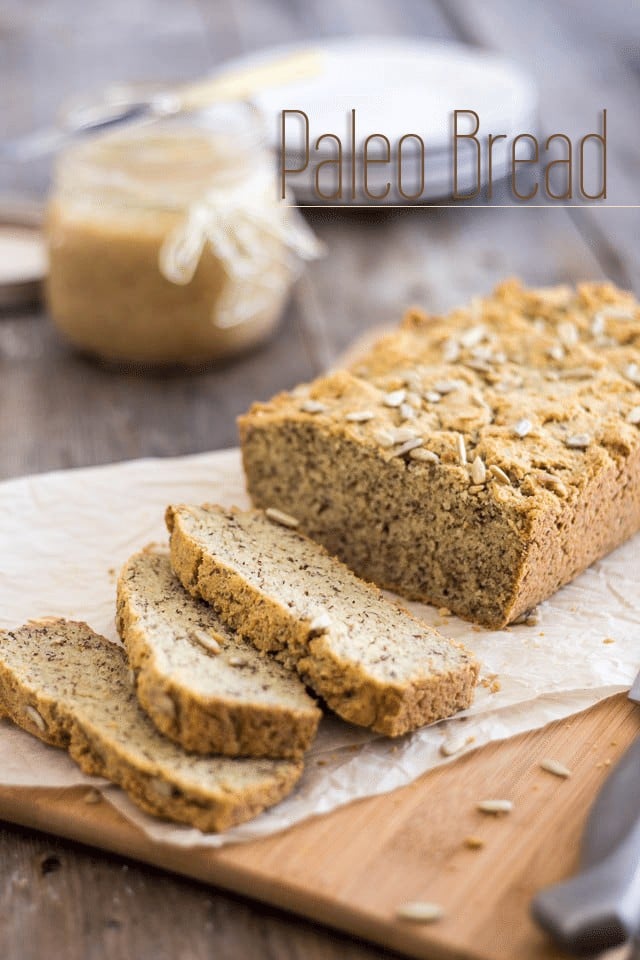 I guess that puts me in a good position to enjoy paleo bread, since "tasty" is quite easy to achieve even without gluten, and so are chewy and dense. Crispy, however, would be a little harder. Without gluten, I would say that this is almost impossible to obtain. But I can very well live with non-crispy.
Paleo bread will not rise much, either… well at least, this one didn't! In fact, when it first came out of the oven and I saw how flat it was still, I was a little disappointed and thought for sure that it was going to be a major flop. Such a shame, considering how amazingly good it the entire house smelled. But then I got to tasting it. OMG! It tasted like a thousand times better than it smelled.
This bread, I guess you could say, has more of a "cake-y" texture than a real "bread-y" feel to it: it's really soft and moist, kind of like a heavy pound cake, perhaps, but one that would be savory. Not an unpleasant texture at all, if you ask me, and it's so crazy tasty and more-ish, you soon get to thinking that you'd much rather be eating this than any old piece of traditional bread.
At least I know I do.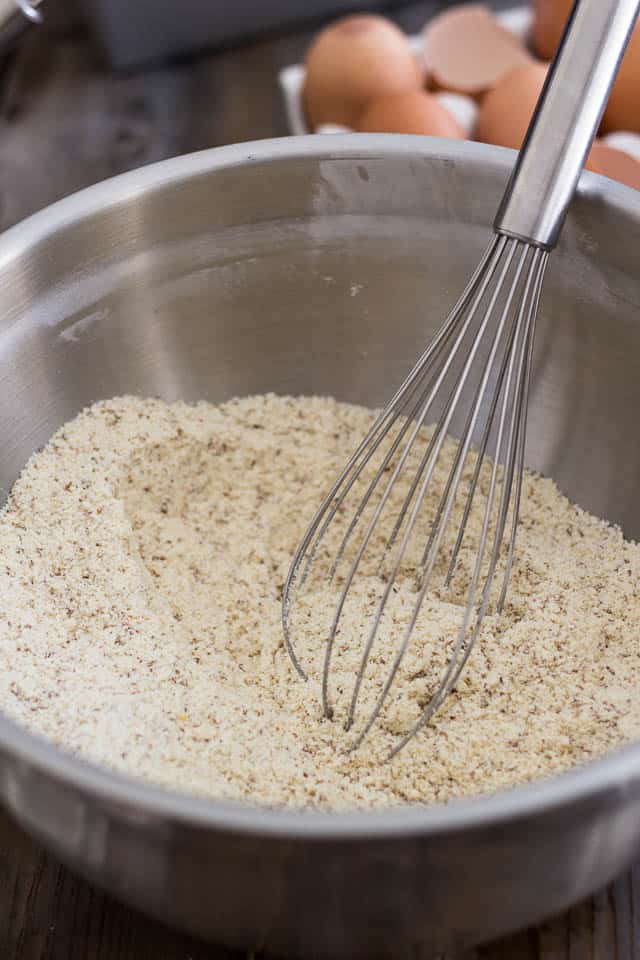 To make your own loaf, mix the dry ingredients in a large bowl until they are very well incorporated. Sifting, although not absolutely necessary, is strongly recommended, as it's the only surefire way to break down all the lumps (coconut flour is especially lumpy) and  catch any potential larger pieces or unwanted debris.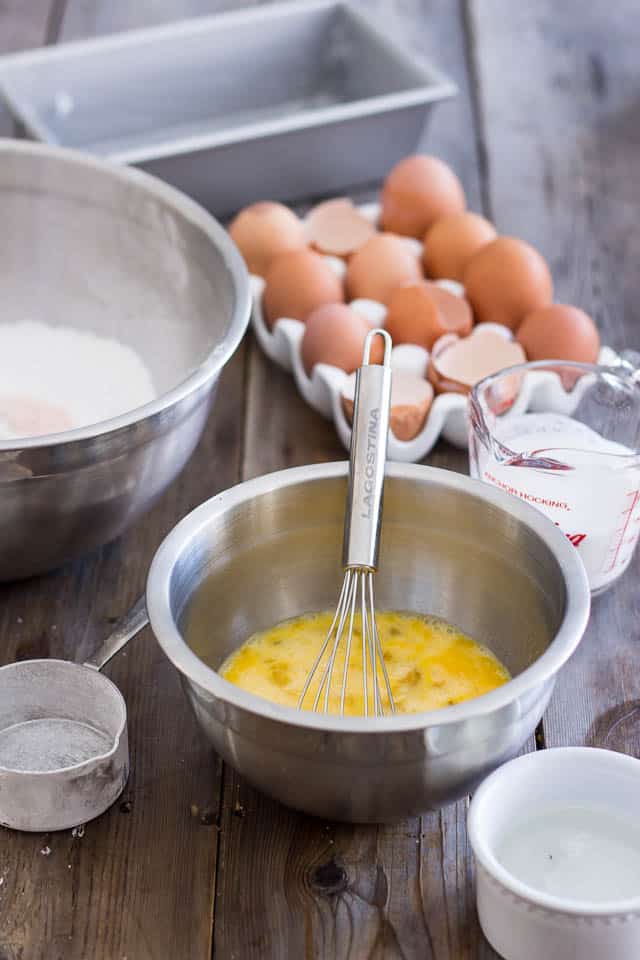 In a separate bowl, beat the eggs…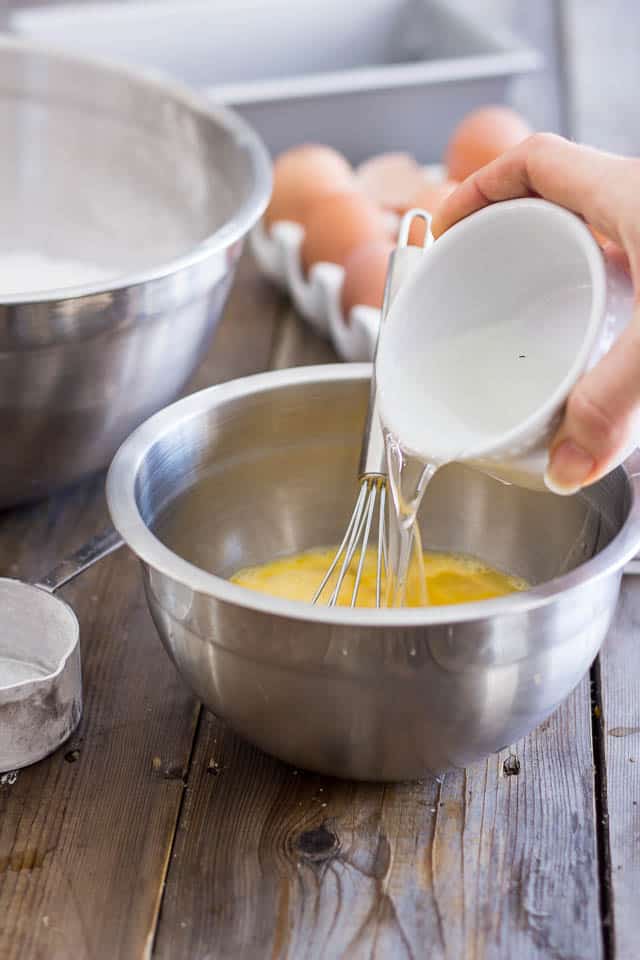 then whisk in the melted coconut oil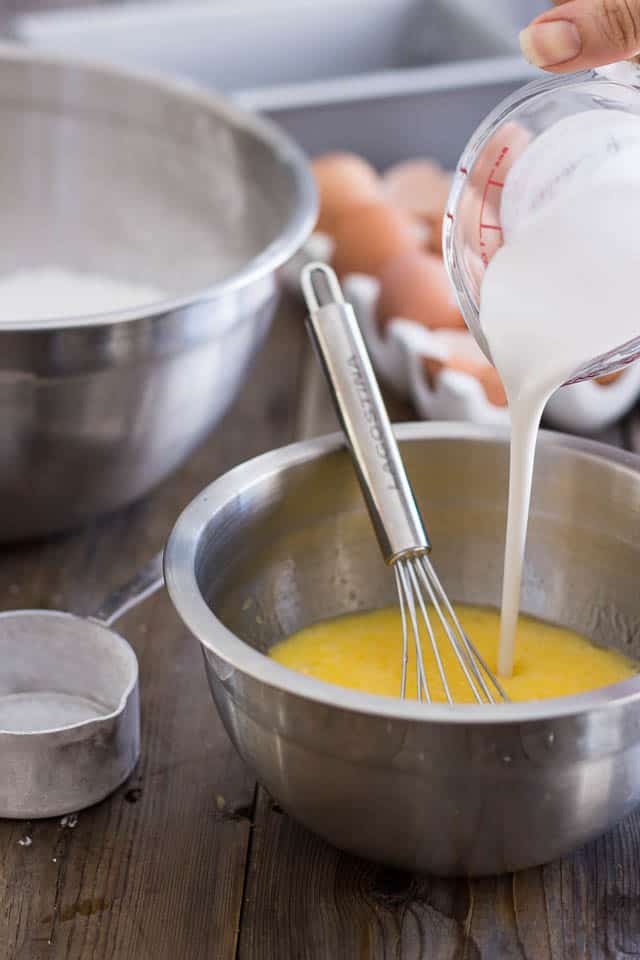 …followed by apple cider vinegar and coconut milk. I actually mixed my apple cider vinegar right into the coconut milk and then poured that into the egg mixture.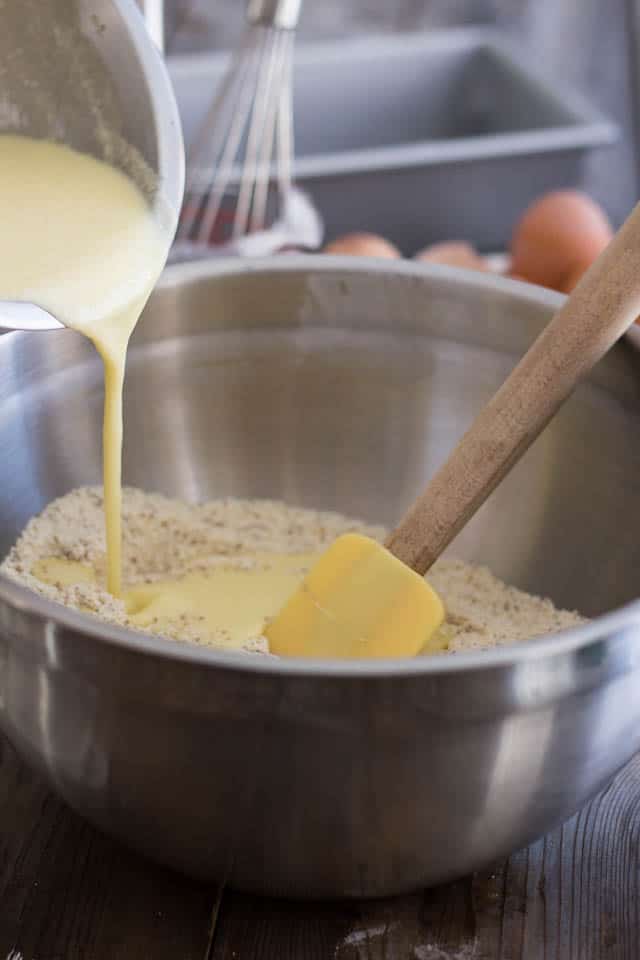 Pour your wet ingredients in dry and gently mix with a rubber spatula or wooden spoon, until a thick batter forms. Do not overmix.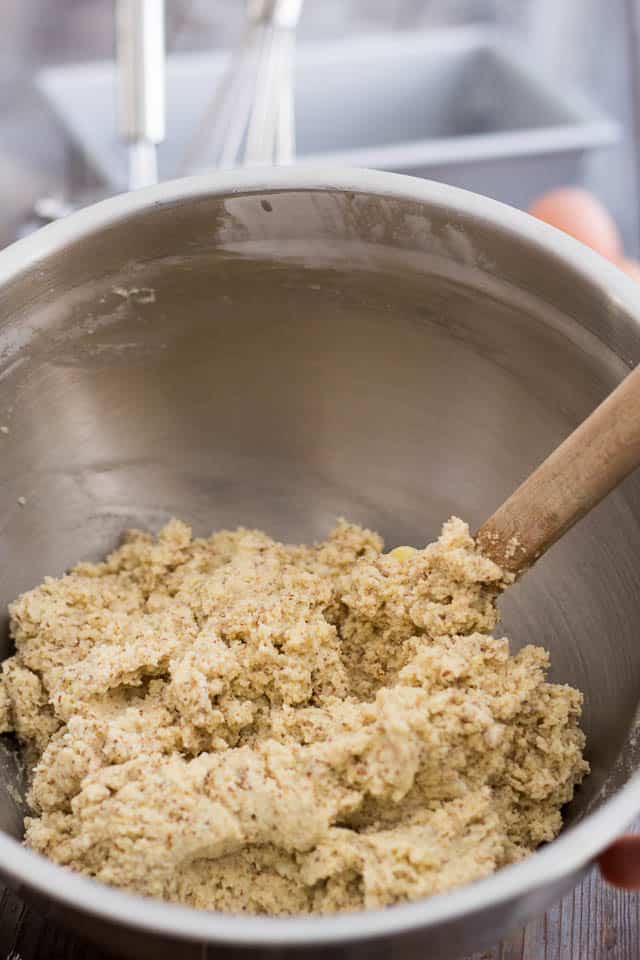 I did say thick batter, didn't I? When I say thick, I do mean thick!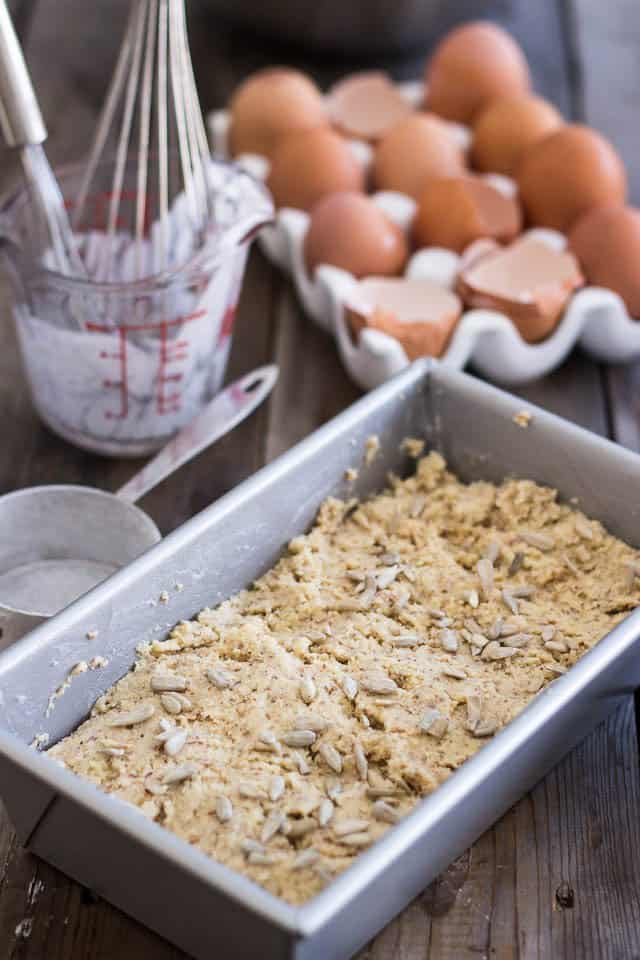 Transfer the batter into a greased loaf pan and spread as evenly as possible.
Sprinkle raw sunflower seeds on top if they inspire you. If not, you could also use whole flax seeds or poppy seeds or sesame seeds… or any other kind of nut or seed that you like. Or just plain don't sprinkle anything. No one is forcing you to sprinkle anything if you don't want to.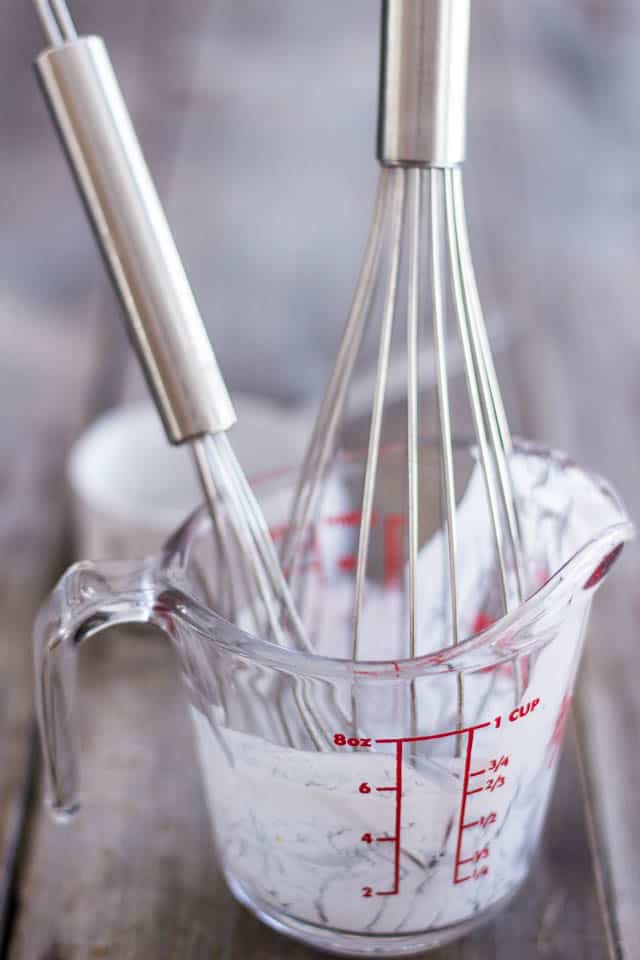 Now bread goes in the oven, giving you ample time to clean the dishes! Happy times!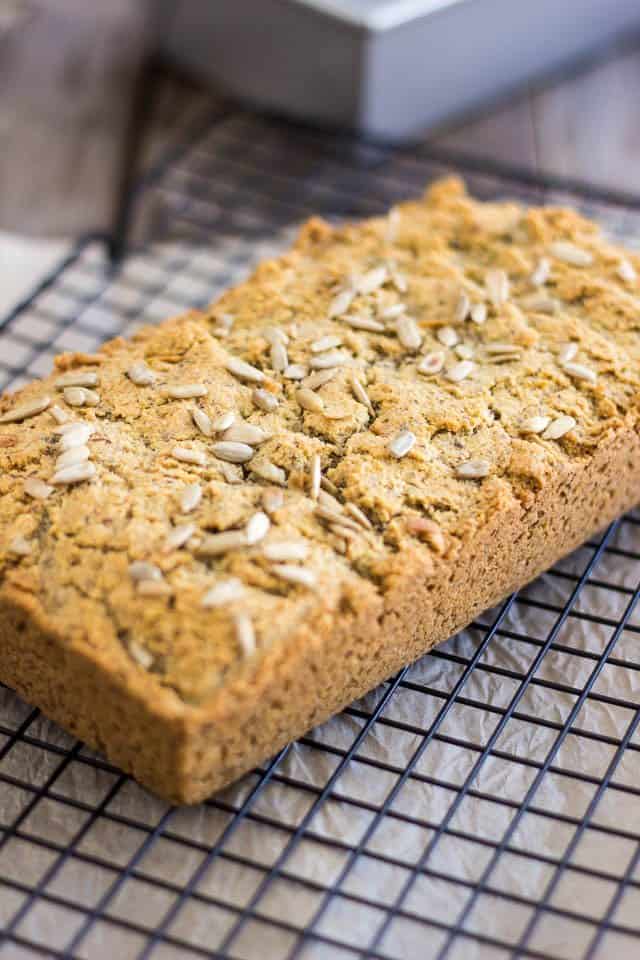 Let your freshly baked bread cool on a cooling rack for as long as you can possibly resist the urge to go at it… try giving it at least 10 to 15 minutes. Yeah. I know! It smells heavenly good! But, haven't you perhaps forgotten to wash one or two pieces of dishes? Go do that now. That'll keep your mind occupied…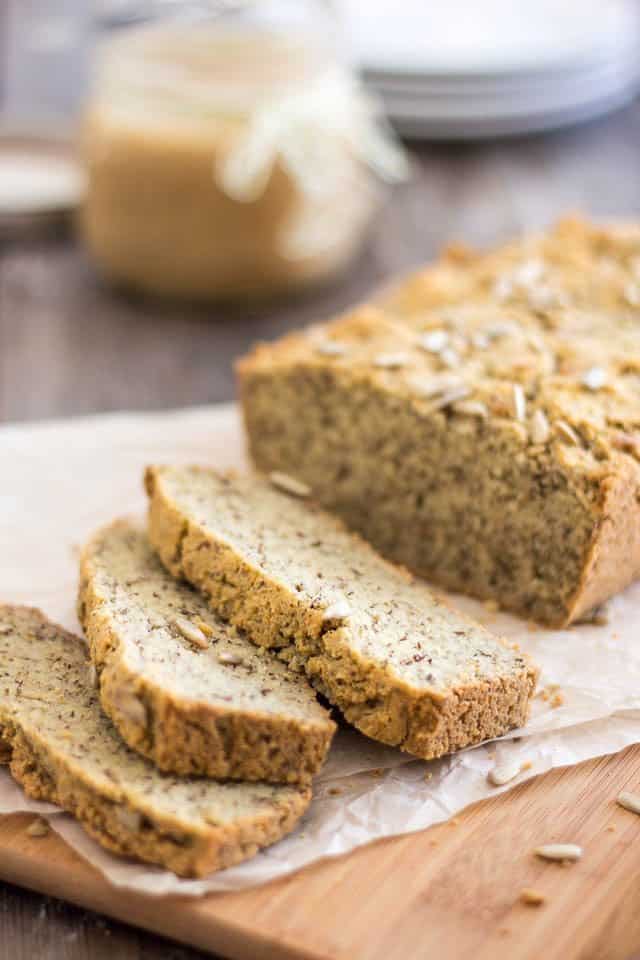 And finally, at long last: slice your beautiful loaf of bread in thin slices and serve.
This bread is to die for when warm or slightly toasted, with a touch of ghee or with a nice, thick layer of Toasted Sunflower Seed Butter.
Oh, it's also pretty amazing all mashed up into a runny egg yolk. Oh yeah! That I had missed…
I get the feeling that this was the first of many loaves to come. Now that I've had a taste for paleo bread, I can only say one thing: I want some more!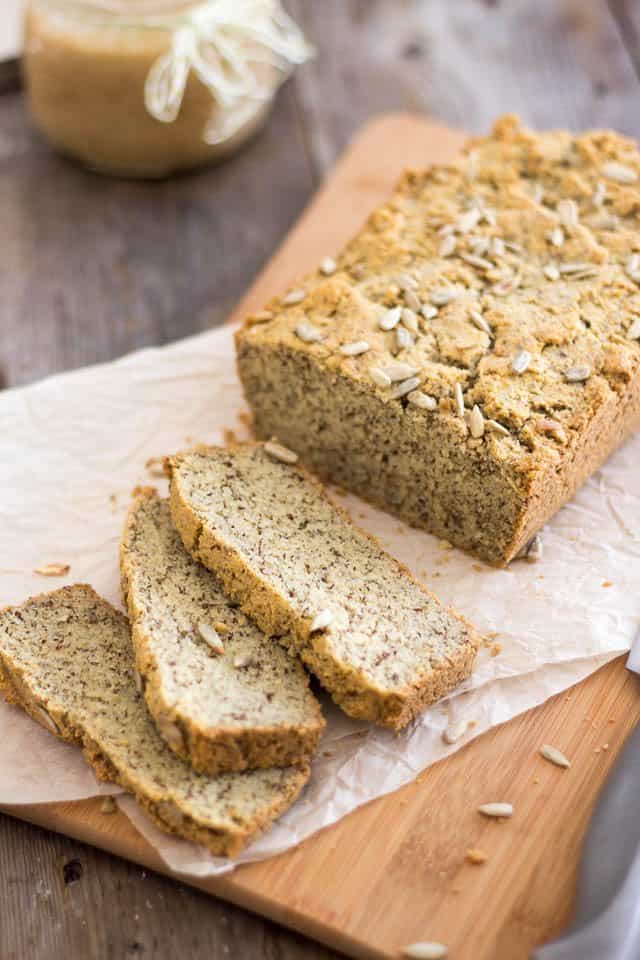 Paleo Bread
Incredibly tasty, dense and moist, this paleo loaf of bread reminds me of a heavy pound cake in a savory form. It'll definitely have you come back for more!
Servings: 16
Instructions
In a large bowl, mix the dry ingredients until very well incorporated. Sifting, although not absolutely necessary, is strongly recommended.

In a separate bowl, beat the eggs then whisk in the melted coconut oil, apple cider vinegar and coconut milk.

Gently mix wet and dry ingredients with a rubber spatula or wooden spoon, until a thick batter forms. Do not overmix.

Pour that batter into the prepared loaf pan and spread as evenly as possible. Sprinkle top with raw sunflower seeds, if desired.

Bake at 350°F for approximately 40 to 45 minutes or until a toothpick inserted into the center of the bread comes out clean.

Let the bread cool on a wire rack, cut into thin slices and serve
Nutrition
Calories: 131kcal, Carbohydrates: 7g, Protein: 3g, Fat: 10g, Saturated Fat: 6g, Cholesterol: 41mg, Sodium: 166mg, Potassium: 67mg, Fiber: 2g, Sugar: 1g, Vitamin A: 59IU, Vitamin C: 1mg, Calcium: 21mg, Iron: 1mg
If you've tried this recipe, please take a minute to rate the recipe and let me know how things went for you in the comments below. It's always such a pleasure to hear from you!
You can also FOLLOW ME on PINTEREST, FACEBOOK, INSTAGRAM and TWITTER for more delicious, healthy recipes!