Ground Beef & Plantain Patties
This is probably the strangest thing that I've ever eaten.
Strange in a good way, though. In a very good way.
I mean, from a strictly visual perspective, this looks just like a meat patty, right? Right! But when you actually bring it to your mouth and bite into it, it almost tastes like a pancake. For realz.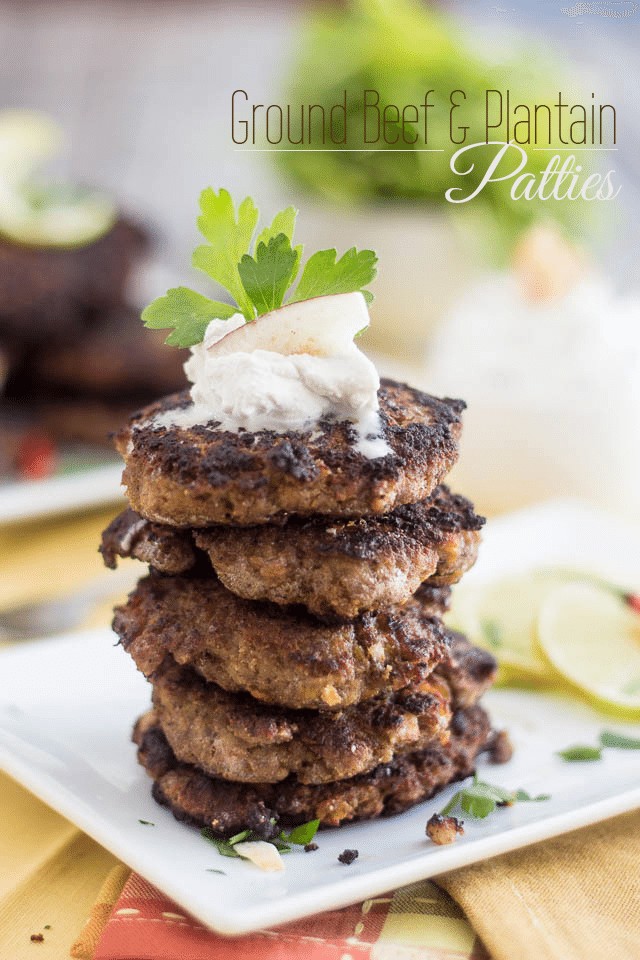 To be honest, I wasn't convinced at first when I decided to experiment with these, just like I never am convinced when I mix plantains with ground beef. Something in the back of my mind keeps thinking that there's something seriously wrong about that combination, that it just can't possibly work.
BUT, once again, my mind was blown and proven wrong with the very first bite. Plantains and beef actually pair celestially well!
Their coupling in these beef patties resulted in such a sweet, light and exotic flavor, it suddenly makes beef a very interesting food choice for breakfast. Served alongside a couple of scrambled eggs and some creamy diced avocado, they make for a real winning start to your day!
To make the meat mixture real light and airy, I decided to get a little help from my stand mixer.  All the ingredients went right into that bowl, which I then equipped with the paddle attachment.
This got mixed on medium speed for 1 or 2 minutes until all the ingredients were very well incorporated and the mixture got kinda "fluffy".
I suppose you could also do this by hand but your meat mixture wouldn't be quite as smooth.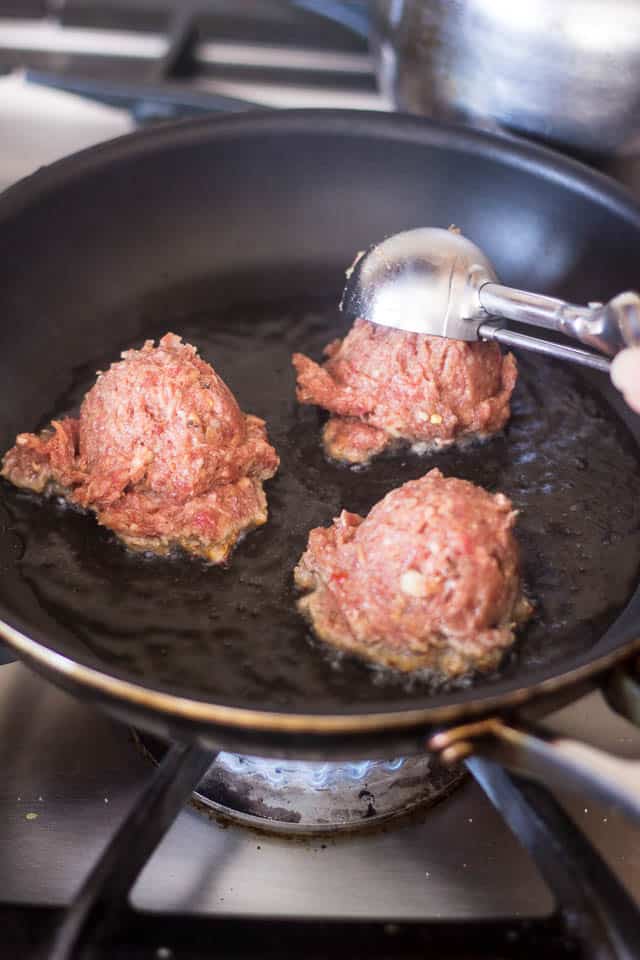 I then heated a generous amount of coconut oil in a skillet that I had set over medium heat. When that pan got hot enough, I scooped about ¼ cup of the mixture right into the pan. I like to use my handy ice cream scoop to do that, but you could also use a measuring cup, or even play it by ear, if you wanted to…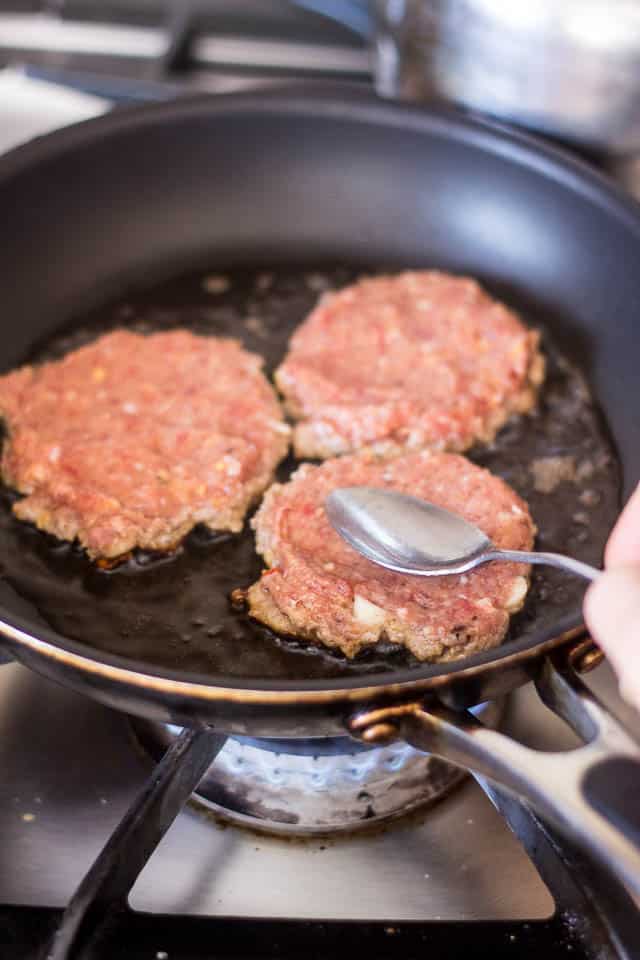 The patties then need to be pressed down and shaped into a nice circular disc. A spoon or fork works real well for this.
You could probably also shape the patties with your hands before adding them to the hot skillet, but since the mixture is rather soft, I think it's much easier, and plausibly a lot less messy, to do it this way.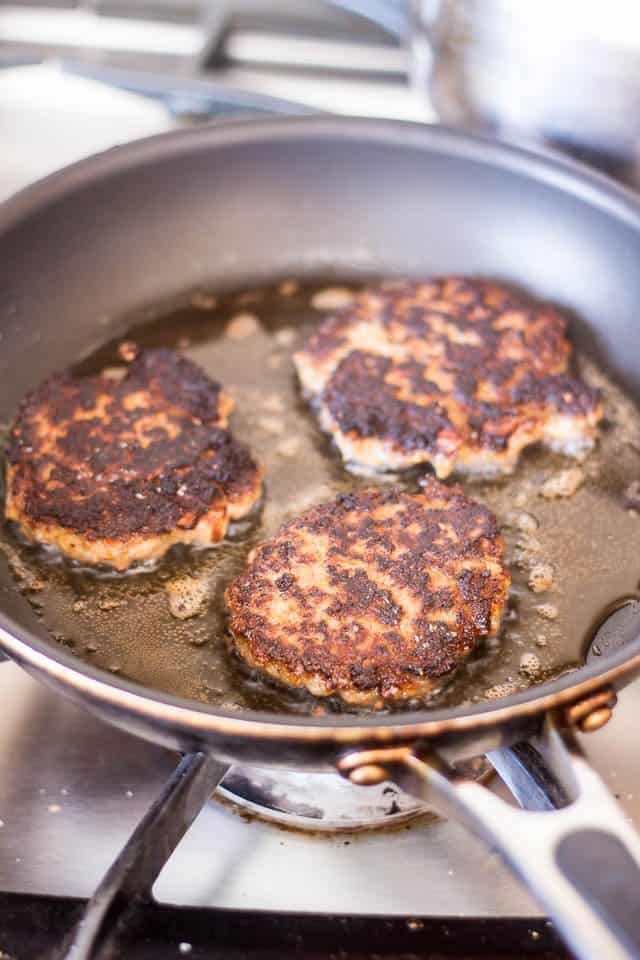 The patties need to cook for approximately 4-5 minutes per side, until they get nice and crispy and golden brown. Of course, you're gonna have to work in several batches, so keep the cooked ones in a warm oven while you work on the others.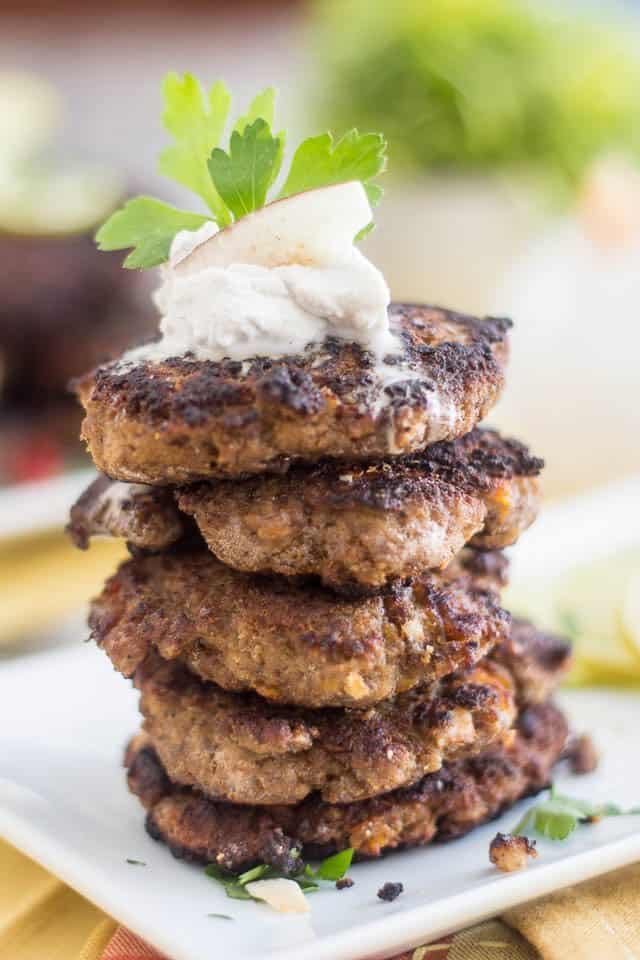 I chose to enjoy these exotic beef patties with a generous dollop of full fat coconut milk. It might sound strange, but trust me, it works.
The contrast between the cold, creamy coconut milk and the warm, crisp and sweet patties is extremely interesting indeed, while the flavors complement each other perfectly well.
I can tell you one thing: next time I whip these up, I'll be making a double batch! 
Ground Beef & Plantain Patties
Serves: Yields 15 patties
Ingredients
454g (1lb) grassfed ground beef
2 large very ripe plantains
2 large eggs
¼ cup coconut flour
½ tsp Himalayan salt
½ tsp freshly cracked black pepper
1 tsp ground cinnamon
½ tsp freshly grated nutmeg
¼ tsp ground ginger
¼ tsp allspice
2 dried birds eye chili, crushed (or ½ tsp dried chili flakes)
12-15 Brazil nuts, coarsely chopped
Instructions
In the bowl of your stand mixer add all the ingredients and mix with the paddle attachment for 1 or 2 minutes until very well incorporated and slightly "fluffy".
Heat a generous amount of coconut oil in a skillet set over medium heat. When pan is hot enough, scoop about ¼ cup of the mixture directly into the pan and press down with a spoon or fork to flatten and shape the meat into a disc. You could also shape the patties with your hands before adding them to the pan, but since the mixture is rather soft, I think it's easier to do it this way.
Cook the patties 3 or 4 at a time, for approximately 4-5 minutes per side, until they get nice and crispy and golden brown. Keep the cooked patties in a warm oven while you work on the rest of them.
Serve with a generous dollop of full fat coconut milk if desired (I strongly recommend it!)

Nutrition Information
Serving size: NF based on 1 of 15 patties