Squeaky Clean Coleslaw – Whole30 compliant
First off, a very exciting announcement!!!!
Some of you might have noticed that I haven't really been around this past week-end. That's because I drove close to 2000km between Saturday morning and Sunday night to go get the eagerly awaited newest member of our family…
After 10 long weeks of waiting, at last, she's finally home with us! Sooooo, it is with great pleasure that I introduce her to you.
My dear friends, please meet my new baby Rhodesian Ridgeback, Miss Kiara.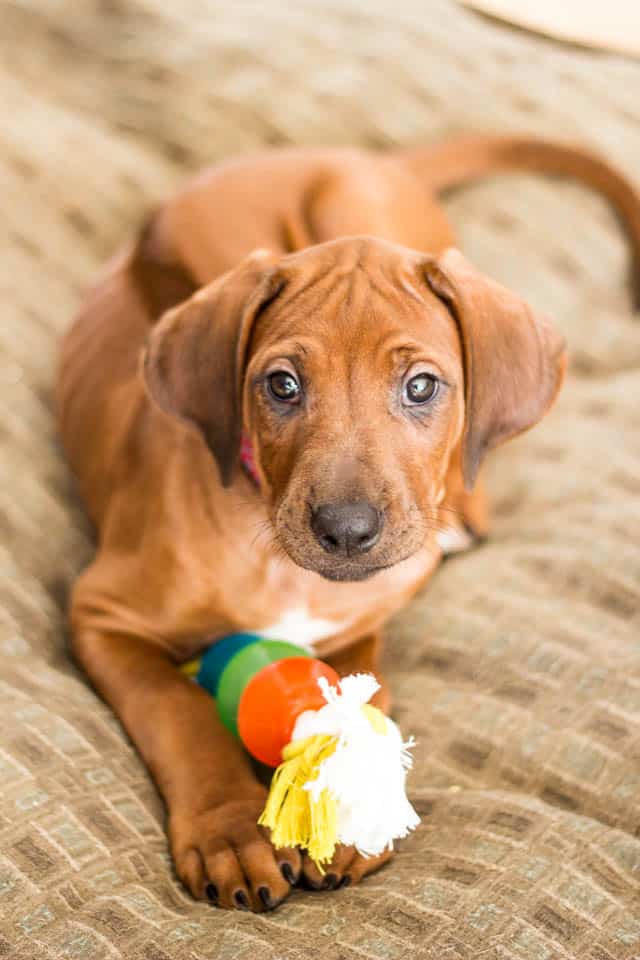 Isn't she a darling?
Oh, she might look like a little angel like that, but truth is, I had forgotten just how much work puppies really are! They need to be supervised CONSTANTLY. Well, that's when they're not sleeping. Thank goodness they do happen to sleep, from time to time.
She's such a handful, me is even wondering how it is that I'll manage to blog efficiently over the next few months…. but I'll manage, I know I will! Oh, I might loose part of my mind in the process, but it'll be very well worth it! I'd been wanting that puppy for so long now.
But enough about my new pup, let's move on to the eats, shall we?
Coleslaw is something that I tend to have at pretty much any given time in my fridge. I find it goes good with just about anything and it keeps for an eternity. And, since I like my coleslaw to have an element of sweetness to it, so I usually add honey to it.
However, seeing as how I am currently doing a 30-Day Reset, any and all forms of sugar, except from that which is naturally present in fruit, has been eliminated from my diet for 30 days. This means that honey was out of the question this time. But since I still wanted my beloved coleslaw, I had to find an alternate solution.
Slaw simply NEEDS sweetness.
I thought long and hard about what may work well as a replacement to give my salad the desired sweetness and complement the cabbage nicely.
I found just the perfect thing! Read on…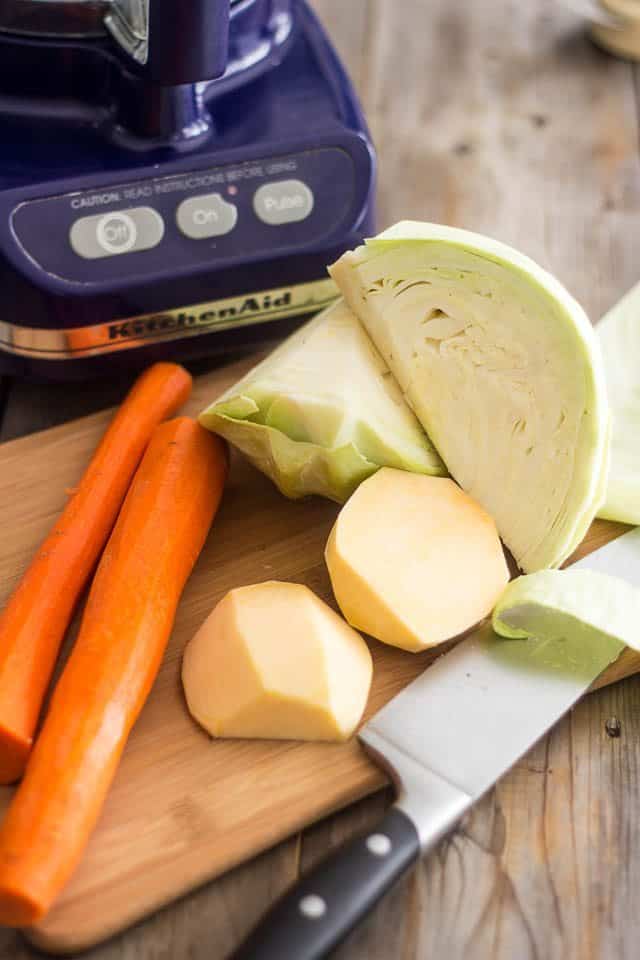 I usually like to add a little carrot to my slaw, for a little bit of added color, crunch and sweetness. This time, I decided to also throw in a little bit of rutabaga for a touch of extra zing.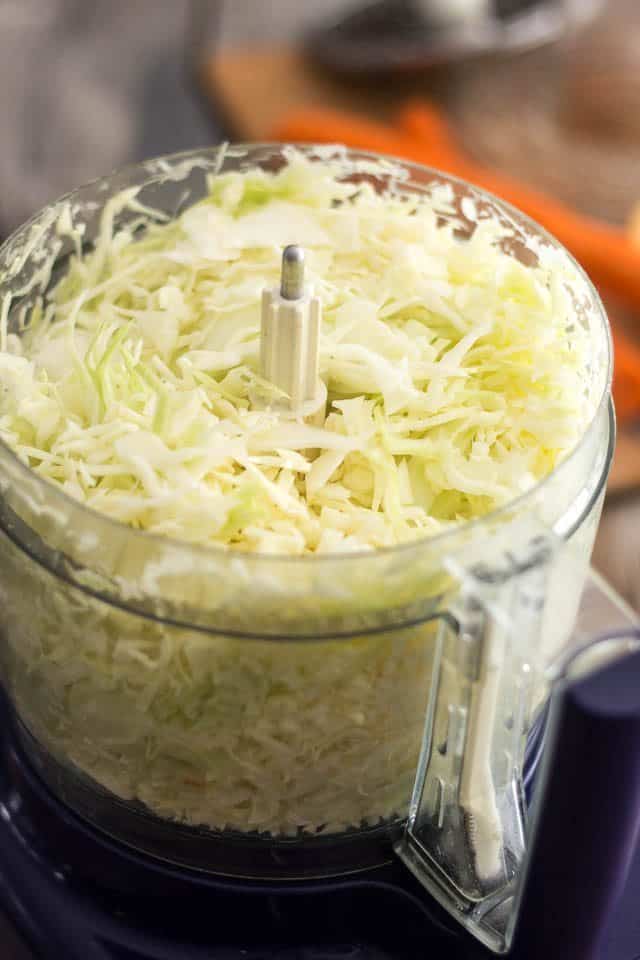 I used to make coleslaw using my mandolin to shred the cabbage and box grater to grate the carrots. While it did yield very good results, I now find it much more convenient, not to mention a lot faster, to use my trusty food processor instead.
For the cabbage, I use the thinnest of the shaving discs. I get all this beautiful shredded cabbage in like 45 seconds flat!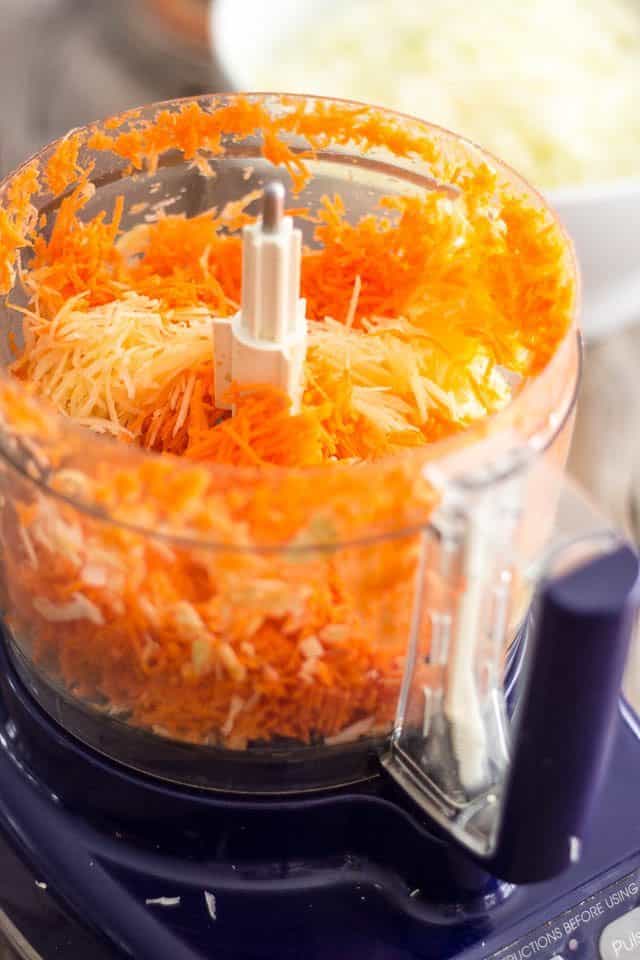 Then I switch to the finest grating disc to take care of the carrots, as well as rutabaga in this case.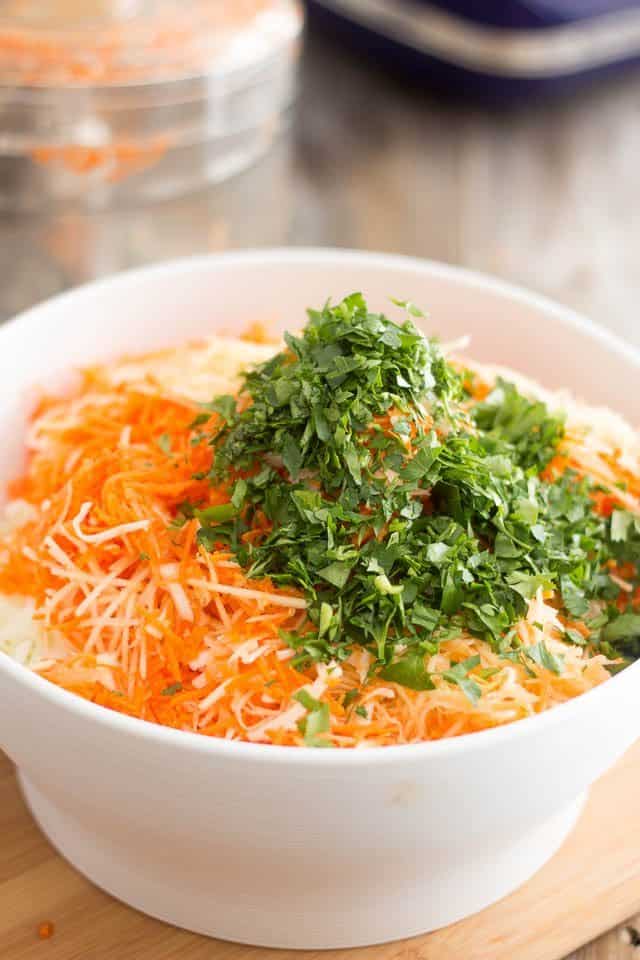 Everything then gets transferred to a large mixing bowl, including the parsley (which I still chop manually with a good ole chef knife…)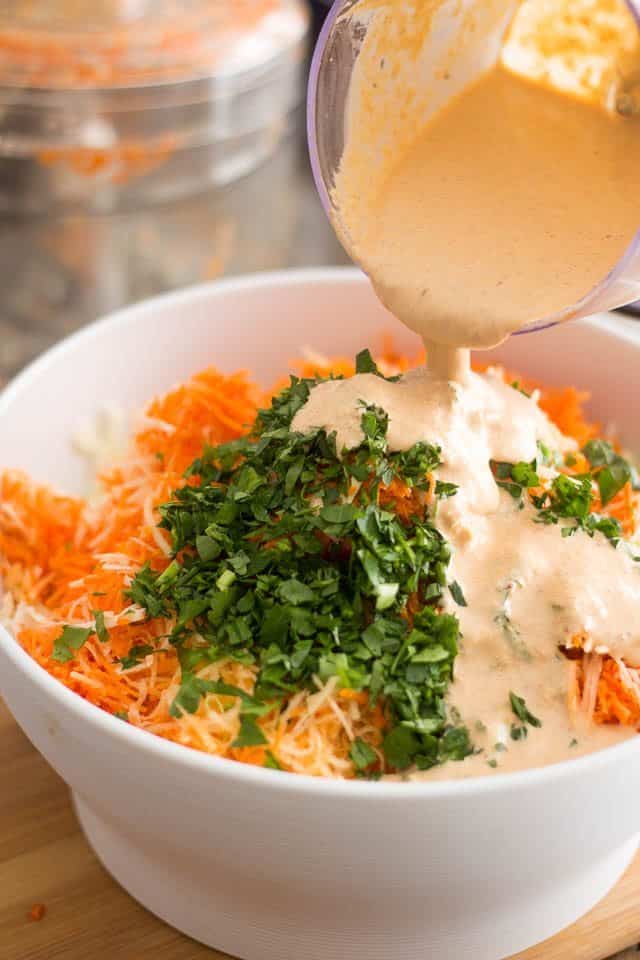 For the vinaigrette, you could mix the ingredients in your food processor too, since it's already dirty. But if you have one, I find the Ninja Master Prep works especially well for smaller, lighter tasks such as this one.
Once you've got that vinaigrette ready, pour it right over the rest of the ingredients.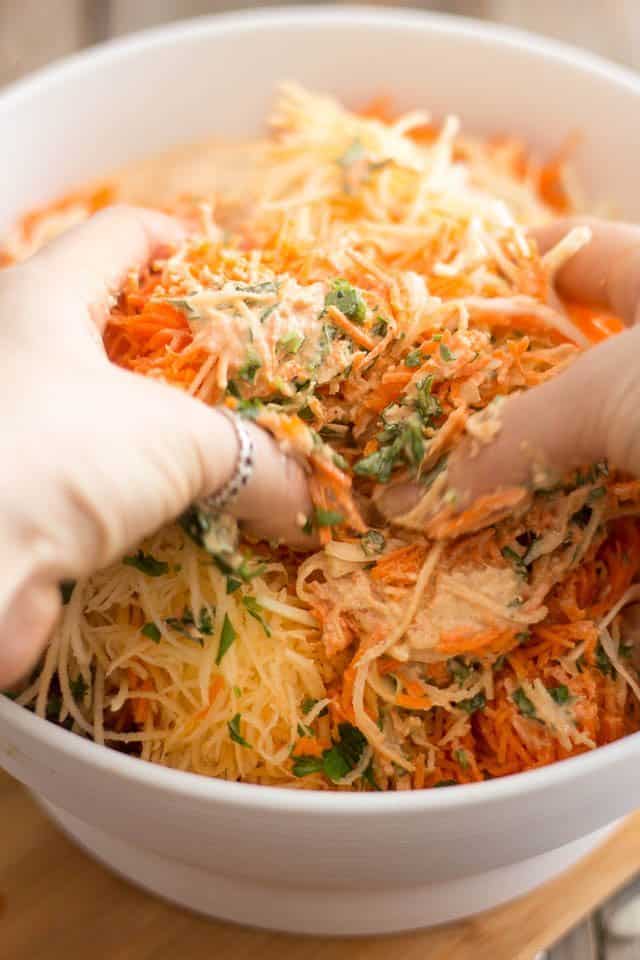 Now time to mix!
For me, there is no better way to mix coleslaw efficiently than with your bare hands. I find the vegetables really need to be squeezed and massaged to release all of their flavors and also relax a little bit.
Relaxation makes them so much softer and pleasant to eat.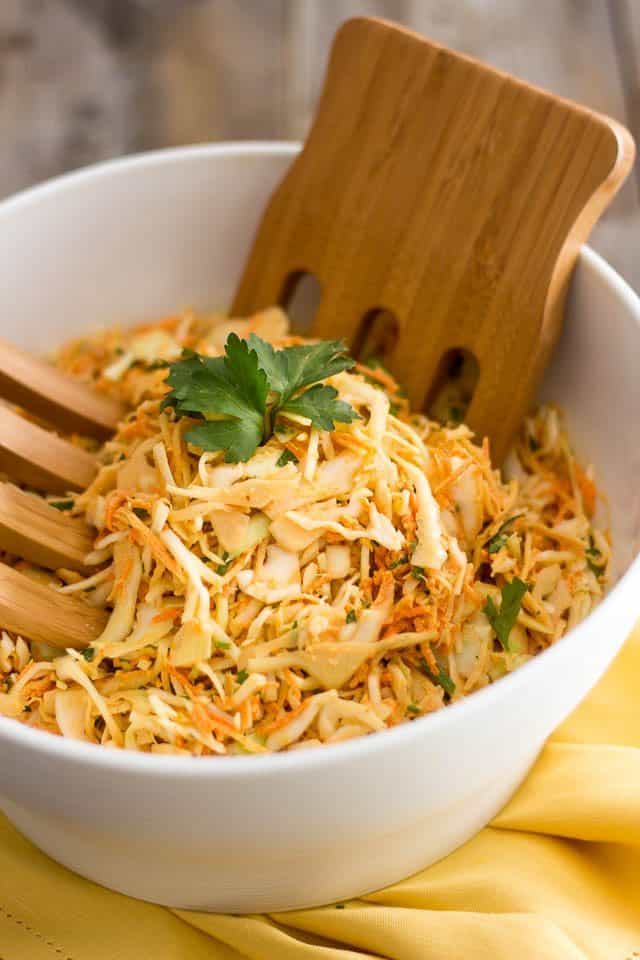 So, are you wondering what it is that I used to sweeten my coleslaw after all? Pineapple is what it was!
And it does work. Really well, I might add. So much so, I may never go back to using honey ever again, providing I have pineapple on hand. Not only does it taste amazingly good, but I find it does a really good job at making the slaw nice and soft.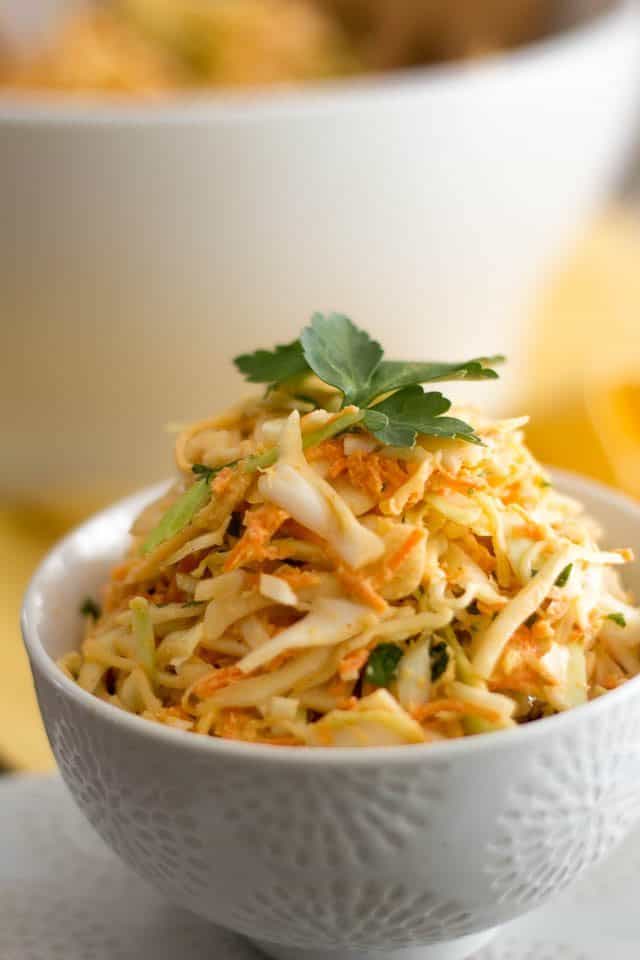 If you don't have fresh pineapple on hand, frozen or canned would also do the trick, I'm sure. Just make certain that you choose the all natural and entirely sugar free variety.
Seriously guys, this coleslaw was so good, I think I may very well make this my official go-to recipe from now on.
With the rutabaga and all!
Squeaky Clean Coleslaw – Whole30 compliant
Servings: 8
Ingredients
For the Salad
1/2 medium cabbage, shredded
2 large carrots, finely grated
1 small rutabaga, finely grated
1/4 cup parsley, chopped
Instructions
Add cabbage, carrots, rutabaga and parsley to a large mixing bowl.

In the bowl of your

small food processor

, add all the ingredients for the vinaigrette and process until smooth and creamy.

Pour over the vegetables and mix well with your hand, taking care to massage the slaw well for a minute or two, to soften the veggies and get then to release some of their juices.

The slaw can be eaten immediately but will be much better after resting in the fridge for a couple of hours, or even overnight.

This salad will keep for 5-7 days in an airtight container.
If you've tried this recipe, please take a minute to rate the recipe and let me know how things went for you in the comments below. It's always such a pleasure to hear from you!
You can also FOLLOW ME on PINTEREST, FACEBOOK, INSTAGRAM and TWITTER for more delicious, healthy recipes!