Paleo Extra Dark Chocolate Mint Thins
This is the last of my Chocolate series. Not the last of my Holiday Treats series, but the last of the Chocolate. For now.
Unfortunately, or fortunately, not sure which, I realized that I'm really enjoying playing with chocolate and I have many, many more creations in me. In fact, I think I could very well post nothing but chocolate recipes for the next year or two.
But then, that would get boring, wouldn't it? There is such a thing as too much of a good thing, isn't there?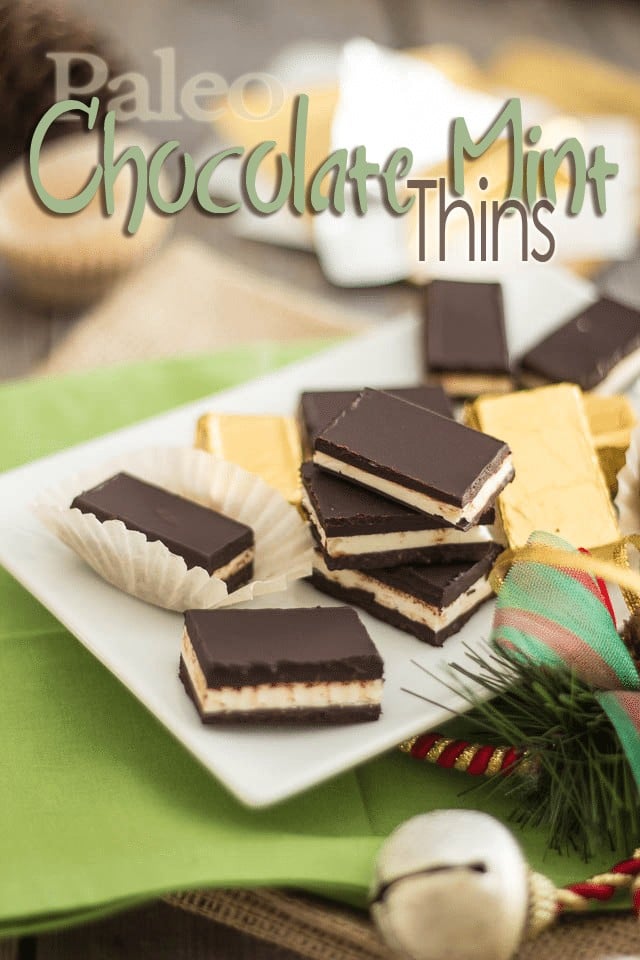 Now, I think I must've suffered some kind of brain hemorrhage when I took the pictures of this project because frankly, I meant to do a nice step-by-step pictorial for you, much like I did with all my recent Paleo Holiday Treats projects.
But upon revisiting the pictures that I took that day, I realized that didn't have much to show. I had pictures of chocolate being poured at the bottom of a pan, pictures of perfectly evened out chocolate, pictures of a blade going through a cool blue flame and finally, pictures of said blade making its way through a block of finished but still uncut chocolate treats.
THAT'S IT. The rest was all pictures were all of the finished thins. All the really interesting stuff, I left out.
Can you say D'OH?
Guess you're gonna have to go at this one blindly. No visual aid this time, I'm afraid. Sorry about this.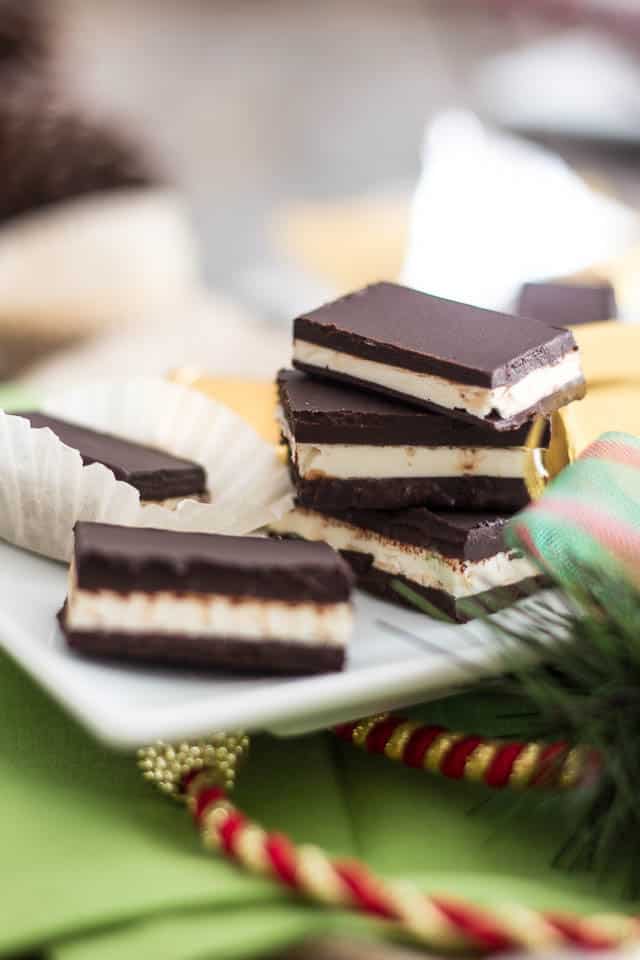 I don't know about you, but for me, chocolate and mint has always been a classic Christmas combo. I remember, when I was a kid, I used to buy boxes of After Eights and loads of York Peppermint Patties. Oh, and those Laura Secord French Mint Chocolate Bars, too!
There's just something I find so refreshing about that particular flavor combination, and I can't help but crave it every year come Christmas. So this year, I decided to make my own version of this classic treat, a version that, while I wouldn't consider including it as part of a healthy and nutritious breakfast, say, at least wouldn't be loaded with all kinds of nasties.
Out with the neverending list of ingredients whose names I can't even read, let alone pronounce, I came up with a much superior treat that tastes absolutely amazing and contains only a handful of ingredients, all of which are beneficial to my body in some way or another.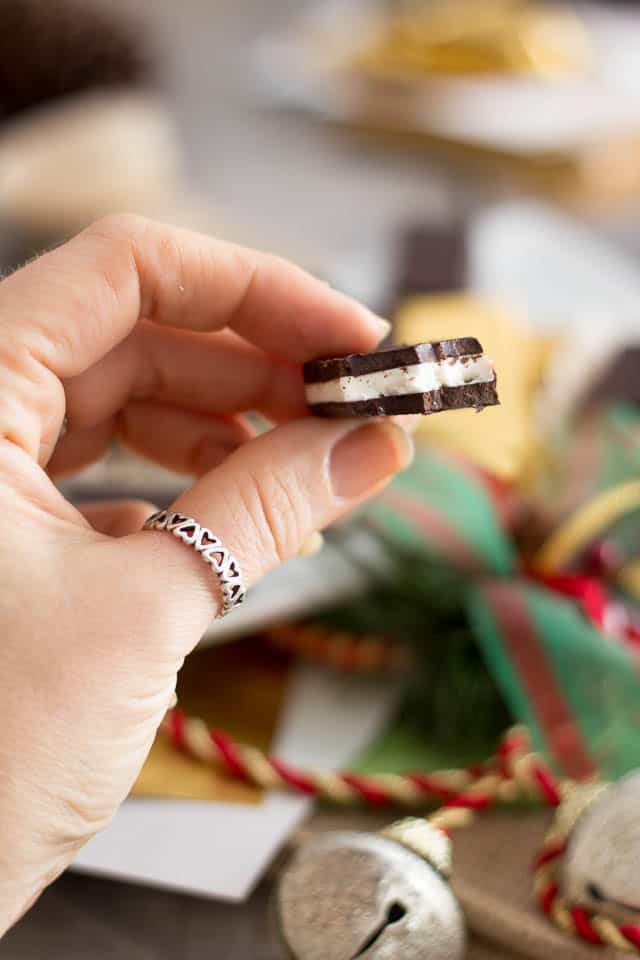 And they're fairly easy to make, too!
I chose to take the rustic approach and poured the chocolate into a large square pan and then proceeded to cut the treats with a warm blade after the chocolate had set. I kind of like the home made look that this technique confers to the sweet bites.
However, if rustic is not your thing, I suppose you could also make these in individual candy molds if you wanted to give them a more fancy, finished look. In fact, I'm thinking that I might very well redo that recipe some time just to give that other option a try. For kicks, you know…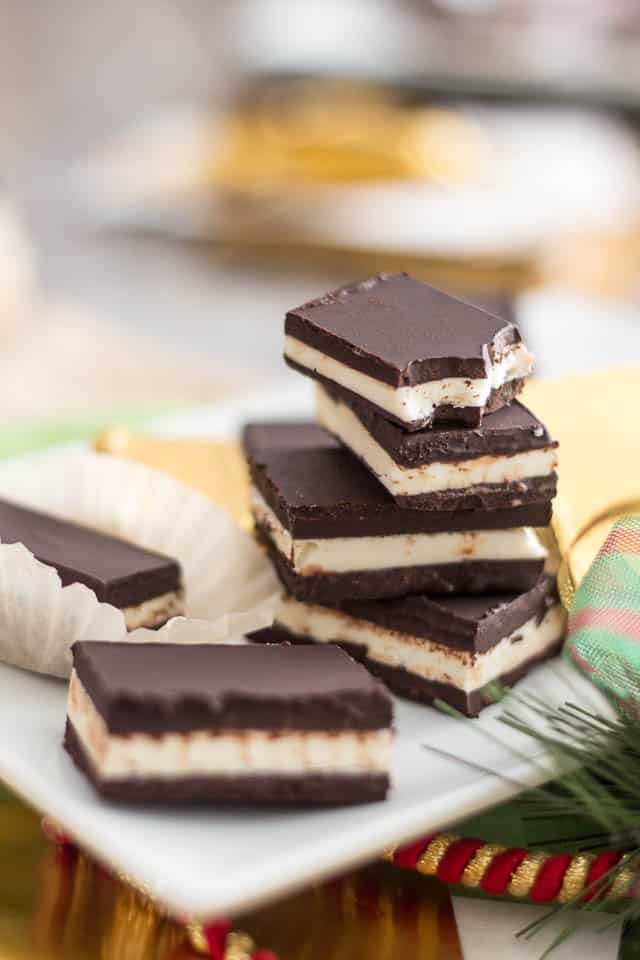 Whichever option you choose to go with, I can guarantee you that these puppies will be a hit! They simply taste friggin' amazing! Soooo intensely minty and fresh and melt-right-in-your-mouth smooth and velvety.
Even my son, who doesn't have a sweet tooth at all and usually doesn't care for any of the treats that I make, specifically came to me and asked if he could please grab a piece of that yummy minty chocolate thingy I'd just made.
Of course, I said yes, for that's like one of the biggest compliments EVER and can only mean one thing. These things are effing awesome!
I think you should maybe make a double batch. One for you, one for your guests. Or to give away as presents. Or share with your co-workers, why not?
I can already tell you'll be a huge success!
Paleo Dark Chocolate Mint Thins
Servings: 36 bars
Ingredients
Middle Layer
50 g 1/3 cup organic raw cacao butter
100 g 1/2 cup coconut oil
2 tbsp unpasteurized honey
2-3 drops peppermint essential oil, to taste
Instructions
For the Middle Layer
Melt cacao butter, coconut oil and honey in the microwave in 20-30 second intervals and stir well for an equal amount of time between each interval until it's completely melted. Yes, it will be liquid-y. That's perfectly normal.

Transfer this to the bowl of your stand mixer or a medium sized mixing bowl, preferably stainless steel. Set that bowl over a bowl of icy cold water and whisk on high speed until the mixture turns opaque, very white and super fluffy. Add peppermint essential oil and stir well. Set aside in the refrigerator.
For the Bottom and Top Layer
Melt the cacao paste in the microwave in 20-30 second intervals and stir well for an equal amount of time between each interval until it's completely melted.

When the chocolate is fully melted, add the honey, coconut oil and pinch of salt and stir delicately until smooth.
Assembly
Line a 8" square pan with parchment paper, letting some of that paper hang over the sides for easy removal once the chocolate is set.

Pour half the melted chocolate (about 2/3 cup) right over that parchment paper and spread it all the way to the sides with an offset spatula. Tap the pan on the counter 2 or 3 times to even out the surface and place in the refrigerator to set, about 5 to 10 minutes.

When the bottom layer is completely set, drop the reserved mint mixture right over it and spread it with an offset spatula, all the way to the sides and as evenly as you possible can. Place that back in the refrigerator to set for about 10 minutes.

Once that middle layer is nice and firm, pour the rest of the melted dark chocolate and again, spread it all the way to the sides, then tap the pan a few times on the counter to remove any air bubbles and even out the surface.

Place this in the refrigerator one final time until completely set, about an hour.

Cut into 24 to 36 bars with the help of a long serrated knife.

Note that a warm blade will help you make nicer cuts. To warm up your blade, you can either dip it in very hot water, let it soak for a few seconds and then wipe it dry. Or you could use a propane torch or gas burner if you have a gas stove. Just run your blade quickly back and forth a few times over the flame.

Wrap the finished chocolates in shiny candy wrapper or place them in a cute little paper cup

Store in a cool dry place in an airtight container
If you've tried this recipe, please take a minute to rate the recipe and let me know how things went for you in the comments below. It's always such a pleasure to hear from you!
You can also FOLLOW ME on PINTEREST, FACEBOOK, INSTAGRAM and TWITTER for more delicious, healthy recipes!