Peanut Butter and Chocolate Energy Squares
I'm an emotional eater.
Still.
I'm working on it, but it's not always easy.
For me, emotions and food mix just as good as oil and water.
Whenever I go through highly emotional times or circumstances, my stomach seems to lock up on me and completely forgets just how much it actually loves food.
It just tightens up in a knot and refuses to eat. Just like a pouting kid.
Mind you, I still prefer that to feeling an uncontrollable urge to eat everything within site, but still.
Not exactly what I'd call ideal when you are a food blogger AND are trying to maintain a healthy lifestyle. Not eating, or even skipping meals, is definitely NOT good for you.
Since I've been going through a roller coaster of emotions lately, it's been kind of hard for me to keep my appetite in check. So I have to think of ways to stimulate my appetite and create meals and snacks that will trick my tummy into wanting to eat.
Now, if there's one thing that my tummy will never say no to, it's chocolate.
I mean, chocolate is the ultimate feel good food, is it not?
Add peanut butter to the equation and food suddenly regains a very decent amount of interest!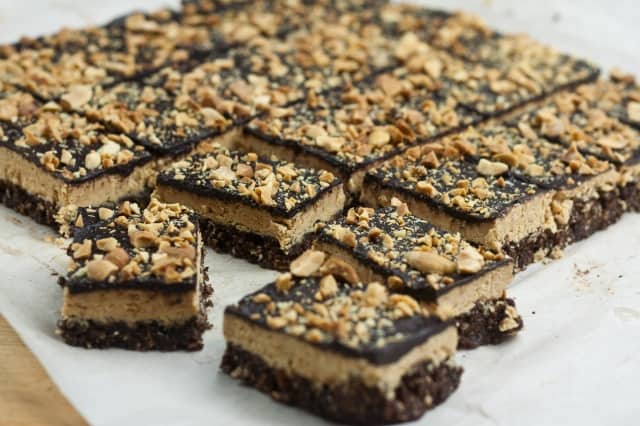 Since I too often tend to rely on commercially prepared protein bars, especially when my tummy goes into hunger strike mode, I figured I would take a shot at making my own.
I mean let's face it, no matter how "good" they are, these commercially prepared things are way too sweet and contain way too many questionable ingredients. They're a great life saver, but if you're going to have them every day for a snack, I think you're better off making some at home.
I have to say that I'm fairly happy with my first attempt. The bars hold together real great, their sweetness level is just right, at least it is for my taste. I love their somewhat dryish and crumbly texture. And that top chocolate layer? Oh yum. Tummy likes!
In fact, I don't think that I'd change a thing tastewise.
However, I'd like for them to have way more protein. As they stand, you're looking at roughly 175 calories per bar. Each of 24 bars contains approximately 8.5 grams of proteins for 13 grams of carbs and 20 grams of good healthy fat.
I'd like to swap the fat and protein contents, if at all possible. Or at least find a way to up the protein a bit.
So it's back to the ol' drawing board, I guess.
Not that I won't be making these babies again, though. They're good enough to be called dessert, if you ask me, but healthy enough to be enjoyed as a light morning or afternoon snack.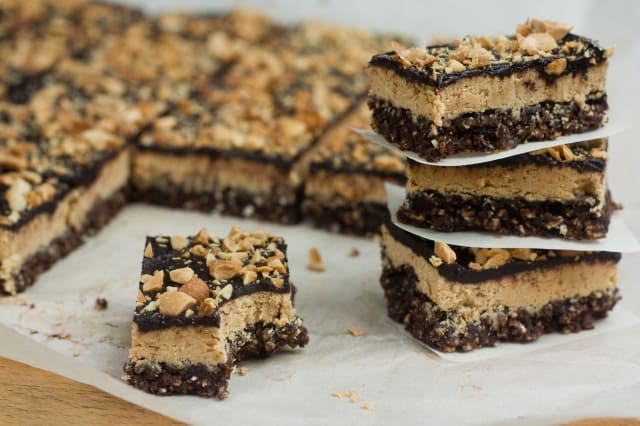 Or even late night, with a nice cup of green tea, why not?
And THAT is precisely what I would be doing right now. 😉
And you know what?
Grumpy tummy is enjoying it!
PEANUT BUTTER CHOCOLATE ENERGY BARS
INGREDIENTS
(Yeld 24 bars)
Bottom layer
1 cup raw almonds, soaked overnight
150g pitted dates
¼ cup extra dark cocoa powder
¼ cup flaxseed meal
½ cup steel cut oats
½ cup flake cereal (I used Nature's Path Multigrain Oatbran Flakes)
¼ tsp salt
Splash pure vanilla extract
Middle layer
½ cup coconut butter
½ cup all natural peanut butter
140g vanilla flavored protein powder
Top layer
¼ cup extra dark cocoa powder
2 tbsp unpasteurized liquid honey
4 tbsp melted coconut oil
2-3 tbsp roasted peanuts, finely chopped
INSTRUCTIONS
For the Bottom layer
Add almonds and dates to the bowl of your food processor and process until the mixture turns into a sticky paste with tiny little chunks of almonds throughout.
Add the rest of the ingredients and process until well combined
Press to the bottom of a 9 x 9 square pan lined with parchment paper
For the Middle layer
Add coconut butter and peanut butter to your food processor (you might want to clean it first…) and process until smooth and creamy. Add protein powder and process until just incorporated.
Press that mixture evenly on top of the chocolate/almond layer.
Top layer
In a small mixing bowl, delicately whisk together cocoa powder, melted coconut oil and honey, until smooth and creamy
Spread thinly on top of peanut butter layer
Sprinkle chopped peanuts overtop
Place in the refrigerator for at least 4 hours before cutting into bars
A neat trick to help cut your bars more cleanly is to use a serrated knife, run it under hot water and wipe it dry before each cut.