Quick and Easy Dairy Free Eggnog – Recipe out of Real Life Paleo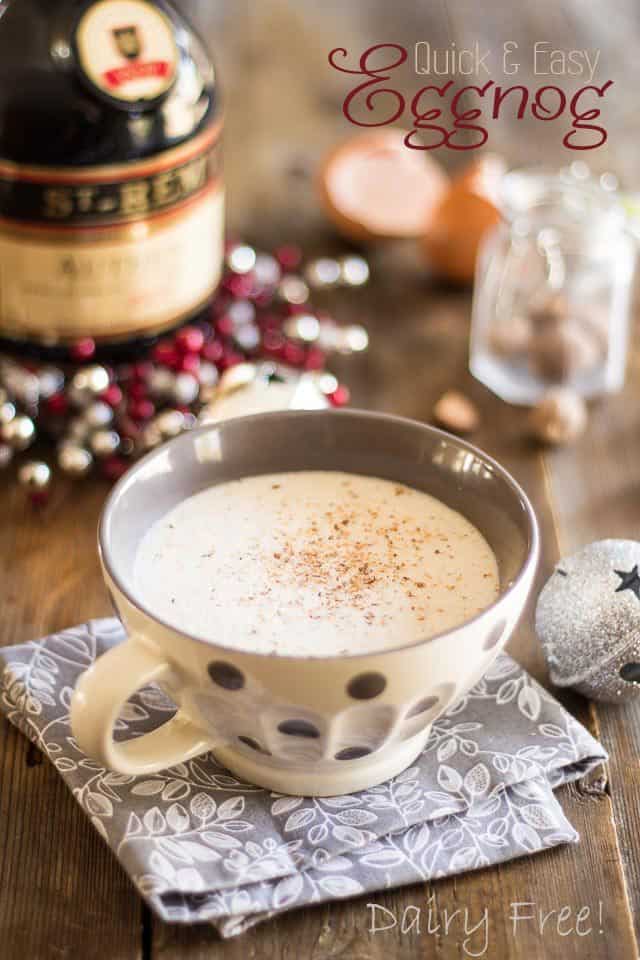 Like it or not, it's already December, which means Christmas is just around the corner.
Of course, the stores have already filled up their shelves and displays with all kinds of treats, munchies, candies and other sweet delights. There's no avoiding it: everywhere you go, you get bombarded with countless temptations. Try as you might, it's very hard not to succumb to all those yummy Holiday treats.
My biggest cravings at this time of the year usually include everything and anything chocolate, sugar pie, sucre à la crème, sugar cookies (the ones that are decorated are even better) and… EGGNOG!
So when I saw a recipe for this Quick and Easy Dairy Free Eggnog while flipping through the pages of Real Life Paleo, The Paleo Parents' latest marvel of a book, I just had to put it to the test like, immediately.
Especially since I'd just made a fresh batch of thick and creamy Almond Milk, you know…
Before I go on, though, let me take a minute to tell you a little bit more about the real gem of a book that is Real Life Paleo. It's a lot more than just a cookbook, really! It's a complete guide to help people out during their transition to paleo and quickly get them comfortable with their new life choices.
The book features over 175 recipes, a plethora of mouth-watering pictures as well as many practical guides, tables and resources to help you stick with the program while you ease into the paleo lifestyle.
Here's an idea of what you can expect to find as you flip through the pages:
175 Gluten Free, Brilliantly Illustrated Recipes (Many of which are Kid Friendly, too!)
A unique 3 Phased Approach Paleo Guide to help you simply Swap, Remove and Heal, including several Tear-Out Guides and Shopping Lists
A How-To section that covers the Basics for those who are very new to the lifestyle
Handy Charts such as Easy Food Swaps, Nutritional Information Comparisons, Paleo Pantry Staples and True Paleo Superfooods
A Convenient Guide to Eating Out
An Extensive Recipe Allergen Index to help those with Food Intolerences quickly access recipes that are well adapted to their reality
Seriously, whether you are new to the lifestyle or simply curious about paleo, whether you just need help sticking with the program or need a little bit of inspiration in the kitchen, get a copy of this book. You will not regret it.
And hey, did I mention that Christmas was just around the corner? I'm thinking that Real Life Paleo would make for an awesome Christmas present. I know I'd be happy with it… if I didn't already have a copy of my own, that is!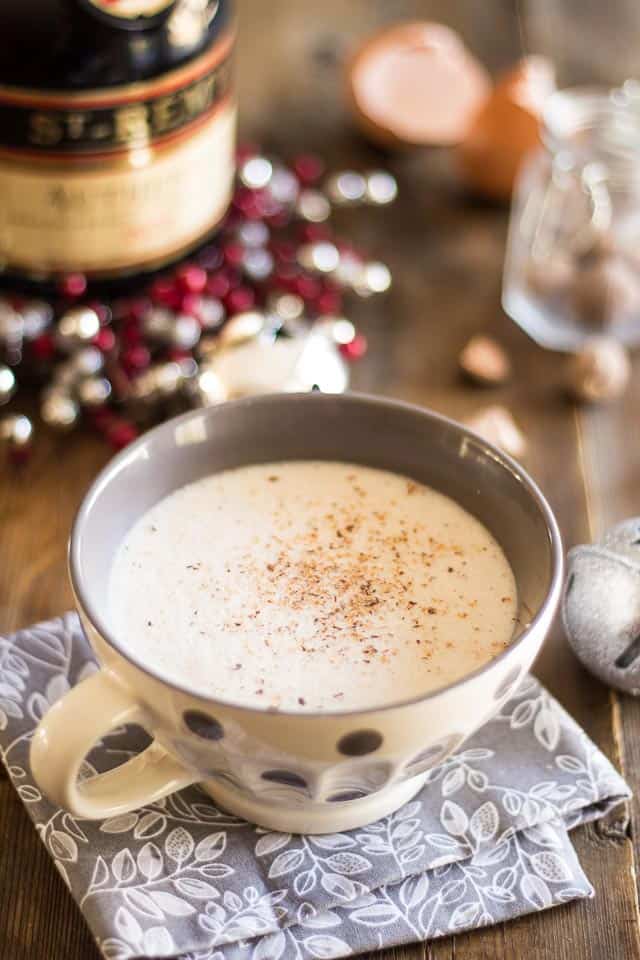 Alright, so back to that eggnog recipe… Honestly, when I saw that it called for a fair amount of coconut milk, I was afraid that it would be a tad overpowering and completely dominate all the other delicate essences of the delicious nectar, but I was wrong. The flavor profile of this eggnog is truly fantastic and the consistency is pleasantly rich and thick and lusciously creamy.
Just look at how frothy this thing is… and it just seems to want to remain that way forever, too! I tried to break it up to show you what the milk looked like underneath all that froth, but to no avail. Even after spending a couple of days in the fridge, a quick shake of the jar and the froth comes right back, as if by magic!
Oh, and also too, know that this eggnog makes for an EXCELLENT coffee creamer. Oh yeah! A couple of tablespoons in your morning cup sure will start your day with a smile. And now that I personally got a taste of that delicious treat, I get the feeling that I'll have no choice but to kick my morning coffee up a notch all through December.
Come Christmas morning, I may even splurge and add a little splash of bourbon to my glass of eggnog. Cuz' you know, eggnog and bourbon, they go so very well together… and hey, it is Christmas after all. Probably the only day in the entire year where booze is allowed at breakfast. At least, in this household, it is!
One thing I know for sure is that this eggnog will be on my Christmas breakfast menu this year… with or without the bourbon!
Quick and Easy Dairy Free Eggnog – Recipe out of Real Life Paleo
Servings: 4 ±8oz servings
Instructions
In a

blender

or

food processor

, process all the ingredients on high speed for 2 minutes, until the egg yolks are fully incorporated.

Serve chilled with freshly grated nutmeg on top.
Notes
*If you're not a fan of raw eggs, note that Stacy and Matt have also included a cooked version of their recipe in REAL LIFE PALEO
If you've tried this recipe, please take a minute to rate the recipe and let me know how things went for you in the comments below. It's always such a pleasure to hear from you!
You can also FOLLOW ME on PINTEREST, FACEBOOK, INSTAGRAM and TWITTER for more delicious, healthy recipes!