Quick Mushroom Ragout – A delicious addition to your steak or grilled chicken
Ever since I can remember, I've always been a huge fan of mushrooms.
As a young adolescent, when I wanted to treat myself to something REALLY good, I would pan fry LOADS of mushrooms and add them to a giant bowl of pasta.
I think sometimes, there was more mushroom in that bowl than there were pasta.
And that made me feel like a queen…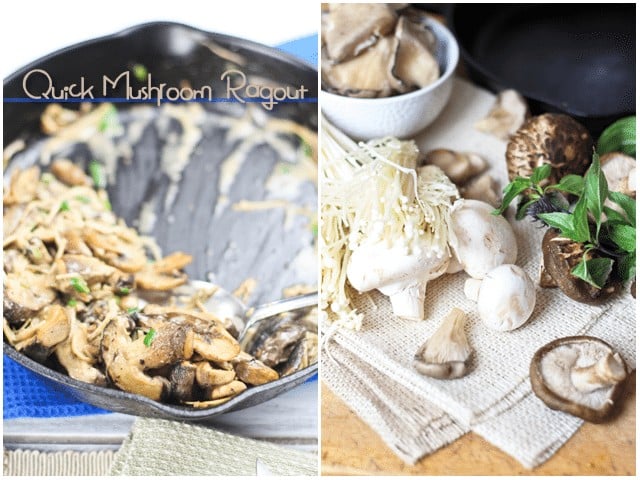 For some reason, I always thought of mushrooms as an ingredient to be treated with much respect and used only parsimoniously. Almost as if they cost a fortune or something.
Mind you, more often than not, that happens to be the case, unfortunately… However, I find that oriental food markets are generally a good place to shop for exotic mushrooms. They tend to have a very good selection that can be bought for a very decent price. 
And once in a while, you can get super lucky and fall on an amazing deal, like I did!
Last week, at such a market, I got my hands on a full kilo of shiitake, 1 kilo of oyster mushrooms and close to 1 kilo of enoki for just a few pennies shy of 5 bucks.
Can you say wow?
As I put this treasure in my shopping basket, I already envisioned what I was going to turn it into: an amazing mushroom ragout, which I would enjoy over a nice, juicy, pepper steak.
Oooooh, I was drooling already!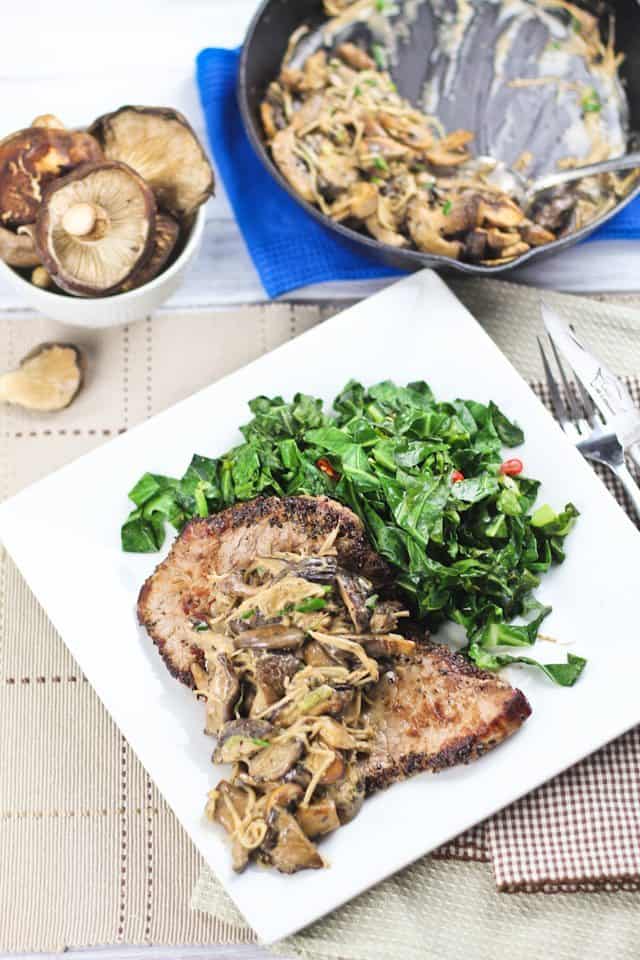 There was only one problem, though…
Since I'm following the Whole30 Program, dairy was out of the question.
Hmpft! How is one supposed to make a mushroom ragout without adding tons of heavy cream and butter to the concoction?
Well, I felt I didn't have much of a choice but to go with the only creamy dairy alternative option that's available to me now: coconut cream!
I wasn't too convinced at first that the flavor combination would work all that well… coconut and mushrooms? It sounded really strange to me, but I had to try it anyway. I REALLY wanted my mushroom ragout!
Boy am I glad I went ahead and tried it, for really, it was absolutely HEAVENLY! So rich and creamy and decadent, with just a hint of sweetness…
Seriously? Who needs wine and cream and butter?
This right here is THE BOMB!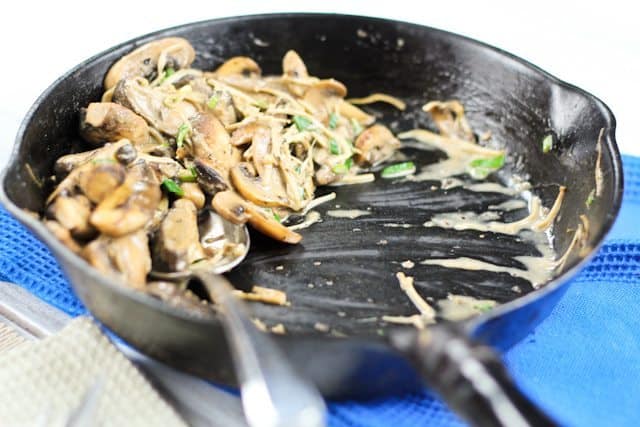 I'm telling you, you really oughta give the coconut cream a try… I'm positive that just one taste will make you a believer!
Oh, and this would be equally good served over grilled chicken, if steak is not your thing.
In fact, it might even be better!
Hmmmm… now it got me wanting to create some sort of a creamy coconut chicken mushroom stew.
Oh yum! Coconut, how I love thee!
Hope you do too, 'cuz I get the feeling there will be a lot of coconut this and coconut that around here for the next few weeks… 
Quick Mushroom Ragout
Servings: 4
Ingredients
1 tsp coconut oil
150 g Shiitake Mushrooms, sliced
150 g Oyster Mushrooms, sliced
150 g Button Mushrooms, sliced
150 g Enoki Mushrooms, cut into 2" pieces
1 green onion
¼ cup coconut cream
¼ cup water
Salt and pepper to taste
Instructions
Heat the coconut oil in a heavy or cast iron skillet over high heat.

When skillet is sizzling hot, add the button, oyster and shiitake mushrooms, sprinkle with salt and pepper and cook until nice and golden brown, about 3-4 minutes. Add the enoki mushrooms and continue cooking for about a minute, until softened.

Add the coconut cream, water and sliced green onion and stir until all the mushrooms are well coated.

Serve over steak or grilled chicken.
If you've tried this recipe, please take a minute to rate the recipe and let me know how things went for you in the comments below. It's always such a pleasure to hear from you!
You can also FOLLOW ME on PINTEREST, FACEBOOK, INSTAGRAM and TWITTER for more delicious, healthy recipes!