Quick Spelt Buttermilk Bread
As soon as I saw this recipe on Anja's Food 4 Thoughts, I just knew I had to give it a try and sooner than later!
This gorgeous bread was calling my name so, so loud. I just HAD to have a slice.
Plus, I was way overdue for some home made bread. I'd been meaning to make some for a few weeks now but kept putting it off because of the amount of work it involves. Looking at this recipe, though, I thought it looked fairly easy to make, so I could definitely sneak it into my busy week-end schedule.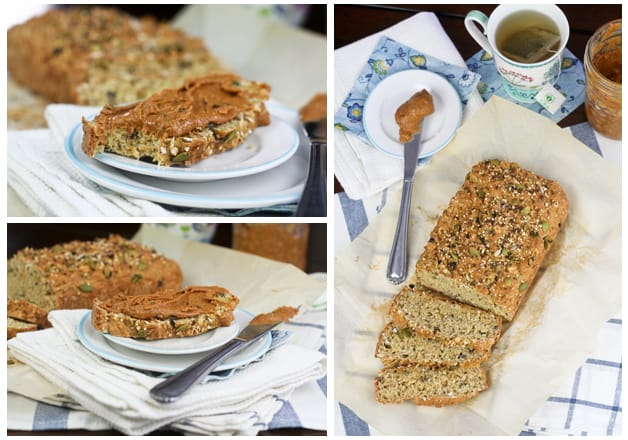 Well, now that I've made it, I can definitely confirm that it's extremely easy to make. In fact, it's so easy, a five year old could easily do it. Honestly, the only part that they might struggle with is the lining of the pan with parchment paper part, but, hey, they could very well skip that  and use a non-stick pan coated with cooking spray instead.
In fact, if you are looking to introduce your young ones to the joy of baking, this would be the absolute perfect recipe for that.
Seriously, this is one bread that you could easily make on a week night. The batter takes the better part of 5 minutes to make, especially if you already have a bunch of mixed seeds on hand, which you should, really, for they're always super handy to have. Then all that's left to do is transfer to pan and bake for 30 minutes, which is all the time you need to get dinner ready!
Basically, in no time at all, you get a bread that is so super crispy and fluffy and light and airy but that yet, has a certain density to it. Oh, and talk about FLAVORFUL!  I did find it a bit on the salty side, so I would definitely use less salt next time, and I have to say that you do taste the baking soda, but I didn't hate that at all. That, along with the texture, sort of reminded me of scones, or biscuits. Hmmmmm… love those! 
So in short, if there is one thing that I would change about this recipe is maybe halve the salt, even better yet, double the rest of the recipe and make a bigger loaf!
All in all, this is a very very good bread that I'll be making very, very often.
As well as many variations on the subject!
Quick Spelt Buttermilk Bread
Servings: 16 Makes 1 loaf
Instructions
Preheat oven to 400F

Line loaf tin with parchment paper (or coat with cooking spray)

In a bowl, combine spelt flour, oats, salt and baking soda.

Stir in mixed seeds (keeping 1 tablespoon aside). Form a well in the middle of the flour mixture. Add buttermilk and gently stir until well combined.

Transfer batter to prepared loaf tin. Level the top and sprinkle with remaining seeds.

Bake for 30 minutes or until cake tester comes out clean.

Let cool for a few minutes in the pan, then cool completely on wire rack.
Notes
*I used one tablespoon of each: millet, pumpkin, flax, sesame and sunflower seeds.
Source : Anja's Food 4 Thoughts
If you've tried this recipe, please take a minute to rate the recipe and let me know how things went for you in the comments below. It's always such a pleasure to hear from you!
You can also FOLLOW ME on PINTEREST, FACEBOOK, INSTAGRAM and TWITTER for more delicious, healthy recipes!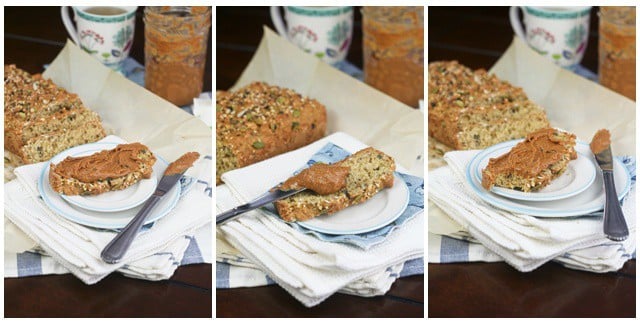 Oh, and did I tell you it's absolutely brilliant with peanut butter? Oh my… awesome breakfast!