Smooth & Creamy Homemade Coconut Butter
I've been making my own coconut butter for quite a while now. Truth be told, up until last month, I had never even bought a jar of the ready-made stuff. Then, there was this one day when, I dunno… curiosity got the best of me I guess, and I went ahead and purchased a jar of this pricey little thing.
OMG. Just one spoonful and I was totally hooked. The texture was just totally, completely different: so much smoother, so much creamier… almost like cake frosting. Almost.
I knew right then and there that I was gonna have to try and replicate it at home. For you know what? Something REALLY has to be said for smooth and creamy coconut butter.
I mean, really, really, REALLY!
But there's no way I'm gonna dish out that kind of money for coconut butter, no matter how creamy!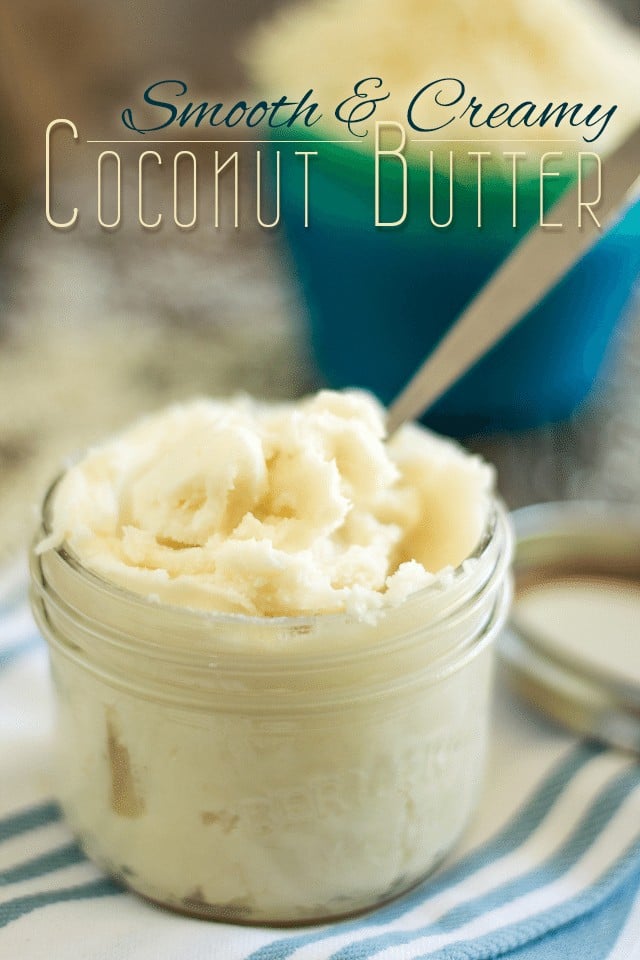 I figure this creamy paste is probably what you get when you use one of those fancy-shmancy high speed blenders, but what if you don't own one?
The only thing I could think of was to force the freshly made butter down a fine mesh sieve to isolate all of the tiny little pieces of coconut that didn't get pulverized by the blade. That, and add a decent amount of coconut oil to help make the final texture even creamier.
Do I need to tell you that it worked? Beautifully? Perfectly? Beyond my expectations, even? This butter I just created is even better then the one I'd purchased. MUCH BETTER!
Granted, it's a tad more complicated to make and dirties a little bit more dishes, but the extra effort is so entirely worth it, I don't think I'll ever be able to have coconut butter any other way now.
Plus, whatever gets left behind in that sieve can be used as garnish for all kinds of things. And I'm sorta getting hooked on that too, now…
Oh well. All the more reason to make my own!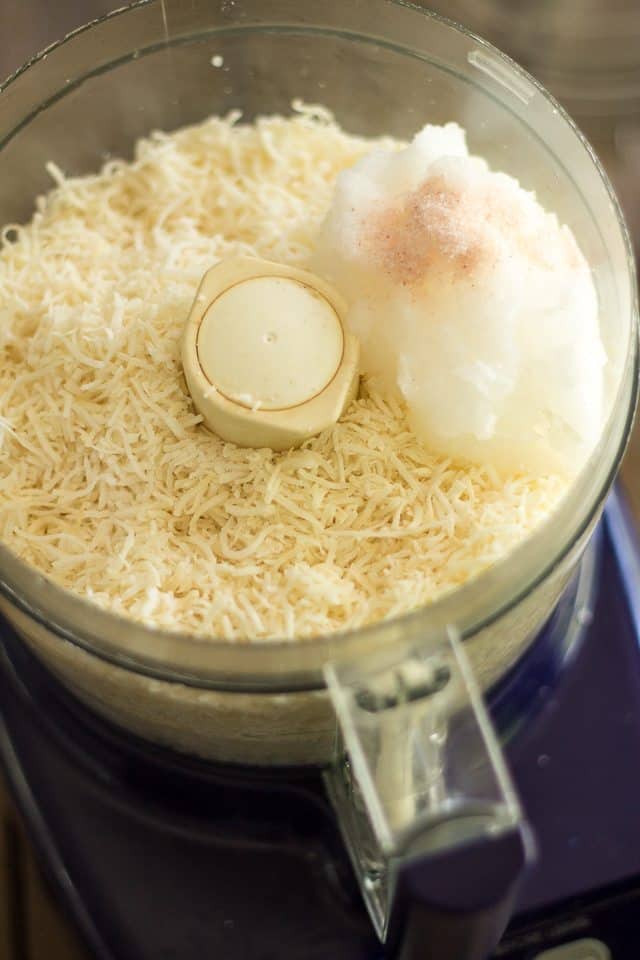 The first steps in making this version are pretty much the same as when making regular coconut butter, except this time, we're not only adding unsweetened shredded coconut to the bowl of our food processor, we're also adding coconut oil and a little bit of salt. That's right, salt. That really helps in bringing out the full flavor of the coconut.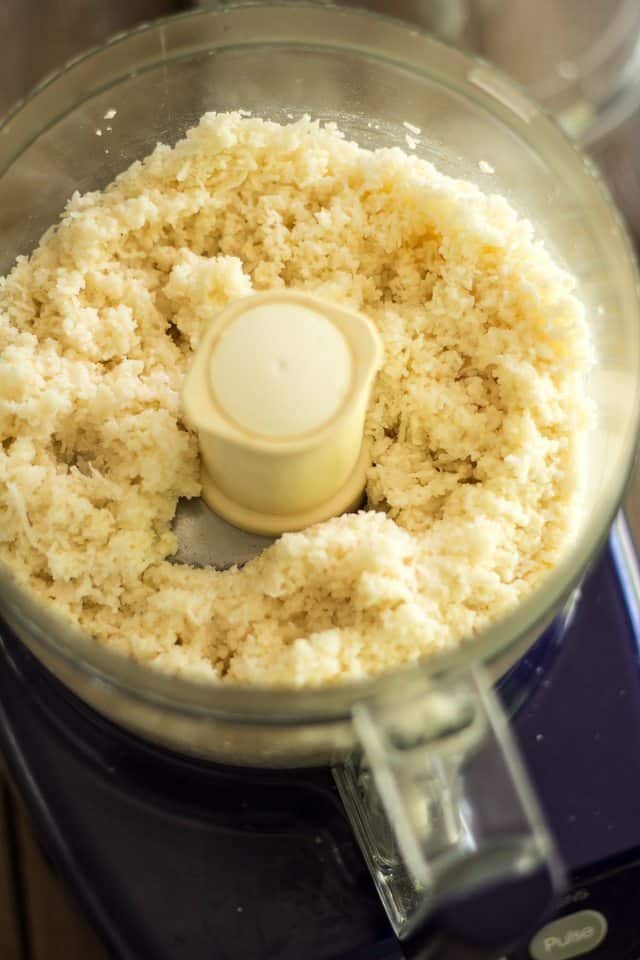 Also, the addition of coconut oil really helps in getting things started. In only a matter of seconds, you've already got this sort of paste happening, and it's already beginning to smell real good, too!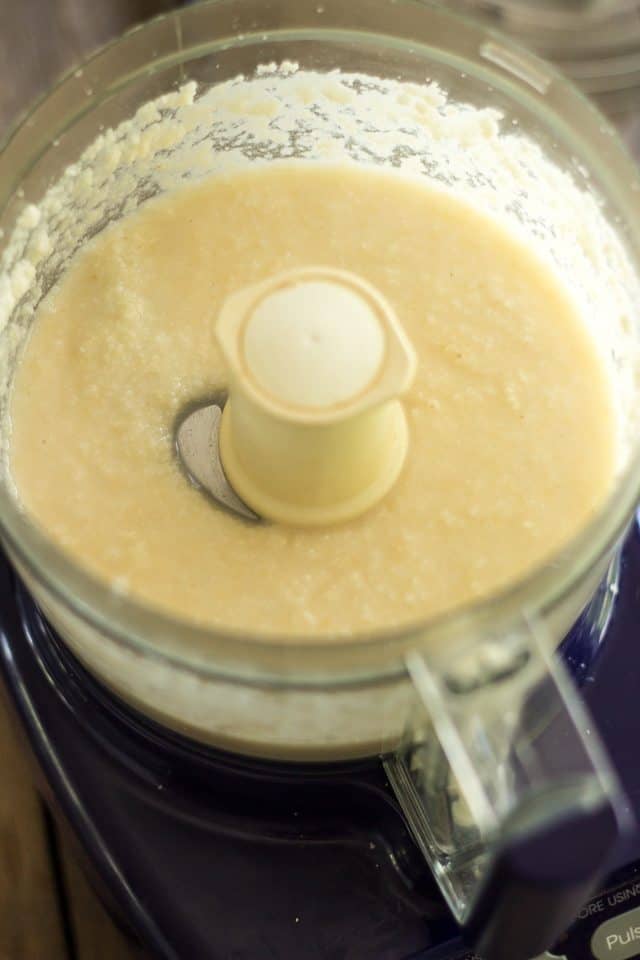 Only a few minutes more, and you're now looking at something that pretty much resembles coconut butter, only it has a texture that is a tad on the coarser side. We need to keep going and pulverize as many of those little coconut flakes as we possibly can.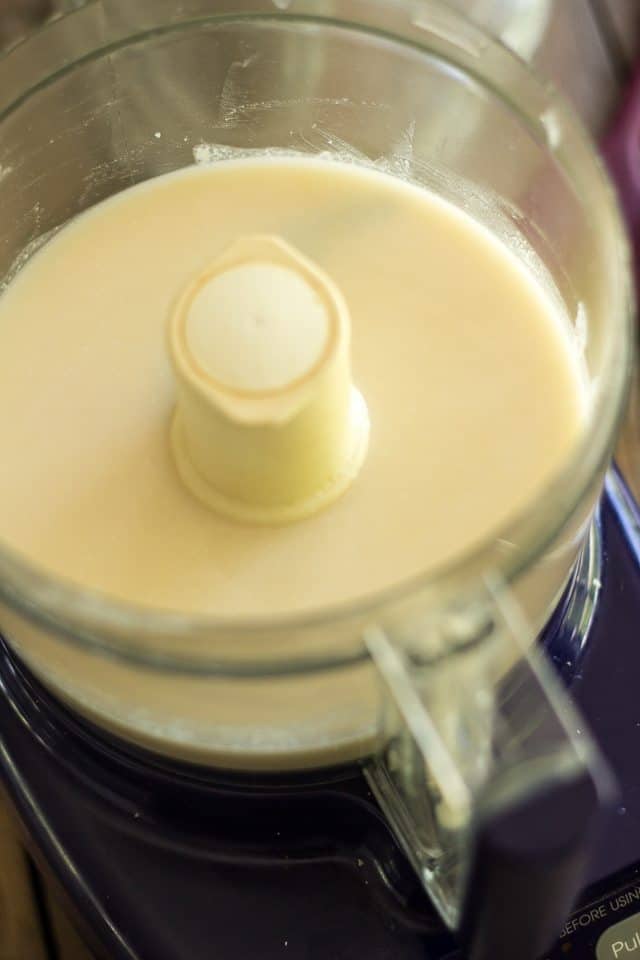 Ah, now this is much better! After about about 5 minutes of continuous action, your butter should look fairly liquidy like this.
Looks like it's perfectly smooth, don't it? You'll be surprised when you see how very "chunky" this still is.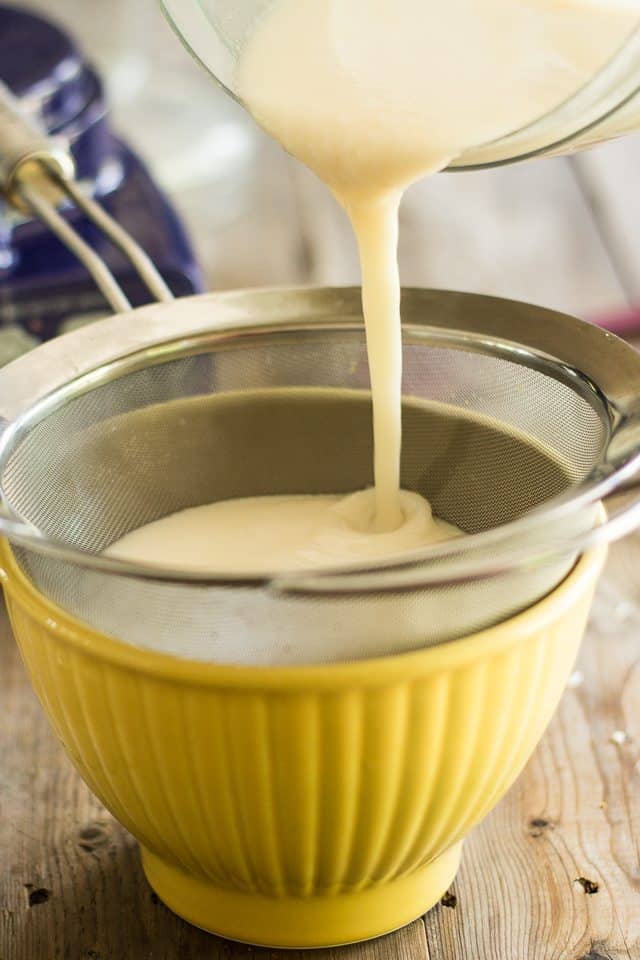 Let's pour this mixture right into a fine mesh sieve set over a fairly large mixing bowl. You may not want to pour it all at once: it's easier to work in smaller batches.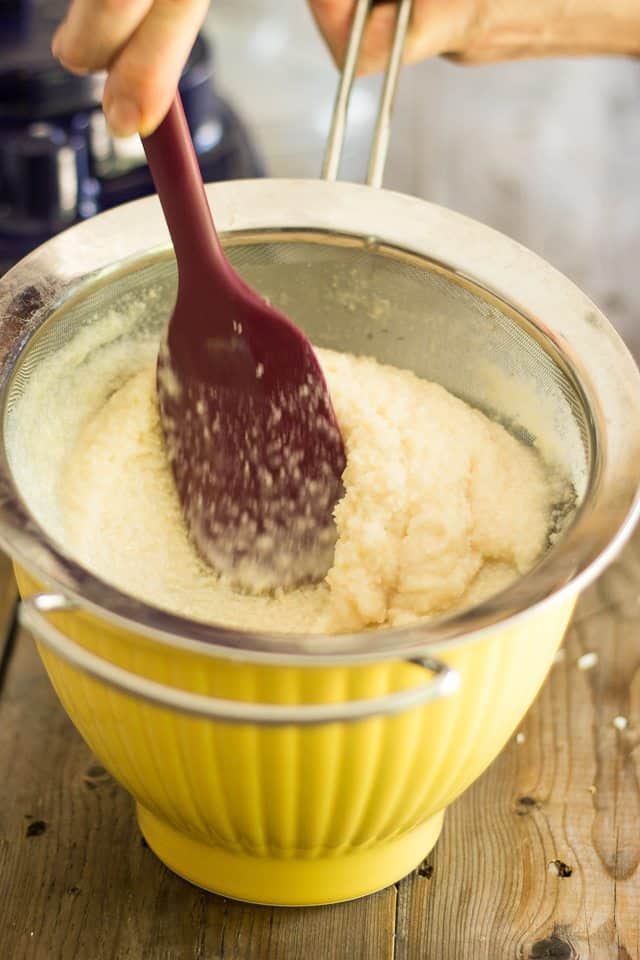 Now, using a rubber spatula or ladle, you'll want to force/push that coconut butter down the sieve. Really go at it and extract as much as you can of that precious, fragrant liquid.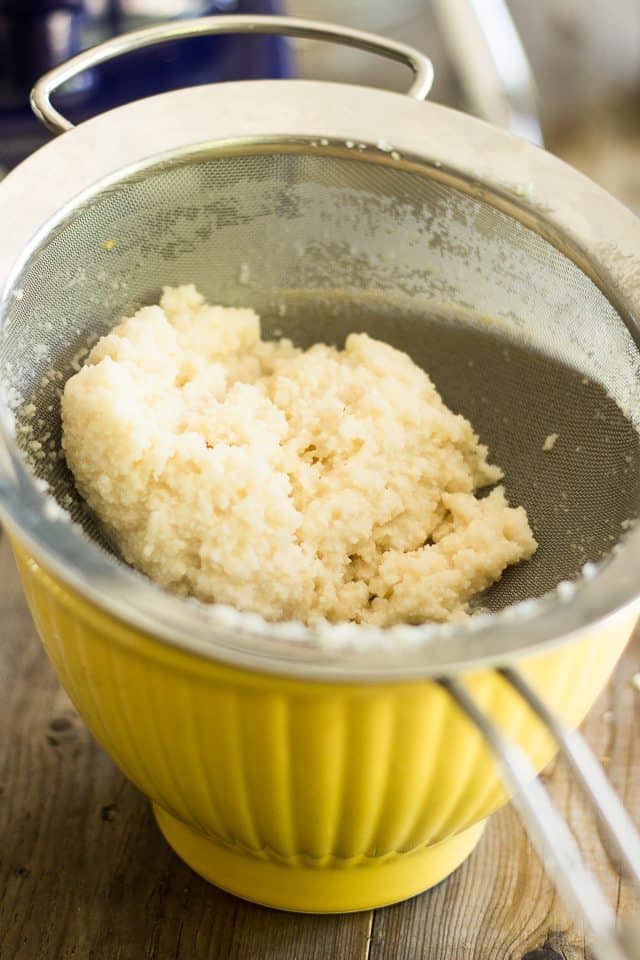 See what I meant by how chunky that still was? This is what got left behind after I pressed and pushed the bejesus out of my coconut butter.
But wait! We can still get more smooth coconut goodness out of there. How? We're gonna break this down some more.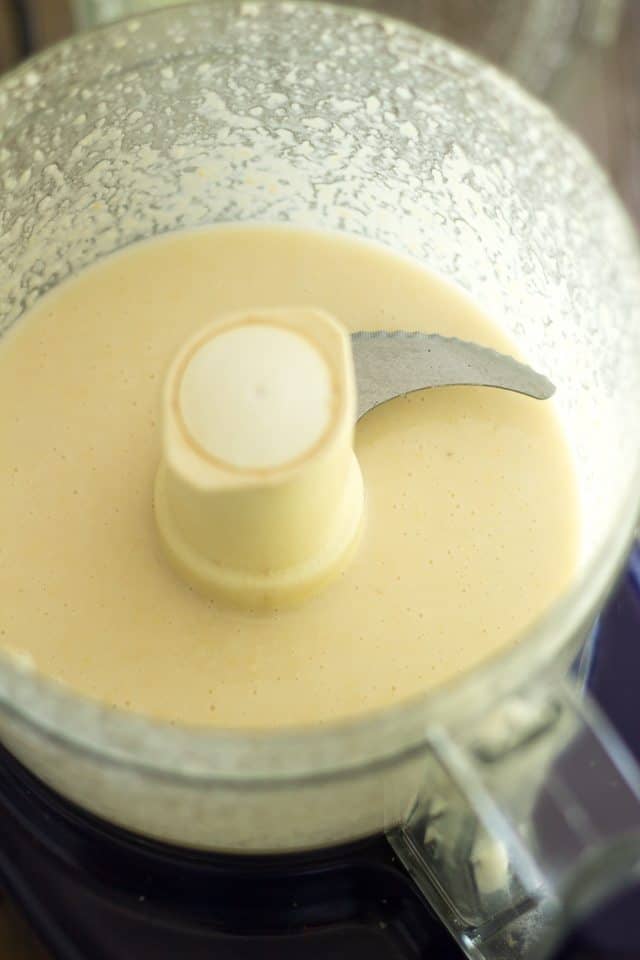 Back into the food processor this goes! Process until it becomes smooth and liquidy again, then force it through the fine mesh sieve for a second time. You'll be pleasantly happy with the extra amount of creamy butter that you'll get out of this!
And if you're feeling particularly zealous, you can repeat that process for a third time.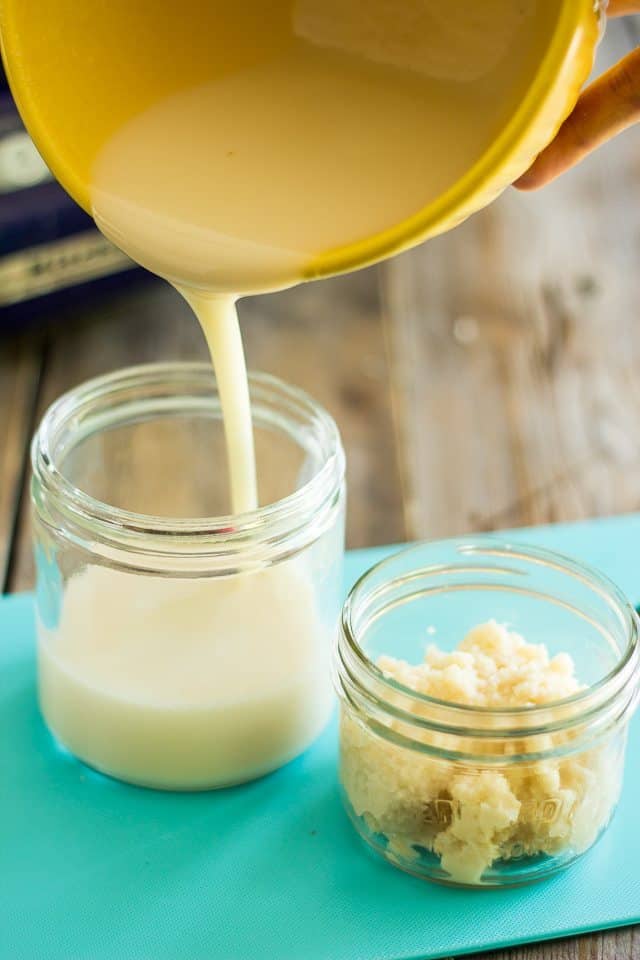 Now pour the smooth butter into a clean glass jar and put it to rest for at least 24 hours. This needs some time to cool and get down to its rightful, fabulous creamy consistency.
Oh, and by all means, do not throw out the coarser coconut that got left behind. Keep in in a separate jar. Like I said, this is a fabulous garnish for all kinds of things, from pancakes to salads, to scrambled eggs to grilled chicken! Seriously, you can put that stuff on basically anything. Just scoop out a spoonful and sort of crumble it on top of whatever you like!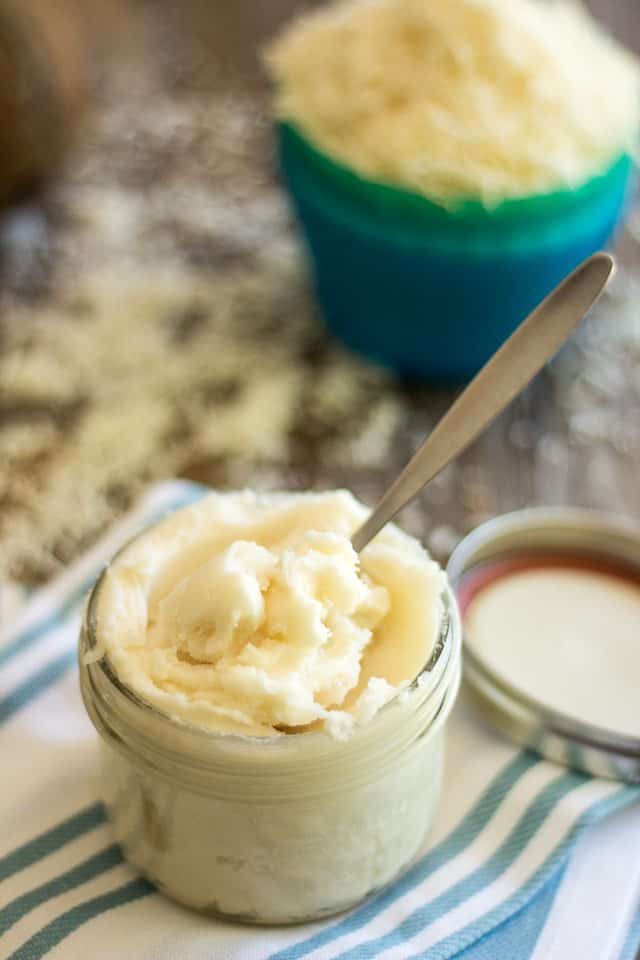 If you happen to be making this during the warmer months of summer, you might find that it will remain fairly liquidy, even after sitting for a full day. If that happens, simply throw it in the fridge for an hour or two, then give it a good stir to combine. It will turn into this dreamy frosting-like concoction and should remain stable afterwards.
You can also use that same technique to speed up the process if you don't have the patience to wait until the next day for your butter to settle…
But hey, I never said that! Let's just say you figured that out on your own. Yeah. That's my story and I stick with it.
Smooth & Creamy Coconut Butter
Servings: 32 ±2 cups
Instructions
Add all the ingredients to the bowl of your

food processor

and process for a total of 8-10 minutes until creamy and fairly liquidy. You will have to stop and scrape the sides a few times, but it shouldn't be too all that often.

Force the coconut butter through a

fine mesh sieve

by pushing it down with a ladle or rubber spatula.

Place the coarser butter that stayed in the sieve back it the food processor and process it for a few more minutes until it becomes liquidy again.

Force through the fine mesh sieve once again. You can repeat this process one or two more times, just to make sure you get the most out of your coconut.

Pour the smooth butter into a glass jar and put it away to give it time to set, at least 24 hours.

By all means, do not discard the grainy butter; Keep it in a separate jar and use it as a garnish for pancakes, muffins, scrambled eggs, salads... let your imagination run wild!
Notes
During the warmer months of summer, your coconut might remain liquidy even after sitting for a while. If that happens, simply place it in the fridge for an hour or two and give it a good stir. This should give it a nice spreadable consistency.
If you've tried this recipe, please take a minute to rate the recipe and let me know how things went for you in the comments below. It's always such a pleasure to hear from you!
You can also FOLLOW ME on PINTEREST, FACEBOOK, INSTAGRAM and TWITTER for more delicious, healthy recipes!